In an overdue but nonetheless welcome move, Nike has launched its fist ever plus size range of sportswear.
The world of fitness, up until this point, has somewhat lagged behind when it comes to inclusivity but with a collection specifically designed for what Nike deem 'curved athletes', that looks set to change.
If you're not a size small, chances are your gym-kit has comprised of a tatty oversized tee and cheap leggings because, for some reason, the majority of fitness brands think only slim people workout.
Thankfully, Nike is shunning this stereotype with a collection that celebrates and advocates all athletes, no matter their size. 
In a statement, the sportswear brand said, "'In today's world, sport is no longer something that she does, it's who she is. The days where we have to add 'female' before 'athlete' are over.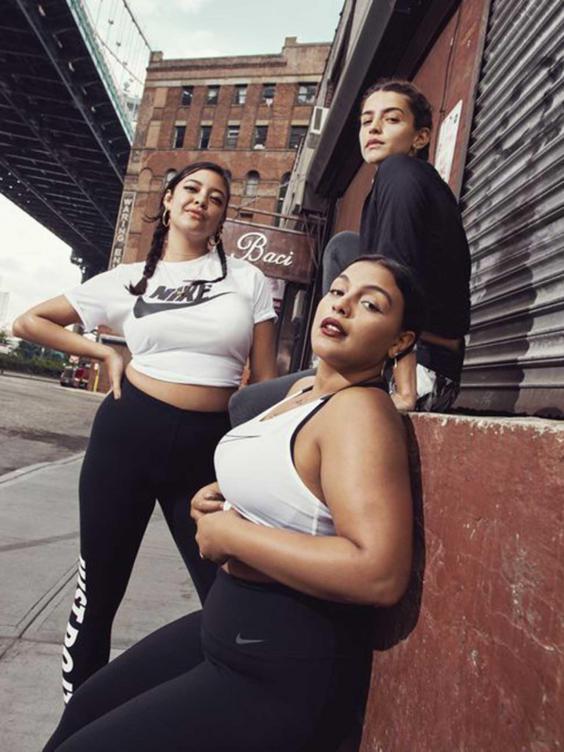 "She is an athlete, period. And having helped fuel this cultural shift, we celebrate these athletes' diversity, from ethnicity to body shape."
Encompassing everything from t-shirts, running tights, high-tech hoodies and training shorts sizes range from an impressive Xl up to 3XL and 38E in sports bras.
But, Nike isn't just sizing up their existing products. It's actually adapting the science behind each piece to suit a plus size body.
Curvy Kate's diverse #TheNewSexy lingerie campaign
Curvy Kate's diverse #TheNewSexy lingerie campaign
1/9

Curvy Kate's campaign aims to champion diverse beauty

Curvy Kate

2/9

Janet Rook is 65 and from Essex. After her son died in a motorcycle accident aged just 22, Janet quit her job as a bank manager and now jumps at the chance to take part in any activity that pushes her out of her comfort zone.

Curvy Kate

3/9

Paige Billiot, 24, who was born with a 'Port-Wine Stain' birthmark across her face and head, took part in the campaign, to show that it is our imperfections that make us beautiful.

Curvy Kate

4/9

Born and raised in North London but with her family originating from India, Seema Patel, 34, a merchandiser for Curvy Kate, wanted to take part in the campaign after the team struggled to find someone to represent her demographic.

Curvy Kate

5/9

Shorntay Allen, 31, whose family originate from the Caribbean, wanted to take part in the campaign as she hoped to draw attention to the lack of representation women of colour receive within the fashion industry.

Curvy Kate

6/9

Yasmin Taylor, 24, who lives in Abu Dhabi, suffers with skin condition Alopecia. She was diagnosed at the age of 15 and lost all of her hair when she was 20 years old.

Curvy Kate

7/9

Carla Atherton, 34, is a Breast Cancer 'Previvor' who took part in the campaign to show that regardless of what a person has been through everyone has the right to feel sexy.

Curvy Kate

8/9

Diana Sirokai, 20, from North London showed that her fuller figure and bust were something to be proud of by stripping down to her smalls. She became a success after taking part in Curvy Kate's annual model search, Star in a Bra.

Curvy Kate

9/9

Gemma Flanagan in #TheNewSexy campaign

Curvy Kate
"We know that body weights are distributed differently for everybody and as we look at plus size, there is more variance. A woman is often a different size at the top than on the bottom.
"When we design for plus size, we aren't just proportionately making our products larger. That doesn't work because as we know, everyone's weight distribution is different."
Reuse content