This season, designers journeyed East for inspiration bringing opulence and exoticism to the forefront of their collections.
While orient fashion as a trend is nothing new, it can be a tricky one to master – after all, there's a fine line between inspiration and appropriation. As such, for spring/summer 2017 designers were faced with the challenge to borrow and create judiciously. 
The result? A series of cognisant collections that took the traditional ideals of the oriental aesthetic and gave it a contemporary twist.
Indulging in far-East fantasies, Prada informed its runway looks with extravagant miles of marabou trimmings on everything from stoles and sandals to feathery necklines.  
While silk separates, mandarin collars, wrap fronts and chinoiserie pyjama style piping were key to its execution. 
Elsewhere, Gucci experimented with dramatic oriental prints – think sun rays on silk, dragons, tigers, floral embroidery and bags garnished with animalia hardware.
At Diane Von Furstenberg though, designer Jonathan Saunders took his cue from the artistic traditions of the East for his first full collection.
Here, DVF signatures such as the wrap dress, prints and 70s detailing were updated with crisp lines, a fearless use of colour and asymmetrical finishes.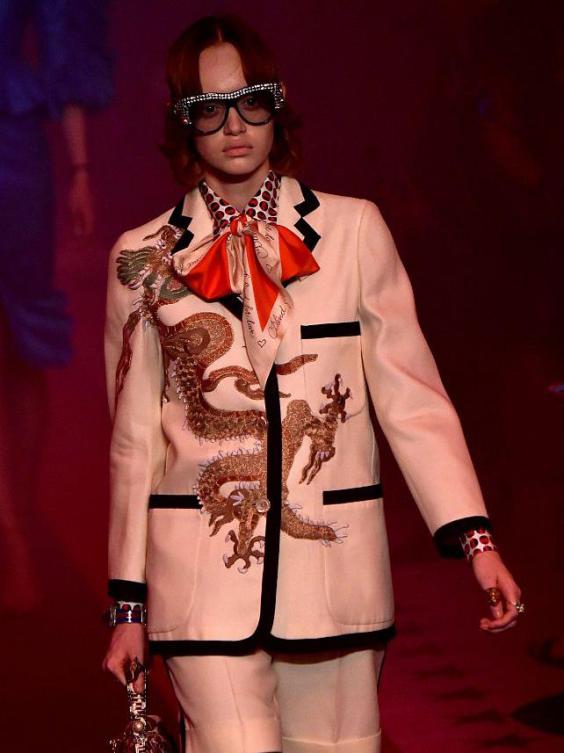 There were wide-legged trousers with fold-over waists, luminescent piping and a phenomenal mix of abstract motifs. 
If you're considering updating your new season wardrobe with all things orient-inspired take your cue here and use wrap-around skirts, asymmetrical hemlines or origami-esque silhouettes as your entry point.
But when it comes to more identifiable insignia, a stylish Kimono jacket is a great place to start and offers an instant dose of colour to your wardrobe.
Just remember, mastering this trend requires some restraint so forget dressing head-to-toe and pick out one solitary statement piece instead whether that be a touch of gold embroidery, a slinky floral dress or silk robe wrapped over a pair of slouchy jeans. 
Reuse content