If your fashion tastes lean more towards throwback style – think bell-bottom jeans, oversized sunnies and mini dresses – then you'll be glad to hear that retro prints have flooded the runway this season.
But, why are designers taking a nostalgic wander through the archives all of a sudden? 
Inspired by a wardrobe that has gone before, perhaps this trade in memories is down to a generation that's not quite sure where it's going. Is using wallpaper-esque prints and decades-old silhouettes a way of working out where we all fit?
Either way, nostalgia has set in and designers are using all-over prints to journey back through sartorial time. 
At Prada, the fashion house's tastes through the years shone through with 20s and 30s deco-graphic prints, geometric shapes and gingham paired with retro florals. All curiously trimmed with ostrich feather. 
Likewise, Miu Miu's retrospective stretched from 40s print smock dresses to 60s fit and flare coats while thick pile robes and cropped blouses came covered in schematic daisies and abstract art. 
At Chloe, 70s sepia-toned florals came larger than life on everything from jumpsuits to paperbag culottes whereas Trussardi sought inspiration from hit TV series The Get Down with a tirade of dazzling logo motifs.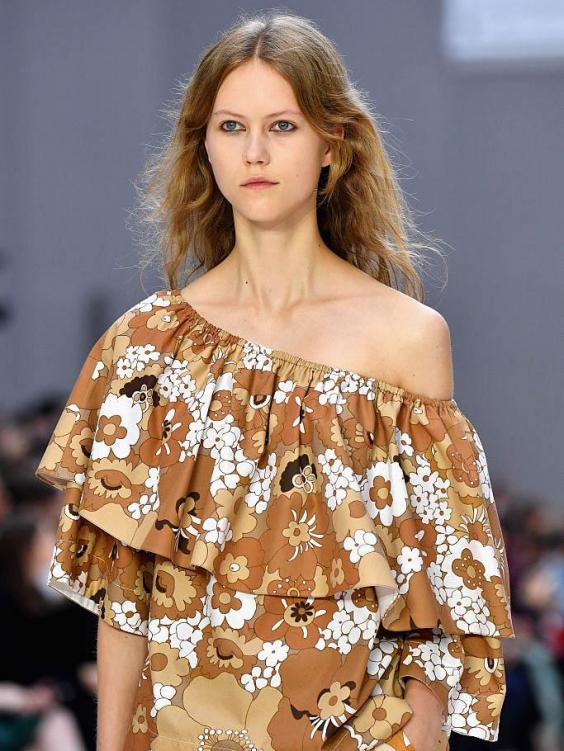 But, how do you wear retro prints without looking like a part of the antiquated furniture?
Here, you have two options. For minimalist diehards, the key to pulling off repetitive patters is to opt for classic, basic shapes that still manage to look sophisticated and sharp.
While those seeking a little more va-va-voom should give old-fashioned prints a new lease of life with modern cuts – think asymmetric hemlines, one shoulder silhouettes and patchwork.
One thing you do have to keep check of is your accessories though. Keep your jewellery simple, stay away from necklaces and pair with a pair of studs or small drop earrings instead. 
Reuse content