It's over twenty years ago that Stella McCartney graduated from Central Saint Martins using her super-model pals Kate and Naomi to model her collection. Since then her womenswear line has gone from strength to strength, and while she has also collaborated on sportswear collections with Adidas, many of her devotees argue that her talent lays in smart, mannish tailoring. 
Her father would apparently agree; over the ensuing years she has designed bespoke one off suits especially just for him. And with such a high-profile brand ambassador, you were left wondering why she had never branched out into menswear full time.
Well, all good things really do come to those who wait because she has just launched her debut menswear collection, which is a mix of fantastic tailoring and casual wear. Inspiration is clearly taken from the clothes that her father wore in the 1960's but also included is luxe sportswear such as hooded tops, a definitive nod to the 1990's rave subculture, a decade that is obviously closer to her own heart.
Stella McCartney Menswear
Stella McCartney Menswear
1/6

Racing green canvas tailoring trousers, £325, stellamccartney.com

2/6

Black foolish flowers socks, £55, stellamccartney.com

3/6

Ink embroidered cotton shirt, £485, stellamccartney.com

4/6

Check tailored jacket, £970, stellamccartney.com

5/6

Black buckle shoes, £470, stellamccartney.com

6/6

Yellow members print jumper, £630, stellamccartney.com
She's also a designer with principles, inherited in part from her father and also from her mother Linda McCartney, who was a committed vegetarian. Consequently, their daughter doesn't use either leather or fur in her womenswear collections, and the menswear is consistent with that philosophy too. And almost half of this collection is made from sustainable materials such as regenerated cashmere and organic cotton and denim; this is modern menswear for the chap that has a social consciousness as well.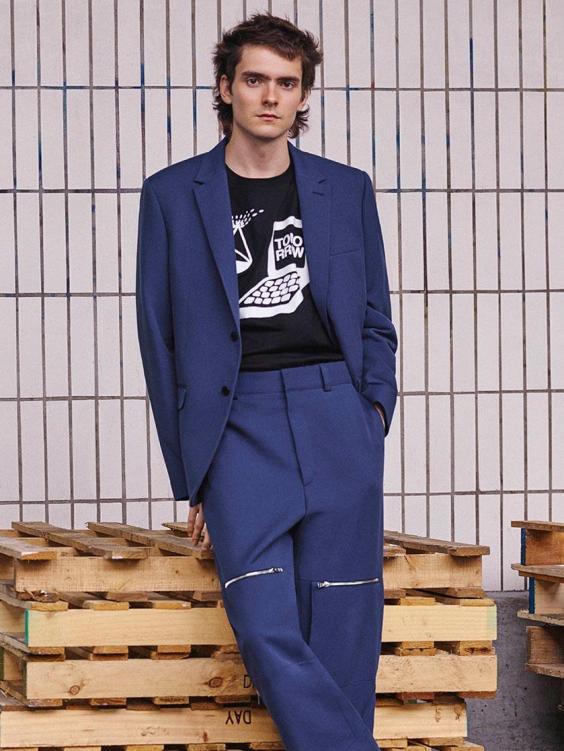 This collection is available online and to buy in selected stores from January 2017
Reuse content