Jewellery may seem like a cop-out gift, and there's no denying the generic sparkly stuff could do as well for your mother, great aunt or sister. But thanks to a host of dedicated designers specialising in creating charming trinkets for all budgets, you no longer have to choose between breaking the bank and turning your loved one's skin green.
Jewellery trends are much more slow-moving than those in fashion proper, so you can rest assured that your gift will no doubt be worn for years to come. But there are a few key themes to look out for, while opting for vermeil in gold or rose gold seems far more festive than sterling silver. And even better, earrings, bracelets and necklaces are usually one-size-fits-all.
The gold standard
The gold standard
1/15 Arme de L'Amour

Ring £135, Arme de L'Amour, net-a-porter.com

2/15 Larsson & Jennings

Watch £215, Larsson & Jennings, net-a-porter.com

3/15 Alex Monroe

Ring, £126, alexmonroe.com

4/15 Shaun Leane

Earrings, £175, shaunleane.com

5/15 Daniel Wellington

Watch, £159, danielwellington.com

6/15 Alex Monroe

Necklace, £156, alexmonroe.com

7/15 I Love A Lassie

Coin necklace, £130, ilovealassie.uk.com

8/15 Olivia Burton

Watch, £65, oliviaburton.com

9/15 Jenny Sweetnam

Ring, £121, jennysweetnam.com

10/15 Daisy Knights

Ring, £130, daisyknights.com

11/15 Daisy Knights

Lace dimes, £105, daisyknights.com

12/15 I Love A Lassie

Ring, £130, ilovealassie.uk.com

13/15 Elk In London

Earrings, £72, elkinlondon.com

14/15 Maria Black

Ear cuff, £65, Maria Black, net-a-porter.com

15/15 Vittorio; CC Skye; Anton Heunis

Razzle dazzle: model wears Bee ring £127, Vittorio; ring £240, CC Skye; earrings £108, and necklace £159, both Anton Heunis, all cadenza.co.uk
The flora and fauna of the natural world is a big inspiration for many jewellery designers. Alex Monroe is renowned for his delicate take on the creatures of the forest – two turtle doves are rather fitting – while Shaun Leane takes similar inspiration in a more subversive direction, focusing on tusks and talons for his modern designs.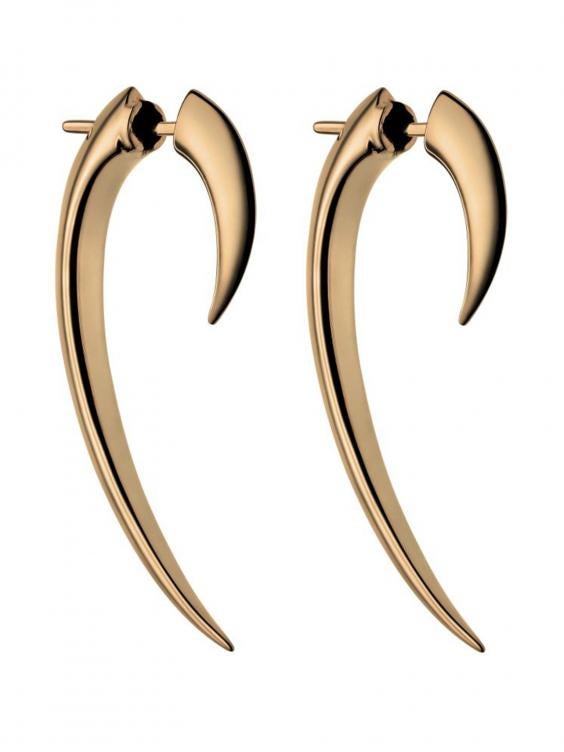 Elkin is another brand with a darker side – skulls, evil eyes and scarab detailing – while Arme De L'Amour's balance between sharp and soft has made it a big hit among the fashion set.
Finally, some fashion watches can be a bit much, often licensed out by the brand as a way of cashing in on their label's caché. Look instead to the likes of Daniel Wellington and Olivia Burton who eschew unnecessary ostentation to create timepieces to treasure.
Reuse content