While customised jeans are nothing new – think rock 'n' roll rips or embroidery - a pair of Topshop jeans have managed to divide the Internet thanks to some pretty bizarre detailing. 
The jeans in question feature two transparent plastic panels over the knees and are aptly named 'Clear Knee Mom Jeans.' 
On the Topshop website the casual fit bottoms are paired with a simple grey tee and white trainers with the tagline, "Off-duty styling never looked so good."
And online retailer Nordstrom say that the "slick plastic panels bare your knees for a futuristic feel."
High waist, cropped hem, straight and flared, we're used to seeing a range of different denim styles but is this taking things too far?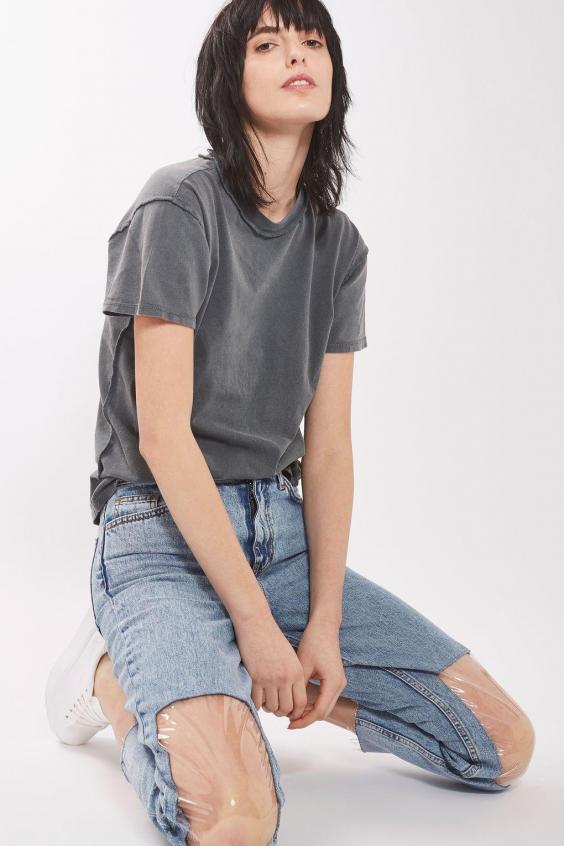 Twitter uses certainly seem to think so and as such the daring style has become the source of much debate.
"Topshop's Clear Knee Mom Jeans are the surest sign yet of impending Armageddon," one user wrote.
While another added, "What fresh hell is this?"
Someone even went as far as saying that they were the "worst jeans I've ever seen".
That being said, others were more open-minded and supported the clear knee style saying, "Can someone buy these for me please."
Similarly, a handful of reviews on the Nordstrom website have afforded the jeans a five-star rating.
"No more lonely knee-caps!" one comment reads, while another adds, "Never going back to normal jeans."
While we're pretty sure flashing your knee-caps has rarely made it to your list of requirements when it comes to investing in a new style of denim, perhaps they'll prove a winner for the more experimental fashion fan.
Reuse content