For those of us that live in what feels like a perpetual cycle of cold weather a standout coat becomes the object of all autumn shopping trips but with so many styles on offer how are you supposed to decide?
When it comes to choosing 'the one' form can often supersede functionality which is great for your style credentials but not for combating that winter chill. Thankfully this season designers have taken a liking to outerwear that not only looks good but keeps you warm too. Finally, your must-have winter coat could mean you get the very best of both worlds.
Colour, style, price, longevity and trendiness all compete for primacy but this season's coats are as covetable as they are enduring. The shops are full of winter coats and they are all offering five major silhouettes; Military, Parka, Puffer, Aviator and Trench.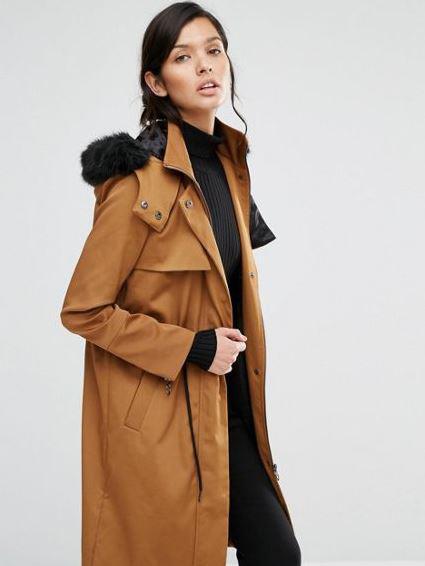 The concept of military dressing usually conjures images of jeans, t-shirts and white trainers but this season both designers and the high street are offering up a contemporary take on the army surplus store. Buttoned down, full length or cropped and available in a multitude of hues the military coat is a great way to take on this trend. For the most imposing effect opt for one in dark navy or khaki with metallic buttons and epaulettes. 
If you're after something a little more contemporary the shearling aviator or puffer jacket offer the easy-cool factor. Shearling has had something of a makeover of late and it's a dead cert at keeping out the cold but offering it up in a biker or aviator style adds a touch of refinement that otherwise just isn't there. Simlarly, the puffer has made a surprisingly chic comeback; wear yours cropped or our favoutire, xxl with a full length style and a nipped in waist.
For a coat category that defies the trends of time a parka or trench should be your go-to. Couture parkas have been all over the runway and luckily they're hitting the high street too. Stay classic with khaki green or amp things up with camo or a coloured fur hood.
The trench, while not the most practical of cold weather solutions does offer the option of layering for those who prefer a little less bulk. Available in all shapes and sizes, from neutral shades to colour styles, it's a sure fired trans seasonal staple that can be worn with anything from jeans to tailored trousers and heels.