Just off London's famous Portobello Road, between the hours of 12 and 1pm, the books really do come to life in Notting Hill's cosy little bookshop, Books for Cooks.
From Tuesday through to Friday, co-owner Eric Treuille and his two wonderful chefs take a cookbook off the shelves, from one of their latest titles, and select two recipes (one starter and one main) to cook for their customers.
They tweet the menu for that day, head off to Portobello Market to buy all of the ingredients and spend the morning preparing a feast for the few who are lucky enough to snag a table. Arriving early is recommended.
The rules are few and simple. On Tuesdays they cook vegetarian dishes and on Friday it's fish. The menu is different every day and you eat what you're given. Just arrive with an appetite – and preferably a smile – and escape into the magical world of Books for Cooks.
I arrived at 11.30am, naively assuming they were quieter that day and that my lunch would be a generally solitary affair. Hoping to interview Treuille about his shop before lunch begins, I ask him all of two questions before he's on his feet welcoming in regulars, laughing with Lulu, his chef, answering his own customers' questions and adamantly steering them into seats.
He is the life, and glue, of the shop and I stand idly by, watching him move swiftly between friends and strangers alike whilst referring to every single one as "beautiful!".
Moments later I'm being coaxed towards a table seating a party of five who welcome me with open arms. These are Treuille's most loyal and regular customers. They meet for lunch around four times a week and, when I ask how long they have all been visiting the bookshop, I'm surprised when the woman sitting next to me, Jessica, recalls her first visit eight years earlier:
"I used to come here because my house was being refurbished, I didn't have a kitchen and I was absolutely freezing," she told The Independent. "So I started coming here and it was just like a complete oasis. I would talk to nice people and enjoy wonderful food."
As soon as I mention that I'm writing a feature for The Independent, I'm immediately bombarded with a resounding "Noooo!" in choral protest! They then proceed to tell me how amazing Books for Cooks is, from the company to the food to its incredible value for money, before finally declaring: "What more could you want?!"
It's £7 for three courses (you can replace dessert with a coffee) or £9 with a coffee, and the company is priceless.
Food arrives hot and fast. For starters we tuck into a bowl of chickpea and tomato soup which is studded with chunks of avocado and topped with a dollop of yogurt. It's served alongside a finger of freshly made focaccia and drizzled in herby olive oil which tastes as good as it smells.
As I struggle to simultaneously wolf down my soup and hold a coherent conversation, Treuille soon steals my barely finished bowl from beneath my fingers.
Next, we have crispy chicken dripping in a glistening green tahini dressing and served on a bed of fluffy couscous. I do not know what went into that green puddle of joy but it was creamy, rich, had a subtle tang, and I would like some more of it please.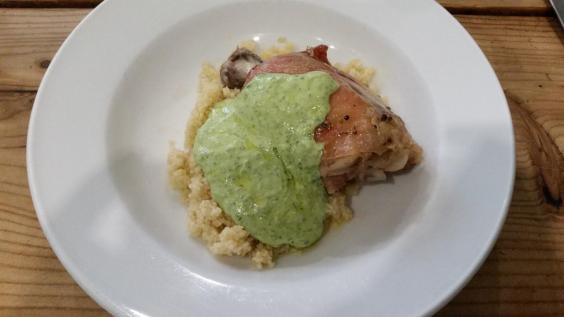 Dessert is optional – apparently for some – and comes in the form of a selection of cakes. Still warm from the oven, I opt for the carrot and olive oil version which is covered in a thick coating of cream cheese icing and drizzled with chocolate sauce. Unconventional? Yes. Like a slice of soft, sweet, warm, pillowy heaven? Also yes.
I can also vouch for the chocolate guinness cake that Angela, sitting next to me, insisted I try. Sticky, rich and almost charcoal black, it was chocolate cake as it should be. I felt full, but not overly so, whilst the modest portion sizes render their three course lunch a doable daily treat.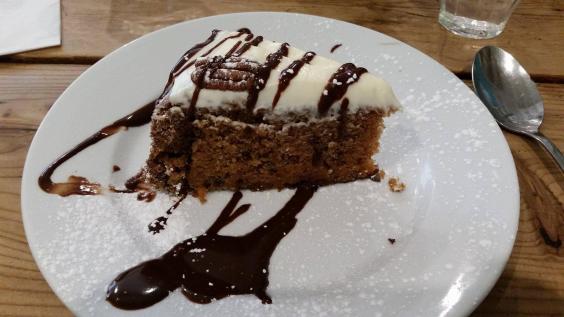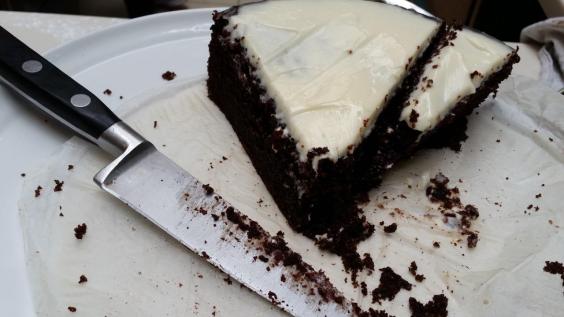 Books for Cooks serves real food. No frills, just simple, delicious and honest. They aim to be "as organic as possible," with the meat sourced from Sheepdrove Organic farm – owned by Treuille's in-laws – and the fruit and veg bought straight from the market. He also sells red wine from his own biodynamic vineyard in the South of France at £10 for a bottle or £3 for a glass.
The food is delicious and the price near unbelievable but, honestly, that's not really the point of Books for Cooks. I ask Treuille what he hopes to achieve with the idea behind his business and he looks at me with a mixture of confusion and derision.
"With the shop? Nothing!" he says. "We just do what we do and enjoy it. We always meet nice people. Everyone who walks into the shop is in a good mood. It's just about the joy of food.
"The bookshop comes first and the café is just a way for me to sell more books. If this is what I need to do, then I'll do it!."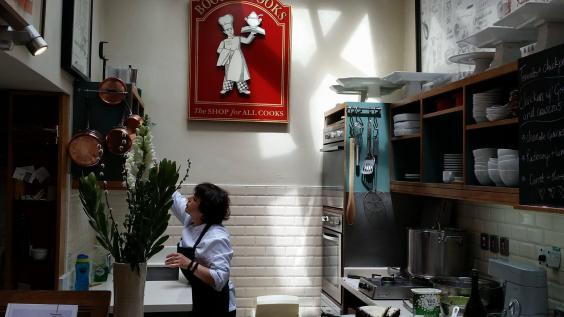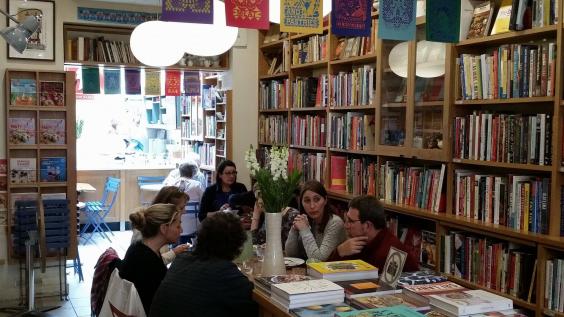 Food is certainly at the heart of what Treuille does, but then so is family. He cooks up an incredible meal every day to test the books that he sells, build a strong relationship with his customers, bring friends and strangers together and, ultimately, to make people happy.
I left feeling warm, not just from the slab of cake I had just devoured, but from the company I had shared it with. They will be back tomorrow, next week and possibly for years to come, almost frozen in time and bound together by an everlasting lunch.
Food's ability to bring people closer is a theory practiced and proven nearly every day in this unassuming little bookshop, and a story, I hope, that doesn't have an ending.
Reuse content