Scottish beer-makers BrewDog are thanking fans who have helped to raise £19million by sending them a bottle of the world's strongest beer wrapped inside taxidermy road kill. 
The top ten devotees in the US who have invested more than $20,000 (£16,000) in the firm are set to receive a bespoke bottle of The End of History, a 55 per cent ABV blonde Belgian ale infused with Scottish nettles and juniper berries. 
The super-strong beer was first created in 2010, when only 12 bottles were made.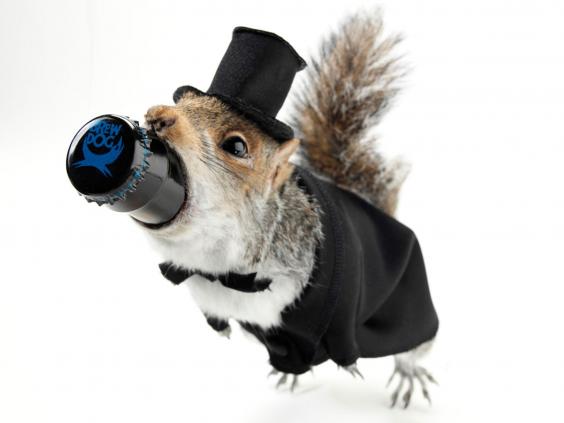 The money raised will go towards building a brewery in Columbus, Ohio, where a ban on brewing beer above 12 per cent has been lifted. 
BrewDog invited fans to claim a share of the company in early 2016 when it launched Equity for Punks IV. 
The poshest beers
The poshest beers
1/10 Budweiser

Budweiser, famous for its bullfrog adverts, came in 5th. 38 per cent of those who buy the beer are middle class.

Spencer Platt/Getty Images

2/10 Peroni

Italian beer Peroni topped the list, as 50 per cent of its customers are middle class

Jason Carter Rinaldi/Getty Images for Peroni

3/10 Heineken

Dutch beer Heineken came second. 45 per cent of its customers are middle class.

Getty Images

4/10 Kronenbourg 1664

Tastemaker Alex James joins the celebrations of the 350th anniversary of the first Kronenbourg brewery at Le Cafe Du Marche

Tim P. Whitby/Getty Images for Kronenbourg

5/10 Beck's

Beck's, a German beer, came 4th with 38 per cent of its customers being middle class

6/10

A Belgian beer, Stella Artois came 6th with 36 per cent

Mark Renders/Getty Image

7/10

35 per cent of the customers of Dutch beer Grolsch are middle class

Piutus/Flickr CC

8/10 Fosters lager

Australian beer Fosters came in 8th. 33 per cent of its customers are in the AB social group

GREG WOOD/AFP/Getty Images

9/10 Carling

31 per cent of Carling customers are middle class

Graeme Robertson/Getty Images

10/10

Carlsberg came join last with Carling, with 31 per cent.

Niklas Morberg/ Flickr CC
As an incentive to help raise tens of millions of pounds for their favourite beer firm, BrewDog promised customers who referred others to the scheme "epic rewards". 
A statement on the firm's website read: "It is without doubt one of the most talked-about things we have ever done, probably due to the road kill taxidermy as much as the strength of the beer."
Those whose pockets aren't deep enough to fork out $20,000 but become BrewDog shareholders receive a lifetime 20 per cent discount in its US online shop, a card which gives them a 5 per cent discount in their bars worldwide, as well as an invite to the USA AGM.
James Watt, who co-founded BrewDog told Time: "We wouldn't have a US brewery without our investors, and we want to celebrate by giving them access to something extra exclusive that you just can't get your hands on any other way."
"I absolutely love the beautiful, yet disturbing nature of taxidermy, so packaging our most evocative beer in such an unconventional, BrewDog way made sense," said Watt. "Beer is art. Art is also art."
Reuse content