Brunching out... 
This newly opened all day bistro, with its dusky pink walls and velvet teal seats, tries its hand at offering a little bit of Parisian chic to London's Bloomsbury. 
Despite the Breton stripped staff, the majority of whom are authentically very French, the menu offers the standard Anglo-American brunch selection: pastries; pancakes with a choice of three toppings; yoghurt and granola with seasonal fruits; avocado on toast with poached eggs; a Full English; and The Morning After for the hungover, comprising of steak, eggs, bacon, and a tarragon infused house sauce.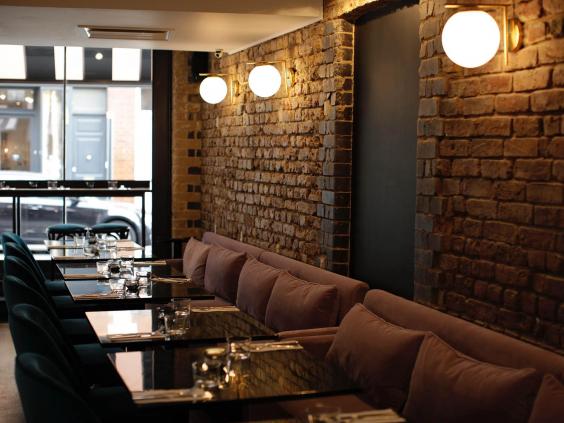 We sampled the decadent pancakes and the Morning After. The pancakes were drenched in butter and had more in common with a plate of Madeline cakes than their American counterpart, which isn't a bad thing. The hearty Morning After was served in an Instagram friendly bowl, which while aesthetically pleasing, the curved edges proved a challenge when trying to cut the steak. 
Diners can choose to make their brunch, into a 'drunch', a portmanteau of 'drunk-brunch' gaining use in London's weekend dining scene. It essentially means, drinking a lot of booze with your breakfast – so choose between mimosa, Bellini or bloody mary cocktails, or Processco. For those with actual things to do later in the day, you can chose a smoothie, fresh juice, tea or coffee. 
Brunching in..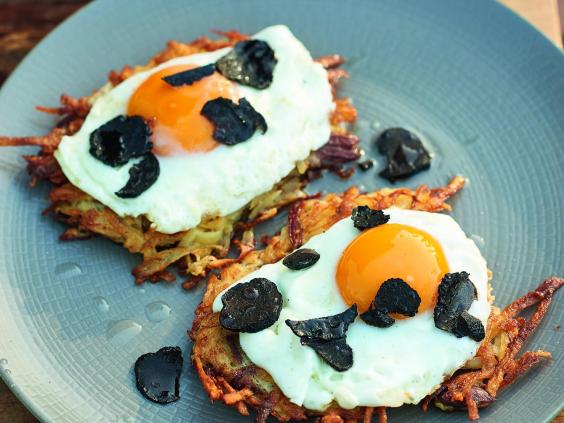 Brunching in... 
Confit duck rosti with fried hen's egg 
Serves 2
3 waxy potatoes, such as Charlotte, peeled 
2 tablespoons crème fraîche
2 sprigs of thyme, leaves picked
3 eggs
1 confit duck leg or 1 tinned confit duck leg, plus a little extra duck fat
8 slices fresh black tru e or a drizzle of true oil (optional)
sea salt and freshly ground black pepper 
Grate the potatoes over a clean tea towel, then fold up the towel and squeeze out any excess water. Put the squeezed potato in a bowl and add the crème fraîche and thyme. Lightly beat one of the eggs and stir into the mixture, then season with salt and pepper and set aside. 
Take the confit duck leg and pull o the meat, keeping the duck fat that covers the leg but discarding the bones and skin. Flake the duck meat and stir into the potato mixture. Place the duck fat in a small saucepan, heat gently until it melts then remove from the heat. Drizzle just enough of the duck fat into a heavy-based frying pan to cover the base of the pan and place over medium heat. Add the tru e slices or oil, if using, to the remaining fat in the saucepan and set aside to infuse while you cook the rosti and eggs. 
Divide the potato mixture in half and spoon into the frying pan to form 2 patties. Fry over medium heat for 3–4 minutes. When the edges start to go golden brown, turn them over and fry for a further 3–4 minutes until the rosti are cooked through. Transfer to warmed plates and keep warm. 
Crack the 2 remaining eggs into the frying pan and fry for about 2–3 minutes until cooked to your liking. Place an egg on top of each rosti, drizzle over a little of the tru e-infused duck fat and finish with sliced tru e, if using. Serve immediately. 
James Martin's French Adventure by James Martin (Quadrille, £20) Photography © Peter Cassidy
Reuse content