Brunching out...
Mixing a Hispanic-inspired menu with the best of locally sourced products, a little bit of industrial chic and east London hipness is Poco. Originating from local-loving Stokes Croft in Bristol, the London branch serves up a similar tapas-inspired menu.
Find it just off Broadway Market, Poco – which is short for the Mexican phrase "poco loco", meaning a little crazy – and try dishes influenced by Spain, Morocco and Latin America owing to owner Tom Hunt's travels.
Open every day, the brunch menu is served from 8am until 4pm.The restaurant takes huge pride in sourcing its food locally, and even lets you know where it came from by printing in on the reverse of the menu.
Its mission (also printed on the back of the menu) includes sourcing produce from within 100 miles, working with community projects, using sustainable fish and recycling everything. While the interior is just as stripped back as the food and Poco's approach, with exposed copper pipes and unpainted walls. 
I chose the roasted sardines, poached eggs with mojo verde and crème fraîche served on the most delightful sourdough bread. With large sardines and two eggs on one gorgeously hefty slice, it's filling and served with a pile of dressed mixed salad, ticking pretty much every necessary brunch box.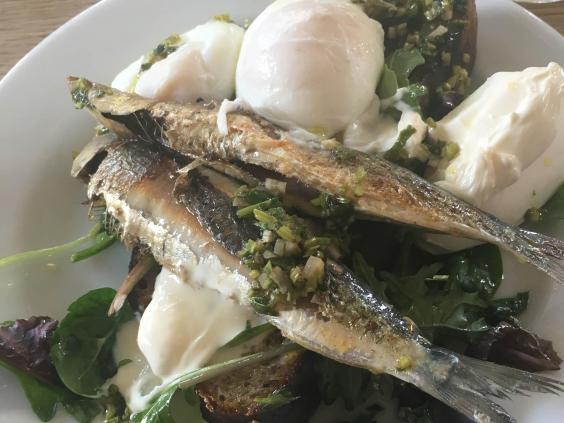 While its signature dish made up of Moroccan scrambled eggs with merguez, harrisa beans, chilli, red onion, coriander on grilled sourdough is a spice-lovers' dream. But one of the best plates is the soft and chunky French toast. Small slices of French stick, cooked in egg and sweetened with a drizzle of honey, flavoured with rosemary and cooled with heaps of crème fraîche, will have you coming back.
If you've got a hankering for something sweet afterwards, finish up with the goat's milk chocolate dessert, with caramelised beetroot and cream. It's rich, creamy and wonderful. The coffee is organic and deliciously strong, and classic soft drinks are made in nearby Dalsto; while cocktails include bloody Marys, spritz and mimosas. 
Poco, 129 Pritchard's Road, London E2 9AP; 0207 739 3042; Mon-Fri 8am-10pm, Sat-Sun 10am-10pm; pocotapasbar.com
Words by Emma Henderson
Brunching in...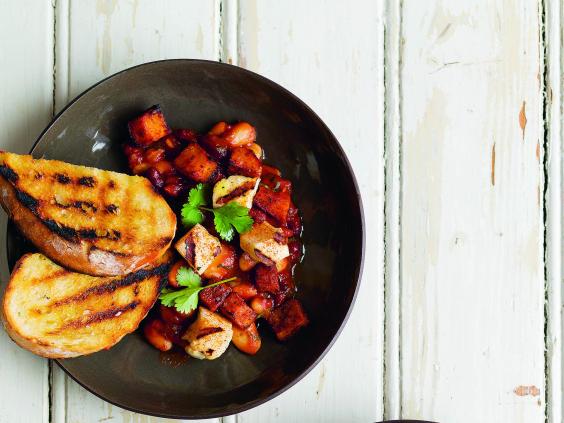 Dave Gatenby's love of food stems from spending long summer holidays in Devon, cooking communal meals over wood fires and barbecues. As a photographer, he spends his days in the studio cooking and photographing food. To showcase his creativity, he runs a supper club called Banquet in south west London.
Dave's incredible beans
Makes 4 bowls 
1 butternut squash, peeled and chopped into 1 cm (1⁄2 in) cubes 
1tsp smoked paprika, plus extra to dust 
3-4tbsps olive oil
salt and freshly ground black pepper
1 red onion, finely diced
3 garlic cloves, finely sliced
2tbsps red wine vinegar
pinch of sugar
1x700g (1lb 8 oz) jar tomato passata
1x400g (14 oz) tin or jar good- quality butter beans, drained
sourdough bread, cut into thick slices
1x250 g (4 oz) packet of halloumi, cubed
fresh coriander leaves finely chopped 
Preheat the oven to 180°C (350°F/Gas 4). Place the butternut squash on a baking tray, add the paprika, 1tbsp of olive oil and some salt and pepper, and toss to coat. Roast for 20 minutes.
Meanwhile, sweat the onion and garlic in a frying pan with 1tbsp olive oil, until soft and golden. Add the red wine vinegar and sugar to the onions, followed by the tomato passata and a splash of water. Bring to a simmer, then add the butter beans and roasted squash.
Season the beans with salt and pepper and divide between individual ovenproof bowls. Bake for 30 minutes. Heat a griddle pan up to full whack, then rub the sourdough bread with another tablespoon of olive oil and season with salt. Place on the griddle and cook until crispy and blackened.
In the same pan, char the cubes of halloumi until golden brown. Carefully remove the beans from the oven. Add the sourdough slices and halloumi cubes to each bowl and garnish with coriander leaves. A final dusting of paprika at this stage would be perfect. 
This recipe is from Spoon, by Annie Morris and Jonny Shimmin. Published by Hardie Grant, £15 on 6 October 
Reuse content