Show me a kitchen and I bet I'll find a Kilner jar somewhere on the countertop, in a cupboard or stashed in the refrigerator. If it's my kitchen, then you'll find them in all three places. Designed as preserving jars, Kilner goes far beyond preserving and pickling fruits and vegetables. It's where I store flour and homemade granola and coconut flakes and leftover Halloween sweets. 
But preservation was the name of the game back in 1842 when John Kilner and Co. introduced the country to the original Kilner jar. What made it so unusual – and welcome – was that it had a two-piece seal system with a glass lid and metal screw band. This meant home cooks could preserve food safely, reducing the risk of food poisoning. The original jars were large, .75 litres and 1.5 litres, and designed for a time when preserving food wasn't optional but instead a critical way to manage the seasonal glut of home grown food. 
Glass jars for preserving and pickling weren't new. During the sixteenth century, transparent glass bottles were a nifty way to show off what you'd made. But glass bottles were hand blown, expensive, and made on a small scale so only the wealthy could afford them. But the industrial revolution meant that glass bottles could be mass produced. Suddenly, glass was able to compete with traditional earthenware and stoneware and began to own the market.
Soon glass jars were the norm and stoneware was the exception, used mainly as a way to market high-end marmalade. Glass had a lot to recommend it: it didn't stain or absorb odours and it was easy to clean. And if you didn't drop your Kilner jar of brandy cherries, both the food and the jar could last a very long time.
The original Kilner Glass Works was established in Thornhill Lees in Dewsbury. It benefited from the River Calder which provided water for steam engines. By 1857, John Kilner's sons George, William, John and Caleb had taken over the business. Popularity of their jars spread and in 1862, they won a medal at the Great International Exhibition in London – the only one awarded to a glass works. With business going well, they opened a second factory in Conisbrough and employed over 500 workers. Success followed in the 1870s and 1880s with more awards in Paris, Sydney, Melbourne and Philadelphia.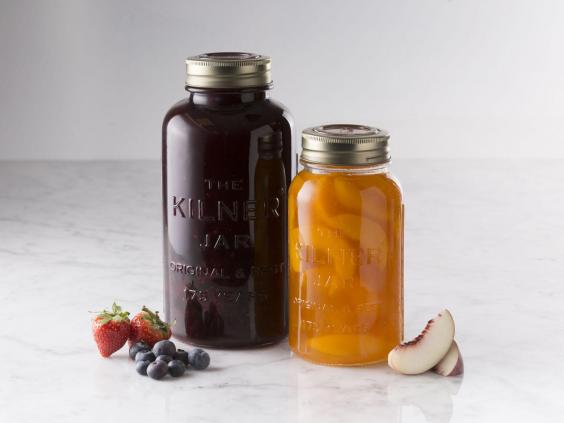 In the 1900s, Kilner claimed their jars were, '…the original and the best, all other brands are substitutes.' But unfortunately there was increased competition including cheaper foreign imports that ate away at Kilner's market share. Business flagged in the early 20th century until finally the patents and trademarks were sold off and the Conisbrough factory was shut in 1937.
But the story didn't end there. In 2000, the Rayware Group bought the Kilner brand, patent and trademark for the original Kilner jar. They also introduced new Kilner lines so today you can buy a dizzying array of Kilner products including the original preserving jars, twist top jars, round and square clip top jars (my favourite), preserving kits, butter churns, drinks dispensers and spiralizers. They even have an entire range of preserving accessories from pans to funnels and thermometers so even a novice can give preserving a go.
But the basic form of the glass jar remains the same and it's this that sets Kilner apart. You can recognise a Kilner jar with it's simple lines and fuss-free design. Nothing is there that doesn't need to be. They have a pleasing heft to them and wide mouths so you can fill them easily. I've had some jars for years but they've never scratched so they look brand new. I like them too because they don't have BPAs like plastic containers so they're healthier and and because they're glass they can – if that day should come – be recycled. 
Kilner had its rise and then its fall. But you only have to look at the boom in home preserving (think kimchi and sauerkraut) to feel confident that Kilner is well positioned for future success. With prices that range from a very reasonable £3 to a still affordable £40, it's no wonder that Kilner has earned its place on our kitchen counters. 
Reuse content