Exciting ingredients mark the arrival of autumn – from juicy plums and pears to fragrant mushrooms and rich game. Here, Britain's best chefs give their tips on using the season's finest produce.
Mushrooms
Skye Gyngell
Spring restaurant
Autumn is one of the best seasons for a bounty of produce – squash, game, mussels – almost as much as the spring, autumn's ingredients really mark a point in the year; the food is warming, just as you want it to be. The variety of mushrooms you can get at this time are wonderful. My favourite is Kaiser (or ovoli), which I shave raw, and serve with wafer-thin slices of Parmesan and olive oil. A perfectly light, yet powerfully tasty snack or side dish.
springrestaurant.co.uk
Opening 14 October
Bruno Loubet
Bistrot Bruno Loubet  and Grain Store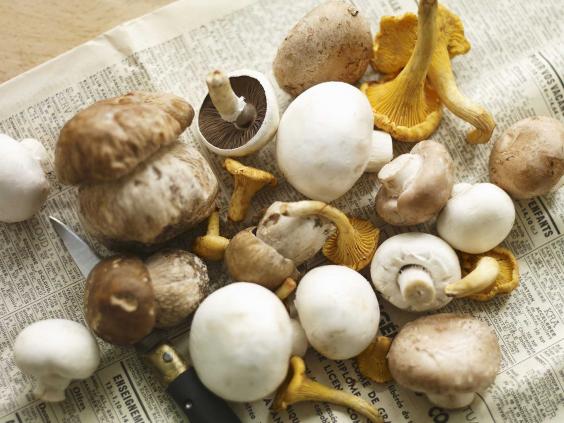 I like to pick mushrooms myself, but you obviously need to know what you're looking for. My favourite way to eat ceps (also known as porcini) is to sauté them with a ¬little bit of butter, a few shallots and some garlic until they start to caramelise and turn a nice golden brown colour. Then you just need to add some flat parsley and strips of prosciutto before serving with crusty bread. This simple dish really makes the most of the mushrooms.
Tim Siadatan
Chef and co-owner of Trullo
Recipe: Bruschetta with wild porcini, chilli, lemon, marjoram and new season Tuscan olive oil. Sear the porcini and mix with the chilli, lemon and marjorman then pile on top of freshly toasted sour dough and drizzle with new season Tuscan olive oil.
Shuko Oda
Koya Bar
I love the dish of tofu dumpling with grilled girolles as it makes me think of the summer ending, and autumn starting – it is the perfect dish to welcome the colder weather in. The ingredients are prepared in such a manner that they give their best flavours where the girolles stand out, but maintain a depth so that all the other ingredients compliment each other. It's the perfect balance."
Click here for Shuko's full recipe of tofu dumpling with grilled girolles
Anthony Demetre
Arbutus, Wild Honey and Les Deux Salon restaurants
One of my favourite ingredients for this time of year is the trompette mushroom, also known as trompette de la mort in French, but don't let that put you off! These little mushrooms have a unique depth of flavour, autumnal and woody. I think they are very underused, as people tend to favour ceps and girolles over them, but they are a real unsung hero of the mushroom world. Currently we have a trompette mushroom soup, poached egg and toasted buckwheat on the lunch menu, however one my other favourite ways of using them is to partner them with coffee and liquorice. For example, I use them in a dish with roast salsify and a coffee and cardamom custard (a bit like a savoury crème caramel). They are a really versatile mushroom that would also partner any pasta or risotto dish.
John Williams
The Ritz London
Ceps are one of my favourite ingredients for the autumn, they can be dressed up or served simply as I like to do as a weekend treat; brush your ceps clean of any debris, cut in equal sizes depending on the size and shape of the mushroom then sauté with a little butter and garlic and a few spoonful's of meat jus (this enhances the flavour), and finish with some fresh parsley, take great care to never over-cook them. Spoon the ceps on to fresh toast topped with fluffly scrambled egg. 
theritzlondon.com/Dinner-Restaurant.html
Sweetcorn
Anna Hansen


The Modern Pantry
I love the smoky sweetness of charred sweetcorn in the autumn, it conjures up memories of winter nights by the fire and adds freshness to hearty dishes and salads such as wild rice salad which I particularly love. It is sweet and succulent and very versatile, able to take on many guises. If cooked to perfection it is just the right amount of "crunchy" but it is also an amazing foil for soaking up butter, and really enhances both sweet and savoury dishes. It even makes a healthy snack as popcorn!"
Scott Hallsworth
Chef/owner of Kurobuta restaurants
I've chosen two ingredients with the main one being corn and the accompaniment being brown crab meat which the Japanese refer to as kani-miso (crab-miso). English corn has been amazing recently, it probably comes down to the summer we just had. Lately each kernel is bright and plump and full of sweet juice.
I've been doing my version of a Japanese classic tempura dish called kakiage. Normally, kakiage is a cluster of various ingredients which may include prawn, carrot, onion, fish and other seasonal ingredients or even herbs. The various ingredients are cut into thin slices or cubes then combined with some tempura batter then formed into little disc-like shapes, which are normally about 9/10cm in diameter.
I pretty much do the same thing. I cut off the kernels of the corn cob and mix them up with some thinly sliced spring onion then mix with some ice-cold tempura batter. Instead of large discs, using a tablespoon, I form small 3-4cm size clumps and fry them in hot oil until very crunchy. They look like a little corn nugget. The golden corn nuggets are brilliant served with a fresh mayo made with the addition of some brown crab meat which is also excellent at the moment.
Freshen the whole thing up with some finishing touches; thinly slice some red onion and green chillies and scatter over the top. Make a little drizzle to go on the plate by combining some soy, sugar, lemon juice, pinch of salt and a drop of good quality rice vinegar. Serve the brown crab mayo in a dipping cup on the side. Boom! Golden crunchy corn nuggets!
Jerusalem artichokes
Dan Doherty
Duck & Waffle
For me, it's all about the Jerusalem artichoke. I find myself waiting all year until I can get my hands on them. Their nutty, earthy flavour is versatile, permitting endless options in the kitchen. For instance, I love using them to create silky purées, or slicing them and making crisps. You can't beat roasting with shallots, garlic and thyme and tossing through a salad with peppery watercress and goat's cheese. However, my favourite use of the Jerusalem artichoke is in a custard with a hint of vanilla – the combination produces a sweet, yet savoury flavour profile and makes for a great dessert.
'Duck & Waffle: Recipes and Stories' by Daniel Doherty will be published by Octopus on 6 October
Blackberries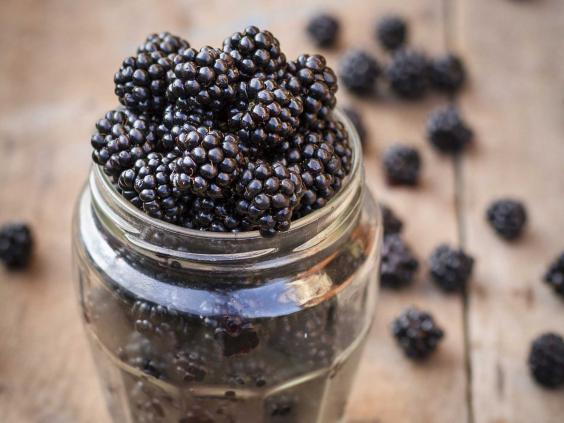 Michael Wignall


Michael Wignall at the Latymer
I love this time of year, when the blackberries are in abundance in the grounds surrounding the restaurant. We take every opportunity to venture outside and pick this glorious berry. At the moment we have a dish on the 10-course tasting menu – it consists of blackberries, cob nuts and honey from the garden.
We lightly poach the blackberries in a small amount of their own juices, freshly squeezed, with no added sugar. (We find that this time of year, the berries are a lot sweeter, as they have had time to mature in the sun)
This will be accompanied by a jelly of blackberries, set with agar. We cut this into thin strips and place over the poached blackberries. These are served on disks of thinly rolled, homemade pistachio marzipan, which has been lightly blow-torched.
We also make a honey and toasted cob-nut ice cream, to accompany the blackberries. For me, this dish is the finale of summer, entering into autumn.
Rainbow chard
Ana Morris
Head chef, LeCoq
I would choose rainbow chard – a beautiful and very nutritious vegetable that belongs to the beetroot family. It is perfectly in season right now and a wonderful veg to take advantage of while you can – it tastes sweet and ever so slightly earthy, and is so very, very pretty! People often are a little stumped with what to do with it. Like most beautiful veg, the answer is very little – let the chard bask in its own rainbow coloured glory! It is perfect served with lamb, grilled fish, chicken … anything really.
Click here for Ana's full recipe for Chard Argodolce (sweet and sour in Italian)
Turnips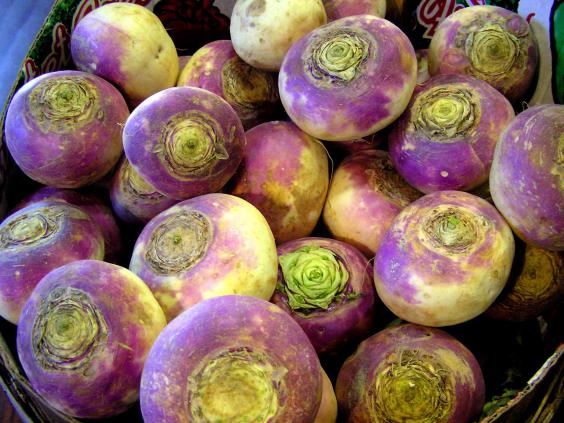 Dan Cox


Executive Chef, Fera at Claridge's
My favourite autumn vegetable has to be the turnip. It's such a versatile vegetable which can be enjoyed just as well in its raw state as it is when cooked. For a delicious autumn salad, very thinly slice a raw turnip, and layer over turnip leaves. Then drizzle over a dressing of rapeseed oil, fresh herbs, a squeeze of lemon juice, and salt, and top with pan-fried plaice. In my opinion, the best way to cook a turnip is to salt bake it for 30-40 minutes, depending on the size, and serve with game at this time of the year, especially grouse.'
Pears
Ben Tish
Chef director of the Salt Yard group of restaurants
My favourite autumn fruit by far is the pear. Not only are they delicious but also incredibly versatile. They end up in all sorts of things at the restaurants, currently you'll find me grilling them over charcoal on a barbecue. Simply peel the pears, cut in half lengthwise and cut out the core. Now, let them dry out in the fridge for a few minutes, uncovered. This will aid the grilling process and ensure a good char on the fruit. The right variety is important too – excellent grilling varieties include Anjou, Williams and Conference.
Place the pears on a grill over hot coals and cook for a couple of minutes each side. You can serve these delicious things with burrata and hazelnuts: honey and aged pecorino; sliced, warm in a salad with goat's curd and peppery leaves, or go down the sweet root and pair them with something creamy and cold or some blackberries macerated in sugar with vanilla.
Click below for Ben's full recipes:
Salad of Trevise, Roasted Pears, Fresh Chestnuts and Marjoram
Grilled William pears with chestnut honey, chestnuts and mascarpone ice cream
Cavolo nero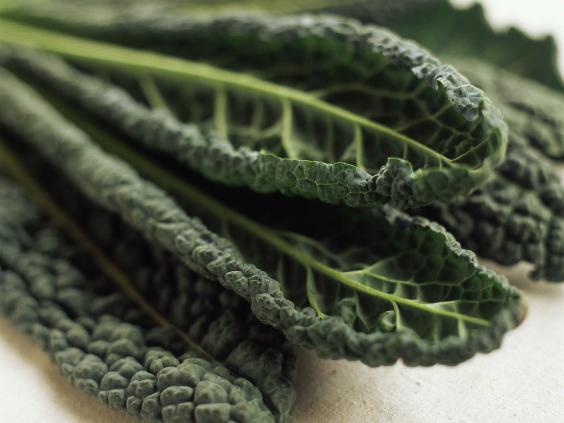 Rachel O'Sullivan
Executive Chef at Lardo
I love cavolo nero, I love greens in general and this is my favourite. As the weather turns cooler I look forward to braises in general. I have chosen a recipe for oxtail, cavolo nero and cauliflower.
Click here for Rachel's full recipe for oxtail, cavolo nero and cauliflower purée
Pumpkin
James Sommerin 
My autumn ingredient would have to be Ironbark pumpkin, its sweet flavour and vibrant orange colour is amazing. When pumpkins come into season I start feeling all warm and cosy and think of the leaves
falling from the trees and sitting in front of the fire with the family. People associate pumpkins with Halloween but they should be used so much more, and not just for Halloween lanterns! Pumpkins are so ¬versatile and will complement many different flavours. My favourite dish that we make is a Pumpkin and Parmesan Crumble which is delicious on its own or as an accompaniment to a meat dish.
Click here for James' full recipe for pumpkin and parmesan crumble
jamessommerinrestaurant.co.uk/
Dover sole
Sergi Sanz Blanco
Head chef, Ametsa
At this time of year sole are becoming very interesting, with a nice meaty texture and good size (.5kg). The belly becomes empty, there is no roe inside, which is good for keeping the price down. It is coming from the south coast of England, very fresh and delicate white meat that once cooked just melts in the mouth. I like to cook within the skin, or at least I like to eat the skin on the side as it's always crunchy and complements the meat of the fish. Chickpeas are also now being collected and they make a fantastic pairing with this fish. A hummus underneath goes perfectly with the softness of the sole meat. As a delicate fish, I like to add a meaty ingredient – helping fish to be a ¬properly main course. In this case a sauce based on an iberico ham stock is my proposal. The salty and tannin elements work really well in there.
comohotels.com/thehalkin/dining/ametsa
Game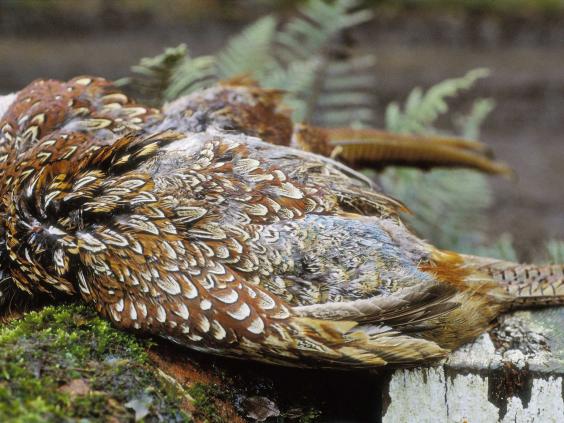 Mike Denman


Executive Chef at the Great Northern Hotel 
Game is really versatile, with a wide range of flavours, from mild ¬pheasant or rabbit, to much more "gamey" woodcock or grouse – so there's something to suit all tastes. The one thing that pretty much all game has in common is that it's very lean, so you shouldn't over-cook the breasts or loins, whilst tougher cuts, such as rabbit legs or venison shoulder, should be slowly braised or pot roasted. My pigeon on toast recipe is perfect for this time of year. You could ¬substitute the pigeon breasts for grouse or partridge if you can get hold of them.
Click here for Mike's full recipe for wood pigeon on toast with pickled girolles and elderberries
gnhlondon.com/restaurants-and-bars
Elderberrries
André Garrett
Cliveden House
I love grouse paired with elderberries. I pick the berries as soon as they appear, here at the Cliveden House estate, then pickle them lightly to use in a sauce to accompany roast grouse (just a typical grouse jus). The berries add a beautiful but gentle sweetness to the sauce. I also pickle loads of elderberries separately, since their season is so short, and then use them throughout the late autumn and winter game season to add to sauces for other birds and venison.
clivedenhouse.co.uk/restaurant/
Plums and blackberries
Miles Kirby


Chef-owner, Caravan restaurants
Now is the time to buy and bottle these beauties! They are juicy right now and taste great, and will soon ¬disappear from our shelves. Make plum sauce or jam. Buy blackberries now and make jam – a great Christmas gift idea. Or muddle them into a cocktail with some vodka and hard ice, or just eat with cream or Greek yoghurt.
Cinnamon
Claude Bosi
Hibiscus
This time of year, cinnamon is one of my favourite ingredients. Its subtle fragrance and versatility say autumn to me. On the menu at ¬Hibiscus, I use it inside a savoury dumpling with toasted onions and serve with a ¬consommé that has been infused with the whole cinnamon quill (stick).
WIN VIP TICKETS TO EXPERIENCE STREET FOOD AT ITS FINEST
Win 2 VIP tickets to the British Street Food Awards at For The Love Of Food in Leeds On 26-28 September. The prize includes a behind-the-scenes tour on Saturday morning of the best traders in Europe with Richard Johnson, the founder of the Awards and the man who (literally) wrote the book on street food, with an exclusive set of British Street Food cake pops and a Saturday night's stay in a double room in the luxurious Park Plaza, right in the centre of the city.
To enter, tweet the following message: I am going to the biggest and best street food party in the world at fortheloveoffood.co with @indyonsunday and @britstreetfood #bsfa
(T&Cs: Promotion closes on Wednesday 17 September at 23.59pm. The winner will be drawn at random after the closing date and will receive two tickets. The prize is non-transferable; no cash alternative. One entry per person. Usual promotion rules apply. See independent.co.uk/rules.)
Reuse content