Yesterday evening I hosted a Burns Night supper with Hardeep Singh Kohli at my place in London's Brown's Hotel. Hix, Hardeep and the Haggis turned out to be a winning combination. What a fun night we had – Hardeep almost set fire to his eyebrows when flambéing the 5kg haggis made by Stuart Houston, a third-generation butcher, working out of the family premises in Dumfries. He makes a delicious haggis that often appears on our menus either side of Burns Night.
Stuart has a subtle variation in spices to other haggis, but that's a personal thing and a safely-kept secret, I'm sure.
Scotch broth
Serves 4-6
Mutton is without doubt the best meat to use for a soupy broth like this. You will probably need to ask your butcher to order it in advance, although butchers are coming round to the fact that mutton is back in vogue and they are making more of an effort to stock it generally. About time too.
A broth like this is also perfect to take in a vacuum flask on a day's fishing, or shooting or on a long country walk.
250-300g neck fillet, or boned shoulder of mutton lamb, cut into rough 1cm dice
½tsp chopped thyme leaves
30g pearl barley, soaked in cold water for 1 hour then drained
50g dried split peas, soaked in cold water overnight, drained and rinsed
2ltrs lamb or chicken stock, or a couple of good-quality stock cubes dissolved in that amount of hot water
alt and freshly ground black pepper
1 small leek, well rinsed, trimmed and cut into rough 1cm dice
2 carrots, peeled if necessary and cut into rough 1cm dice
1 celery stalk, peeled if necessary and cut into rough 1cm dice
1 small swede (turnip), peeled and cut into rough 1cm dice
A few leaves of green cabbage, stalks removed and cut into rough 1cm dice
1tbsp chopped parsley
Put the lamb, thyme, barley and split peas into a large pan and cover with the stock. Season with a little salt and freshly ground black pepper, bring to the boil and simmer for 1 hour.
Add the vegetables, except for the cabbage, and simmer for another 30 minutes.
Next add the cabbage and parsley and simmer for a further 10 minutes.
Season again with salt and pepper, if necessary, and serve.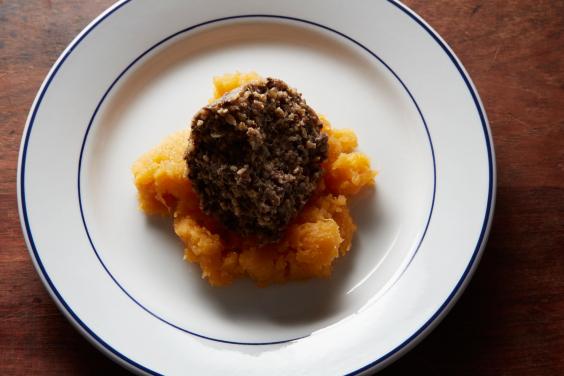 Haggis and bashed neeps
Serves 4
I've always been flummoxed by the neep: it confuses the hell out of me how the Scots tend to refer to the swede as a turnip and actually refer to turnips as white turnips, not the yellow ones (swedes) – you could excuse me for sometimes getting a little muddled.
Anyway, rather than confusing you, neeps are made with what we know as swedes and in this recipe they are bashed, which means coarsely mashed. Got it?
1 small haggis weighing about 400-500g
4 good shots of your favourite Scotch whisky (optional)
For the bashed neeps
500g swedes, peeled and roughly chopped
60g butter
Salt and freshly ground black pepper
Put your haggis in a pan of water, bring to the boil and simmer for 30 minutes.
Meanwhile, make the bashed neeps, cover the swede with water and season with salt and pepper. Bring to the boil and simmer gently for 10-15 minutes until they are soft enough to mash. Drain in a colander, then coarsely mash with a potato masher. Adjust the seasoning, if necessary, and stir in the butter.
To serve, remove the outer skin from the haggis, spoon the neeps into the centre of warmed plates, place a spoonful of haggis on top and pour a little whisky over.
Roast rack of deer with Leek and Potato Stovies
Serves 4
Stovies are traditionally made with leftovers on the stove, rather like bubble and squeak. You can also add things like swede or parsnips to it if you wish.
A good game butcher should be able to cut you a French-trimmed rack of deer.
2 x 6-7 French-trimmed racks of deer
1 medium onion, peeled and thinly sliced
Vegetable oil for frying
A good knob of butter
250g new potatoes, boiled in their skins, cooled then peeled
1tbsp chopped parsley For the sauce
2 shallots, peeled and finely chopped
A good knob of butter
2tsp flour
1tsp tomato purée
100ml red wine
250ml beef stock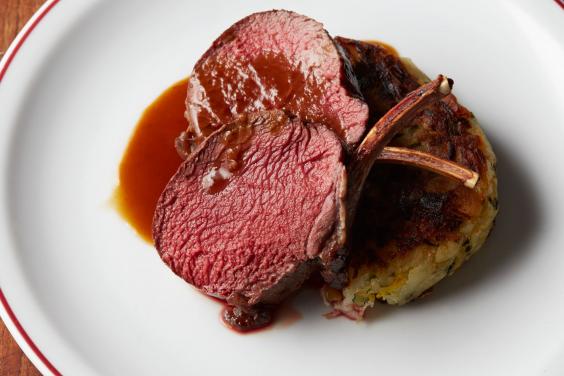 First make the sauce: melt the butter in a thick-bottomed pan and gently cook the shallots for 2-3 minutes until lightly coloured. Add the flour and tomato purée and stir well over a low heat for a minute.
Gradually add the red wine, stirring to avoid lumps forming, and then gradually add the beef stock. Bring to the boil and simmer very gently for about 20-25 minutes, whisking occasionally, until the sauce has reduced by about two-thirds and thickened. Cover and keep warm. Preheat the oven to 220C/gas mark 7.
Gently cook the onion in a little vegetable oil, covered, for 5-6 minutes, stirring every so often. Season, add a little butter and continue cooking uncovered, until they just begin to colour, then transfer to a bowl. Coarsely chop the potatoes and add to the onions and parsley, season and then mix well.
Heat a tablespoon of oil in a frying pan, preferably non-stick, add the mixture and shape it into a cake, pressing it with a spatula. Let the stovie cook for 4-5 minutes, until it begins to colour nicely underneath, then flip it over like a pancake. Alternatively, you can turn it out by inverting it on to a plate, then heating a little more oil in the pan and sliding the hash back into the pan. Cook for another 4-5 minutes.
While the stovie is cooking, season the deer rack, heat a roasting tray on the stove and brown the rack on both sides then roast in the oven for 15 minutes, keeping it nice and pink; then leave to rest for 5-6 minutes on a plate.
To serve, spoon the stovie on to warmed plates, slice the deer rack between each bone and arrange on the stovie; then spoon the sauce around.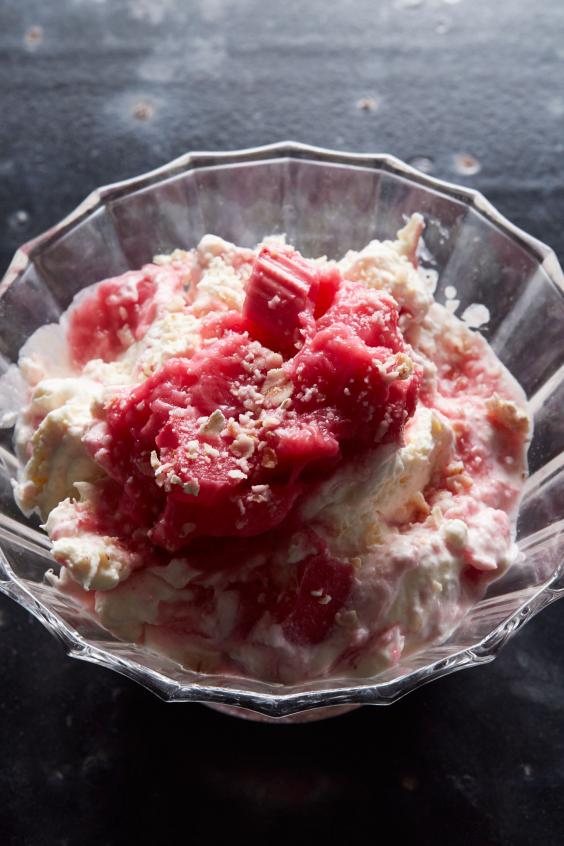 Cranachan with Rhubarb
Serves 4
This is a dead simple dessert to make and it's full of flavour. You can use any soft fruit really, but rhubarb is in season and goes rather well with the Drambuie.
For the rhubarb compote
300g rhubarb, trimmed, washed and chopped into rough 1cm chunks
100g caster sugar
For the fool
2-3tbsp Drambuie
60g medium oatmeal, lightly toasted
3tbsp clear honey
400ml double cream
To make the compote, put the rhubarb and sugar in a heavy-based saucepan and cook on a low heat for 4-5 minutes, stirring every so often until the rhubarb is tender. Remove from the heat and leave to cool, then refrigerate for an hour.
To serve, whip the cream not too stiffly, then add the Drambuie and honey and continue mixing until it thickens again. Then taste and add a little more of the Drambuie if you wish.
Carefully fold half of the compote and two-thirds of the oats into the cream mixture and spoon into individual glasses or a serving dish and chill for at least an hour. Serve with the rest of the compote and oats on top of the fool.
Mark Hix is appearing at The Independent Bath Literature Festival at 6.15pm on Friday 7 March. Tickets £8. See bathfestivals.org.uk