When a muesli packed with beetroot wins a Great Taste award, and beet drinks fly out the door alongside the cappuccinos at Pret, you know that beetroot must be having a moment. Some people still can't stand this love-it-or-hate-it vegetable, which has divided the population for decades, but others are keen enough to want to munch or slurp the earthy red stuff for breakfast.
Perhaps they are all younger than those of us who remember beetroot as that flaccid, vinegary slice that sat on the edge of a Sunday supper salad, bleeding unappetisingly into the limp lettuce and salad cream. "If you think back to the Seventies, beetroot inevitably came pickled, while today it's all about fresher flavours," says Adam Whitehead, a salad buyer for Marks & Spencer, which has experienced an astonishing 40 per cent leap in annual beetroot sales (Sainsbury's is not far behind, at 30 per cent).
Beetroot had been suffering a decline in interest for some years, according to growers. Whitehead puts the recent boom down to a sudden appreciation of its health benefits (it's rich in iron, magnesium and potassium and lowers blood pressure): "We sell it in juice, salads, roasted with other vegetables, and our beetroot burger was one of the summer's great successes." The retailer is not currently stocking raw beetroot, but when the new crop appears in summer, it will put on its shelves heritage bunches featuring the golden and candy-striped varieties currently accompanying goat's curd or feta in trendy restaurants.
Not all growers feel that adding coloured beets, which Tesco introduced with great success last year, to the mix is worthwhile; Riverford, the veg-box company, believes the traditional purple-red varieties have the best flavour. But Petersham Nurseries in Surrey (home to the much-feted café) grows the Burpee's Golden loved by Victorians for its nutty flavour, and Chioggia for its candy-striped appeal on the plate. It also grows Bull's Blood for its leaves, and indeed beet greens, when they can be found, have a delicious bittersweet flavour all of their own.
The willingness of consumers to buy and cook whole beetroot from scratch is a sea change in itself. While beets are notoriously messy to cook and peel – wear rubber gloves to circumvent the bleeding-cuticle effect – and there is plenty of vacuum-packed about, keen home cooks are now happy to roast their own from raw. Roasting is a much better bet than boiling for preserving the seductive earthiness of the vegetable, says Josh Katz of the east London grill house Berber & Q, who loves the way it works with duck and pigeon, as well as the most obvious partner, beef, and also pairs it with whipped feta, hazelnuts and orange zest in a salad.
The perfect marriage between beetroot and the zingy white accompaniments that it turns pink – sour cream and yoghurt as well as feta and goat's cheese – is what seems to have driven the vogue for beetroot among chefs, notably those who, like Katz, have a Jewish heritage. They include Yotam Ottolenghi – a big beetroot fan – and Ben Tish, the chef de cuisine of the Salt Yard group, who, like Louis Solley of the London restaurant Jago, makes his own chrain – the pungent East European beetroot-horseradish relish that is sensational with beef.
Less obvious partners that have an unexpected affinity with beetroot include walnuts or pecans, the apples with which it's so often paired in juice, kale (such as in a deliciously earthy beetroot-kale soup from Tideford Organics), pomegranates and fish. Salmon can be cured with beetroot, and a little shredded beetroot makes a fine accompaniment to pickled herring. And while Ottolenghi raves about the way beets work with chilli (G's, the company that grows 70 per cent of the nation's beetroot, says its pre-cooked, chilli-infused variety is a hot seller), bakers have found this super-sweet vegetable also works with chocolate; Riverford has recipes for both beetrooty chocolate brownies and a rich chocolate beetroot mousse cake to make with the organic home-grown beets it packs into its veg boxes.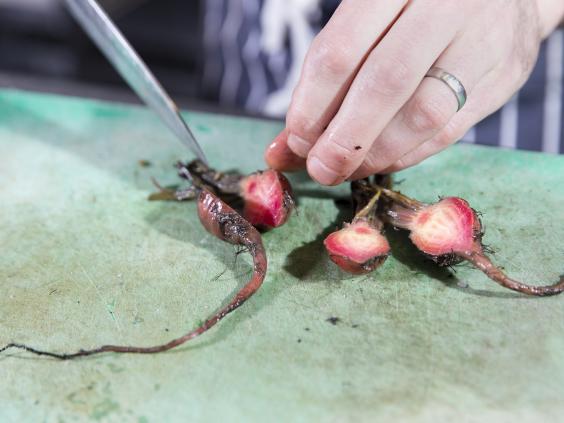 Tish, who loves to roast whole beets in the ashes at Soho's Ember Yard, thinks that the sweetness is a big part of beetroot's appeal, and the fact that it's incredibly easy on the wallet, – though his sumptuous gratin of thinly sliced beets and potatoes (see recipe, right) is no longer an economy dish once it's been layered with taleggio, dotted with pecorino and simmered in a litre of thyme and garlic-infused cream.
But beetroot for breakfast – really? The juice craze has sent beetroot-juice sales soaring into the stratosphere at Tesco and Marks & Spencer, while the detox delivery firm 42 Juice says that its beet, apple, carrot and lemon press is a top seller, with some customers opting for potent shots of pure beetroot with a dash of coconut water to cleanse their livers.
Primrose Matheson did not find it a bit odd to combine raw, dehydrated beetroot with ginger in a muesli that has won Primrose's Kitchen gold at the Great Taste awards two years running: "Beetroot is incredibly energising, and I wanted to make something exciting that you'd want to jump out of bed and eat," she explains.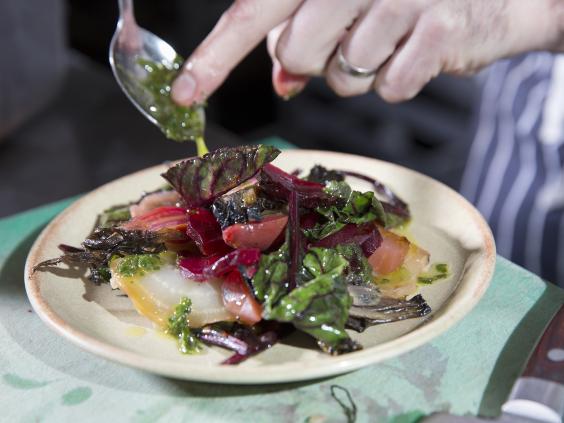 It works, not least because of the kick of the ginger and the pretty pink that brings instant brightness to a winter's morning when milk or yoghurt are added. Perhaps this is why Russians, traditionally the world's biggest beetroot fans, embrace it so readily: it has the power to fight off melancholy, as well as nourish and energise at a time when strawberries, which do the same job, are still sleeping in their polytunnels and summer feels a very long way away.
SIMPLE WAYS WITH BEETROOT
Mash a peeled root, ideally roasted whole for 2 hours to preserve the earthiness, into yoghurt or sour cream and top with chopped dill to make a quick starter or side dish.
Blitz cooked beetroot with harissa, salt, pepper and a touch of vinegar, before dressing with feta, mint leaves and pomegranate seeds, suggests the tortilla company Manomasa, as a great dip for its chips. A little feta and Greek yoghurt can be blended into the mix to thin it.
The green tops of beetroot are delicious sautéd with sliced red onion, red- or rainbow-stemmed chard and plenty of sliced garlic in olive oil and stirred into spaghetti.
Beetroot and potato gratin
By Ben Tish
Ingredients to serve 6
500g red beets, peeled
400g Désirée potatoes, peeled
50g unsalted butter
2 teaspoons picked fresh thyme leaves
1 litre double cream
2 cloves garlic finely chopped
100g taleggio cheese
50g mature pecorino, grated
Sea salt and black pepper
Place cream, garlic and half the thyme in a saucepan and reduce by 1/3 over a low heat. Season and reserve. Slice beets and potatoes very thin on a mandoline or with a very sharp knife.
Rub butter around an ovenproof dish, then add a layer of overlapping potatoes, season and follow with a layer of overlapping beets and season. Add a few knobs of taleggio and then pour over a little of the infused cream. Repeat, then press layers down and cover with foil.
Preheat an oven to 180C and cook the gratin for 45 minutes or until the layers are very tender, the cream is thick and bubbling and a knife is easily inserted through the layers without resistance.
Sprinkle pecorino and remaining thyme over the top and finish under a grill until golden brown.
Reuse content