Nothing says summer like a plate of beautifully cooked seafood eaten al fresco at the seaside. The noise of the waves and salty aroma of the sea make everything taste better – and just as long as they don't get too close, I even enjoy the chatting of the seagulls.
These dishes are so easy to make, I'm almost embarrassed to pass them off as recipes, but if you are anything like me, that's half the attraction… Who wants to be slaving in the kitchen in the holidays, anyway?
Instead, it's the process of bringing it all together that I enjoy: leisurely shopping for beautiful, fresh produce, followed by pressure-free tinkering in the kitchen, with the final pleasure that comes from sharing the results with friends and family. The joy it gives me is what has inspired my work, and I can't think of a better way to enjoy life.
Bill's restaurant, Granger & Co, is at 175 Westbourne Grove, London W11, tel: 020 7229 9111; 50 Sekforde Street, London EC1, tel: 020 7251 9032; and Stanley Building, 7 Pancras Square, London N1, tel: 020 3058 2567, grangerandco.com. Follow Bill on Instagram at bill.granger
Linguine with mussels and fresh tomatoes
I do love linguine with mussels in a rich tomato sauce, but at this time of year, when the tomatoes are at their sweetest and most flavoursome, I prefer this fresher, more instant pasta. The secret to its success is a really tasty tomato salad that I'd happily eat on its own. Just add the mussels and linguine and you have a winner.
Serves 2
650g cherry tomatoes, quartered
1 tsp fennel seeds
Handful flat-leaf parsley leaves
3 garlic cloves, finely chopped
6 tbsp olive oil, plus extra to serve
200g linguine
½ tsp chilli flakes
100ml dry white wine
1kg mussels, cleaned
Combine the cherry tomatoes, fennel seeds, parsley and half the garlic in a large bowl. Season with sea salt and stir through half the olive oil. Set aside while you cook the pasta.
Cook the linguine in a large pan of salted, boiling water until al dente. Drain. Meanwhile, heat the remaining oil in a shallow, wide-based pan, over a medium-high heat. Add the chilli and remaining garlic. Fry for 30 seconds, until fragrant.
Pour in the wine, simmer for 1 minute then tip in the mussels. Season with salt, increase the heat to high and cover with the lid. Give the pan a shake and cook for 2 to 3 minutes, or until the mussels have opened; discard any that remain closed. Stir in the freshly drained pasta and, when well combined, stir through the dressed cherry tomatoes. Serve immediately.
Crab and courgette fritters with a lime, coriander and yoghurt dressing
Serves 4
For the fritters
250g courgettes, grated
125g potatoes, peeled and grated
100g white crab meat, drained if needed
1 green chilli, finely chopped
2 garlic cloves, crushed
2 spring onions, cut into thin rounds
1 egg, lightly beaten
3 tbsp plain flour
4 tbsp light-flavoured oil
Cucumber, radishes and coriander sprigs, to serve
For the dressing
150ml Greek-style yoghurt
Juice ½ lime
Handful coriander leaves, finely chopped
¼ tsp ground coriander
1 tbsp olive oil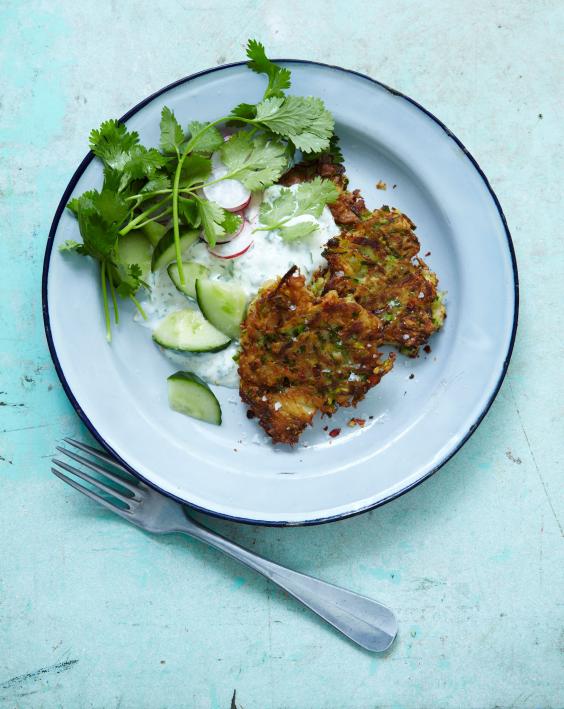 Mix together the courgette and potato with a pinch of salt. Leave for 10 minutes then squeeze out any excess moisture. Add the crab meat, chilli, garlic, spring onion and egg. Stir through the flour, adding a little more, if needed, to make a thick batter. Season well.
Cook the fritters in batches. Heat the oil in a large, non-stick frying pan over a medium-high heat. Add a generous tablespoon of mixture per fritter to the pan. Flatten gently with the back of a spoon. Cook for 2 to 3 minutes each side, or until golden brown.
Combine all the ingredients for the dressing and season. Serve the fritters with the dressing and a fresh, crisp salad of cucumber, radishes and coriander.
Pint of prawns with three dips
A world away from the enormous tiger prawns we like to barbecue in Australia, these little salty Atlantic prawns make the perfect snack piled high in a pint glass. I've opted for a generous bucket instead. Served with a selection of delicious dips, maybe some sliced sourdough and a green salad, I'd happily call it a meal!
Serves 4
1kg cooked Atlantic prawns, in shells
For the chipotle and tomato dip
2 tbsp olive oil
3 garlic cloves, chopped
2 red chillies, chopped
400g tin chopped tomatoes
1 tbsp chipotle paste
1 tbsp soft brown sugar
3 spring onions, chopped
2 tbsp chopped coriander
For the dragoncello
1 garlic clove
4 anchovy fillets
Large bunch tarragon, leaves picked
Large bunch flat-leaf parsley, leaves picked
Juice and zest 1 lemon
4 tbsp olive oil
For the gochujang sesame mayo
1 tbsp gochujang chilli paste
5 tbsp mayonnaise
2 tbsp toasted sesame seeds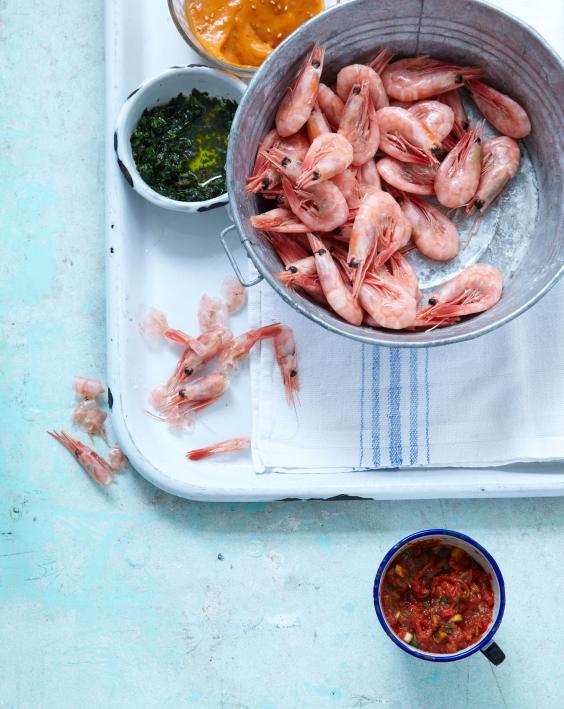 For the chipotle and tomato dip, heat the oil in a small pan over a medium heat. Add the garlic and chilli and cook for 1 minute. Stir in the tomato, chipotle and sugar. Season with salt and bring to the boil. Reduce the heat and simmer for 5 to 10 minutes until thickened. Leave to cool, then stir through the spring onion and coriander.
For the dragoncello, roughly chop the garlic, anchovy fillets and herbs. Tip into a large bowl with the lemon juice and zest and stir through the oil. Adjust the seasoning to taste, then set aside to allow the flavours to develop.
For the gochujang sesame mayo, combine all the ingredients in a bowl, adding a little more gochujang chilli paste if you like it hot.
Serve the chilled Atlantic prawns with the dips and plenty of paper napkins.
Food stylist: Marina Filippelli; Stylist: Rachel Jukes
Reuse content