As a child, I remember going to a Swedish friend's house after school, and happily accepting an early evening snack, only to be horrified by the tart, unadorned yoghurt I was presented with. My 1980s palate was much more used to the sickly sweet, flavoured gloop that sometimes graced our fridge in those days.
Since then, of course, my fridge is rarely without not just one type of plain yoghurt but often several different varieties, and I also now realise that the very point of yoghurt is its tang, its smoothness and its purity.
Yoghurt makes a great emergency breakfast, topped with berries and a sprinkling of seeds, and still makes for one the most satisfying after-school snacks. It can be used as a tenderising marinade, in dips or dressings, or as a cooling accompaniment to spicy food, bringing all the fiery elements together with the rice or grains.
Much as yoghurt tempers and cools spicy flavours, in desserts it helps balance out the sweetness of the sugar, while its silkiness enhances texture, and its tartness lifts flour and fruit elements.
Bill's restaurant, Granger & Co, is at 175 Westbourne Grove, London W11, tel: 020 7229 9111; 50 Sekforde Street, London EC1, tel: 020 7251 9032; and Stanley Building, 7 Pancras Square, London N1, tel: 020 3058 2567, grangerandco.com. Follow Bill on Instagram at bill.granger
Yoghurt, lemon and almond cake with white chocolate icing
I find yoghurt icings are more in tune with my palate than butter icings – just as indulgent, but not as rich. Used as a topping for this tart-lemon and yoghurt cake, it's a perfect picnic or teatime treat.
Makes 10-12 squares
Butter, for greasing
2 eggs
220g caster sugar
200g Greek-style yoghurt
½ tsp vanilla extract
Finely grated zest of 3 lemons
150g plain flour
60g almond meal
1½ tsp baking powder
For the topping
70g Greek-style yoghurt, at room temperature
125g white chocolate, melted and cooled a little
3 tbsp icing sugar
50g toasted blanched almonds
Preheat the oven to 170C/325F/Gas3. Grease an 18cm square cake tin with butter, and line the base with baking parchment. Whisk the eggs and caster sugar with an electric beater in a large bowl until thick and creamy.
In a separate bowl, combine the yoghurt, vanilla and lemon zest. Gently stir into the egg mixture. Fold in the flour, almond meal and baking powder, and pour into the tin.
Bake for around 40 minutes, until the cake is golden and a skewer comes out clean. If needed, you can cover with a square of foil 30 minutes in to baking, to stop it from going too brown. Cool on a wire rack.
For the topping, stir the yoghurt into the cooled melted chocolate, until smooth. Sift in the sugar and stir to combine. Cover and chill in the fridge for 20 minutes, until it reaches a spreadable consistency. Spread onto the cooled cake and top with the chopped almonds to serve.
Chocolate and yoghurt puddings
This is a serious dessert, with – thanks to the yoghurt – a deceptively light sponge. A real crowd-pleaser!
Serves 6
150g plain flour
4 tbsp cocoa powde
75g dark chocolate, finely chopped, plus extra to serve
1½ tsp baking powder
175g caster sugar
130g natural yoghurt
2 tbsp butter, melted
1 egg
60g light brown sugar
Natural yoghurt, to serve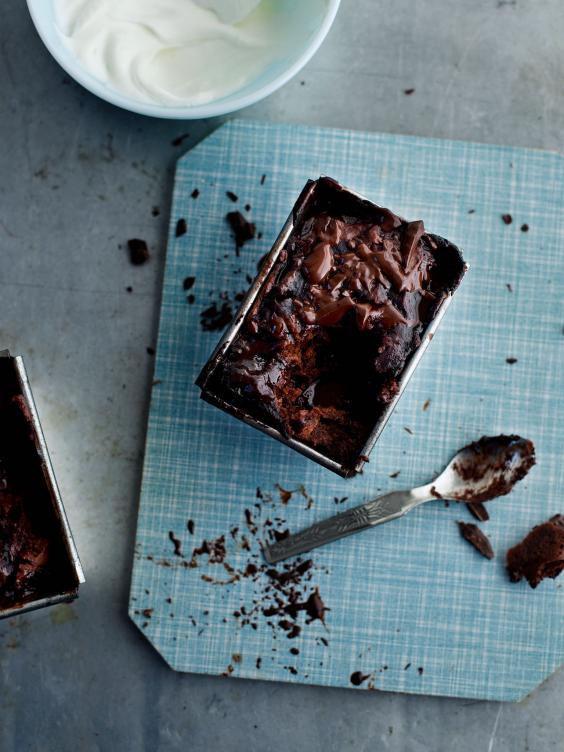 Preheat the oven to 170C/350F/Gas4. Mix the flour, 3 tbsp cocoa powder, chopped chocolate, baking powder and caster sugar together in a large bowl.
Stir the yoghurt, butter and egg together in a jug, and stir this mixture into the dry ingredients. Spoon into 6 ramekins or individual ovenproof dishes.
Place the brown sugar and remaining 1 tbsp cocoa powder in a measuring jug, and gradually stir in 250ml boiling water. Stir until the sugar has dissolved. Pour this mixture over the four puddings and bake for 20-25 minutes, until firm to the touch.
Top with chopped chocolate and serve immediately, with extra yoghurt on the side.
Mango and yoghurt ice
When I'm entertaining and have spent time preparing an involved main course, this is a cheat's way of making ice cream. Any frozen fruit will work. Adjust the amount of honey according to your taste. This also makes for a fun after-school snack for the kids.
Serves 4-6
375ml full-fat Greek-style yoghurt
500g frozen diced mango
60ml honey
Juice of 1 lime
For the topping
1 mango, sliced
Shaved coconut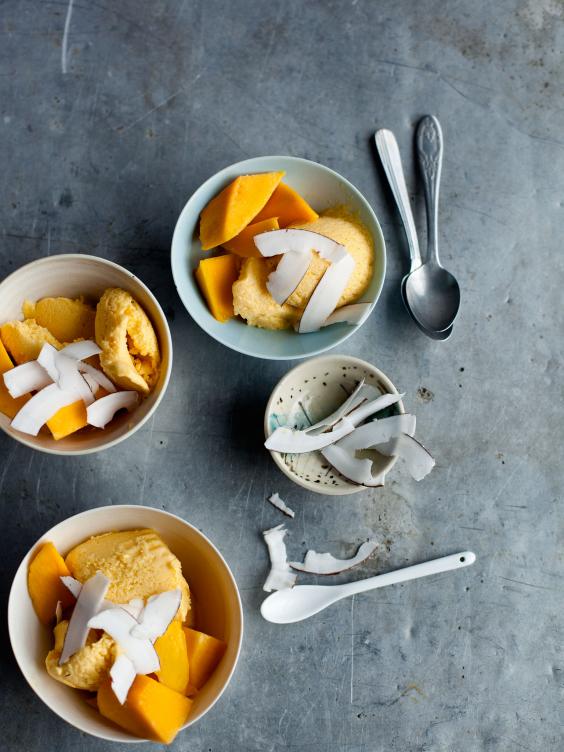 Place all ingredients in a food processor and blend until smooth. Serve immediately topped with sliced mango, or spoon into a tin and freeze until ready to use.
Remove from the freezer 10-15 minutes before serving, to allow it to soften slightly. Serve with fresh mango and shaved coconut.
Food preparation: Marina Filippelli; Props merchandising: Rachel Jukes