We never really made biscuits growing up; the attitude in my house was, "Why bake them when you can buy them?" Then, when my girls were really little, we went through a phase when we seemed to bake some practically every Sunday. They're fun to do together and a good way to make sure that we kept control of what went into their treats.
These days the hierarchy in the kitchen is slowly shifting. It's no longer me talking my daughters through the basics of baking, but a collaboration; the girls often run the show, making me feel both proud and nostalgic…
Regardless of what the recipes say, I can never trust myself to wait till the biscuits fully cool down to steal one. I love them when they're still gooey and so hot you can barely hold them. Whatever is left is usually eaten quickly, but some always make it into the biscuit tin for the next day and I always try to save a couple for the girls' weekday lunchboxes.
Bill's restaurant, Granger & Co, is at 175 Westbourne Grove, London W11, tel: 020 7229 9111, and 50 Sekforde Street, London EC1, tel: 020 7251 9032, grangerandco.com. Follow Bill on Instagram at bill.granger
Hazelnut macaroons with coffee mascarpone
These are not to be mistaken for the smooth, pretty French macaroons. This is an altogether more rustic affair – equally delicious and chewy but rougher in texture and appearance. I like them drizzled in chocolate and served with a coffee mascarpone as an after-dinner pick-me-up.
Makes 24
125g blanched hazelnuts
115g caster sugar
2 tbsp rice flour
2 egg whites
50g plain chocolate
125g mascarpone
2 tbsp espresso, at room temperature
1 tsp vanilla paste
1 tbsp icing sugar
Preheat the oven to 180C/350F/Gas4. Line 2 baking sheets with parchment paper.
Whiz the hazelnuts in a food processor until finely ground. Combine the ground hazelnuts, sugar and rice flour in a large bowl. Tip in the egg whites and stir with a wooden spoon to form a stiff paste. Spoon evenly on to the prepared baking sheets, making about 24 little macaroons. The mixture will spread slightly, so make sure to leave some room between each macaroon. Cook for 20 to 25 minutes until crackly and starting to colour around the edges. Remove from the oven and leave to cool on the trays.
When the biscuits have cooled, melt the chocolate in a bowl over a pan of simmering water. Drizzle the chocolate over the macaroons and leave to set.
In a small bowl, combine the mascarpone, espresso, vanilla paste and icing sugar. Serve with the cooled biscuits.
Giant chocolate-chip cookies with cocoa nibs
Who can resist a chewy cookie? I've used rye flour and bitter cocoa nibs for a wonderful nutty texture and flavour, making them less sweet and a bit more grown-up.
Makes 6 cookies
150g rye flour
½ tsp bicarbonate soda
100g unsalted butter, softened
75g caster sugar
75g light brown muscovado sugar
1 egg, lightly beaten
1 tsp vanilla paste
50g plain chocolate, chopped
50g white chocolate, chopped
50g cocoa nibs
Preheat the oven to 160C/325F/Gas3 and line two baking sheets with parchment paper.
Sieve the flour, bicarbonate and a good pinch of salt together in a bowl. Set aside. Place the butter and sugars in a large bowl and beat with a wooden spoon until light and creamy. Add the egg and vanilla and stir until well combined. Stir through the chopped chocolate and cocoa nibs, then the flour mixture.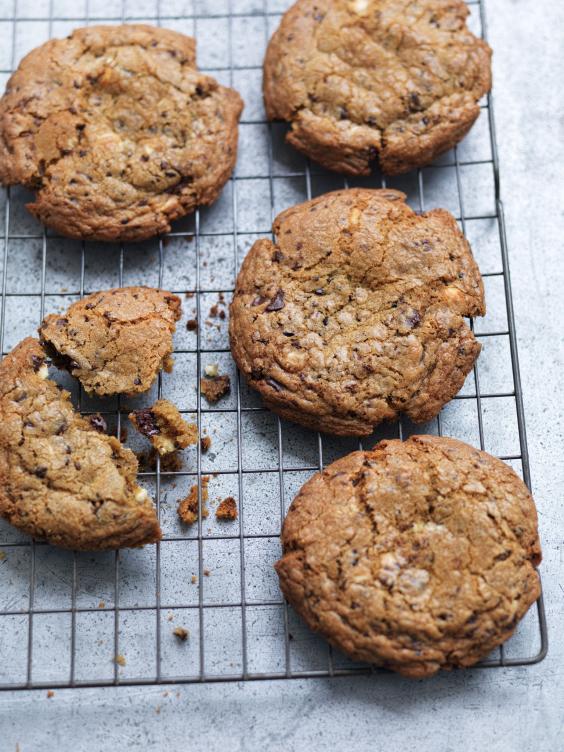 Roll the dough into 6 large balls and place on the baking sheets, leaving plenty of space for the cookies to spread. Bake for 15 to 18 minutes until the edges start to go golden. Allow to cool on the sheet for 5 minutes then move to a wire rack to cool completely.
Scottish shortbread with honey, orange and thyme
I love that rich, buttery scent of shortbread as it comes out of the oven. This one is doubly aromatic, with gorgeous hints of honey, orange and thyme.
Serves 8
150g unsalted butter, softened
2 tbsp caster sugar, plus 2 tbsp for sprinkling
2 tbsp honey
150g plain flour
70g rice flour
1½ tsp thyme leaves
Grated zest 1 orange
Preheat the oven to 150C/300F/ Gas2 then, in a large bowl, beat together the butter, sugar and honey using an electric whisk, or wooden spoon. Sieve the flours into the butter mixture and slowly mix to form a soft dough. Gently knead ½ tsp of the thyme and half the zest through the dough.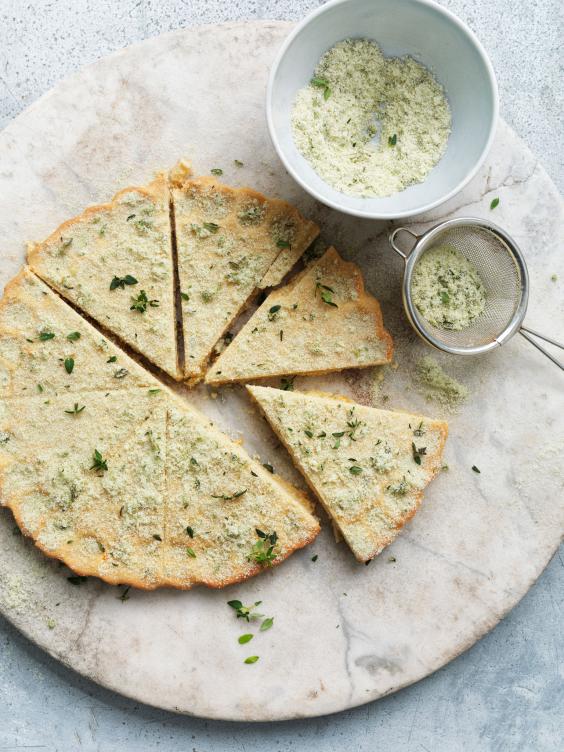 On a baking sheet lined with parchment paper, press the dough out using the back of your hand to make a 20cm circle. Pinch the edges to make a fluted pattern. Score the top gently into wedges so it will snap easily into portions once baked. Bake for 30 to 35 minutes until lightly golden. Sprinkle with the rest of the thyme, orange and sugar. Set aside to cool on a wire rack.
Anzac biscuits
These nutritious, chewy biscuits have long been associated with Australian housewives, who would send them in care packages to their husbands fighting during the First World War.
Makes 12 biscuits
125g unsalted butter
2 tbsp golden syrup
1 tbsp bicarbonate of soda
1 tbsp boiling water
150g wholemeal flour
220g caster sugar
45g jumbo rolled oats
50g macadamia nuts, chopped
85g desiccated coconut
Preheat the oven to 180C/ 350F/Gas4 and line two baking sheets with parchment paper.
Melt the butter and golden syrup in a small pan over a low heat. Dissolve the bicarbonate in a bowl with 1 tbsp of boiling water and stir into the butter mixture.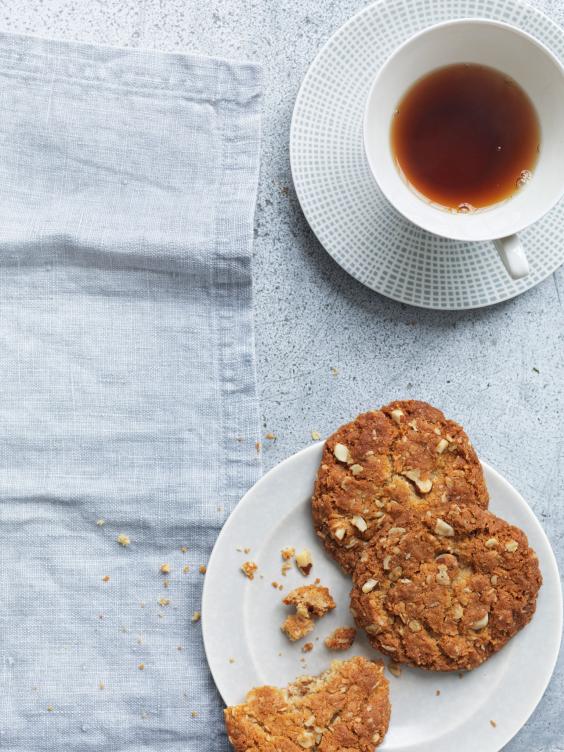 Place the flour, sugar, oats, nuts and coconut in a large bowl then stir in the butter-and-golden syrup mixture. Mix well with a wooden spoon to combine.
Roll the mixture into 12 balls and place on the prepared trays, leaving plenty of room for the biscuits to spread. Bake for 15 to 20 minutes until golden-brown.
Food preparation: Marina Filippelli and becky wilkinson; Props merchandising: Rachel Juke
Reuse content