Speak to any parent and they'll confirm that meatballs can be your best friend at meal times. Cheap, easy to throw together and, best of all, a great way of introducing different flavours to fussy eaters.
In my experience, trying to get a kid to taste something they've decided doesn't "look right" can be a losing battle. Meatballs are a sneaky way of sidestepping the problem. You can pack them with a variety of hidden surprises in the form of spices, herbs and grains, all conveniently rolled into an unchallenging round morsel. By the time anyone realises that the goal posts have been moved, you'll have won them over with the deliciousness of the first bite.
Luckily, my kids are past this tricky stage. Now I just make meatballs because we love them – the girls help to add all the extra bits to the mix themselves.
The more flavour you can pack in, the better. It's almost impossible to over-spice them, so throw caution to the wind and have fun.
Bill's restaurant, Granger & Co, is at 175 Westbourne Grove, London W11, tel: 020 7229 9111, and 50 Sekforde Street, London EC1, tel: 020 7251 9032, grangerandco.com. Follow Bill on Instagram at bill.granger
Spiced lamb meatballs
You can use lamb mince for this if you prefer, but I love the texture of the finely chopped meat.
Serves 4
60g bulgur wheat
500g diced lamb shoulder, trimmed of most fat (or use minced lamb)
3 garlic cloves, crushed
3cm piece ginger, peeled and grated
4 spring onions, finely chopped
1 tsp ground cumin
1 tsp ground coriander
½ tsp chilli powder
¼ tsp cinnamon
Zest 1 lemon
For the shredded salad
½ cucumber, grated and drained
2 carrots, coarsely grated
½ red onion, finely sliced
1 red chilli, sliced into rounds
Handful small mint leaves
Juice 1 lemon
To serve
Plain yoghurt and flatbreads
Put the bulgur wheat in a small bowl. Pour in enough boiling water to cover by 1cm. Season with salt and cover with cling film. Set aside for 15 minutes. Uncover and leave to cool.
Put the lamb shoulder into the bowl of a food processor and pulse until very finely chopped, but not quite minced. Tip out into a large mixing bowl and add the rest of the meatball ingredients, including the cooked bulgur.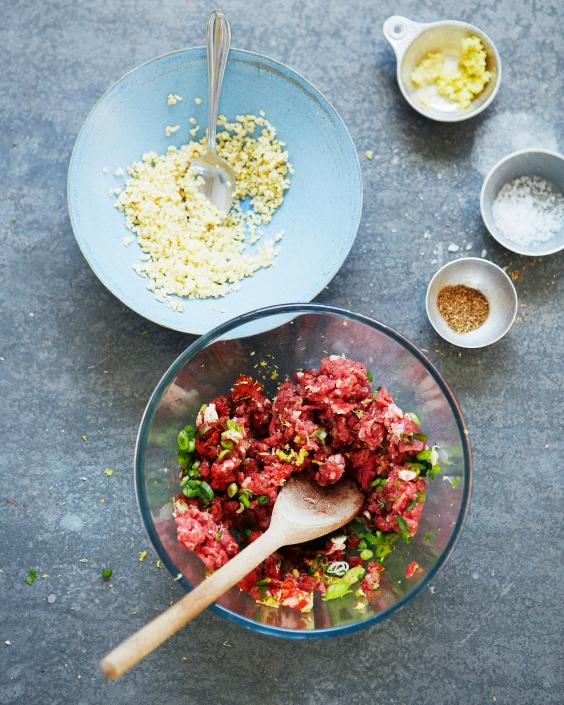 Form the mixture into roughly 20 meatballs. Heat the grill or a chargrill pan to medium-high heat. Grill the meatballs for 8 to 10 minutes, turning a couple of times until just cooked through and brown on all sides.
For the salad, place the cucumber, carrots, red onion, chilli and mint in a bowl. Toss k through the lemon juice and some salt. Serve the lamb meatballs and salad with yoghurt and flatbreads.
Beef, pancetta and ricotta meatballs in tomato sauce
These are pretty close to a classic Italian meatball, but with the addition of ricotta for a lighter texture. I've done the whole thing in a roasting tin in the oven to keep it extra simple, and doubled the quantities with an eye to freezing half for another day.
Serves 4 twice
1kg beef mince
150g pancetta, finely chopped
2 small onions, coarsely grated
3 garlic cloves, crushed
50g fresh breadcrumbs
150g ricotta cheese
1 egg, lightly beaten
Large handful flat-leaf parsley, finely chopped
2 tbsp olive oil
150ml chicken stock
1 tsp caster sugar
400g tin chopped tomatoes
2 x 400g tins cherry tomatoes
2 bay leaves
To serve
Spaghetti
Grated Parmesan
Preheat the oven to 200C/400F/Gas6. Place the mince, pancetta, onions, garlic, breadcrumbs, ricotta, egg and chopped parsley into a large mixing bowl. Add plenty of salt and freshly ground black pepper and combine thoroughly. Use slightly wet hands to shape the mixture into about 40 small meatballs.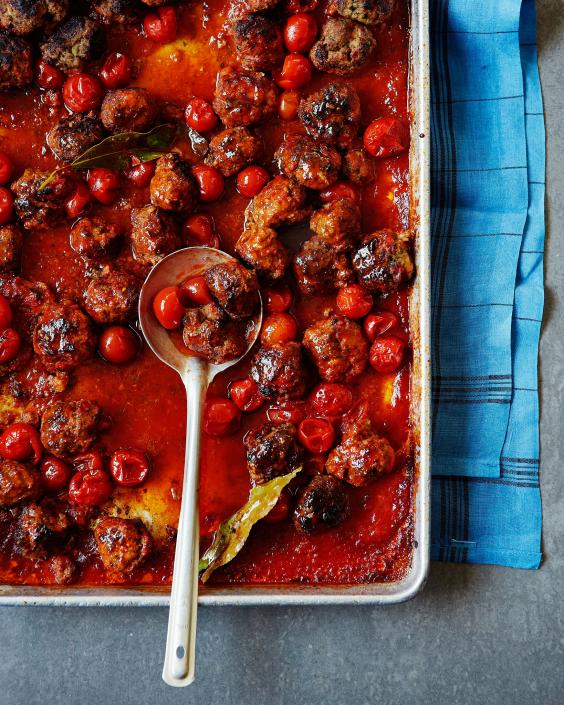 Pour the oil into a large baking tray. Add the meatballs and turn to coat in the oil. Cook for 20 minutes, or until starting to brown. Shake the tray to loosen the meatballs, pour in the stock, sugar, chopped tomatoes and cherry tomatoes. Use a spatula to scrape the bottom of the tray and carefully toss the meatballs in the sauce.
Tuck in the bay leaves and return to the oven to cook for 20 to 30 minutes, or until the meatballs are cooked through and the sauce has thickened. Transfer half the meatballs and sauce to Tupperware and freeze once cooled. Serve the remainder with spaghetti and Parmesan cheese.
Sticky glazed pork meatballs
I like to roll these in crisp lettuce leaves stuffed with herbs, spring onions and a generous squeeze of lime. They're also great with rice, though, so I'd suggest taking all the different bits to the table and letting everyone just dive in.
Serves 4
500g pork mince
2 garlic cloves, crushed
3cm piece ginger, peeled and grated
2 spring onions, finely chopped, plus extra shredded to serve
1 green chilli, finely chopped
1 tsp fish sauce
Handful coriander, finely chopped, plus extra to serve
Handful mint, finely chopped, plus extra to serve
1 tbsp light-flavoured oil
For the glaze
2 tbsp light-flavoured oil
6 tbsp soft brown sugar
2 tbsp dark soy sauce
1 tbsp fish sauce
4 tbsp lime juice
To serve
Sticky rice
Lettuce leaves
Lime wedges
For the glaze, place the oil, sugar, soy, fish sauce, lime juice and 75ml of water into a small pan over a medium heat. Stir to dissolve the sugar, bring to the boil and simmer for 4 minutes. Remove from the heat and set aside.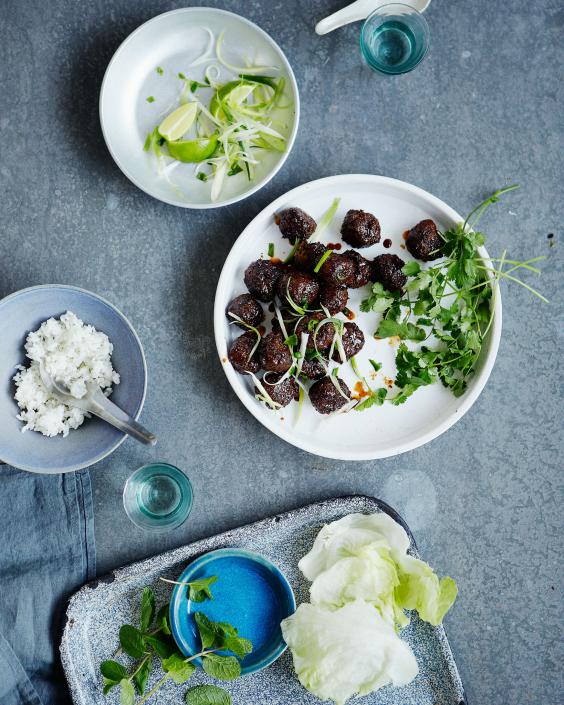 Combine the mince, garlic, ginger, spring onion, chilli, fish sauce and chopped herbs in a bowl. Use slightly wet hands to form the mixture into roughly 20 small balls. Heat a drizzle of oil in a large, non-stick frying pan, and cook the meatballs for 8 minutes, turning frequently until browned all over and cooked through. Pour the glaze over the meatballs and toss to coat in the sticky glaze.
Serve immediately with sticky rice, lettuce leaves, shredded spring onions and extra coriander, mint and lime wedges.
Food preparation: Marina Filippelli; Props merchandising: Rachel Jukes
Reuse content