You often hear people guiltily admit that pasta is their go-to family meal when they haven't had time to shop or plan for anything else. But why be so apologetic? Think about it; Italian families eat pasta practically every day (if not every day) and we all love the Italian way with food. So why are we so hard on ourselves?
Maybe the answer is to be more inventive with our last-minute suppers. It's so easy to get stuck in a rut, recycling the same predictable basil pesto, tomato sauce or spaghetti Bolognese. I'm guilty of it, like everybody else.
What I'm aiming for with these recipes is to bring a bit of excitement back to pasta with plenty of punchy, fresh flavours. None of them are complicated and they take no longer to prepare than a quick tomato sauce.
Oh, and they all happen to be veggie. In fact, you could almost call them warm pasta salads.
Bill's restaurant, Granger & Co, is at 175 Westbourne Grove, London W11, tel: 020 7229 9111; 50 Sekforde Street, London EC1, tel: 020 7251 9032; and Stanley Building, 7 Pancras Square, London N1, tel: 020 3058 2567, grangerandco.com. Follow Bill on Instagram at bill.granger
Spaghetti with black garlic, chilli and pangrattato
This is my pimped version of the Italian weekday staple of spaghetti with garlic, olive oil and chilli. You can now get black garlic quite easily in delis and some supermarkets. It has a soft, sticky texture and sweet caramelised flavours that go really well with the aromatic herbs and citrus zest.
Serves 4
400g spaghetti
100ml olive oil
4 black garlic cloves, sliced
½ tsp chilli flakes
Zest 2 lemons
Zest 2 oranges
Small bunch dill, chopped
Small bunch flat-leaf parsley, leaves only, chopped
For the pangrattato
2 tbsp olive oil
100g fresh sourdough breadcrumbs
2 cloves garlic
½ tsp salt
To make the pangrattato, heat the oil in a large frying pan over a medium heat. Add the breadcrumbs, garlic and salt. Cook, stirring, until golden-brown. Remove from the pan and set aside.
Cook the pasta according to packet instructions, drain and reserve a ladleful of the cooking water. While the pasta is cooking, heat the oil in a large frying pan over a low heat and fry the black garlic, chilli and zests for 1 minute. Drain the pasta and tip into the frying pan with the reserved cooking water. Toss over a high heat, adding the dill and parsley. Serve immediately, topped with pangrattato.
Rigatoni with peas, broad beans and ricotta
I love cold pasta dressings. But rather than eat the pasta cold, like depressing pasta salads from 1980s buffet tables, I like to toss the just-drained pasta into the dressing and serve it straight away while the pasta's texture is perfect and the flavours are vibrant.
Serves 4
200g podded peas, fresh or frozen
200g podded broad beans, fresh or frozen, skinned
125ml olive oil
2 garlic cloves
Grated zest 1 lemon
Large handful basil leaves
Handful mint leaves
400g rigatoni
To serve
200g ricotta
Freshly grated Pecorino Romano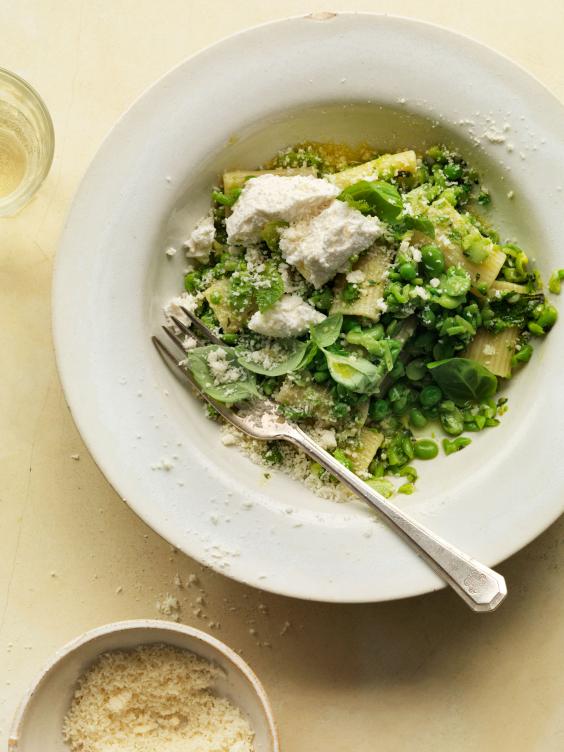 Cook the peas and broad beans in a pan of salted boiling water for 4 minutes, or until quite soft. Drain, refresh and tip into a large bowl. Crush them with a potato masher or the back of a fork and season with sea salt and black pepper. Stir through the oil, garlic, lemon zest and herbs. Set aside.
Cook the pasta according to packet instructions. Drain and toss into the bowl with the crushed peas and broad beans. Serve immediately, with dollops of ricotta and a good grating of the Pecorino.
Orecchiette with roasted pepper-and-walnut pesto
Traditionally pesto was made by pounding ingredients together with a pestle and mortar. I tried it once and it took so much time and elbow grease. Never again. These days, the norm is to pulse all the ingredients in a food processor, but personally I prefer a chunkier pesto, so you can still taste the individual ingredients.
Serves 4
350g roasted peppers from a jar, drained and roughly chopped
2 garlic cloves, chopped
1 red chilli, chopped
65g walnuts, roughly chopped
Small bunch flat-leaf parsley, leaves only, chopped
125ml olive oil, plus extra for serving
400g orecchiette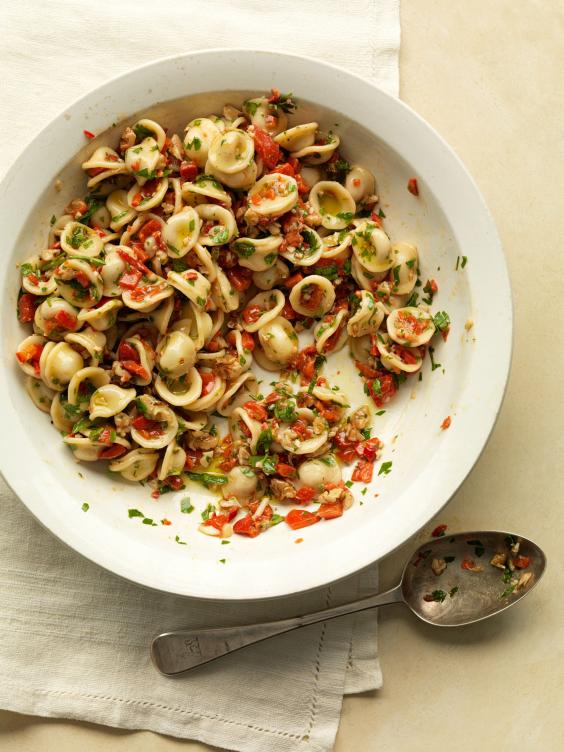 Mix together the peppers, garlic, chilli, walnuts and parsley in a bowl, until well combined. Add some sea salt then stir in the oil.
Cook the pasta to packet instructions. Drain and toss through the pesto. Serve with an extra drizzle of olive oil, if liked.
Rather than eat it cold, like the depressing pasta salads from 1980s buffets, I like to toss the just-drained pasta into the dressing and serve it straight away
Food preparation: Marina Filippelli; Props merchandising: Rachel Jukes
Reuse content