If only summer could last for just a little longer. It's always at about this time of year that I get hit by a mild panic about how long the bounty of beautiful soft fruit will last. I know that the days of juicy, sweet peaches and nectarines are numbered, and the delicious raspberries and blueberries I have been gorging on will soon be almost devoid of flavour.
I know we have plums, blackberries and figs to look forward to, but right now, I just want to make sure I don't miss out on the opportunity to eat the sun-kissed fruits that are on their way out.
I'll inevitably get carried away, buy way more fruit than we can get through and end up having to find creative ways of getting through the glut in our fruit bowl. Luckily, the return of The Great British Bake Off to our screens has reminded me just how much I like baking. So, for this last Bank Holiday of the season, I plan on donning an apron, dusting the bench with flour and dedicating myself to a little relaxed tart-making.
Bill's restaurant, Granger & Co, is at 175 Westbourne Grove, London W11, tel: 020 7229 9111, and 50 Sekforde Street, London EC1, tel: 020 7251 9032, grangerandco.com. Follow Bill on Instagram at bill.granger
Chocolate and raspberry tart
Chocolate and raspberries is one of those classic combinations that just works. I love serving this with extra raspberries, to enjoy the contrast between the plump, raw raspberries and the warm, oozy raspberries inside.
Serves 8-10
125 unsalted butter, melted and cooled
80g caster sugar
150g plain flour
2 tbsp cocoa powder
5 tbsp ground almonds
120g good-quality plain chocolate, chopped
100ml double cream
3 tbsp caster sugar
2 eggs, lightly beaten
350g raspberries
Grease a 20cm tart tin. To make the pastry, stir together the butter and sugar in a large mixing bowl. Add the flour, cocoa and a pinch of salt. Stir to make a soft pastry. This pastry can be fiddly, so roll it out between two sheets of parchment paper then use it to line the tart tin. Don't worry about being neat; simply patch up any holes as you go along. Chill for 30 minutes in the fridge.
Preheat the oven to 180C/ 350F/Gas4. Cover the pastry case with a scrunched-up piece of baking paper then add baking beans. Sit the tart on a baking sheet and bake for 15 minutes. Remove from the oven, tip out the baking beans and paper and return to the oven for a further 5 minutes. Remove from the oven and sprinkle 2 tablespoons of ground almonds over the base.
Place the chocolate and half the cream in a bowl over a pan of simmering water and heat until the chocolate has melted. Stir in the remaining cream and ground almonds, then the sugar and eggs. Pour the filling evenly into the pastry shell, then gently drop in half the raspberries. Bake for 20 minutes, or until just set.
Cool on a wire rack before removing from the tin. Serve with the remaining raspberries.
Blueberry and orange tartlets
These are as light as a feather. If you're trying to stay away from carbs, or simply want a quicker dessert, cook the filling in little ramekins instead of pastry cases.
Serves 4
250g blueberries
2 eggs, separated
75g caster sugar
Grated zest 1 orange
Icing sugar, to dust
Crème fraîche, to serve
For the pastry
100g unsalted butter, chilled and cubed
250g plain flour, plus extra to dust
2 tbsp caster sugar
1 egg yolk
2 tbsp chilled water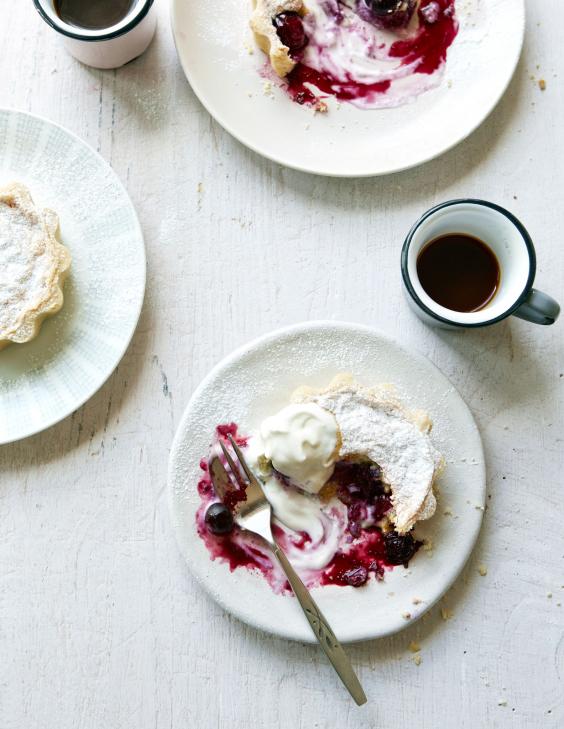 For the pastry, pulse the butter, flour and sugar in a processor until the mixture looks like coarse breadcrumbs. Add the yolk and water and pulse again until the pastry starts to come together. Tip on to a floured surface and knead lightly to form a smooth round. Chill in cling film for 30 minutes.
Preheat the oven to 200C/ 400F/Gas6. Line four individual loose-based tartlet tins with greaseproof paper. Roll the pastry out on a floured surface and use to line the tins. Chill for 20 minutes.
Cover each tartlet with a scrunched-up piece of baking paper then add baking beans. Sit the tartlets on a baking sheet and bake for 15 minutes. Remove from the oven, tip out the baking beans and paper and return to the oven for 5 minutes. Set aside to cool then divide the blueberries between the cases. Reduce the oven to 180C/350F/Gas4.
Place the yolks and half the sugar in a large bowl with the zest and whisk till thick and pale. In a separate bowl, whisk the egg whites till they hold their shape, then add the rest of the sugar, a tablespoon at a time, whisking as you go. Fold into the yolks and spoon into the tartlets, covering the blueberries. Bake for 15 to 20 minutes, or till slightly risen and golden. Dust with icing sugar and serve warm with crème fraîche.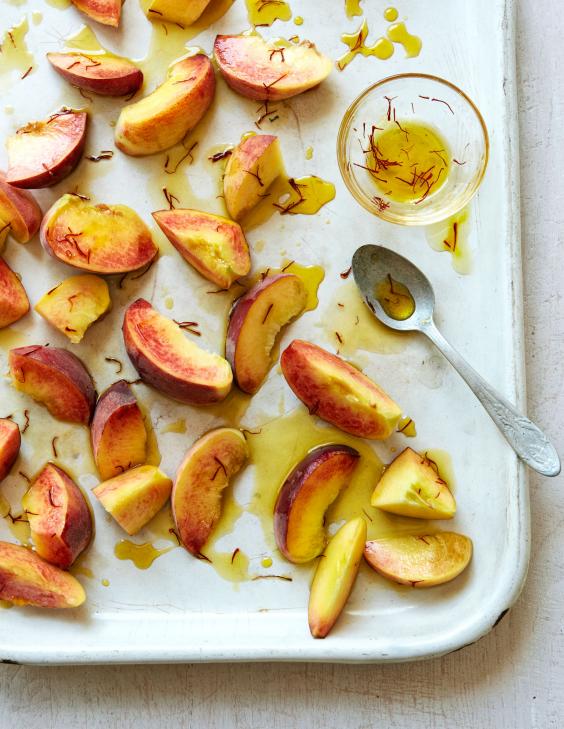 Peach, saffron and mascarpone tart
Using saffron in desserts is a revelation to me. Roasting figs in the same way is also delicious, and they would work well as an alternative topping to this tart.
Serves 6-8
250g gingernut biscuits
125g unsalted butter, melted and cooled
300g mascarpone
150g full-fat cream cheese
1 tsp vanilla extract
2 tsp lemon juice
3½ tbsp icing sugar
For the fruit topping
1 pinch saffron
1 tsp vanilla extract
2 tbsp honey
Juice ½ lemon
3 peaches, stoned and cut into thick wedges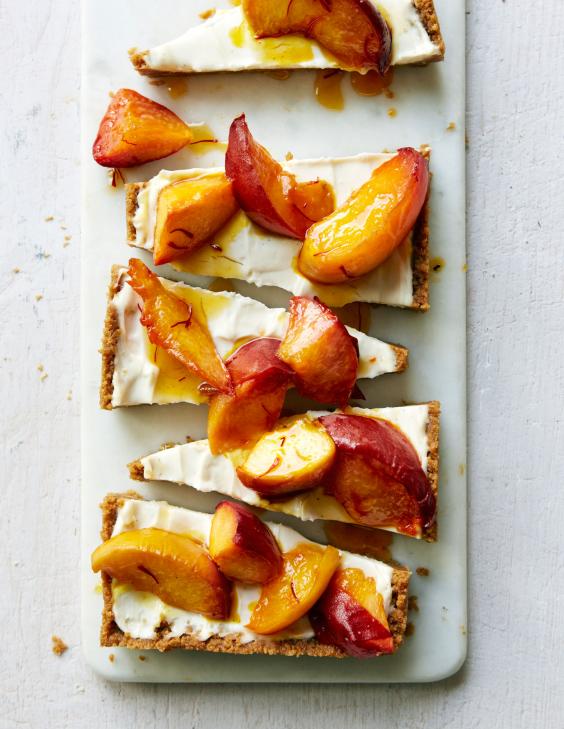 Put the biscuits into a large, sealable bag and bash with a rolling pin until you get fine crumbs. Tip into a bowl, add the cooled butter and mix until all of the crumbs are coated in the butter. Line the base and sides of a 35cm x 12cm loose-bottomed tart tin with an even layer of the buttery biscuit crumbs. Smooth with the back of a spoon to ensure the crumbs are well packed. Chill for at least 30 minutes, until set.
To make the filling, beat the mascarpone and cream cheese until smooth. Beat in the vanilla, lemon juice and icing sugar and taste, adding a bit more sugar or lemon, to your liking. Spoon the filling into the chilled base, evening it out with the back of a spoon. Return to the fridge for at least 2 hours.
For the fruit topping, preheat the oven to 200C/400F/Gas6. Combine the saffron, vanilla, honey and lemon juice in a small bowl. Place the peach wedges on a baking sheet and spoon over the saffron-honey mixture. Roast for 12 to 15 minutes, or until coloured, but still holding their shape. Set aside to cool. Just before serving the tart, top with the roasted peaches and spoon over the juices.
Reuse content