We've been promised a heatwave this Easter, so I've decided to go back to my Aussie roots and turn on the barbie on Easter Sunday. And if that weren't testosterone-charged enough, I'll be doing some hot-smoking to boot.
If it turns out that the weather predictions were just a pre-election softener, no harm done – this menu cooks so quickly that even the most predictable of spring showers couldn't dampen my resolve. As far as I'm concerned, we're entering barbecue season, and that's final.
As with all bigger gatherings, experience has taught me to keep it simple and do as much prep as possible in advance. So I'll be making some trifles in the morning in an attempt to distract myself from the excessive quantity of chocolate that will be hidden around the house. Then marinade the lamb ready for the barbecue, make the herb dressing and give the potatoes their first bake. These will be finished off with a quick smoke on the barbie just before eating: a bit of theatre that adds loads of flavour without requiring any fancy equipment. All you need is a charcoal kettle barbecue and a few herbs and spices. It's going to be fun!
Bill's restaurant, Granger & Co, is at 175 Westbourne Grove, London W11, tel: 020 7229 9111, and 50 Sekforde Street, London EC1, tel: 020 7251 9032, grangerandco.com. Follow Bill on Instagram at bill.granger
Shoulder of lamb with herb and hazelnut dressing
The trick when cooking lamb this way is to make sure you don't overcook it. The meat needs to be nice and pink, otherwise it will toughen up. If you prefer your lamb medium, use boned leg instead, as it's more forgiving.
Serves 6
2 garlic cloves, roughly chopped
1 tsp cumin seeds
1 tsp coriander seeds
1 tsp fennel seeds
½ tsp crushed chilles
2 tbsp olive oil
1.2kg boned shoulder of lamb
Green salad and lemon wedges, to serve
For the dressing
Juice and zest 1 lemon
4 tbsp olive oil
2 tsp honey
1 shallot, finely chopped
1 red chilli, sliced
Handful mint leaves, chopped
Handful flat-leaf parsley leaves, chopped
25g toasted hazelnuts, chopped
Using a mortar and pestle, pound the garlic, spices, chilli and a good pinch of sea salt to a rough paste. Stir in the olive oil. Unroll the lamb, rub with the marinade and set aside for at least 15 minutes, or longer if you can.
Combine the ingredients for the dressing in a bowl and season with salt to taste. Cover and set aside for the flavours to mingle.
Get the barbecue ready so that it is hot and the charcoal is covered with a thick layer of grey ash. Put the lamb skin-side down on the hot barbecue and cook for 6 to 8 minutes on each side. Baste then flip the lamb to skin-side down and cook for 5 minutes. The lamb should be nicely charred but still feel springy to the touch. Transfer to a board, cover loosely with foil and allow to rest for 10 minutes, while you smoke the potatoes (see overleaf).
To serve, slice the lamb and spoon over the dressing. Serve with the smoked potato mash, a green salad and lemon wedges.
Herbed, smoked new-potato mash
This is a great little dish, eaten warm or at room temperature as a crushed-potato salad. If you can get Jersey Royals, even better.
Serves 6
750g baby new potatoes
3 unpeeled garlic cloves
2 tbsp olive oil, plus extra to drizzle
2 tbsp plain yoghurt
1 tbsp grainy mustard
5 or 6 large sprigs of thyme
½ tsp coriander seeds
3 spring onions, sliced into rounds
Small bunch dill, chopped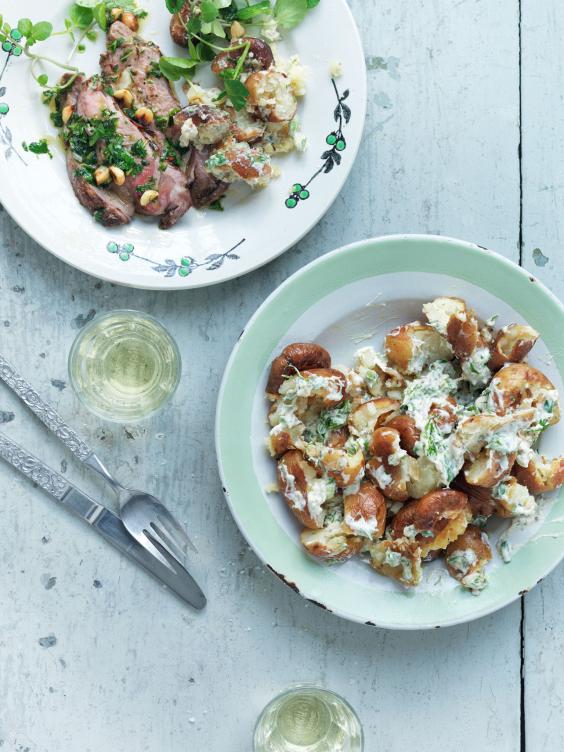 Preheat the oven to 200C/400F/Gas6. Tip the potatoes into a large roasting tin. Season with salt and black pepper and add the garlic cloves. Drizzle lightly with olive oil and roast for 30 minutes, or until cooked through. This can be done in advance, if you like.
Combine the yoghurt, mustard and olive oil in a large bowl. Season with salt and black pepper. Set aside.
Get the barbecue ready so that it is hot and the charcoal is covered with a thick layer of grey ash. Scatter the thyme and coriander seeds over the ash.
Sit the roasting tin with the potatoes on the grill and cover the barbecue with its lid. Smoke for 10 minutes then tip the potatoes into the prepared yoghurt dressing. Stir to combine, crushing them with a fork as you go. Toss through the spring onions and dill and serve.
Rhubarb trifle
The perfect ending to a seasonal lunch.
Serves 6
500g rhubarb, cut into 5cm lengths
75g caster sugar
3 cardamom pods, crushed open
200g ginger nut biscuits
1 tbsp orange juice, plus orange zest to serve
For the mascarpone cream
500g mascarpone
300ml double cream
3 tbsp icing sugar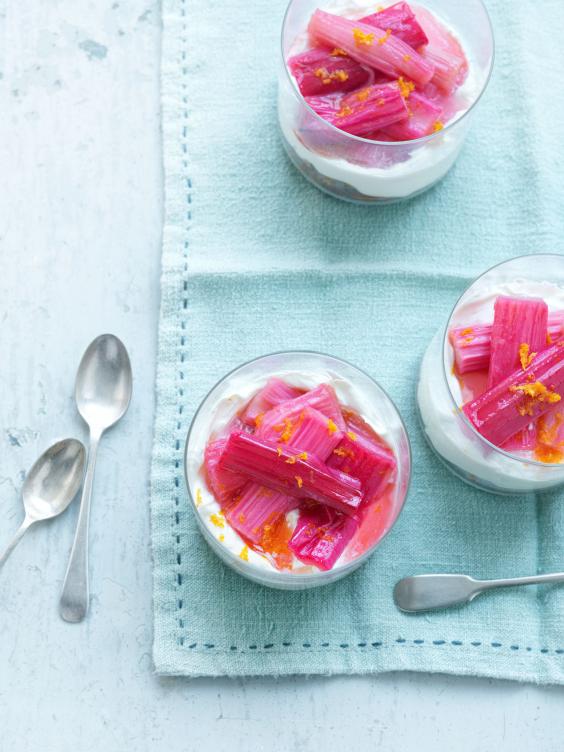 Preheat the oven to 160C/325F/Gas3. Place the rhubarb, sugar and cardamom in a roasting tray. Stir in 3 tbsp of water and toss together. Bake uncovered for 15 to 20 minutes, until the rhubarb is just tender. Remove from the oven and set aside to cool in the tin, then strain the rhubarb, keeping back the juices.
For the mascarpone cream, place the mascarpone in a large bowl. Add the cream and icing sugar and beat with an electric whisk until the mixture is smooth and holds its shape.
Break the biscuits up into a shallow dish. Combine the orange juice and reserved rhubarb syrup. Drizzle over the biscuits. Place a layer of biscuits at the base of 6 glasses. Top with a layer of mascarpone cream then a layer of roasted rhubarb. Repeat the layers. Serve with a generous grating of orange zest over the top.
Food preparation: Marina Filippelli and becky wilkinson; Props merchandising: Rachel Jukes
Reuse content