The school holidays are almost over and we're all slowly going back to our routines. I'm not quite ready to give up on the holiday spirit just yet, though, preferring to imagine myself back in a rustic villa with a vine-covered terrace, the children playing in the pool while I'm barefoot on the stone-floor kitchen throwing together beautiful ingredients for lunch.
It's a bit of a cliché, I know – but such a lovely one that whenever we go to Italy on a family holiday, that's exactly how I like to spend my time. Part of my thing is to shop daily. I'll go out early before it gets too warm and stop for an espresso and a pastry, shop for some great produce, then head home to start cooking. For lunch, I like to prepare a big platter of salad for the middle of the table. Then we all sit outside together, the kids straight out of the pool, and tuck in.
What I love about Italian food is how it's produce-driven. Nothing fancy, just beautiful, simple ingredients brought together with care. It's in this spirit that these salads came about. I haven't stressed, trying to be too authentic or regionally correct. These are my own version of Italian, taking in the flavours and produce that inspire me while I'm there.
Bill's restaurant, Granger & Co,is at 175 Westbourne Grove, London W11, tel: 020 7229 9111, and 50 Sekforde Street, London EC1, tel: 020 7251 9032, grangerandco.com. Follow Bill on Instagram at bill.granger
Pan-fried sardines, cauliflower and fennel salad
This is inspired by Sicily, where fennel, pine nuts and capers seem to be compulsory at every meal. The dill replaces the wild fennel so often found in Sicilian dishes.
Serves 4
4 tbsp extra-virgin olive oil, plus extra to drizzle
2 tbsp white-wine vinegar
½ tsp caster sugar
1 shallot, very finely diced
1 bulb fennel, tough outer leaves and base of core removed, fronds reserved
1 head cauliflower, broken into florets
2 stalks celery
Handful sultanas
½ tsp fennel seeds
½ tsp chilli flakes
Pinch sea salt
6-8 sardines (depending on size), filleted (get your fishmonger to do this)
Handful pine nuts, toasted
Small bunch dill, roughly chopped
Small handful caperberries
To make the dressing, mix the olive oil, white-wine vinegar and sugar in a bowl until the sugar dissolves. Add the shallots and allow to stand while you prepare the vegetables.
Use a mandolin to thinly slice the fennel, cauliflower florets and celery, then lay them out on a big serving plate and scatter over the sultanas. Drizzle over the dressing, toss to coat and allow to stand for 20 minutes for all the flavours to come together.
Pound the fennel seeds, chilli flakes and salt with a pestle and mortar. Pat the sardines dry with kitchen towel and sprinkle with the chilli-fennel salt.
Heat a non-stick frying pan, add a splash of olive oil then cook the sardine fillets skin-side down for 1 minute or until golden, then turn off the heat, flip the fillets over and allow the heat of the pan to finish cooking them.
Layer the sardines with the fennel and cauliflower then scatter with the pine nuts, dill and fennel fronds. Serve with caperberries and an extra drizzle of olive oil if you fancy.
Polenta and three-way tomato salad
I'm loving the varied selection of tomatoes we've been able to get in our farmers' markets this year. I'm sure the displays get more ambitious and "Mediterranean" with every summer that passes.
Serves 4
200g instant polenta
2 tbsp freshly grated Parmesan
6 tbsp olive oil, plus extra for greasing
450g baby plum tomatoes
1 shallot, finely chopped
2 tbsp red-wine vinegar
6 heirloom tomatoes, cut into wedges
100g semi-dried tomatoes, drained and roughly chopped
2 tbsp small capers, drained
4 anchovy fillets, finely chopped
1 cucumber, cut into chunks
Handful basil leaves, torn
250g buffalo mozzarella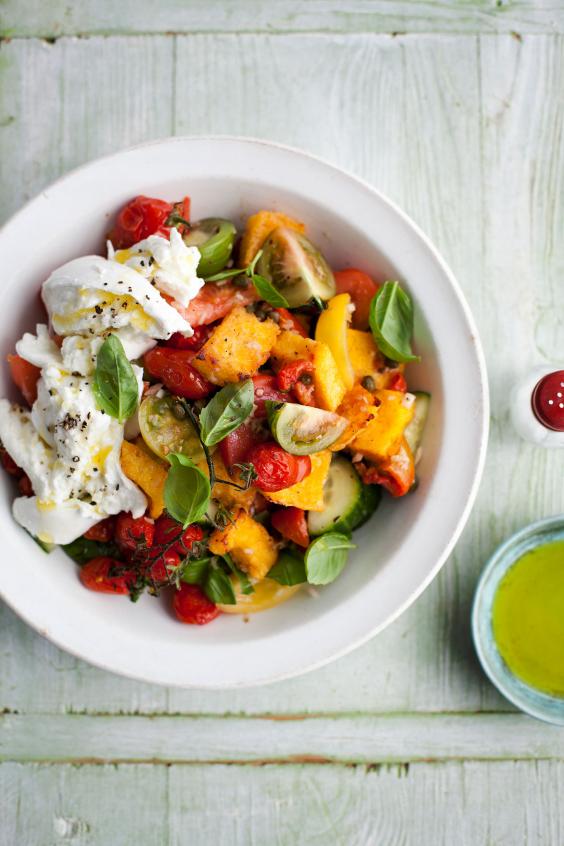 Put the polenta into a medium-sized pan, pour over 800ml of boiling water and stir until smooth, then reduce the heat to medium and cook, stirring, for 5 minutes. Remove the pan from the heat, stir in the Parmesan then spread out into a 10cm x 20cm oiled baking tray and allow to cool and set in the fridge.
Preheat the oven to 220C/425F/Gas7. Cut the polenta into 2cm strips then break up into rough cubes. Lay the polenta squares on a greased baking tray, drizzle with 2 tbsp of oil and cook for 25 minutes or until starting to crisp up and colour. Add the plum tomatoes to the tray, season well, cook for 10 to 15 minutes more.
Meanwhile, mix the remaining olive oil with the shallots and red-wine vinegar. In a bowl, combine the tomato wedges, semi-dried tomatoes, capers, anchovies, cucumber and half the torn basil leaves. Pour over the shallot-vinegar dressing and allow the flavours to infuse for 20 minutes.
Remove the polenta and tomatoes from the oven and toss with the marinating tomato mixture. Serve immediately with the remaining basil and torn mozzarella scattered on top.
Sticky-onion spelt with seared beef, rocket and Parmesan
This makes a lovely supper. If, like me, you're still in denial about the changing season, cool down the spelt, as I've done here. But if it's grey, with a chill in the air, it might be wise to embrace the arrival of autumn by keeping it warm.
Serves 4
500g baby onions, peeled and large ones halved
5 garlic cloves, unpeeled
4 tbsp olive oil
4 tbsp balsamic vinegar
1 tsp caster sugar
4 sprigs rosemary, 2 whole, 2 leaves picked and chopped
250g spelt
500g beef fillet, sinews removed
100g rocket
125g Parmesan, shaved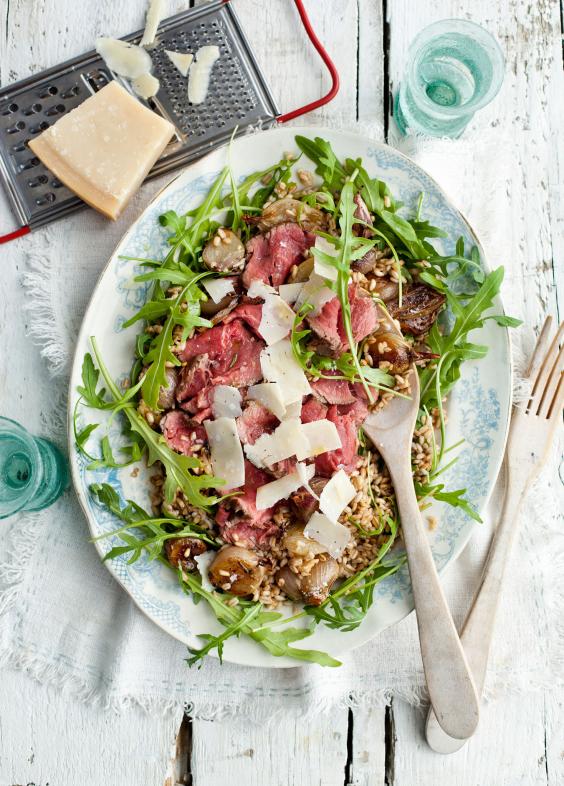 Heat the oven to 200C/400F/Gas6. Stir the onions, garlic, 3 tbsp of oil, balsamic, sugar and the whole rosemary sprigs into a baking dish. Season with salt and black pepper and cook for 30 to 35 minutes until soft, sticky and dark, stirring halfway through.
Meanwhile, cook the spelt until just tender, following packet instructions, then drain and cool under cold water for a minute, and drain well again. Push the garlic out of its papery skins then stir through the spelt, adding the sticky onions and any pan juices. Season well and set aside.
Heat a large, non-stick frying pan to very hot. Season the beef and rub with a drop of oil. Sear it all over for 10 minutes to get a really good crust on the outside. Mix the last tbsp of olive oil with the chopped rosemary on a small baking tray, remove the beef from the pan and roll in the scented oil. Cook in the oven for 8 minutes for rare, or longer, according to how you like your meat to be cooked. Remove and rest for 15 minutes. Cut into very thin slices.
To serve, scatter the rocket over a large platter, spoon the spelt on top and pour over any resting juices from the meat. Pile thin slices of the beef on top and finish with lots of the Parmesan shavings.
Food styling: Rosie Reynolds; Props merchandising: Rachel Jukes
Reuse content