It's a running joke between  my chefs that I'm addicted  to cucumbers. I'm constantly tossing them into salads or pickling them to serve with Japanese- or South-east Asian-inspired dishes.
There is also a tradition of making sure that everyone gets their heads around the way I like them chopped the moment  they start working in one of my restaurants. Basically I cut them at an angle, turn them a little, cut at an angle again and continue  in this way to make funky chunks. This works better with the slim, short Lebanese cucumbers that  I also love for their thinner skin and less watery texture.
I've convinced myself that cucumbers taste better cut in what my chefs call "the Bill way".  The pieces are chunky enough  to keep their crunch, and always have a pretty dark-green skin side,  as well as plenty of surfaces for the dressing to cling to. And if nothing else, they certainly look prettier this way. Although I do also like the look of the half-naked rounds tossed into the green salad here.
Bill's restaurant, Granger & Co, is at 175 Westbourne Grove, London W11, tel: 020 7229 9111, and 50 Sekforde Street, London EC1, tel: 020 7251 9032, grangerandco.com. Follow Bill on Instagram at bill.granger
Sichuan duck and stir-fried cucumbers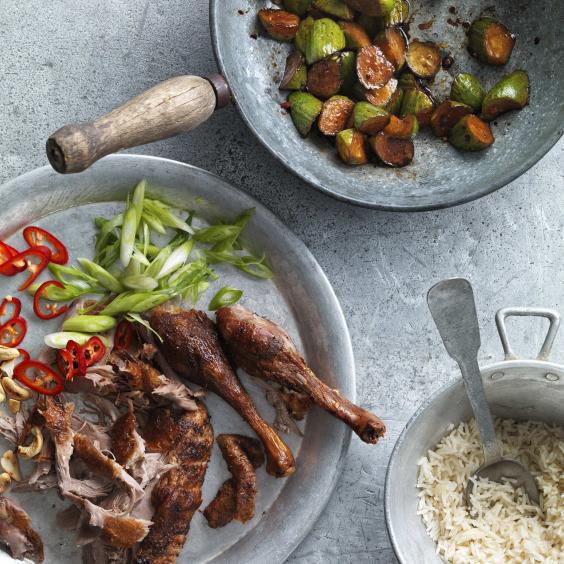 This makes such a satisfying dinner. Cooked cucumbers  might seem unusual, but if you cook them for only a couple of minutes they will keep all their crunch and freshness on the inside, while being coated with  the spicy glaze on the outside.  Try it – I defy anyone not to fall  in love with this dish.
Serves 4
2 tsp Sichuan peppercorns
2 tsp sea salt
1 tsp five-spice powder
1¼kg duck
2 tsp light-flavoured oil
¼ tsp chilli flakes
2 garlic cloves, chopped
4 Lebanese cucumbers or 1 regular cucumber, cut into chunks
½ tbsp dark soy sauce
½ tbsp rice vinegar
½ tbsp caster sugar  To serve
Plain steamed rice
4 spring onions, shredded
Handful toasted cashews, chopped
Preheat the oven to 180C/  350F/Gas4. Toast the Sichuan peppercorns and salt in a small frying pan over a medium heat until the peppercorns release their aroma. Grind using a pestle and mortar. Combine half with the five-spice powder and rub  all over the duck skin.
Sit the duck on a wire rack in  a roasting tin. Pour some boiling water into the tin until it comes just below the wire rack. Cover with foil. Steam-roast for 45 minutes. Increase the oven to 220C/425F/Gas7. Take the roasting tin out of the oven and uncover. Drain away any water and rendered duck fat from the base. Sit the duck breast-side down on the rack and return to the oven for 20 minutes. Turn breast-side up and roast for a final 20 to 25 minutes until the skin is crisp. Set aside to rest for 15 minutes.
Heat the oil in a wok over a high heat. Add the chilli and garlic and stir for a few seconds until aromatic. Tip in the cucumbers and reserved Sichuan pepper and salt mixture. Cook, stirring, for 1 minute. Add the soy, rice vinegar and caster sugar and cook, stirring, until thick and sticky.
Shred the duck and serve on steamed rice with the cucumbers, spring onions and cashews.
Chopped green salad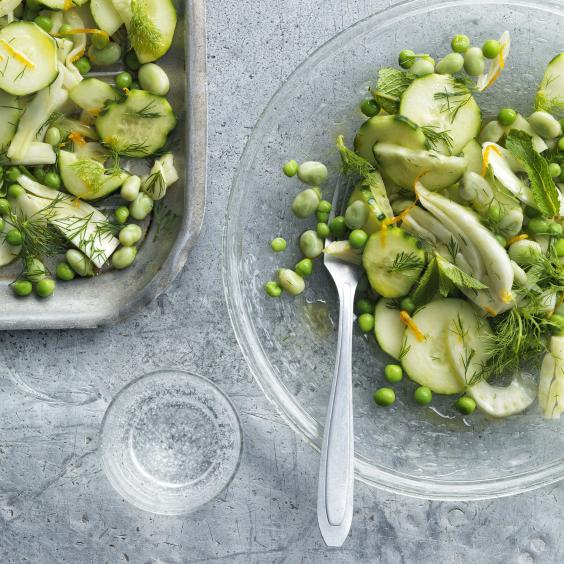 Remember the bland green salads of the past? Well, I think life is too short for limp leaves  and bottle dressing, so I give my version crunch with crisp veg,  and attitude with fragrant herbs and a sharp citrus dressing.
Serves 4
150g fresh or frozen broad beans (podded weight)
150g fresh or frozen peas  (podded weight)
1 large cucumber
1 large fennel bulb, fronds reserved
1 orange, grated zest and juice
Juice 1 lemon
3 tbsp olive oil
2 tsp honey
Small bunch mint, leaves only
Small bunch dill, snipped
If using fresh beans and peas,  boil them in salted, boiling water for 2 minutes then drain and refresh in cold running water. If using frozen, simply leave them out of the fridge to defrost. Peel the cucumber, leaving some  of the skin still on. Slice thinly.  Cut the fennel into wedges.
Combine the orange juice  and zest, lemon juice, olive oil  and honey in a large bowl.  Season with sea salt and freshly ground black pepper. Toss through the broad beans,  peas, cucumber, fennel and  herbs and serve.
Cucumber and daikon pickle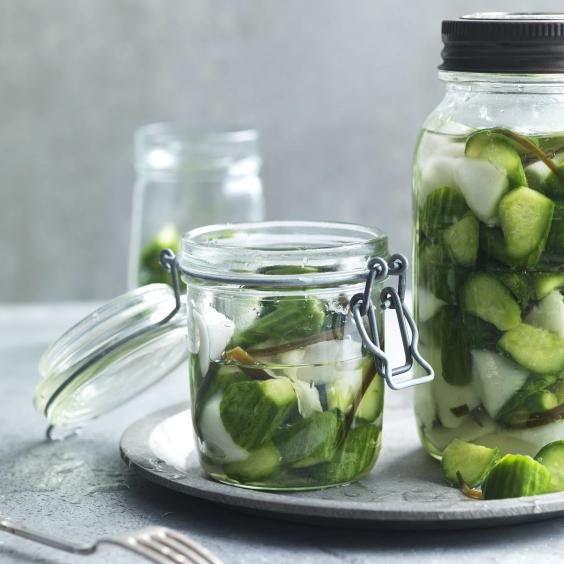 This is inspired by a Japanese pickle known as "impatient pickle". Ready in just a few hours,  it can be eaten the moment  it's made. The crunchy cucumber  and white radish are delicious with fish, while I like to toss the pickling liquor into shredded  raw vegetables when making  a Japanese coleslaw. 
Makes about 2 large jars
500g Lebanese cucumbers
220g daikon
2cm ginger, cut into  wafer-thin slices with  a peeler or mandolin
2 tbsp Maldon sea salt
½ sheet kombu
100ml Chinese rice-wine vinegar
3 tbsp granulated sugar
Slice the Lebanese cucumbers and daikon into chunks. Place  in a bowl with the ginger and  salt. Combine with your hands, rubbing the salt on to the cucumber as you go. Place  a small plate into the bowl and weigh it down with some food  tins to help squeeze the water out of the vegetables. Chill in the fridge for 2 hours, stirring the vegetables and weighing them down again a couple of times during this process.
Soak the kombu (a type  of edible kelp) in water until tender, then shred. Stir 100ml  of the kombu soaking water into  a bowl with the rice-wine vinegar and sugar. Stir the salted vegetables and shredded kombu through the pickling liquor. Keep in the fridge for 3 hours before using. The pickle will keep for 1 week in the fridge.
Reuse content