So here we are again, that one day in the year when the house can be full of chocolate and everyone has guilt-free permission to indulge. Usually one square of 70 per cent cocoa is plenty for me, but just for today, I might lose myself in the seasonal spirit.
Shamelessly rich, these recipes are a bit of a departure from my usual thing. But, if you are going to eat your body weight in chocolate – and, trust me, my chocoholic daughters will try to do just that – you might as well make sure that what you're eating is delicious.
To try to continue the healthy streak I've been on this year, I've even included a fruit-based truffle recipe with not a drop of cream in it. And before you think I've lost my mind, don't worry, they don't taste worthy in the slightest. In fact, they're so rich and full of energy that I can only manage one (OK, two…) at a time.
Bill's restaurant, Granger & Co, is at 175 Westbourne Grove, London W11, tel: 020 7229 9111, and 50 Sekforde Street, London EC1, tel: 020 7251 9032, grangerandco.com. Follow Bill on Instagram at bill.granger
Toblerone cookies with ice cream and chocolate sauce
These cookies don't last more than an hour in my house. The recipe came about when one day I decided it was time I got rid of the Duty Free chocolate in the cupboard. The cookies will keep in an air-tight container for up to three days. Warm them up slightly in the oven before eating and they will be good as new.
Makes 8
55g butter, softened
100g soft brown sugar
1 egg, lightly beaten
1 tsp vanilla extract
115g plain flour
1 heaped tbsp cocoa powder
½ tsp bicarbonate of soda
½ tsp salt
150g dark Toblerone chocolate, roughly chopped
Vanilla ice cream, to serve
For the sauce
250ml double cream
150 dark chocolate, chopped
Preheat the oven to 180C/350F/Gas4. Line two large baking sheets with non-stick baking parchment.
Cream the butter and sugar together with a wooden spoon until light and fluffy. Beat in the egg and vanilla extract until smooth then stir in the flour, cocoa, bicarbonate, salt and three-quarters of the Toblerone.
Drop generously heaped tablespoons of the dough on to the baking sheets, to make 8 cookies, 4 per sheet. Leave plenty of space between each to allow for spreading. Sprinkle the remaining chopped Toblerone over the surface of the cookies.
Bake for 15 minutes, until covered with cracks but not completely firm to the touch. Leave to cool on the baking sheets for a few minutes before carefully peeling away from the paper.
For the chocolate sauce, pour the cream into a small pan and heat to scalding point. Pour over a bowl with the chocolate. Add a pinch of salt and stir until the chocolate has melted.
Serve the cookies crumbled over ice cream, with some chocolate sauce poured over.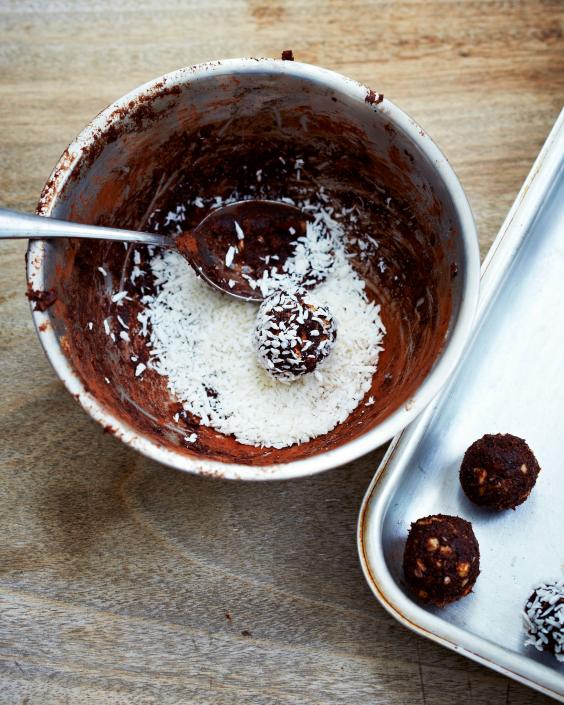 Chocolate soufflé with maple syrup and cardamom cream
Sometimes, only the classics hit the spot…
Makes 6
Softened butter, for greasing
2 tbsp caster sugar, plus 3 tbsp extra
175g dark chocolate (70 per cent cocoa), broken into pieces
4 tbsp double cream
4 egg yolks
5 egg whites
Cocoa powder, to dust
For the maple syrup and cardamom cream
4 cardamom pods, seeds only
250ml double cream
2 tbsp maple syrup
For the cream, use a pestle and mortar to grind the cardamom. Place in a bowl with the cream and whisk until the cream just holds its shape. Fold through the maple syrup.
For the soufflé, preheat the oven to 200C/400F/Gas6 and place a baking tray on the top shelf. Grease 6 x 150ml ramekins with a generous amount of butter, sprinkle with the 2 tbsp of caster sugar, then tip out any excess. Keep in the fridge until needed.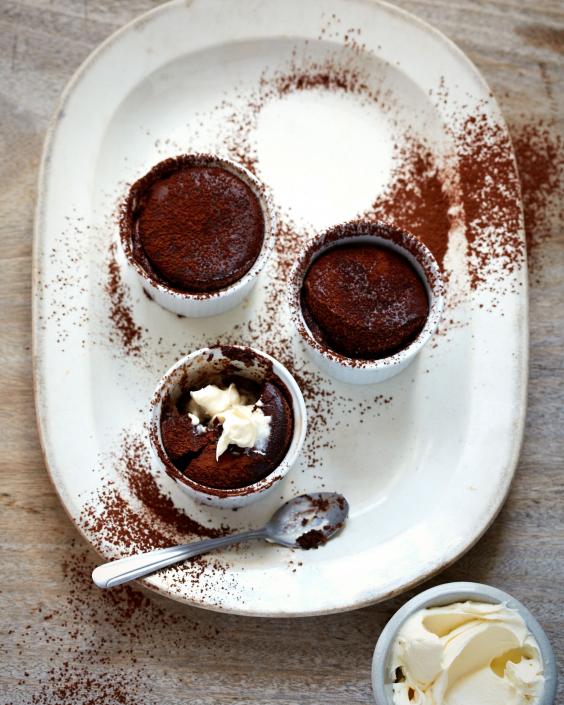 Place the chocolate and cream in a bowl over a pan of simmering water and heat until the chocolate has melted. Set aside to cool, then mix in the egg yolks, one at a time.
In a separate bowl, whisk the egg whites until they hold their shape, then add the remaining sugar, 1 tbsp at a time, whisking. Mix a spoonful into the chocolate to loosen the mixture, then gently fold in the rest. Fill the ramekins, then run your thumb around the edges. Place on the baking tray and bake for 8 to 10 minutes until well risen. Dust the soufflé with cocoa and serve with the cream.
Chocolate, fruit and nut truffles
Guilt-free, healthy, energy-packed truffles – who could ask for more?
Makes about 20
125g dried pitted dates
125g dried apricots
100g ground almonds
2½ tbsp cocoa powder
75g toasted hazelnuts, finely chopped
100g desiccated coconut
Whiz the dried dates and apricots in a food processor. Tip into a bowl and stir in the ground almonds and cocoa powder to make a firm mixture. Stir in the hazelnuts with a wooden spoon.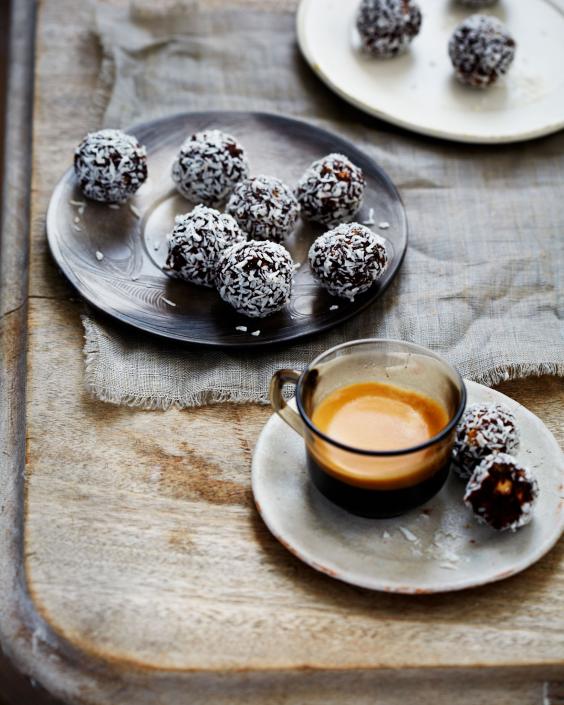 Using your hands, roll the mixture into truffles, adding a little extra ground almond if the mixture is too sticky to handle. Roll into a bowl with desiccated coconut. These will keep in an air-tight container for up to a week.
Food preparation: Marina Filippelli; Stylist: Rachel Jukes
Reuse content