Although I'm not a dessert person by nature, I find it hard to resist the allure of fruity Asian desserts. Refreshing and palate-cleansing, they're the perfect ending to a spicy, soy-rich meal.
For years, my idea of Asian desserts was based on the toffee apples and banana fritters I'd eaten at our local Chinese as a kid. All that changed when I experienced the delicious fruits of South-east Asia, and refined and complex ice creams from Japan.
But it was in Longrain, one of my favourite Sydney restaurants, that my crush on Asian desserts took hold. They do the most amazing sticky black rice, with unexpected hints of savoriness. This was a while ago, before salt in desserts had become all the rage, and it really opened up my senses to a whole new world.
The recipe overleaf is my take on that pudding. It tastes quite different, but just one spoonful takes me right back to that Sydney meal. I love how food can do that.
Bill's restaurant, Granger & Co, is at 175 Westbourne Grove, London W11, tel: 020 7229 9111, and 50 Sekforde Street, London EC1, tel: 020 7251 9032, grangerandco.com. Follow Bill on Instagram at bill.granger
Clementine, lychee and jasmine jelly
Use loose-leaf tea if you can – I always find it tastes fresher and more fragrant than a teabag. Or maybe that's just the romantic in me…
Serves 4
375ml jasmine tea
80g caster sugar
Finely grated zest 1 clementine
3 tsp (12g) powdered gelatin
4 tbsp mandarin juice (about 2 mandarins)
To serve
10 lychees, peeled, stoned and halved
2 mandarins, peeled and cut into chunks
Place the tea in a small pan and bring to the boil. Stir in the sugar and clementine zest. Gently sprinkle the gelatin over the top and leave to soak for 5 minutes. Place over a low heat and stir until the gelatin has dissolved. Do not allow to boil. Remove from the heat. Add the mandarin juice. Strain though a fine sieve into a bowl and refrigerate for 4 hours or until set.
To serve, spoon the jelly into bowls. Top with the prepared lychees and mandarin.
Mango and passion-fruit salad with kaffir-lime syrup and sesame biscuits
The colder the fruit and syrup, the better.
Serves 4 For the biscuits
150g plain flour
115g unsalted chilled butter, cubed
4 tbsp ground almonds
100g caster sugar
4 tbsp sesame seeds
1 egg yolk
For the fruit salad
2 kaffir-lime leaves
100g caster sugar
Juice 2 limes
2 passion fruit
1 mango, cut into chunks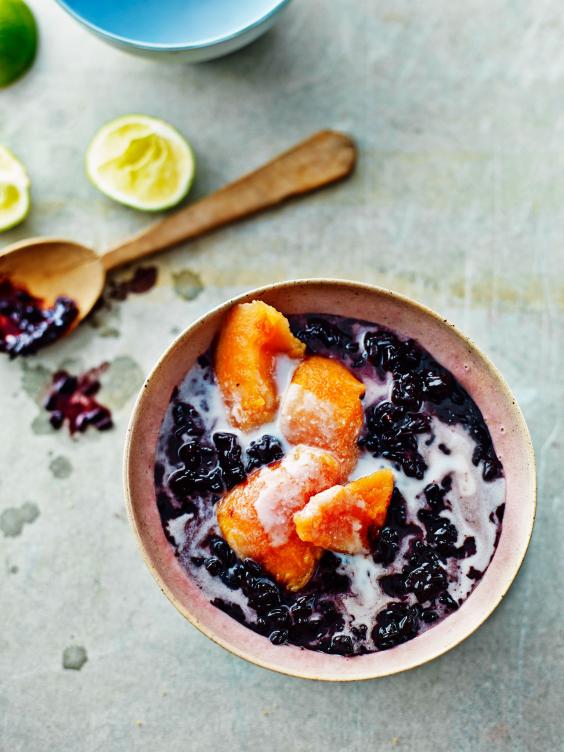 Preheat the oven to 180C/ 350F/Gas4. Place the flour, butter, ground almonds, sugar and half the sesame seeds in a food processor and pulse until the mixture resembles breadcrumbs.
Add the yolk and the remaining sesame seeds and pulse again until the dough comes together.
Shape into a log, wrap in greaseproof paper and chill until firm. Cut out biscuits 1cm thick and place on a baking sheet. Bake for 15 minutes.
Make the syrup for the fruit salad. Place the kaffir-lime leaves and sugar in a pan with 100ml of water. Heat gently, stirring, until the sugar has dissolved, then boil for 5 minutes. Add the lime juice and set aside to cool.
Scoop the passion-fruit pulp into the cooled syrup and fold through the mango. Chill for at least 1 hour. Remove the lime leaves before serving with the biscuits.
Black sticky rice with coconut and papaya
I love the nuttiness and bite of black rice. The result is not as soft and sticky as the white rice version of this dessert, but in my book it's even better.
Serves 4
300g Thai black sticky rice
1 pandan leaf (optional)
115g caster sugar
250ml coconut milk, plus extra for drizzling
To serve
1 papaya, cut into chunks
4 lime wedges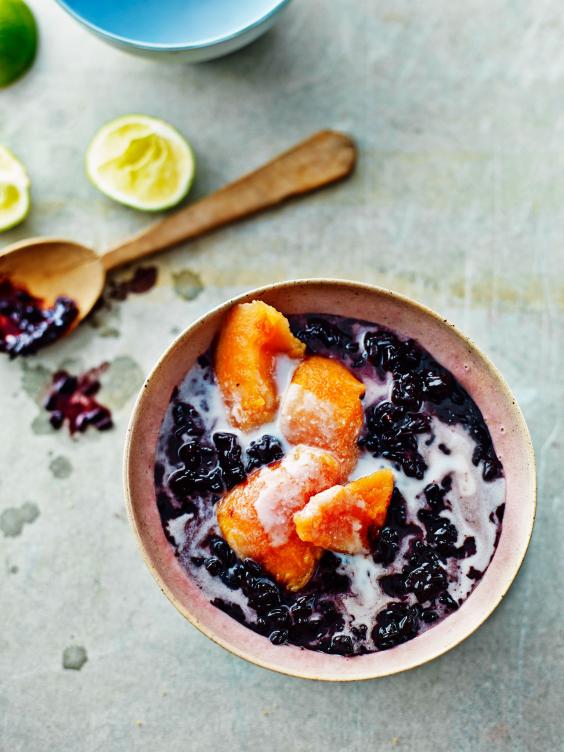 Rinse the rice under cold, running water. Place in a pan with 650ml of water, the pandan leaf and a large pinch of salt. Bring to the boil and cover with a tight-fitting lid. Reduce the heat to a slow simmer and cook for 25 to 30 minutes. The rice is ready when it feels "al dente". The cooking time can vary according to the rice you buy. If it's not cooked after 30 minutes, add a little more water and cook until done.
Remove the pandan leaf, add the sugar, coconut milk and a good pinch of salt to the pan. Stir over a low heat until heated though and creamy. Serve in bowls with the papaya, a drizzle of coconut milk and a lime wedge.
Food preparation: rosie reynolds; Props merchandising: Rachel Jukes