I love a garden party. In Sydney we might be able to barbecue or enjoy a picnic most of the year, but our outdoor eating is mostly a casual, flip-flop affair. In my mind, the moment you call it a garden party, you add an air of sophistication. It conjures up immaculately kept lawns, bunting, linen jackets and Panama hats, a romantic blend of old empire and new England.
A Bank Holiday is the perfect time for making a bit of a fuss when entertaining. I'll be sticking to the informality Aussies are famous for, but hoping to add a little elegance to the day by making some pretty finger food, chilling plenty of prosecco and, of course, calling it a garden party. Now all I need to do is dig out my cravat…
Bill's restaurant, Granger & Co, is at 175 Westbourne Grove, London W11, tel: 020 7229 9111, and 50 Sekforde Street, London EC1, tel: 020 7251 9032, grangerandco.com. Follow Bill on Instagram at bill.granger
Prawn, green apple and coconut-filled lettuce leaves
I'm not a fan of over-fiddled-with finger food. This is much more delicious and fun – relaxed, fresh food with bold, zingy flavours.
Serves 6 as part of a selection of dishes
Juice 1 lime
2 tbsp light soy sauce
1 tbsp rice-wine vinegar
½ tsp caster sugar
1 red chilli, finely chopped
1 Granny Smith apple, quartered, cored and thinly sliced
10 cooked prawns with tails intact, each cut into 3 pieces
Handful coriander leaves
Handful mint leaves
60g fresh coconut shavings
2 baby gem lettuces, split into leaves
2 tbsp crispy shallots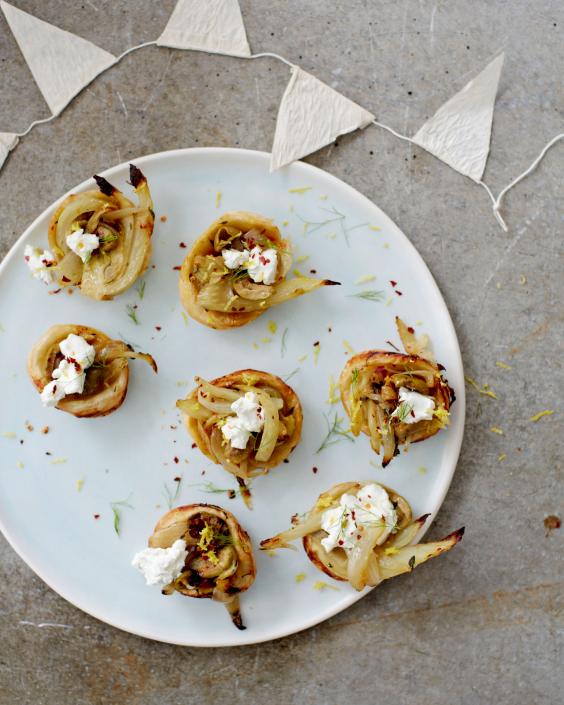 Mix the lime juice, soy, rice- wine vinegar, sugar and chilli together and stir to dissolve the sugar. Set aside.
Put the apple, prawns, herbs and most of the coconut into a large bowl, pour over the dressing and toss to coat. Pile the mixture into the lettuce leaves and scatter with the remaining coconut and crispy shallots.
Fennel, onion and olive tatin
These tarts are delicious eaten warm or at room temperature.
Serves 6 as part of a selection of dishes
4 tbsp olive oil, plus a little extra to grease
2 onions, cut into thin wedges
1 fennel bulb, chopped
2 garlic cloves, chopped
Large handful green olives, pitted and torn
1 tbsp thyme leaves
½ tsp chilli flakes
120ml vegetable stock
325g pack ready-rolled puff pastry
100g goat's cheese, crumbled
Zest 1 lemon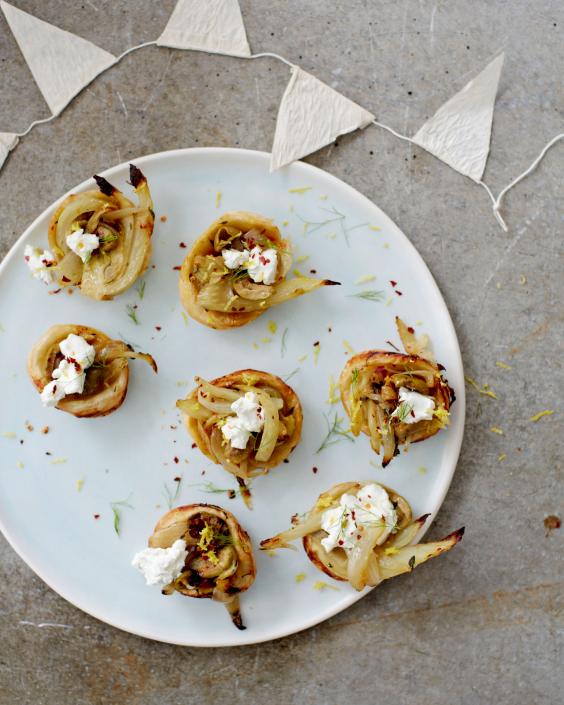 Heat the oil in a large frying pan, add the onion, fennel and garlic, and cook for 5 minutes until starting to soften. Tip in the olives, thyme and chilli. Cook for a further 2 minutes, pour in the stock, half cover and cook for 8 to 10 minutes, until the fennel and onions are soft and lightly golden. Remove from the heat and allow to cool slightly.
Heat the oven to 220C/425F/Gas7. Grease a 12-hole, shallow cupcake tray. Roll out the puff pastry and use an 8cm round cutter to stamp out 12 pastry circles. Divide the onion mixture between the cupcake holes and lay a pastry circle on top of each, gently pressing it around the filling. Bake for 15 minutes, or until the pastry is risen and golden. Turn out the tatins on to a board, crumble over the goat's cheese and sprinkle with lemon zest before serving.
Chicken yakitori with dipping sauce
If you'd rather avoid grilling in your garden-party clothes, cook the yakitori in advance and reheat for 5 minutes in the oven before serving.
Serves 6 as part of a selection of dishes
120ml soy sauce
5 tbsp mirin
5 tbsp soft brown sugar
1 garlic clove, crushed
2cm ginger, grated
8 boneless, skinless chicken thighs, cut into chunks
Bunch spring onions, cut into 2cm lengths
Lime wedges, to serve
1 tbsp toasted sesame seeds, to serve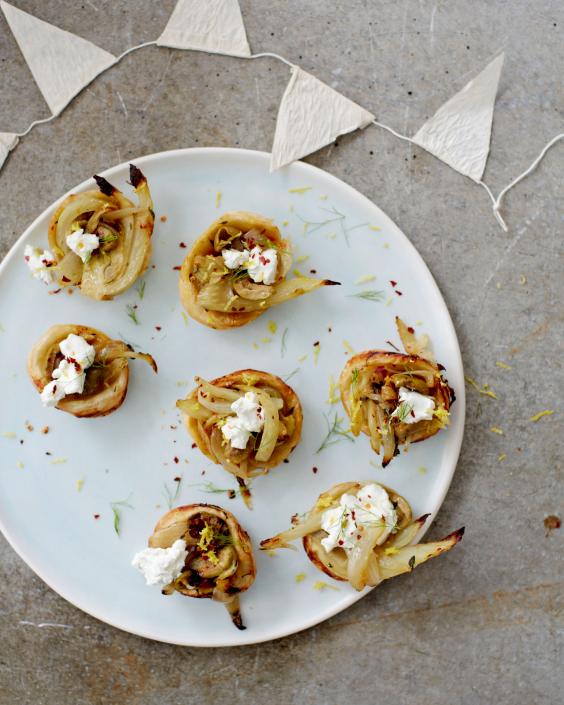 Mix the soy, mirin, sugar, garlic and ginger in a large bowl. Add the chicken and toss to coat. Cover and leave to marinate for 30 minutes, or up to overnight, in the fridge.
Lift the chicken out of the marinade and pour the marinade into a small pan. Thread the chicken and spring onion on to short skewers. Simmer the marinade over a medium heat until thick and shiny. Set aside.
Heat a griddle pan or barbecue. Cook the skewers for 5 to 6 minutes, turning regularly until golden and cooked through. Brush with the reserved marinade and serve with lime wedges and a scattering of the sesame seeds.
A garden party conjures up immaculately kept lawns, bunting, linen jackets and Panama hats, a romantic blend of old empire and new England
Food preparation: Rosie Reynolds; Props merchandising: Rachel Jukes
Reuse content