Sweetcorn encapsulates summer's promise and joy. Its yellow is so cheerful and sunny, it's sweet, juicy and crunchy all at once, and so versatile an ingredient I use it extensively and continually throughout its season.
Sweetcorn is piled high in Japanese ramen, made into salsas in Mexico, stir-fried in northern China, bound with the lightest of rice-flour batters in Thailand, and stirred into chowder in the States, and that is just a small taste of its uses. It's usually best if it's not overcooked, retaining its bite, although I sometimes really pine for creamed corn that only retains the barest of the kernels' texture.
I've enjoyed sweetcorn barbecued at a little stall at the port of Gaios on the Greek island of Paxos, so hot that you couldn't dream of eating it for at least 15 minutes, and picked it from fields in Australia from towering plants, boiled it as quickly as possible, and gobbled it down, doused in butter. I'm always shucking it and assembling salads with the kernels, and haven't stopped making fritters, one of my restaurants' signature dishes, for almost 25 years!
Bill's restaurant, Granger & Co, is at 175 Westbourne Grove, London W11, tel: 020 7229 9111; 50 Sekforde Street, London EC1, tel: 020 7251 9032; and Stanley Building, 7 Pancras Square, London N1, tel: 020 3058 2567, grangerandco.com. Follow Bill on Instagram at bill.granger
Sweetcorn fritters with avocado, chipotle refried beans, tomato and coriander salad
The smooth texture of the refried beans is a foil to the crispy sweetcorn fritters, freshened up with lime and coriander.
Serves 4
For the refried beans
2 tbsp extra-virgin olive oil
½ red onion, chopped
2 garlic cloves, crushed
400g tin black beans, rinsed and drained and roughly mashed
½ tsp chipotle chilli powder
125ml chicken stock
For the fritters
150g plain flour
¼ tsp baking powder
½ tsp sea salt
1 tsp ground coriander
½ tsp ground cumin
1 tsp sweet paprika
1 egg, lightly beaten
1 tsp lemon juice
350g corn kernels, cut from 3 large corn cobs
4 spring onions, thinly sliced
3 tbsp chopped coriander
2 tbsp olive oil
For the salad
1 avocado, peeled and cut into wedges
Juice of ½ lime
100g feta cheese, coarsely crumbled
Handful coriander leaves
To prepare the beans, heat the oil in a saucepan over a medium heat. Add the onion and garlic and cook, stirring, for 2 to 3 minutes, until soft. Add the beans, chilli powder and stock. Cook, stirring and mashing the beans, for about 5 minutes until you have a thick, coarse purée.
To prepare the fritters, place the flour, baking powder, salt, coriander, cumin and paprika in a bowl. Add the egg, lemon juice and 125ml of water and beat to a smooth batter. Add the corn, spring onion and chopped coriander and stir to combine.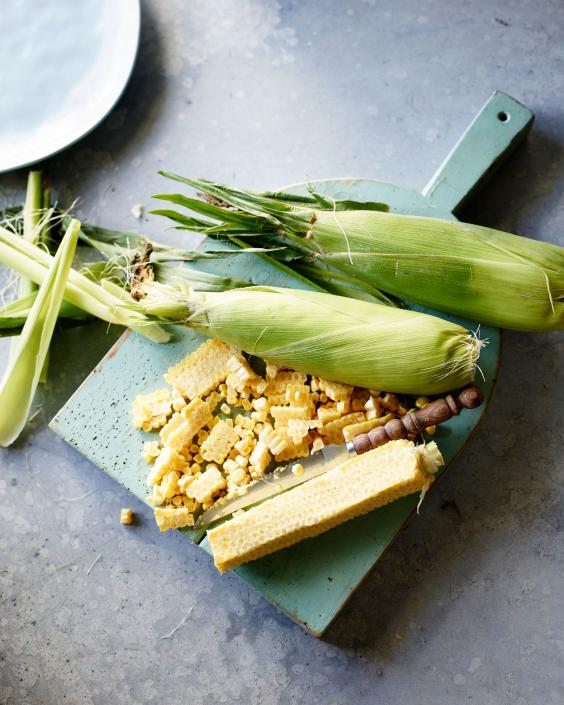 Heat the oil in a frying pan over a medium heat and spoon in 2 heaped tbsp of the mixture for each fritter. Flatten with a spatula and cook for 2 minutes per side until golden and cooked through. Repeat with the remaining mixture.
Combine all the salad ingredients. Arrange the fritters on a plate and serve with the refried beans and salad.
Sweetcorn, crab and potato salad
A classic trifecta is pimped by assembling into a salad and frying the potatoes instead of boiling them.
Serves 4
2 tbsp olive oil
300g baby kipfler potatoes, peeled or scrubbed and halved
25g butter
200g corn kernels, cut from 2 large corn cobs
200g picked crab meat
1 spring onion, thinly sliced
3-4 sprigs dill, roughly chopped
Mayonnaise, to serve
Heat the oil in a large pan over a high heat. Add the potatoes and cook for 5 to 6 minutes each side until golden and cooked through. Remove from the pan and set aside.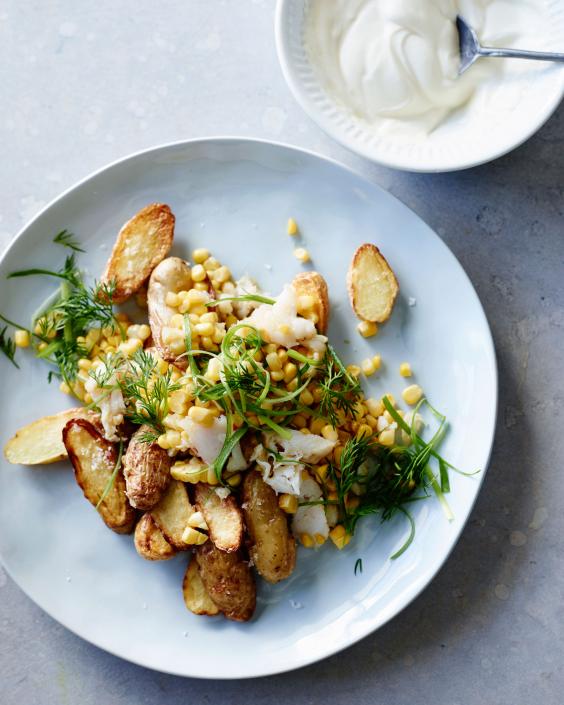 Wipe the pan with a paper towel and add the butter. Cook till it is starting to brown then add the corn kernels and toss for 1 to 2 minutes until golden and cooked.
Lay the potatoes on a plate, top with the corn, crab, spring onion and dill. Serve with mayonnaise.
Barbecued corn on the cob with smoked chilli butter
This is very now: corn on the cob with lots of umami, smoky flavours and grated Parmesan to pull it all together.
Serves 4
4 corn cobs, husks removed
2 tsp olive oil
125g butter, softened
1 tsp smoked paprika
1 red chilli, deseeded and finely chopped
2 tbsp finely chopped coriander leaves
2 tsp white miso
1 tbsp soft brown sugar
To serve
Grated Parmesan, to taste
Bring a large saucepan of water to the boil, add the corn and blanch for 2 minutes. Drain and brush with olive oil. Heat the barbecue to medium and cook the corn, with the barbecue lid down, for 8 to 10 minutes or until tender, turning occasionally.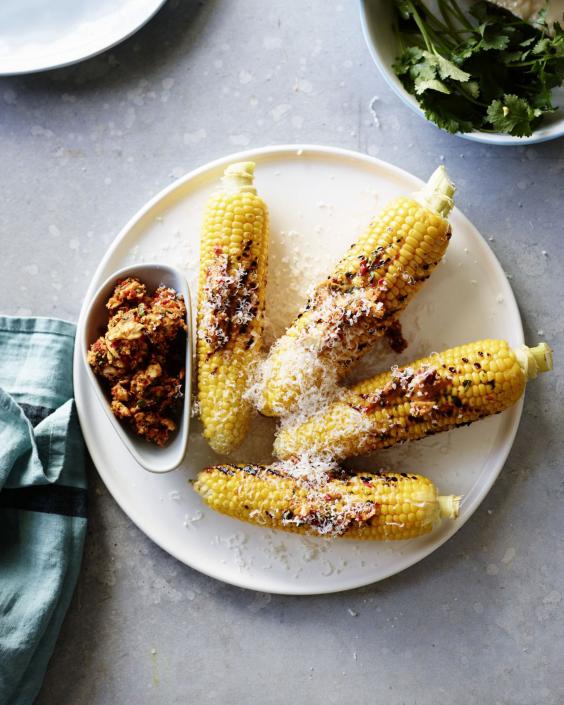 Meanwhile, combine the butter, paprika, chilli, coriander, miso and sugar together in a bowl. Season with sea salt and freshly ground black pepper to taste.
To serve, brush the corn cobs with the smoky chilli butter and serve topped with grated Parmesan.
Food preparation: Nick Banbury; Props merchandising: Megan Morton
Reuse content