Like the best Japanese design, Japanese food is clean, ordered and always pared down to basics. I guess that's why I like it so much. Behind all that precision and those beautiful ingredients, there is a simplicity that makes it perfect for home cooking.
I also find it's an easy sell when it comes to feeding kids. Mine love flavoursome dishes, but still shy away from overly spiced foods. The way Japanese food is always tasty yet mild, without much heat, suits their chilli-shy palates perfectly. You won't need lots of unusual ingredients to get started. Stock up with mirin, soy and miso and you're on your way.
The only thing I'd add is that, for me, Japanese food tastes better popped on a nice plate. At least, that's my excuse for always coming back from Tokyo with a beautiful ceramic dish in my bag.
Japanese crumbed pork chops with mixed salad
This is inspired by tonkatsu, a fast-food favourite in Japan. Served without the traditional tonkatsu sauce, it's essentially a schnitzel made extra crispy by the Japanese dried breadcrumbs.
The salad has a lovely, zingy dressing. Don't worry too much if you can't get all the leaves I've used – even a simple bag of peppery wild rocket works well.
Serves 4
4 boneless pork loin chops (choose size according to your appetite)
5 tbsp plain flour
2 eggs, lightly beaten
150g panko breadcrumbs
200ml light-flavoured oil, for frying
Lemon wedges, to serve
For the salad
200g green beans, trimmed
150g frozen soya beans, defrosted
1 carrot, peeled, cut into matchsticks
100g cherry tomatoes, halved
Large handful mizuna
Large handful watercress
1 endive, broken into leaves
For the salad dressing
2 tbsp dark soy sauce
2 tbsp mirin
2cm ginger, peeled and grated
½ garlic clove, crushed
1 tsp sesame oil
1 tbsp black sesame seeds
For the salad, whisk all of the dressing ingredients together in a small bowl and set aside. Cook the green beans in a pan of boiling, salted water for 2 minutes, add the soya beans and continue to cook for 1 minute. Drain and plunge into ice-cold water. Drain again. Toss into a large bowl with the carrots, tomatoes and salad leaves. Set aside while you cook the pork.
Season the pork chops on both sides with salt and freshly ground black pepper, set aside. Tip the flour on to a plate, pour the egg on to another and the breadcrumbs into a baking dish. Dip the chops into the flour, coating both sides, pat off any excess then coat in the egg mix. Press the chops into the breadcrumbs, making sure they are fully coated. Set aside.
Heat the oil in a large frying pan over a medium heat. Place 2 chops in the pan and cook for 2 to 3 minutes each side, until golden. Drain on kitchen paper, season with salt and keep warm while you fry the remaining chops.
Toss the dressing though the salad and serve with the pork and lemon wedges.
Crispy chicken with mustard ponzu and spring onions
English mustard is so fierce I leave it out of the sauce when the kids are around, adding it to my plate instead.
Serves 4
6 chicken thighs, boneless, skin on
4 tbsp lime juice
5 tbsp mirin
1 tsp caster sugar
4 tbsp soy sauce
1 tsp English mustard, plus extra to serve
3 spring onions, shredded
Sticky rice, to serve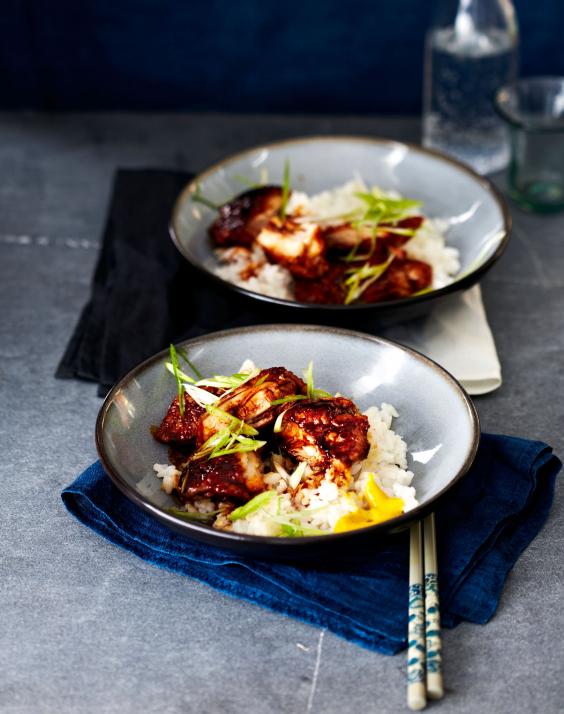 Heat a large, non-stick frying pan over a high heat. Add the chicken skin-side down. Reduce the heat to low and cook for 6 to 8 minutes. The fat will render out and the skin will become really crispy and golden. Turn the chicken over and continue to cook for 4 minutes.
Meanwhile, make the ponzu sauce. Put the lime and mirin in a small pan over a high heat. Bring to the boil, reduce the heat and simmer for 1 minute. Remove from the heat. Add the sugar, soy and mustard, whisking with a fork until the mustard has dissolved.
Once the chicken is cooked through, add the sauce to the pan. Cook until heated through. Remove the chicken from the pan and cut into thick strips. Serve on sticky rice with the sauce spooned over, shredded spring onion on top and extra mustard, if desired.
Salmon teriyaki with miso mushroom noodles
You can't go wrong with grilled salmon, beef or chicken teriyaki.
Serves 4
2 tbsp light-flavoured oil
500g mixed shiitake and oyster mushrooms, torn
Bunch spring onions, cut into 3cm lengths
2 tbsp white miso
2 tbsp mirin
2 tbsp dark soy sauce
300g pre-cooked udon noodles
For the salmon
100ml light soy sauce
2 tbsp mirin
1 tbsp caster sugar
4 salmon fillets, about 180g each
Oil, for greasing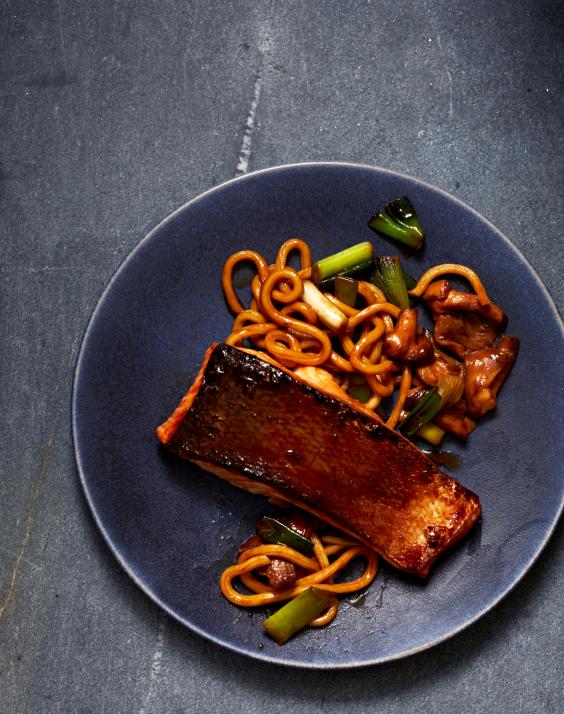 For the teriyaki sauce, stir the soy, mirin and caster sugar together in a dish that fits the salmon in a single layer. Add the salmon, turn to coat in the sauce. Set aside to marinate for 20 minutes, turning the fillets over after 10 minutes.
Preheat the grill to hot. Grease a baking tray with oil. Transfer the salmon, skin-side up, to the tray. Place the tray on the middle shelf of the oven. Cook for 4 to 6 minutes, brushing with a little of the marinade halfway through. Cook until golden, then turn the fillets over, brush with more marinade and grill for another 2 to 3 minutes until golden.
Meanwhile, heat the oil in a large frying pan or wok over a high heat, add the mushrooms and stir-fry for 2 minutes. Add the spring onion and stir-fry for 1 minute. In a small bowl, mix the miso, mirin and soy with 2 tbsp of water. Add to the mushrooms with the noodles. Stir for 1 to 2 minutes or until the noodles are piping hot. Divide the noodles between serving dishes, top with a salmon fillet each and serve.
Bill's restaurant, Granger & Co, is at 175 Westbourne Grove, London W11, tel: 020 7229 9111, and 50 Sekforde Street, London EC1, tel: 020 7251 9032, grangerandco.com. Follow Bill on Instagram at bill.granger
Food preparation: Marina Filippelli; Props merchandising: Rachel Jukes
Reuse content