I like to think that I'm a pretty balanced eater, taking in plenty of fruit, veg, fish and salad with every meal, including breakfast – but if I want to be really virtuous, Japanese is always the way I choose to go.
The ingredients and flavours of Japanese food lend themselves perfectly to clean-tasting, healthy eating, but remain deliciously flavoursome. It's no surprise that "umami" (used to describe something intensely savoury) is a Japanese term.
If you've got the basics – good-quality soy or tamari sauce, mirin, ginger, garlic and a trickle of sesame oil – you're pretty much set to make any dish taste great, and you don't need heavy, oil-based dressings or marinades. Plus, ingredients such as miso, tofu, seaweed and edamame beans are positively saintly when it comes to their health benefits – add a little lean meat and you're still doing well.
The other reason that Japanese food lends itself so well to healthy eating is that the portions are so much daintier than Western servings tend to be – and it's all about the presentation, which, in my book, makes everything taste even better.
Bill's restaurant, Granger & Co, is at 175 Westbourne Grove, London W11, tel: 020 7229 9111, and 50 Sekforde Street, London EC1, tel: 020 7251 9032, grangerandco.com. Follow Bill on Instagram at bill.granger
Japanese mixed salad with ponzu dressing
This oil-free dressing gives a vibrant quality to everything it coats. Add some thin slices of sashimi-grade raw tuna to turn this side dish into a light supper.
Serves 4
For the ponzu dressing
1 ½ tbsp lime juice
1 ½ tbsp lemon juice
30ml mirin
5 tbsp light soy sauce
1 tbsp caster sugar
2 tbsp rice vinegar
For the salad
200g sugar snaps
1 small iceberg lettuce, in chunks
Large handful watercress leaves
6 breakfast radishes, cut into fine rounds using a mandolin
150g daikon, peeled and cut into fine rounds using a mandolin
1 ripe avocado, halved and roughly chopped
10g chives, chopped into 5cm lengths
For the sauce, combine all the ingredients in a pan and bring to the boil. Remove from the heat and leave to cool and infuse for at least 2 hours. Strain before using.
Bring a pan of water to the boil, add the sugar snaps and blanch for 30 seconds, drain and refresh under ice-cold water. Cut diagonally in half.
Mix the leaves with the radish, daikon, avocado and sugar snaps. Toss the dressing over the salad and serve with the chives.
Minced chicken yakitori
Making your own teriyaki sauce takes no time and tastes so much better than anything you can get in a bottle. You could use strips of chicken breast for the skewers, but I like these little patties, which pack in lots more flavour and stay beautifully succulent.
Serves 4
For the teriyaki sauce
120ml mirin
120ml soy sauce
120ml white wine
50g granulated sugar
For the yakitori
500g chicken mince
5cm ginger, grated
2 cloves of garlic, crushed
4 spring onions, finely chopped
1 green chilli, halved and finely chopped
1 tsp honey
8 bamboo skewers, soaked in water for 20 minutes
8 spring onions, cut in half
To serve
Shichimi pepper seasoning
¼ cabbage, cut into chunks, leaves separated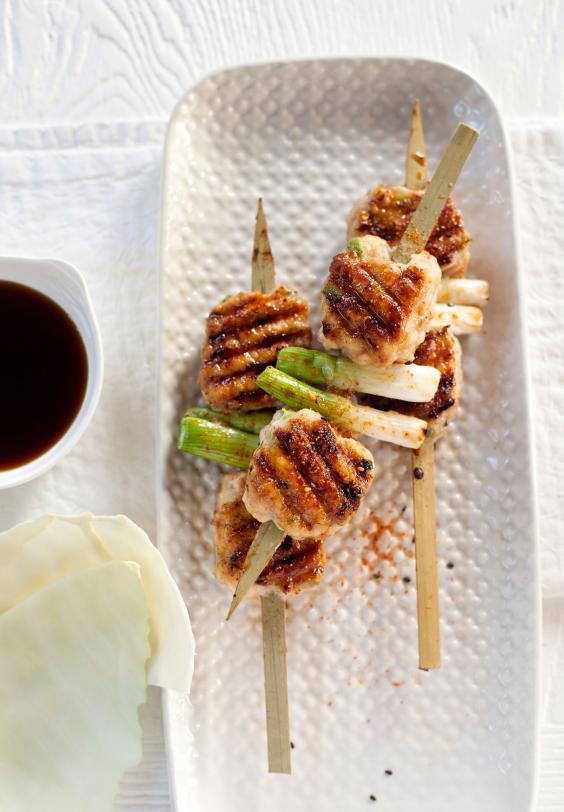 Place the mirin, soy sauce, white wine and sugar in a pan over a medium heat and bring to the boil. Reduce to a simmer and cook until reduced by half. Pour into a bowl and leave to cool.
Use your hands to combine the chicken, ginger, garlic, spring onions, chilli and honey in a large bowl. Season with sea salt and freshly ground black pepper, squeezing with your hands to bring the mixture together.
Wet your hands and form 16 balls. Thread 2 balls on to the skewers, interspersed with lengths of spring onions. Place on a tray and leave to rest in the fridge for 10 to 15 minutes.
Pre-heat the grill to 180C/ 350F/Gas4. Place a non-stick griddle or frying pan over a medium heat. Brush the skewers all over with oil and griddle on both sides for 2 minutes or until golden.
Place the skewers in a roasting tin, drizzle with the teryaki sauce and place in the oven for 8 to 12 minutes or until cooked through. Sprinkle the chicken with shichimi pepper. Serve with leaves of cabbage and extra teriyaki sauce.
Grilled tofu steak with ginger and edamame
I defy anyone to say tofu is bland once they've tasted this. After a summer of indulging and entertaining, this is just the kind of meal I want to enjoy on a quiet family evening.
Serves 4
3 tbsp light soy sauce
2 tbsp mirin
2 garlic cloves, crushed
3cm fresh ginger, grated
2 tsp sesame oil
2 spring onions, sliced
For the edamame salad
150g edamame, shelled
6g dried wakame seaweed
150g cucumber, peeled, halved and thinly sliced
For the tofu
500g firm tofu, drained
Cornflour, to dust
3 tbsp light-flavoured oil
To serve
Black and lighly toasted white sesame seeds
Steamed rice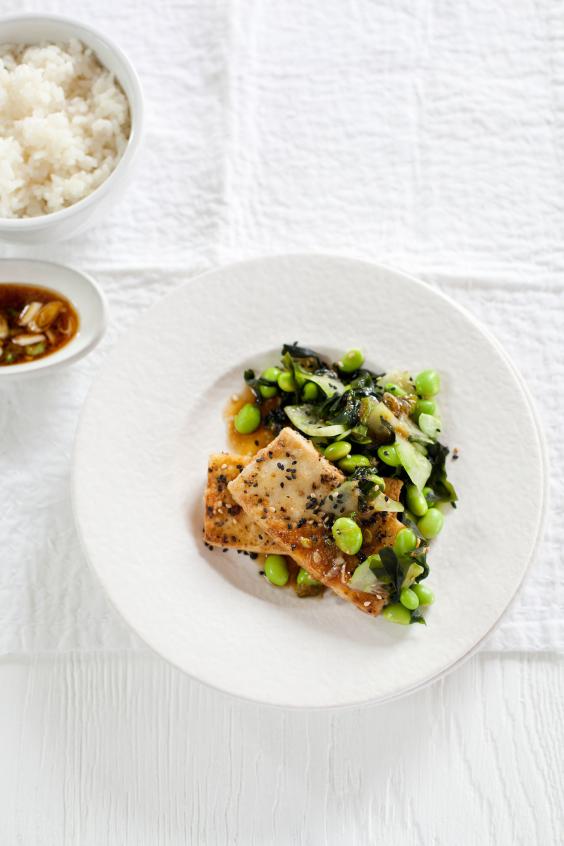 Whisk together the soy sauce, mirin, garlic, ginger and sesame oil in a bowl. Stir in the spring onions and set aside.
Bring a pan of boiling water to the boil, add the edamame and blanch for 30 seconds. Drain and refresh under ice-cold water. Put the seaweed into a bowl, pour 100ml water over and allow it to reconstitute for a few minutes, then drain. Toss together the edamame, seaweed and cucumber in a bowl.
Cut the tofu into eight 1.5cm-thick steaks. Place the cornflour in a bowl, season with sea salt and black pepper and coat each tofu steak on both sides. Heat the oil in a large frying pan over a high heat and cook the tofu in batches for 2 to 3 minutes on each side till golden-brown and crisp. Drain on kitchen paper. Arrange the tofu on plates with the edamame salad and sprinkle with sesame seeds, drizzle generously with the sauce and serve with the steamed rice.
Miso pork ramen
I've cut a few corners for my homely version of this hipster favourite. If cheating with a little bought stock means the difference between enjoying a soul-enhancing bowl of ramen rather than just dreaming about it, then I'll cheat every time.
Serves 4
1 large leek, white part, thinly sliced
2 tbsp chilli paste
1 tbsp vegetable oil
3 cloves garlic, crushed
1 tbsp ginger, grated
250g ground pork
1 tbsp soy sauce
4-5 tbsp white miso paste
1 tsp sesame oil
1 tbsp caster sugar
1 litre chicken stock
400g fresh egg noodles
150g bean sprouts
80g baby spinach, washed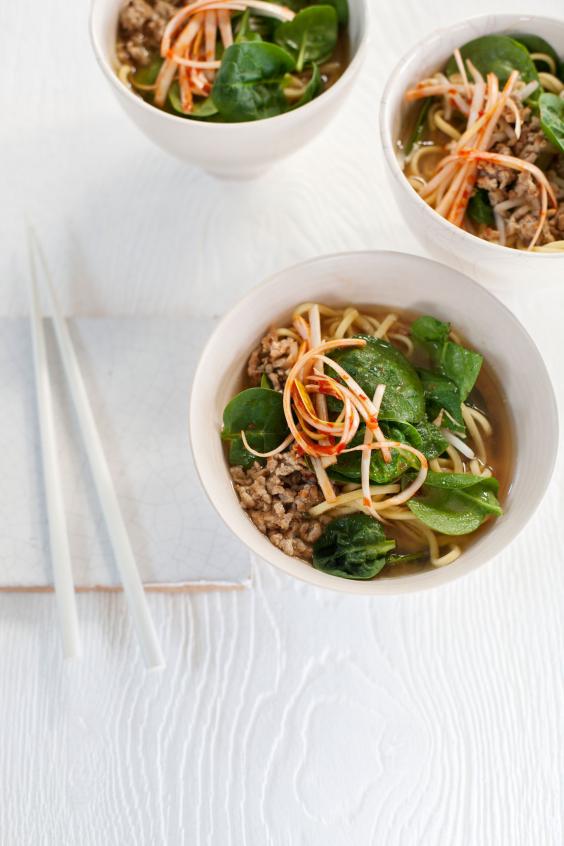 Place the finely sliced leeks into a bowl and toss with the chilli paste. Cover and set aside until needed.
In a wok, heat the oil, add the garlic and ginger and fry for 1 to 2 minutes, until soft. Add the pork and fry for 2 to 4 minutes, till the meat is golden. Add the soy, miso, sesame oil, sugar and stock and bring to the boil for 2 to 4 minutes.
Place the noodles in a large bowl, cover with boiling water and leave to soak according to packet instructions. Drain and refresh under cold running water. Divide the noodles between 4 soup bowls then divide out the bean sprouts and spinach. Pour over the pork stock. Serve straight away, topped with the leeks.
Reuse content