If the scary weather forecasts are correct, it's going to be a long, cold season. In preparation, I've taken the idea of basic rustic bean- and bread-based soups to create the basis of some hearty meals in a bowl. Guaranteed to warm you up from the inside.
There's nothing quite like soup to make you feel nourished and cosy, especially when shared with family and friends from one large pot. I take extra comfort from knowing how economical they are to produce, too.
I've specified tinned beans here for ease and speed, but to make these even more cost-effective, soak dried beans overnight and cook them the following day in lots of boiling water, for an hour or so. I like to make a large batch then freeze the drained beans in pre-weighed 400g packs, ready to pop into a pan when needed.
The trick to a great soup bowl is to add plenty of flavour through seasoning, a good stock and gutsy ingredients, such as the salami used here. A contrast in textures also keeps things interesting. I can manage only a small bowl of a smooth, blended soup, but give me any of these dishes and I'll happily eat for two.
Bill's restaurant, Granger & Co, is at 175 Westbourne Grove, London W11, tel: 020 7229 9111, and 50 Sekforde Street, London EC1, tel: 020 7251 9032, grangerandco.com. Follow Bill on Instagram at bill.granger
Borlotti bean and clam soup
I do love the combination of seafood and pulses. Sea bass and lentils, salt cod and chickpeas, borlotti and clams – it just works!
Serves 4
25g butter
1 tbsp olive oil
2 shallots, finely diced
1 garlic clove, chopped
1 bay leaf
400g can borlotti beans, drained and rinsed
200ml dry white wine
2kg clams, rinsed in cold water
300ml good fish stock
2 tbsp double cream
Small bunch flat-leaf parsley, roughly chopped
Heat the butter and oil in a large pan with a lid that can hold all of the clams. Add the shallots, garlic and bay then cook until soft but without colour.
Add the beans and stir to coat with the onion then increase the heat and add the wine; allow to bubble for a few minutes to reduce and burn off some of the alcohol.
Tip in the clams, put the lid on the pan, give it a good shake and cook for 2 to 3 minutes, until most of the clams are open. Discard any closed clams. Bring the fish stock to the boil and pour in with the cream then stir to distribute through the clams and beans.
Scatter with parsley before serving with lots of crusty bread to soak up the juices.
Fennel and white-bean soup with finocchiona
Finocchiona is a rich, salty Tuscan salami given a hint of sweetness by the addition of fennel seeds. You can get it in most delis that have a good selection of cured meat.
Serves 4
25g butter
1 tbsp olive oil, plus extra to drizzle
1 large Spanish onion, chopped
3 fennel bulbs, chopped, fronds reserved
2 garlic cloves, crushed
1 bay leaf
800ml good chicken or vegetable stock
2 x 400g cannellini beans, drained and rinsed
200g finocchiona, cut into small dice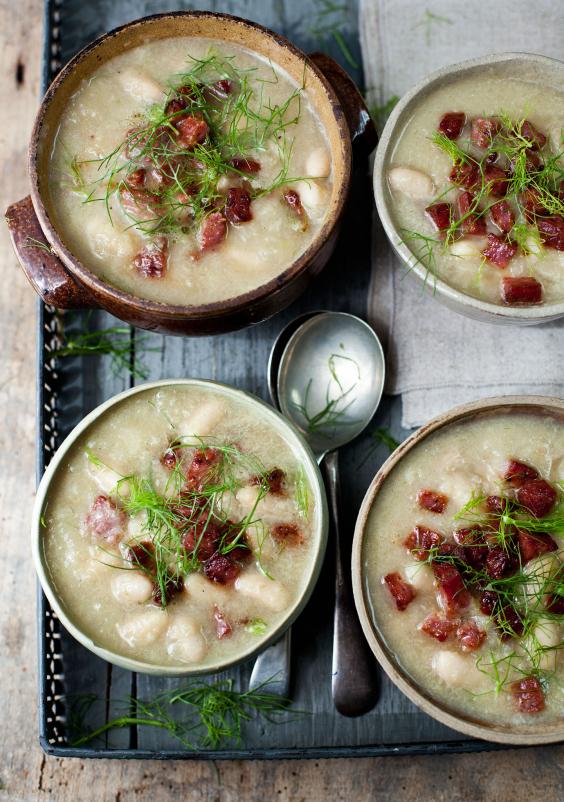 Heat the butter and olive oil in a large, heavy-based pan over a low heat. Once the butter has melted, add the onion and fennel; as they start to caramelise, add the garlic and bay leaf to the pan and continue cooking for a further 2 minutes.
Pour in the stock and bring to the boil. Simmer for 5 minutes, remove the bay leaf and pulse the soup with a stick blender until smooth. Add the white beans and heat through.
Heat a small drizzle of oil in a large, non-stick frying pan over a high heat, add the finocchiona and cook until it turns golden and crisp.
Ladle the soup into bowls and serve with the finocchiona and fennel fronds sprinkled on top, a good drizzle of olive oil, and crusty bread on the side.
Chicken and pancetta meatballs and kale broth
Chicken meatballs have a more delicate quality than those made with beef or pork and, for me, these work perfectly as a light weekday meal.
Serves 4
1 tbsp olive oil
1 onion, finely diced
70g sliced pancetta, finely chopped
2 sprigs rosemary, finely chopped, plus a sprig
6 sage leaves, finely chopped
50g Parmesan, finely grated, plus extra to serve
400g chicken mince
Large handful fresh white breadcrumbs
1 egg white, lightly beaten
1 litre good chicken stock
1 bay leaf
200g curly kale, tough stalks removed, and chopped
1 courgette, thinly sliced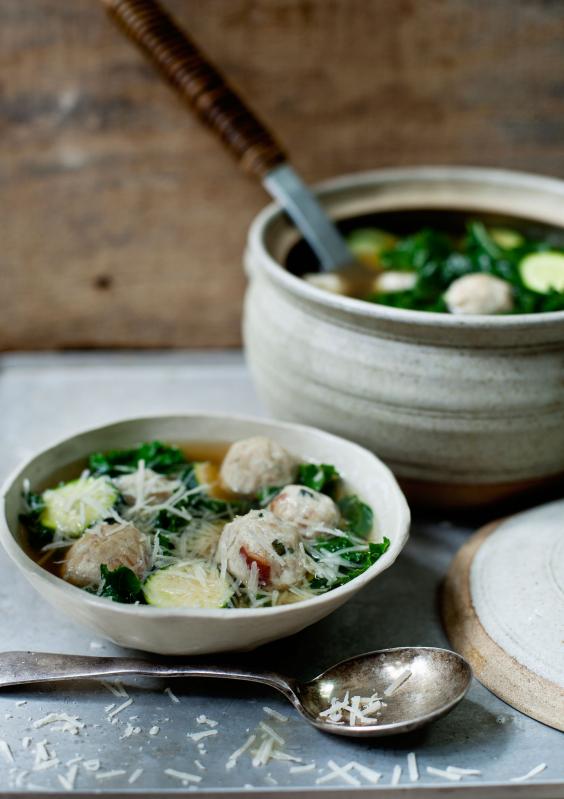 Heat the olive oil in a large frying pan, add the onion and pancetta and cook for 5 minutes until the onion is soft and the pancetta starting to crisp. Add the herbs and continue to cook for 1 minute. Remove from the heat and transfer to a large mixing bowl.
Once cooled, add the Parmesan, chicken mince and breadcrumbs and combine. Gradually add the egg white. Squeeze the mix until it is soft but not too sticky. Add more breadcrumbs if your mix feels too wet or extra egg white if too dry.
With damp hands, form into walnut-sized balls, lay on a lined tray and chill until ready to use.
Pour the chicken stock into a large, high-sided pan, bring slowly to the boil with the bay leaf and extra rosemary sprig. Lower the meatballs into the hot broth and cook for 5 minutes, skimming the broth to ensure it is clear as you go. Add the kale and courgette and lots of seasoning and cook until the vegetables are just tender. Ladle into large soup bowls and finish with freshly grated Parmesan.
Food preparation: Rosie Reynolds; Props merchandising: Liz Belton
Reuse content