At the risk of coming across as not foodie enough, I have to admit that I think life's too short to shell a crab. It's great fun if you're having a leisurely outdoor meal and everyone is getting involved at the table, sleeves rolled up and napkin tucked into their collars. But when making a dish where you'd have to spend the best part of an hour boiling the crabs and extracting the meat before you can even start working on the actual recipe… that's not for me.
I'd rather leave it to a good fishmonger. Then, all you have to do is decide whether to pick up pots of freshly picked crab meat or a beautiful dressed crab. All the mess is avoided and you don't have to work so hard for your dinner!
I'm not a fan of the dark meat (another non-foodie admission, I'm afraid), so in these recipes I've stuck to white, with its fresher, delicate flavour of the sea.
Bill's restaurant, Granger & Co, is at 175 Westbourne Grove, London W11, tel: 020 7229 9111, and 50 Sekforde Street, London EC1, tel: 020 7251 9032, grangerandco.com. Follow Bill on Instagram at bill.granger
Spaghetti with crab and cherry tomatoes cooked in garlic and chilli
Seafood pasta is always a summer classic, but this gutsy version with roasted tomatoes and crisp garlicky breadcrumbs suits chillier weather perfectly.
Serves 4
500g cherry tomatoes, halved
4 tbsp olive oil, plus extra to drizzle
½ tsp chilli flakes
3 garlic cloves, roughly chopped
400g spaghetti
50g day-old sourdough bread, whizzed into breadcrumbs in a food processor
300g white crab meat
Handful flat-leaf parsley leaves
Preheat the oven to 180C/350F/Gas4. Arrange the tomatoes cut-side up in a single layer in a roasting tin. Drizzle lightly with olive oil and scatter with the chilli and half the garlic. Season lightly with salt. Cook for 30 minutes until roasted and sticky.
Cook the pasta in a large pan of salted boiling water, according to packet instructions, until al dente. Drain. While the pasta cooks, heat the remaining oil in a large frying pan over a high heat. Add the breadcrumbs and remaining garlic and fry, stirring, until golden and crisp. Set aside.
Return the pan in which you cooked the breadcrumbs to a high heat and tip in the drained spaghetti, roasted tomatoes, crab and parsley. Toss until well combined, fold through the breadcrumbs and serve immediately.
Spicy crab and corn soup
I love the contrast of textures you get with this dish. The warming, rich sweetcorn and crab soup on its own is delicious enough, but add to it the crispy sweetcorn and fresh crab meat and it is lifted to a whole new level.
Serves 4
3 tbsp olive oil
1 leek, chopped
3 garlic cloves, crushed
1 celery stalk
1 tbsp chipotle chilli paste
Handful coriander sprigs, stalks chopped
6 heads fresh corn, kernels removed (approximately 700g kernels)
750ml good-quality chicken stock
200g white crab meat
4 spring onions, shredded
Lime wedges, to serve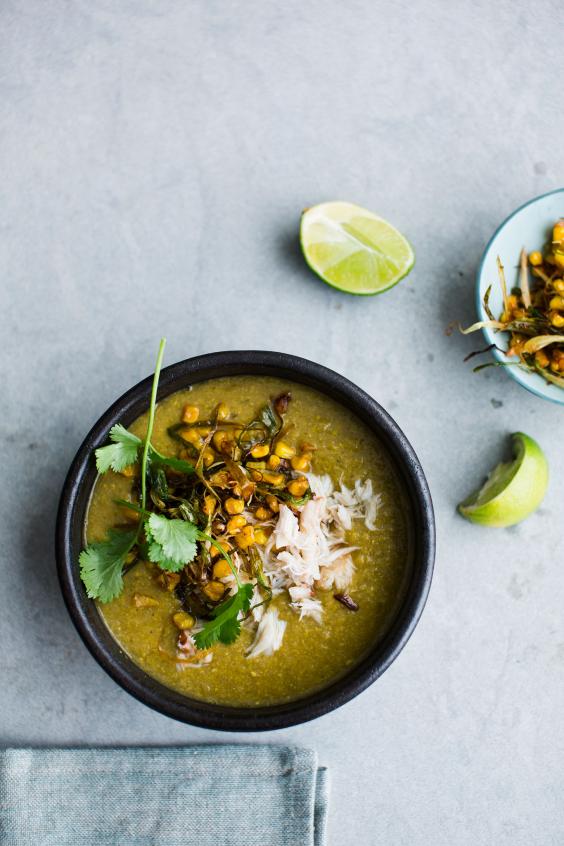 Heat 2 tbsp of oil in a pan over a medium heat. Add the leek, garlic, celery, chilli paste, coriander stalks and two-thirds of the corn. Stir and cook over a medium heat for 10 minutes until softened. Pour in the stock and 500ml of boiling water from the kettle. Bring to the boil, cover and simmer for 15 minutes. Purée with a hand blender until smooth. Stir in two-thirds of the crab and heat through. Season with salt to taste.
Heat the remaining tbsp of oil in a frying pan over a high heat. Add the spring onions and remaining corn kernels and fry until golden and crisp.
Ladle the soup into bowls. Top with the crispy corn mixture, the remaining crab and coriander leaves. Serve with lime wedges.
Crab spring rolls
There is a bit of fusion going on here. The spring rolls are more Chinese in spirit, but I love the Vietnamese way of serving them in crisp lettuce leaves. With such a fierce chilli dipping sauce, you definitely need the freshness that they bring.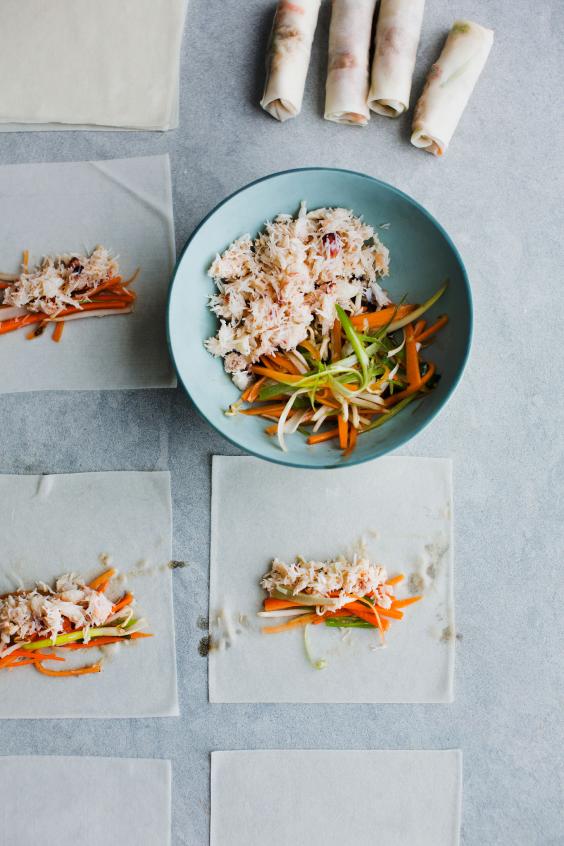 The double wrapping of the spring rolls is a tip I learnt from a Vietnamese restaurant in Melbourne. I was always really impressed by how neat and crisp their rolls were and after seeing the mother and daughter's secret trick, I stole it for myself.
Makes 12

For the dipping sauce
3 tbsp light soy sauce
2 tbsp rice wine vinegar
1 tbsp Chinese chilli oil
1 tsp sesame oil
1 tsp grated ginger
½ tsp dried chilli flakes
For the spring rolls
200g white crab meat
2cm ginger, finely chopped
2 tbsp oyster sauce
1 tbsp Shaoxing rice wine
1 tsp sesame oil
Pinch white pepper
1 medium carrot, shredded
80g bean sprouts, roughly chopped
4 spring onions, shredded
24 spring-roll wrappers (approx 150mm x 150mm)
Light-flavoured oil for deep frying
Iceberg lettuce, to serve
Combine all the ingredients for the dipping sauce and set aside.
For the spring rolls, place the crab meat, ginger, oyster sauce, rice wine, sesame oil, pepper, carrot, bean sprouts and spring onions in a bowl and mix well.
Lay out half the spring-roll wrappers on a flat surface and place one tbsp of the filling diagonally across the bottom half of each wrapper.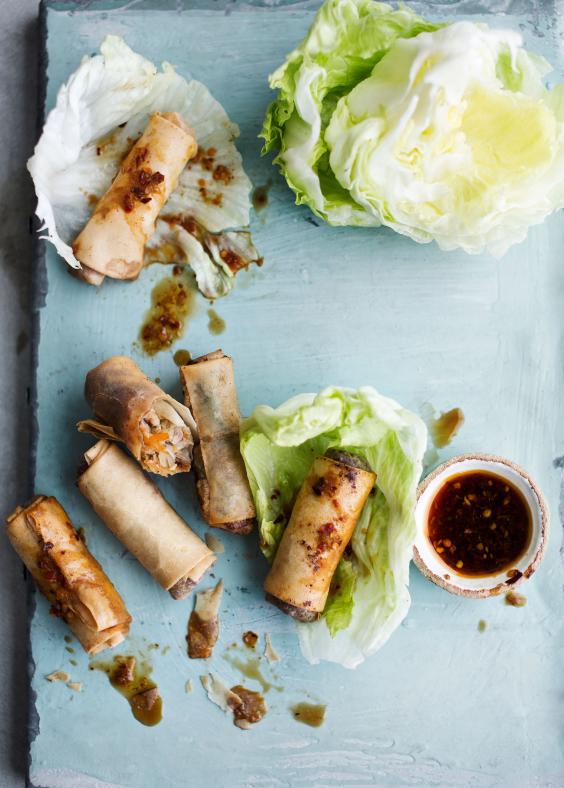 Fold the corner of the wrapper over the filling, fold in both sides then roll up to form a spring roll. Brush the edge with water to seal. Set aside while you make the remaining spring rolls. Now use the remaining wrappers to double-wrap the spring rolls.
Heat about 5cm of oil in a heavy-based pan; you will know it is hot enough when a cube of bread dropped into the oil turns golden in 30 seconds. Gently lower the spring rolls into the oil a couple at a time and cook until golden and crisp. Remove with a slotted spoon and drain on kitchen towel and keep warm.
When all of the spring rolls are cooked, serve with the chilli dipping sauce and crisp lettuce leaves.
Food preparation: Marina Filippelli; Props merchandising: Rachel Jukes
Reuse content