'I'll just have a sandwich for lunch" is one of those sentences that makes my heart sink. It's not the sandwich that's the issue, but that "just" I have a problem with. It suggests compromise and sets the tone for disappointment. Granted, a shop-bought, fridge-cold sandwich wouldn't fill me with anticipation, but I'd relish tucking into any of the offerings here any day of the week.
I have to concede that they are not exactly lunchbox-friendly and really work only as a weekend lunch. But there's no law that says sandwiches are just for lunch, either. Serve them with a green or tomato salad and they make a great dinner. Just as quick as a bowl of pasta to throw together, they are the perfect last-minute meal to have up your sleeve.
Bill's restaurant, Granger & Co, is at 175 Westbourne Grove, London W11, tel: 020 7229 9111, and 50 Sekforde Street, London EC1, tel: 020 7251 9032, grangerandco.com. Follow Bill on Instagram at bill.granger
Spiced pork-belly bun with kimchi slaw
I must be the last person in west London not to have bought a spiralizer. I don't eat pasta often these days, but the idea of calling long strips of courgettes spaghetti doesn't really convince me. Having said that, a spiralizer would make light work of cutting the vegetables for this slaw. In the time it took me to make this tiny amount, it would have been able to spiralize enough veggies for a big bowl of delicious salad.
Serves 4
4 tbsp sour cream
1 tbsp gochujang
1 tbsp light-flavoured oil
450g pork-belly slices, rind removed
1 tbsp soy sauce
1 tsp toasted sesame oil
1cm ginger, grated
1 tbsp brown sugar
1 tsp toasted sesame seeds
4 white buns
For the kimchi slaw
1 medium carrot, cut into thin matchsticks
5cm daikon (white radish), cut into thin matchsticks
1 Lebanese cucumber or ½ regular cucumber, cut into thin matchsticks
150g kimchi, shredded
Place the carrot, daikon and cucumber in a bowl and toss through the shredded kimchi. Set aside. In a separate bowl, combine the sour cream and gochujang and set aside.
Heat the oil in a large frying pan over a medium-high heat. Add the pork and cook on both sides, until golden – about 10 minutes. Add the soy, sesame oil, ginger, sugar and sesame seeds and cook until the pork looks glossy and glazed.
Spread the base of the buns with the gochujang-and-sour cream mix, top with the pork and then the kimchi slaw.
Courgette, broad bean and spring onion quesadillas
My kids love these. The oozy cheese gives them that naughty pizza quality, but inside is a medley of green goodness.
Serves 4
1 tbsp olive oil, plus extra for brushing
2 garlic cloves, crushed
2 courgettes, grated
1 green chilli, chopped
125g broad beans, defrosted if frozen
150g mozzarella, grated
150g mature cheddar, grated
4 spring onions, sliced
4 flour tortillas
Olive oil, for brushing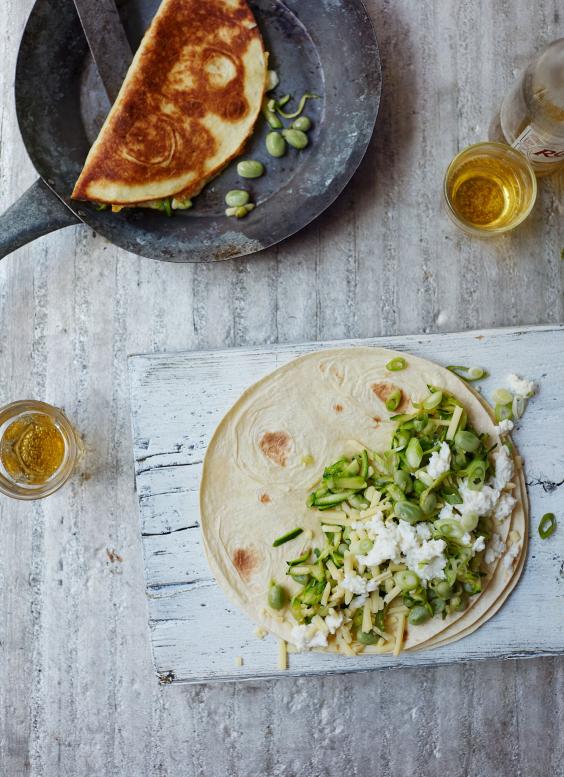 Heat the oil in a large frying pan over a medium heat. Add the garlic, courgette, chilli and broad beans and cook, stirring, until just cooked. Season with sea salt and black pepper.
Spread a quarter of the mixture over half a tortilla. Top with a quarter each of the cheese and spring onions. Fold the tortilla over into a half moon and brush with olive oil. Heat a frying pan over a high heat and add the filled tortilla, oiled side down. Cook until golden and crisp. Brush the top with oil then flip with a fish slice and cook the other side. Set aside and repeat with the remaining tortillas.
Mackerel sandwich with sticky lemon, tahini yoghurt and pickled onion and radish
Eating this can get messy, so I like to wrap it in wax paper or a paper napkin, to avoid losing half the filling. If you're not that hungry, you could forgo the top toast and eat it with a knife and fork as an open sandwich, Scandi-style.
Serves 4
1 small red onion, thinly sliced
4 radishes, thinly sliced
Juice ½ lemon, plus ½ lemon, chopped
4 fresh mackerel fillets
2 tbsp harissa, plus extra to serve
2 tbsp olive oil, plus extra for drizzling
5 tbsp plain Greek yoghurt
2 tbsp tahini
8 slices sourdough, toasted
Handful wild rocket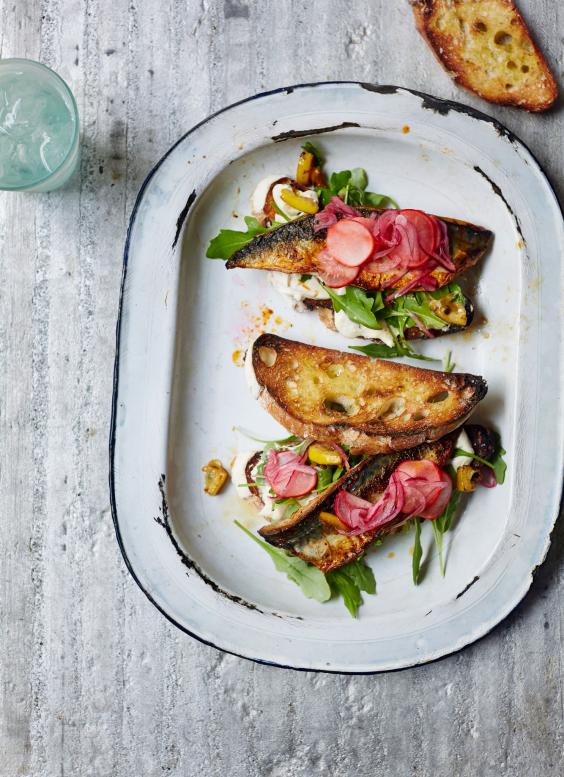 Place the sliced onion and radish in a bowl. Season with sea salt and black pepper and stir in the lemon juice. Set aside.
Coat the mackerel fillets in harissa and set aside.
Heat a large frying pan over a high heat with 1 tbsp of olive oil. Add the chopped lemon (leaving the rind on) and cook, stirring, until golden and sticky. Remove from the pan and set aside. Wipe the pan clean and drizzle lightly with olive oil. Use to fry the mackerel, skin-side down, for 2 minutes until golden and crisp. Flip the fish over and cook for another 1 to 2 minutes, until cooked through.
Combine the yoghurt, tahini and 1 tbsp of olive oil. Divide between 4 toasted slices of sourdough. Top with rocket, the cooked lemon pieces and mackerel, then the pickled onion and radish. Top with a slice of toast and enjoy.
Reuse content