This time of year always reminds me what an international city London is. Just try asking friends whose house they'll be spending Christmas in and conversation invariably turns to long-haul flights.
As always, my family's Christmas celebrations this year will be split between different continents. But before packing my swimming trunks and sunscreen for the trip Down Under, I want to make sure to celebrate the season with the people who we love right here.
Because, yes, Christmas is about family, but the more we scatter ourselves around the globe, the more we come to create our own little hand-picked, extended families.
Built of friends, colleagues and assorted strays, these are the people you can text for a favour when you're running late for the school pick-up; the people you can (occasionally) be a little moody around; and, lucky for us, the people who help our lives feel so full and happy throughout the year.
These recipes are perfect for a pre-Christmas open house. Easily doubled or trebled, they will feed as many people as needed. And because we're all busy, I've made sure they're the kind of recipes that travel well – so there's no reason why the cooking can't be split between different households.
Bill's restaurant, Granger & Co, is at 175 Westbourne Grove, London W11, tel: 020 7229 9111, and 50 Sekforde Street, London EC1, tel: 020 7251 9032, grangerandco.com. Follow Bill on Instagram at bill.granger
Spice-glazed gammon with a pineapple relish
However many people I'm cooking gammon for, I always buy one large enough to feed the thousands. Even if only a quarter is eaten at the first sitting, it can still be devoured for days to come.
Serves up to 12
4-5kg unsmoked gammon
2 onions, quartered
5 whole garlic cloves
3cm ginger, sliced
6-8 star anise
8-10 cloves
100g light brown soft sugar
4 tbsp honey
3 tbsp soy sauce
1 tsp Chinese five-spice powder, optional
3 tbsp Chinese cooking wine
Grated zest 2 oranges
For the pineapple relish
½ pineapple, peeled, cored and chopped (about 300g)
1 red chilli, chopped
Handful coriander, leaves chopped
5 shallots, thinly sliced
Juice 1 lemon
1 tbsp caster sugar
Place the gammon in a large, heavy-based saucepan with the onions, garlic and ginger. Add 1 star anise and 3 cloves. Pour in enough water to completely submerge the gammon and bring to the boil. Simmer gently for 2 hours then remove from the heat and let the ham cool in the pan.
Preheat the oven to 200C/400F/Gas6. Transfer the cooled ham to a chopping board. Peel off the skin, leaving the white fat on the meat. Using a sharp knife, score the fat with k a criss- cross pattern. Press a star anise and a clove into the centre of every other diamond.
Put the remaining ingredients in a saucepan over a low heat and stir until the sugar has dissolved. Brush half the glaze over the ham, making sure that all the white fat is covered. Bake the ham for 30 to 40 minutes, until golden, basting frequently with the rest of the glaze. Remove from the oven and put the ham on a platter.
Combine the ingredients for the relish and serve with the ham.
Tropical fruit salad with a lime-and-jasmine tea sorbet
A refreshing, palate-cleansing sorbet served with lots of the lovely southern hemisphere fruit that is currently at its tastiest.
Serves 6-8
For the sorbet
250g golden caster sugar
3 limes, juice and pared zest
4 good-quality jasmine tea bags
For the fruit salad
8 lychees, peeled, halved and stoned, plus extra to serve
1 papaya, cut into chunks
1 large mango, cut into chunks
3 passion fruit, plus extra to serve
½ lime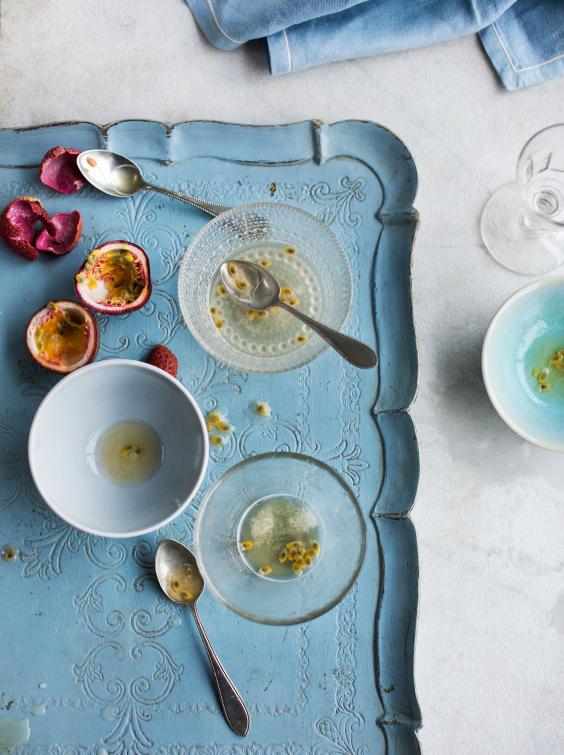 For the sorbet, place the sugar, lime zest and 1 litre of water in a large saucepan. Bring to the boil slowly stirring to dissolve the sugar. Boil for 10 minutes. Remove from the heat.
Drop in the tea bags and leave to infuse for 5 minutes. Strain, stir in the lime juice and leave to cool. Churn in an ice-cream machine according to the manufacturer's instructions. Alternatively, freeze in a rigid container till half-frozen then whizz in a food processor until smooth and freeze again.
For the fruit salad, combine the prepared lychees, papaya and mango in a large bowl. Cover and keep chilled. Scoop the passion-fruit pulp into a bowl and squeeze in the lime juice.
Serve the sorbet with the fruit salad. Spoon over a little passion fruit and serve. I like to put out another bowl or two of lychees and passion fruit for people to pick at while they chat around the table.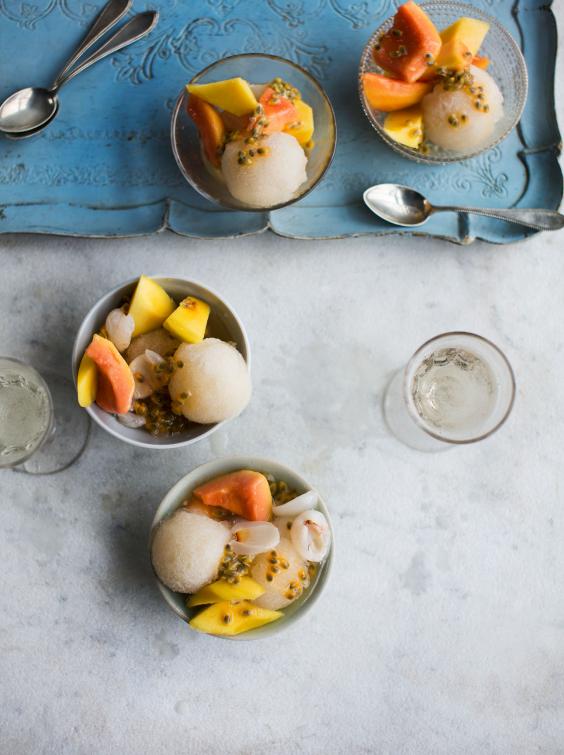 Root-vegetable 'slaw with spiced seeds
This is a simple dish, but bursting with flavour. Play around with the vegetable selection if you like – parsnips or those crazy-looking purple carrots also work well.
Serves 6-8
3 tbsp pumpkin seeds
3 tbsp sesame seeds
1 tsp fennel seeds
1 tsp chilli flakes
1 tsp honey
250g beetroot, peeled
200g celeriac, peeled
250g white radish
250g carrots, peeled
For the dressing
Juice 1 lemon
1 tbsp light soy sauce
1 tbsp rapeseed oil
2 garlic cloves, crushed
2cm ginger, grated
½ tsp sesame oil
To serve
Handful mint leaves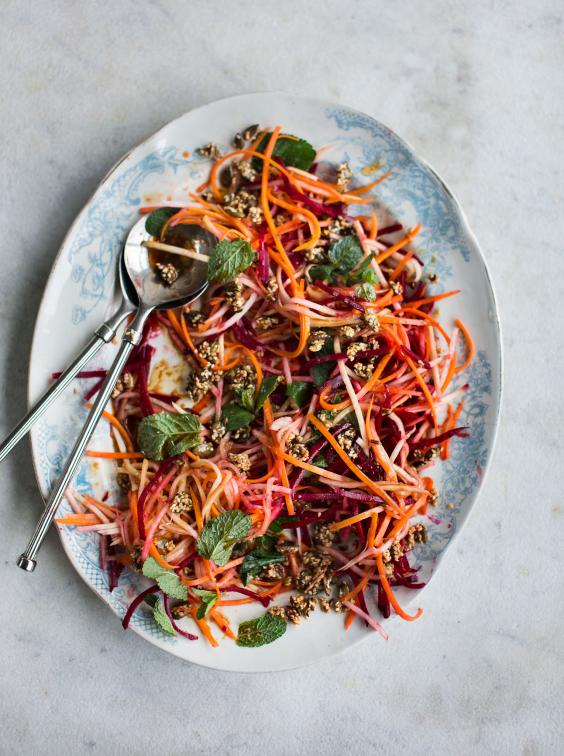 Toast the seeds in a dry pan over a medium heat until they begin to release their aroma. Add the chilli and honey and stir for 30 seconds, till the honey starts to caramelise. Tip the mixture on to a lightly oiled plate and set aside to cool.
In a large bowl, combine all the ingredients for the dressing.
Cut the vegetables into long strips using a mandolin or the right attachment on your food processor. Alternatively, coarsely grate them. Toss the vegetable strips through the dressing and keep covered until ready to serve.
Just before serving, break up the seeds mixture with your hands and toss through the salad with the mint leaves.
Food preparation: Marina Filippelli; Props merchandising: Rachel Jukes
Reuse content