It's so old, it's new. Read any fashionable menu and I can almost guarantee that buttermilk will pop up in at least one course, savoury or sweet: buttermilk panna cotta already seems to be the new crème brûlée. Buttermilk is increasingly becoming a staple in chefs' kitchens, yet this much misunderstood ingredient is surprisingly easy to use at home. Soda bread, made with buttermilk, is the fastest loaf to cook. It doesn't need rising or kneading. I timed myself making it last weekend: a 35-minute sprint from opening the larder to taking it out of the oven: actually, as quick as popping to the local shops and back.
Traditional, "proper" buttermilk is the somewhat acidic liquid run-off from butter-churning. It is thick and off-white rather than creamy-white, yet far lower in fat than milk and known, especially among the Irish, to be good for quenching thirst, nourishing – it is high in proteins – and settling the digestion, hence good as a hangover cure.
Its taste is tangy, because of the "ripening" of the cream prior to making butter, and though what is now found widely in supermarkets is not the real thing left over from butter-making, it is good enough. It is much milder in taste and made by adding lactic cultures (bacteria) to ordinary skimmed milk, which is why it's usually labelled "cultured buttermilk" in the small print. When making soda bread (I use Hugh Fearnley-Whittingstall's foolproof recipe in The River Cottage Family Cookbook), the buttermilk's acidity reacts with bicarbonate of soda, releasing carbon dioxide and creating large bubbles in the dough almost immediately, thereby kickstarting the raising process.
Real, farm-made buttermilk is enjoying a revival and can be tracked down directly from small dairies, good cheesemongers and delis. Ivy House Farm sells buttermilk made from its own organic Jersey milk (ivyhousefarmdairy.co.uk), which is available at selected delis and widely stocked in the South-west. Or you can make a good substitute at home. Diana Henry, the Irish cookery writer and aficionado of buttermilk, advises stirring one tablespoon of crème fraîche into 500ml of milk and leaving it overnight in an airing cupboard or at about 20C. By morning, it will have turned into something approaching the genuine article.
Who knows what makes a centuries-old ingredient into the last word in cool cooking, but buttermilk seems to have made the transition. At The Clove Club in Shoreditch, London, recently I was brought a "snack" with buttermilk as the key ingredient. I was stopped in my tracks by the taste of the buttermilk chicken, craftily infused with pine and presented on a slate of pine branches. Chef Issac McHale (who did time at Noma) had transformed what is commonly consumed as a fast-food fill-up into ethereal morsels of deliciousness. The combination of crisp and crunchy crust and pearlescent chicken with a fleeting woodsy whiff was mesmerising and utterly moreish. No doubt McHale, who was a key member of the pop-up by chef collective The Young Turks, prompted buttermilk's comeback in the UK.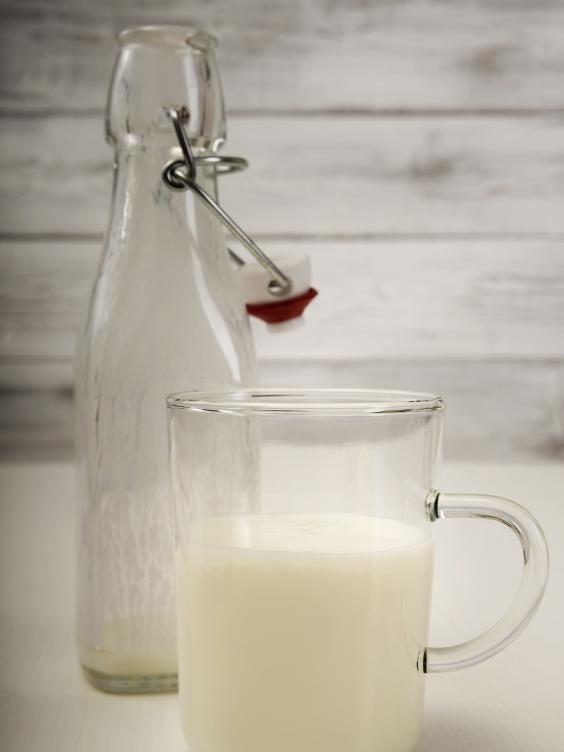 The roots of buttermilk chicken, like buttermilk itself, go way back. Hotly spiced (cayenne pepper gives it a flavour kick), it was a comfort food cooked by African-Americans in the South and first documented in the 1920s. Art Smith, the Chicago-based chef-restaurateur of Table Fifty-Two and probably the best proponent of Southern cooking, divulges that he cooked the dish for Oprah Winfrey's star-studded 50th birthday party earlier this year, and suspects that is when its popularity started to rocket.
Buttermilk makes a highly effective tenderiser and marinade. It is also delicious in dressings, makes irresistible lighter pancakes and desserts with a clean, acidic edge. Many chefs are making their own buttermilk, too. Nigel Haworth, the chef-co-proprietor of the Michelin-starred Northcote Manor Hotel and Cookery School in Norfolk, says: "We've been making our own buttermilk for years, long before it became trendy. We buy our milk from local dairy Gazegill Farm as we believe in making our own butter, so we always have buttermilk as the by-product. In essence, it is simply curdled milk." Haworth and his head chef Lisa Allen use their buttermilk mixed with yoghurt to marinade mackerel or monkfish, to acidify butter sauces and especially recommend it as a natural partner to milk-fed shoulder of lamb.
"Buttermilk is an excellent alternative to yoghurt," explains Eric Snaith, head chef of Norfolk's Titchwell Manor. "It adds a more balanced flavour and texture. I've been using it for a while." Snaith likes to hang his buttermilk in a muslin (or clean J-cloth) overnight to thicken it up, resulting in buttermilk curds. He uses it as a paste, spread artfully on the plate to subtly add freshness and tang to his signature dish of braised cod dusted with seaweed salt with light pork crackling, kale and a powerful, subtly gelatinous sauce of braised and chopped pig's trotter. It is a favourite ingredient in his desserts, especially in sherbets made with buttermilk, sugar syrup, and a touch of salt. Snaith enthuses: "Buttermilk gives a more interesting, fuller mouth-feel and adds an unexpected edge to the taste."
Tim Allen, of Michelin-starred Launceston Place in Kensington, has a buttermilk "tasting" menu. He buys in farm-made, traditional buttermilk from both Longley Farm in Yorkshire and Lancastrian cheesemaker Mrs Kirkham. A buttermilk wash is used to caramelise scallops, as a marinade mixed with salt and seasonings for pork jowl, and adding a cleansing acidity to its accompanying sauce.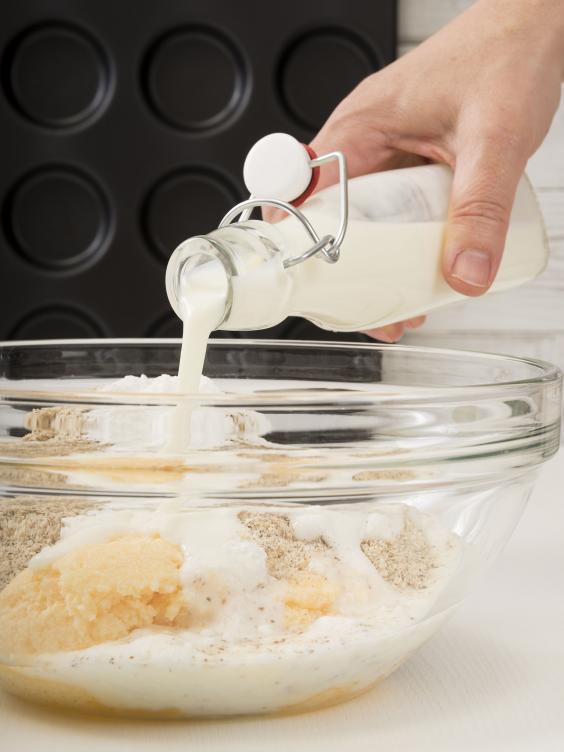 Martin Moody, the new head chef at Blueprint Cafe in London, says he is on a buttermilk experimentation mission, partly inspired by Magnus Nilsson of the much talked-about Faviken restaurant in Sweden, who frequently marinades meat in buttermilk. Besides tenderising the meat, the natural enzymes help preserve it; useful for a restaurant as remote as his on a hunting estate more than 500 miles from Stockholm. "Anything I used to cook with butter, I'm trying with buttermilk. It gives much better flavour and texture, yet is lighter," explains Moody. "It revs dishes up another notch."
To date, he is especially taken by how marinading hake in buttermilk enriches it so that it almost tastes like turbot. My taste test confirms this. It makes a spectacular dish served with a sherry and cockle vinaigrette. Likewise, buttermilk-poached salmon with sweetcorn puree, pickled cockles and salted popcorn is preternaturally unctuous.
At home, I have been conducting my own buttermilk research and find that even when the curds split if I heat a buttermilk dressing too quickly, it tastes appealingly lactic: rich yet tangy with an interesting texture. I often simplify a Diana Henry's recipe from A Change of Appetite: sauté a chopped shallot in olive oil until soft, add half a teaspoon of cumin, cook for one minute, then add 300ml of buttermilk, and two tablespoons of Greek yoghurt. Heat without boiling, then season and add two tablespoons of chopped coriander, and serve with broad beans and peas on freekeh with a dollop of Belazu rose harissa on the side.
Buttermilk also makes for a fantastic, tangy salad dressing, rather like a US-style ranch dressing. Take six tablespoons of buttermilk, one teaspoon of Dijon mustard, one tablespoon each of crème fraîche, olive oil and white wine vinegar. Season and shake up in a jar.
As a modish accompaniment and very different take on strawberries and cream, I have made Noma-like buttermilk "snow", too. Merely mix 500ml buttermilk with a tablespoon of caster sugar and freeze in ice-cube trays. Make snow by either whizzing momentarily in a food processor or by mashing the buttermilk ice cubes vigorously in a bowl with a fork.
Reuse content