Christmas without mulled wine? Humbug! Warm spiced wines are so wrapped up with the festivities that even Scrooge knew that this was the drink to go for once he had turned over his new leaf. Yet the port-based "Smoking Bishop" he cracked into with Bob Cratchit on Boxing Day is just one of the many traditional tipples with which we have a long heritage of raising a glass at this time of year, and which are being rediscovered just in time to halt mulled wine's domination.
Eggnog is one of the best for serving up some festive conviviality. A bowl of its creamy, boozy indulgence is as inviting as unwalked-on snow. It is so much more (and so much better) than a red-cupped latte flavour, or the eggnog cheesecakes, brûlées, marshmallows or ice cream that it increasingly crops up as. The drink itself is now finally enjoying a deserved resurgence. The Manchester Leisure Academy, which is at the forefront of teaching professionals about all aspects of drinks and cocktail-making, has this winter been offering a series of eggnog masterclasses for keen amateurs.
People like eggnog because it is surprisingly delicious, can be easily made at home and looks stylish however simply served. When I ran a Christmas drinks workshop recently at the LP Bar in London, the eggnog was the out-and-out favourite – and most asked for – recipe of the night.
With an ingredients list that runs as eggs, cream, milk, sugar and some kind of alcohol – you see what I mean about indulgence – eggnog could give the impression of being rather heavy. That it absolutely isn't is mainly thanks to the egg whites being separately whisked to meringue-like stiffness and then folded through at the end for lightness.
The choice of alcohol is down to whatever most tickles your festive fancy. Brandy, whisky or marsala are good. Bourbon or rum is what would traditionally be used in America, and I think a combination of both works particularly well. Those liquors that were originally chosen for their availability and comparative cheapness tell the story of how eggnog's American popularity evolved from a very British and very old drink – the posset.
Britain's medieval possets were made of milk and alcohol – which is already sounding like eggnog, except that those early possets used ale and were thought of almost as a medicine. As time went on, the possets became more extravagant, more popular, and so more suited to festive drinking. Expensive spices were introduced, and wines and sherry replaced the ale. That is the version that would have gone to America with the 18th-century English colonials. But wines – and therefore sherry – were heavily taxed in the US. Rum, on the other hand, was plentiful and cheap. The same went for domestically made whisky.
Though ales have been nudged out of possets (and consequently eggnog), that is not to say that they don't have their place as a drink to celebrate with. Wassailing – the ritual involving the sharing of warm, spiced ale – began as a proclamation to apple trees to encourage them to bear more fruit, and evolved into something families would do on Christmas Eve, new year or Twelfth Night. Traditionally, the wassail in its bowl would have pieces of crisped, maybe spiced, toast floating in it and this is why we still make a "toast" to celebrate. Things don't get much more Christmassy than a wassail that is – and with its floating toasts, literally was – a toast to health, happiness and prosperity for all who share in it.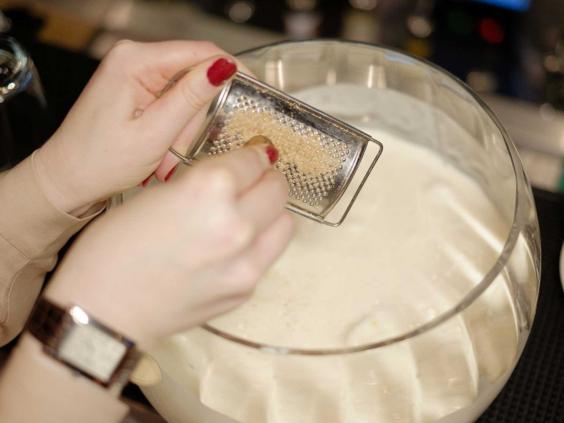 Wassail is also a great way to get creative at home with one of the smooth ales coming out of our ever-increasing number of independent, small breweries. That is at the heart of why many of these interesting old winter recipes feel so right again now: they give us the opportunity to push beyond mulling any old bottle of red and make seasonal drinks that capitalise on the diverse ales, wine or spirits our producers and suppliers are excelling at. For example, try mulling some ale with one of Somerset's lovely cider brandies (such as the three-year-old Royal by the Somerset Cider Brandy Company), with lemon, sugar and spices. That would give you "Brown Betty", as featured in Oxford Nightcaps, a mid-1800s guide to how the gentlemen of the university might imbibe.
Of all the mulled possibilities, my favourite has got to be "Rum Bumpo". Its background is really as a pirates' or English merchantmen's drink, but it is hard to ignore the Christmas vibe of sweetened rum warmed through with cinnamon, nutmeg and ginger. For me, the bumpo beats mulled wine hands down but maybe that's just because, too often, mulled wine is made too disappointingly.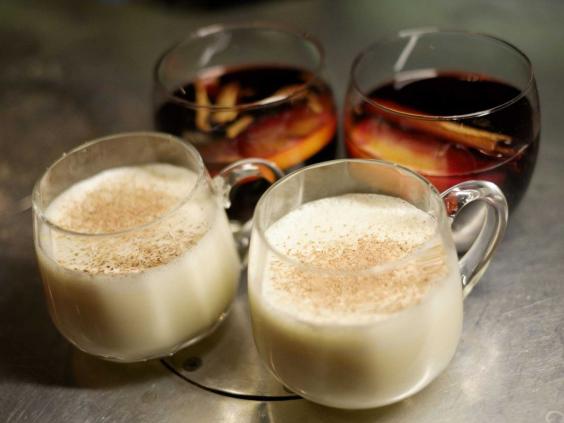 Modern mulled-wine makers could learn a lot from Scrooge's mulled port "Smoking Bishop". Its spiced fruitiness would have come from whole oranges studded with cloves, roasted and then added to the pot (as here in the wassail recipe). They release a rounded flavour and also look terrific bobbing along in your mulled-wine bowl. The fruits and accompanying spices benefit from partnering up with something deeply intense. Smoking Bishop's use of port rather than red wine works very well. Even if port alone is a tad too heavy, it is definitely a good idea to add a hearty glug or two to a mulled wine.
All of these Christmas drinks are best finished off with simple, traditional garnishes. Maybe a grating of whole nutmeg, some broken-up cinnamon stick, or a slice of clementine. Serve them by ladling out of a big pot or bowl for an additional spirit of bonhomie that is also why these drinks are becoming as popular for Christmas present as Christmases past.
BOURBON & SPICED RUM EGGNOG
For 2 glasses:
1 egg
40g caster sugar
100ml chilled single cream
100ml chilled whole milk
50ml bourbon
50ml spiced (or dark) rum
A whole nutmeg
Separate the egg white and yolk into different bowls. Whip the whites with half of the sugar until they become stiff. Beat the yolks with the rest of the sugar. Add the cream, milk, bourbon and rum to the yolk mixture and whisk again. Transfer that to a serving bowl and thoroughly but gently fold in the whites. As you ladle it out, finish each glass with a grating of nutmeg over the top.
CHRISTMAS WASSAIL WITH BAKED APPLES & CINNAMON TOASTS
For 6 glasses:
3 small eating apples
An orange studded with 13 cloves
80g soft brown sugar
1 litre ale
300ml dry sherry
Half a teaspoon each of ground cinnamon, ground mace and ground ginger
6 whole allspice berries
Cinnamon sticks for garnish
Run a knife around the equator of the apples to make a slit through its skin and put them in a pot that's both oven and hob-proof. Sprinkle over 1.5 tablespoons of the sugar and 2 tablespoons of the ale. Add the orange. Cover and bake for 30 minutes at 180C. Take the fruit out with a slotted spoon and set aside. This can all be done ahead of time.
Put all the remaining ingredients – other than the cinnamon sticks – into the pot that the fruits were in and simmer gently for 5 minutes. Pour into a serving bowl and then put the apples and orange back in. Ladle out while still hot, with a cinnamon stick in each glass.
To serve with cinnamon toasts: liberally butter four thin slices of white toast. Sprinkle over 2.5 tablespoons ground cinnamon mixed with 2.5 tablespoons granulated sugar.
Grill until caramelised. Cut each slice of toast into three across and serve in or alongside the wassail.
RUM BUMPO
For 3 glasses:
Half a teaspoon ground cinnamon
Quarter of a nutmeg, grated
Quarter teaspoon ground ginger
3 teaspoons brown sugar
250ml dark or golden rum
Put all the ingredients into a pan with 450ml water and gently heat just so that the sugar dissolves. When it is hot, serve in a glass and a slice of clementine to garnish.