Let's talk about dinner. In these food-fashionable times, it's easy to think that everyone (but you) is sitting down to some effortless concoction of artisanal morsels picked up at the farmers' market or in the more recherché aisles of the supermarket.
Meanwhile, in the real world, we're all just doing our best. Any meal you don't eat standing up, illuminated by the cruel light of an open fridge door, has to count as a success. If, between chucking your coat on the hall chair and hurling yourself into bed, you manage to spoon something into your mouth that's both delicious and nutritious, you're winning.
I feel like this even though it's my job to create and test recipes. On a rainy night in January, when my expectations are high but my energy's low, the recipes here are the sort of thing I rely on to get me through to that moment of surrender to bath, book or box set.
These recipes are not at all dictatorial, because really who has time for all that? I use two handfuls of spinach in the salad because that's what will fit in my pan after I've crammed in everything else. You might have a bigger or smaller pan, more or less spinach. You may not even like spinach (it takes all sorts), in which case leave it out.
Trust your own tastes and judgement. Use what you have and love. I'm not the boss of you. Don't have Gruyère for the pasta? Use cheddar – even tired, old ends, diligently grated, really will do. No dried cherries for the salad? (I admit I have a huge bag to use up because I lost my head in Costco.) Then use any sweet-tart dried fruit, such as cranberries or even sultanas. Substitute chickpeas for cannellini beans, parsley for tarragon. No one will cry. And if they do, and they're over 12, let them make their own damn dinner.
Debora Robertson is a food writer and editor who blogs at lickedspoon.com. Her book, 'Gifts from the Garden: 100 Gorgeous Homegrown Presents', is published by Kyle Books
Lazy meatball pasta
Transforming well-seasoned sausages into meatballs is one of my favourite weeknight shortcuts, as the butcher has already done a lot of the work for you. I use merguez or Toulouse sausages for this, but use whatever's your favourite.
Preparation: 10 mins
Cooking: 15 mins
Serves 4-6
4 well-flavoured sausages (about 400g)
20g butter
Handful breadcrumbs (about 30g)
Salt
350g pasta (see method)
1 tbsp olive oil
300g purple sprouting broccoli, ends trimmed and halved
150g Gruyère cheese, grated
Large bunch of parsley (about 25g), tough stalks removed, chopped
Good pinch chilli flakes
Black pepper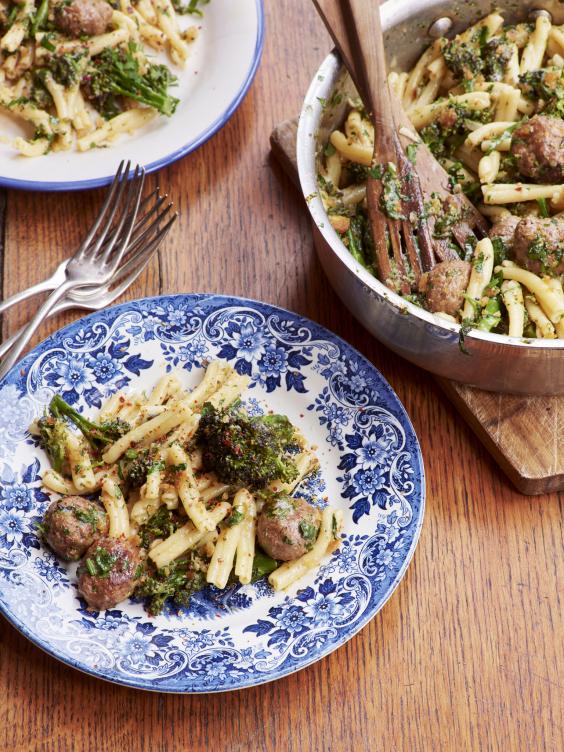 Remove the sausages from their skins and break each into four pieces. Roll into meatballs about the size of large walnuts.
Warm the butter in a frying pan and fry the breadcrumbs until just golden. Tip them on to kitchen paper to drain.
Boil a large pan of salted water and cook the pasta (I used casareccia, but any smallish shape such as farfalle, orecchiette or rotini would do) according to the packet instructions – usually about 9 to 12 minutes.
While the pasta is cooking, warm the oil in a large frying pan over a medium-high heat and cook the meatballs, rattling the pan so they brown evenly.
After 7 to 8 minutes, toss in the broccoli and stir for a minute. Add a ladle of the cooking liquid from the pasta and stir until it has almost evaporated and the broccoli is tender.
Drain the pasta and toss with the meatballs, broccoli, breadcrumbs, cheese, parsley, chilli and a few grinds of black pepper. Serve in warmed bowls.
White bean, green pepper and dried cherry salad
I like to fly the flag for the Cinderella of the pepper three-pack, the less glamorous green specimen. I love its grassy freshness but, if you prefer, use red or yellow ones instead.
Preparation: 10 mins
Cooking: 15 mins
Serves 4-6
2 tbsp extra-virgin olive oil, plus more for finishing
2 red onions, halved and thinly sliced
2 green peppers, cored and thinly sliced
3 cloves garlic, minced
1 green chilli, membrane and seeds removed, thinly sliced
400g tin cannellini beans, drained and rinsed
200g freekeh, cous cous or other grain, prepared according to the packet instructions
2 handfuls baby spinach (about 80g)
120g shelled walnuts, toasted and roughly chopped
120g dried cherries
Large bunch coriander (about 25g), roughly chopped, soft stems and all
12 mint leaves, roughly chopped
Juice and finely grated zest ½ lemon
Salt
Black pepper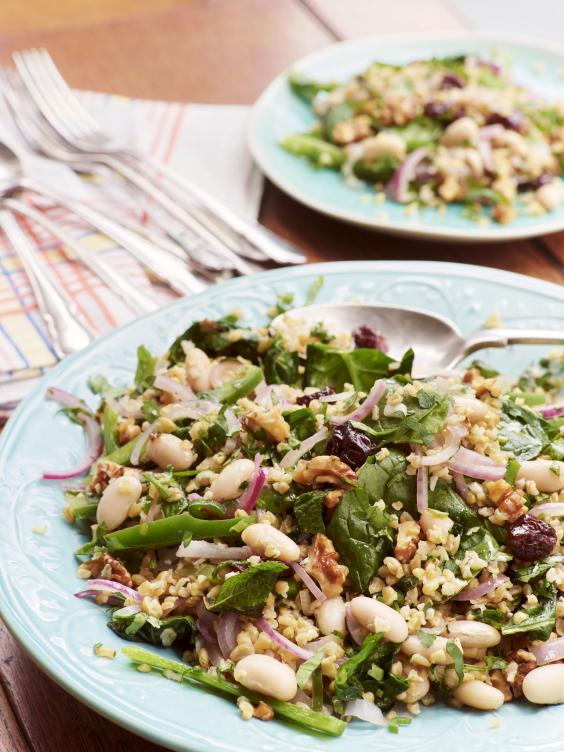 Warm the oil in a large pan over a medium-high heat and sauté the onion, peppers, garlic and chilli, stirring from time to time till very slightly softened (2 to 3 minutes). Toss in the pulses, grains and spinach and cook, stirring, for a minute or two to warm through and wilt the spinach.
Remove from the heat. Stir in the walnuts, cherries, herbs, lemon zest and juice. Season with salt and pepper. Serve with more olive oil trickled over the top.
Tarragon mushrooms on toast
Proper, hot, hard frying gives great flavour to the most bog-standard corner-shop fungi. Serve these mushrooms on toast, fold them into an omelette or even toss them through pasta.
Preparation: 5 mins
Cooking: 15 mins
Serves 2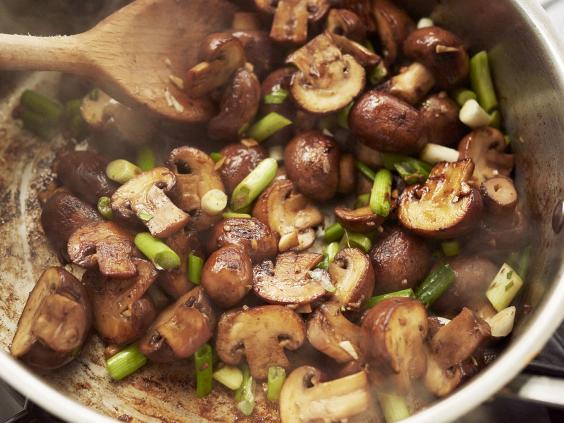 30g butter
2 tbsp olive oil
1 bay leaf
500g chestnut or other mushrooms, halved
3 cloves garlic, minced
125ml white wine
1 tbsp Dijon mustard
3 tbsp crème fraîche
6 spring onions, white and pale green part only, chopped
2 tbsp tarragon, roughly chopped
Salt
Black pepper
Hot toast, to serve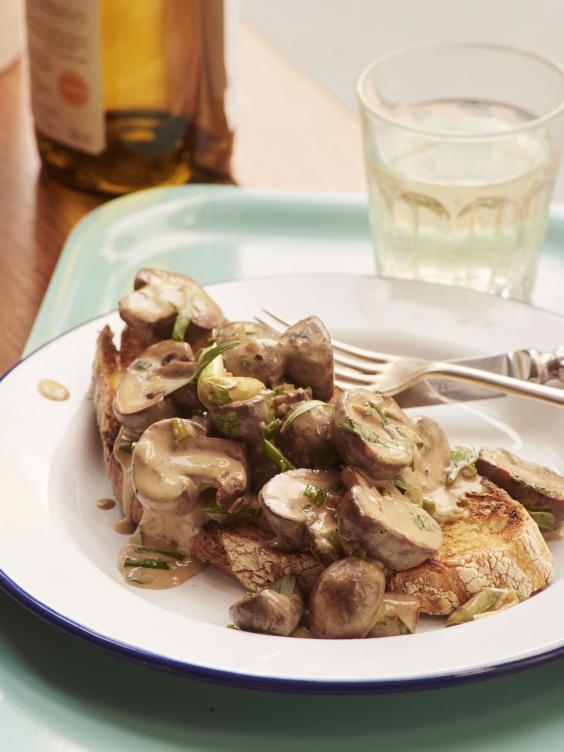 Warm the butter, oil and bay in a large frying pan over a medium-high heat. When the butter stops foaming, add the mushrooms and a pinch of salt. Stir to coat then raise the heat – you want to hear the mushrooms sizzle. They will start to give up their moisture; keep cooking and stirring until this has evaporated and the mushrooms take on some colour (8 to 10 minutes). They'll squeak a bit as you rattle them round the pan. Add the garlic; stir for a minute.
Pour in the wine and cook until almost evaporated. Discard the bay leaf. Remove from the heat; stir in the mustard and crème fraîche, spring onion and tarragon. Season with salt and pepper and serve immediately, on hot toast.
Reuse content