Ask veteran chef John Campbell what his absolute favourite food is and the answer is not foie gras or some priceless Italian truffle but the garden pea – just coaxed out of its waxy pod.
Not only does he adore the amazing sweetness of a fresh pea, blanched and tossed in butter, salt and mint, but his idea of a fun day out with the family is gathering them from his vegetable patch, then podding them on the terrace. "My 15-year-old son Oliver is especially keen on podding peas so we do it together," says Campbell. "The only challenge is to stop him eating them before they hit the bowl." Eat at Campbell's Berkshire restaurant The Woodspean right now and for a starter you'll be offered a pea and mint soup (see recipe) that's as green as grass.
Other chefs are also embracing the arrival of fresh peas with as much enthusiasm as asparagus in May. "Fresh peas are at their best for just four or five weeks, so we have to make the most of them," says two-Michelin-starred Claude Bosi, who at this time of year both starts and ends his menu with peas at his Hibiscus restaurant. "Because of the ubiquity of frozen peas, peas have had a school-dinner image. Now they're in fashion again as we're realizing that fresh peas are fantastic."
We consumers are also falling back in love with the simple pea in its pod, with a growing number of us viewing shelling as not chore but calming therapy. "The pastime transports people back to their childhoods," says Sandra Ziles, head of product development at Marks & Spencer, which has seen a massive increase in demand for UK-grown fresh peas. Last year, sales rose by a staggering 72 per cent and similar increases are predicted for this year.
It's as if we are discovering the beauty of the fresh green pea once again, rather as we Europeans did in the 17th century. (Until then, they'd been dried, a rich and vital source of protein to tide populations and their animals over the winter – think pease pudding, cooked every which way as in the nursery rhyme: "Pease pudding hot, pease pudding cold, pease pudding in the pot nine days old.") Writing from the court of Louis XIV, Mme de Maintenon described excitedly her fellow courtiers' "impatience to eat [peas], the pleasures of eating them," relating how "There are ladies who, having supped… take peas at home before going to bed, at the risk of indigestion. It's a fashion, a craze." The French coined the name petits pois to describe them at their tenderest, a term we still use today.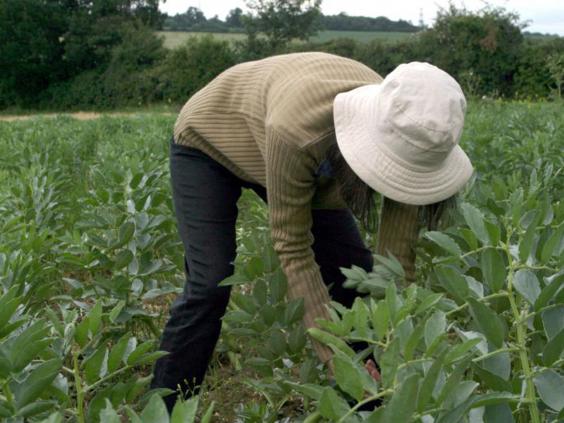 A century later, the pea would be a favourite vegetable of America's founding father Thomas Jefferson, who in his later years grew no fewer than 19 varieties in his kitchen garden in Monticello, Virginia. He even ran contests with local gentleman gardeners to see who could produce the first pea. The winner hosted a community dinner that included a dish of the winning peas.
Today's pea craze is seeing us using fresh peas at home in a variety of recipes, many marrying pea with its perfect bedfellow, mint, in salads, soups and tarts. Peas combine beautifully with broad beans – also at their best now – to partner roasts or to top bruschetta. Or there's the classic (and jauntily named) Risi e bisi, a luminous green pea risotto with a soupy consistency, with which Italians celebrate the arrival of the first peas (see recipe below). Interestingly the pods are part of the recipe, too, used to make the risotto's stock. A word of warning though: when using fresh peas, don't hang around, as their natural sugars quickly turn to starch, which spoils both flavour and texture. And don't overcook them – they need just seconds in steam or boiling water. Many prefer them raw, like my granny who ate them raw in sandwiches.
Another pea product that home cooks can't get enough of is pretty spiraled pea shoots, great as a garnish or salad ingredient. Steve Rothwell, who sells bagged salad leaves under the brand of Steve's Leaves, says pea shoot and baby leaves is his best-selling product, with sales rising in value by nearly 30 per cent year on year. "Pea shoots are definitely the next big thing," he says.
50 best foods for healthy living
50 best foods for healthy living
1/50 Digestion

Live yoghurt - Many with digestive issues avoid dairy, but live yoghurt may be worth a shot, as it is full of gut-friendly bacteria. Because the lactose in live yoghurt is effectively broken down, it is gentler on the system than milk.

Rex

2/50 Digestion

Chia seeds - Just two tablespoons of chia seeds provide a third of your recommended daily intake of fibre.

notahipster, Flickr

3/50 Digestion

Sauerkraut - Fermented foods like sauerkraut (fermented cabbage) is packed with probiotics, aiding digestion.

Qwerty Binary

4/50 Digestion

Lentils - High in insoluble fibre, lentils are great for digestion, as well as being regarded as beneficial in alleviating irritable bowel syndrome and diverticulosis.

Rex Features

5/50 Digestion

Buckwheat - Despite the name, buckwheat is completely wheat and gluten free and a great, high fibre alternative to anyone with a wheat intolerance.

Getty Images

6/50 Immune system

Oranges - Citrus fruits such as oranges are high in Vitamin C, which helps to prevent colds and infection.

Getty Images

7/50 Immune system

Mushrooms - Shiitake mushrooms have been shown in studies to boost the production of white blood cells, thus improving the body's ability to fight infection.

powerplantop, Flickr

8/50 Immune system

Clams - Contain zinc and selenium, which helps to slow the body's immune response and control inflammation.

9/50 Immune system

Garlic - Packed with antioxidants, garlic was used to fight gangrene in World War I, but more practically can help to keep colds at bay. It is also quite anti-inflammatory and anti-fungal, and used to treat everything from psoriasis to athlete's foot.

10/50 Immune system

Broccoli - One cup of broccoli provides you with almost 100% of your RDA of vitamin C, which is thought to stave off colds and other illnesses. It is also rich in vitamin A, K, folate and potassium. Cruciferous vegetables such as broccoli contain a sulphurous compound that studies show can lower the risk of cancer.

Getty

11/50 Skin, hair and nails

Avocado - The good fats in avocado hydrate the skin, while omega 9 can help reduce redness. Avocado is also rich in vitamin E, which helps guard against sun damage and vitamin C, which helps produce elastin and collagen for skin firmness.

Getty

12/50 Skin, hair and nails

Sunflower seeds - a handful contains more than a third of your daily vitamin E needs.

F Ceragioli via Wikimedia Commons

13/50 Skin, hair and nails

Pumpkin - One of the richest sourcs of Vitamin A, which is essential for the formation of connective tissue, i.e. skin.

Getty Images

14/50 Skin, hair and nails

Olive oil - The monounsaturated fatty acids in olive oil plump the skin for a more youthful look, plus antioxidant polyphenols may curb ageing free-radicals.

SAIF DAHLAH/AFP/Getty Images

15/50 Skin, hair and nails

Green tea - Polyphenols in green tea could help to offset sun damage.

Getty Images

16/50 Weight loss

Cinnamon - This spice is a great additive for breakfasts and bakes if you are trying to cut sugar and sweeteners, and it is also thought to help balance blood sugar.

Getty Images

17/50 Weight loss

Apples - Apples are high in pectin, a soluble fibre that helps to keep you feeling fuller for longer.

Getty Images

18/50 Weight loss

Eggs - One of the best sources of protein, eggs help to keep you energised and prevent unhealthy snacking, while providing a host of vitamins and minerals for general good health.

Getty Images

19/50 Weight loss

Tuna- High in protein, low in saturated fat and rich in omega 3, tuna is a fantastic option for maintained weight loss. The omega 3 in oily fish improves the body's response to insulin, lowering metabolism and helping to prevent the dreaded sugar spikes.

Getty

20/50 Weight loss

Oats - High in fibre for slow-release energy, oats also are thought to lower cholesterol.

Getty Images

21/50 Heart health

Beetroot - This is a good source of iron and folic acid. It is also rich in nitrates, which help to reduce blood pressure.

Raimond Spekking

22/50 Heart health

Garlic - High in manganese, selenium and antioxidants, garlic is thought to help lower blood pressure and reduce cholesterol.

Getty Images

23/50 Heart health

Asparagus - Rich in the amino acid asparagine, which serves as a natural diuretic and helps rid the body of excess salts. This is beneficial for people have high blood pressure or other heart-related diseases.

Getty Images

24/50 Heart health

Salmon - Studies have found that eating oily fish such as salmon can lower blood pressure and reduce cholesterol. Rich in Omega-3 fatty acids,

Getty Images

25/50 Heart health

Pomegranate - Rich in vitamins A, C and E, and high in fibre, pomegranates are thought to help protect against heart disease. A 2004 study showed evidence that daily consumption helped to alleviate narrowed arteries and reduce cholesterol.

Getty Images

26/50 Brain health

Mackerel - Oily fish including mackerel is rich in Omega 3, which studies have suggested is linked to a reduced risk of dementia, schizophrenia and depression, as well as enhanced memory.

Getty Images

27/50 Brain health

Hazelnuts - HIgh in Vitamin E, which studies say can help to prevent cognitive decline in older people.

Getty Images

28/50 Brain health

Blueberries - low in calories and high in antioxidants, blueberries are regarded as a nutritional powerhouse. Some studies have found a link between blueberry consumption and improved spatial learning and memory.

Getty Images

29/50 Brain health

Cacao - Contains phenylethylamine, which acts as a mild mood enhancer, and a 2009 study shows signs that it can help to reduce stress. However, adding sugar and milk to cacao to make your favourite chocolatey treat offsets any health benefits - try to keep it as close to its natural state as possible.

Keith Welle via Wikimedia Commons

30/50 Brain health

Pumpkin seeds - Just a handful of pumpkin seeds a day provide your total RDA of zinc, which is important for enhancing your memory.

31/50 Energy

Sweet potatoes - Starchy veg like sweet potatoes are a great source of low-GI carbohydrates for slow-burn, long-lasting energy. Sweet potatoes are also rich in soluble fibre and vitamins A, C and B6.

Getty Images

32/50 Energy

Beef - Low energy levels are often a sign of iron deficiency or anaemia. Lean cuts of beef are a good source of iron, as well as being a protein powerhouse to aid muscle development and stamina.

Getty Images

33/50 Energy

Brown Rice - Complex carbohydrates like brown rice break down into energy-boosting sugars more slowly than white rice, meaning more energy for longer, and more balanced blood sugar levels - i.e. no nasty sugar crash within hours of eating.

Arria Belli, Flickr

34/50 Energy

Bananas - A great source of energy that keep sugar levels balanced, plus the sweet taste will help to satisfy cravings.

Getty Images

35/50 Energy

Quinoa - This supergrain contains more protein than rice or any other grain, ideal for building muscle, along with being a nutrient-rich source of carbohydrates.

AFP/ Getty Images

36/50 Bone health

Sardines - Sunshine is the best source of bone-building Vitamin D, but if a British summer doesn't allow for that, sardines are a surprising source, as well as being rich in calcium.

Getty Images

37/50 Bone health

Brussel sprouts - Just three-quarters of a cup of this divisive winter vegetable provides your RDA of vitamin K, which is essential in helping the absorption of calcium for healthy bones.

Getty Images

38/50 Bone health

Chickpeas - High in protein and fibre, chickpeas are also packed with iron, phosphate, calcium, magnesium, manganese, zinc and vitamin K, which contribute to building and maintaining strong bones.

Scott Teresi, Flickr

39/50 Bone health

Spinach - If dairy isn't your thing, spinach could be your saviour - a cup of cooked spinach contains a quarter of your calcium needs.

Getty Images

40/50 Bone health

Almonds - Rich in potassium, which prevents the excretion of calcium in urine, as well as being rich in protein and other nutrients for maintaining bone health.

M.Verkerk/J.J.G.Claessens/Creative Commons

41/50 Men's Health

Prawns - Rich in zinc, which is essential for sperm quality and fertility.

Getty Images

42/50 Men's Health

Tomatoes - high in lycopene, an antioxidant which, according to the World Cancer Research Fund, can help reduce the risk of prostate cancer. Strangely, cooked and tinned tomatoes are recommended, as the lycopene is more readily absorbed.

PIERRE ANDRIEU/AFP/Getty Images

43/50 Men's Health

Brazil nuts - High in selenium, which boosts the immune system and strengthens the thyroid gland.

Quadell

44/50 Men's Health

Cauliflower - Rich in vitamin C, potassium and boron, which is said to aid in increasing testosterone levels and muscle-building.

Getty Images

45/50 Men's Health

Turkey - With obesity an escalating problem for men, turkey is a great swap for your morning bacon. HIgh in lean protein, it is full of B vitamins, which can aid in lowering cholesterol.

Getty Images

46/50 Women's Health

Walnuts - These nuts contain antioxidants and phytosterols that may help reduce the risk of breast cancer.

Getty Images

47/50 Women's Health

Green beans - Low in fat, bean are a great source of protein and fibre and can also help to guard against breast cancer and heart disease. Isoflavones in beans, chickpeas and lentils help with the regulation of hormones, easing PMS and menopause symptoms.

Getty Images

48/50 Women's Health

Flax - One of the oldest sources of fibre in the world, flaxseed can ease digestion as well as providing omega 3 fatty acids. It is also thought to be of help with menopause, but some experts say it should be avoided if pregnant.

Sanjay Acharya via Wikimedia Commons

49/50 Women's Health

Cranberries - Rich in anthocyans, red berries such as cranberries help to play a role in cell repair and are thus thought to reduce cancer risk. Also high in vitamin C and folic acid, essential for women of childbearing age, and cranberry juice is a fantastic way to get rid of cystitis.

Getty Images

50/50 Women's Health

Tofu - A great source of phytoestrogens, which can help with the symptoms of menopause and polycystic ovarian syndrome (PCOS).

Getty Images
We're also buying a raft of pea-based products from the supermarkets, which have gone pea-mad. M&S, for instance, has recently launched a potato and pea salad, two pea-based soups, a pea and mint dip, even a pea and mint vodka. In addition, it has cashed in on the new trend for vegetable juices by introducing an apple, pea and mint juice, which is flying off the shelves. "Consumers now 'eat with their eyes' and associate green food with healthy food," says Ziles. 
Rich in iron, vitamin C and amino acids, peas have become popular with health freaks, too – mainly in the form of pea protein powder, which is now a must-include ingredient in any vegetable smoothie.
Thanks to their sweetness and eye-catching colour, chefs often use peas in desserts, pairing them with acidic fruits such as strawberries and raspberries, or with chocolate, mint or coconut. Michael Wignall turns peas into a cassonade (pale brown raw crystallised sugar) which he sprinkles on to soft fruit in his dessert of glazed pea cassonade with Yorkshire strawberries, mint ice cream and crispy tapioca. In similar vein, Michelin-starred Matt Gillan makes a pea custard to accompany raspberry sorbet, while Claude Bosi is famed for his chocolate tart with pea and mint custard filling, served with coconut ice cream topped with pea powder made from dried pea pods. "Customers sometimes mistake the green for pistachio, but we explain that peas are naturally sweet so are perfect in a dessert," says Claude. "Pea and mint, and pea and coconut are both classic combos. The dessert echoes the amuse-bouche of pea, coconut and curry at the start, so diners begin and end their meal on the same flavour – pea."
With a vegetable that's sweet, decorative and nutritious, maybe it's time to give (fresh) peas a chance – and enjoy a bit of pea-podding therapy at the same time. 
Recipes
PEA SOUP
This soup is served at John Campbell's Berkshire restaurant, The Woodspeen. "Fresh peas give this soup a greater sweetness and depth of flavour than frozen – but frozen will do if you can't find fresh," Campbell says.
Serves 8
3 cloves garlic, crushed
200g onions
150g leeks
75g butter
1 litre water
1kg fresh peas
200g spinach
Salt and pepper to season
Crème fraîche to serve
Balsamic vinegar syrup to serve
Melt the butter in a large pan. Dice the leeks and onions into small pieces, add the garlic and sweat in the butter for 10 minutes, on a low heat, ensuring no colour change.
Add the water and bring to the boil. Add the peas, boil for 7 minutes, add the spinach and boil for two more minutes.
Place into a blender and blitz for 5 minutes until smooth. Lightly season with salt and pepper to taste.
If serving immediately, pour into bowls, add the crème fraîche and drizzle the balsamic vinegar syrup over.
RISI E BISI
This dish is served at Russell Norman's Polpo restaurant
Serves 6
2kg fresh peas, shelled, pods reserved
2 onions, 1 cut in half, the other finely diced
2 litres boiling water
50ml olive oil
60g butter
150g pancetta lardons
Salt and black pepper
400g carnaroli rice
A handful of fresh parsley, chopped
A handful of fresh mint, chopped
A large handful of Parmesan
Place the pods (but not the peas) in the pan of boiling  water with the onion halves, and simmer to make a stock for the risotto. (Move the freshly podded peas to one side, out of temptation's way.) Boil for a minute, then take off the heat.
Sweat the diced onion in the oil and half the butter over a low heat. When shiny and translucent, add the pancetta and fry for a few minutes. Season with salt and pepper.
Add the rice and stir slowly for 2 minutes. Coat every grain in the grease, so it  looks glossy and nothing sticks. Add just enough stock to the pan to cover everything, but not drown it. The contents will let off a satisfying hiss and a cloud of steam. The first ladleful will absorb and evaporate very quickly. Add another. If the pan continues to bubble, the heat is too high. Turn it down and stir slowly.
Stir for 15 minutes or so,  adding a ladle of stock every time the rice looks less than wet. The idea is to let the  rice absorb the liquid continually, allowing the grains to release their starch. Towards the end, add the peas, half the mint and half the parsley. Taste and add more salt if needed, not too much as the Parmesan will add a little salt to the balance.
Don't be a slave to the clock: try the grains to see if they  are done. They should still have a little bite to them. Make sure the mixture is runny. Unlike a regular risotto, risi e bisi should be more like  a thick soup. Take off the heat. Stir in the Parmesan,  the remaining butter, mint and parsley. Cover the pan and let it rest for a few  minutes, then serve.
From 'Polpo' by Russell  Norman, published  by Bloomsbury
Reuse content