It's only a week until the Food Made Good awards are handed out, and the shortlist is announced today.
The Independent on Sunday has partnered with the Sustainable Restaurant Association to support these awards, which take place on 22 March in London. From fine dining establishments to farm cafés, there's a brilliant array of names hoping to win. They all have impressed with their care for the environment, the produce they serve and their staff too. 
Further details of all the places can be found at foodmadegood.org/awards. Next week we announce the winner of the People's Favourite, as chosen by you, and the name of the recipient of the Raymond Blanc Sustainability Hero Award.
The People's Favourite
Sponsored by Independent on Sunday
The Cafe in the Park, Rickmansworth: The café supports its local community, buying from the local florist, dairy and cheese maker. It also runs a volunteer programme for adults with learning difficulties and pays staff the equivalent of the Living Wage.
The Gallivant, Camber: With 95% of produce sourced within 10 miles of the restaurant; fish caught on day-boats and tea, coffee and chocolate produced to environmentally positive standards, even the puddings are guilt-free at The Gallivant.
Gillam's Tearoom, Ulverston: Customers can select from 80 carefully chosen, organic teas. And as well as the usual tearoom fare – of homemade sandwiches and cakes, specials include tagines, curries and cassoulets – all vegetarian. Gillam's operates as something of a community centre too, supporting the local special school, hosting musical evenings.
Lussmanns Fish &  Grill, St Albans: The restaurant supports numerous local charities and recently achieved MSC Chain of Custody certification, ensuring that all fish on the menu are from well-managed fisheries. It also serves high-welfare meat, locally produced drinks and even British-grown tea.
Yeo Valley HQ Canteen, Blagdon: The restaurant, with fabulous views over the nearby lake, is powered by solar panels and often hosts events to encourage sustainability. The food focuses on Yeo Valley's own organic produce and seasonal vegetables, as well as local community growing initiatives.
Food Made Good Independent of the Year
Sponsored by Shaftesbury
café-ODE, Ness Cove, Devon: At the forefront of sustainable dining since it opened; this seaside café sources whole local deer for venison burgers and meatballs, holds masterclasses for the WI and local schoolchildren and keeps customers warm using upcycled lambs' wool for insulation.
The Captain's Galley, Scrabster: Expect only the most sustainable seafood, landed in the harbour on the doorstep of Britain's most northerly mainland restaurant. Owner chef Jim runs a local festival to promote sustainable seafood and runs his own car on used cooking oil.
Poco, Broadway Market, London: Lemons are the only imported fresh ingredients on Poco's tapas menu infused with the philosophy of co-owner Tom Hunt: root to fruit eating. So leaves, shoots and roots share top billing with organic and fairly traded produce in the restaurant built from sustainable English wood.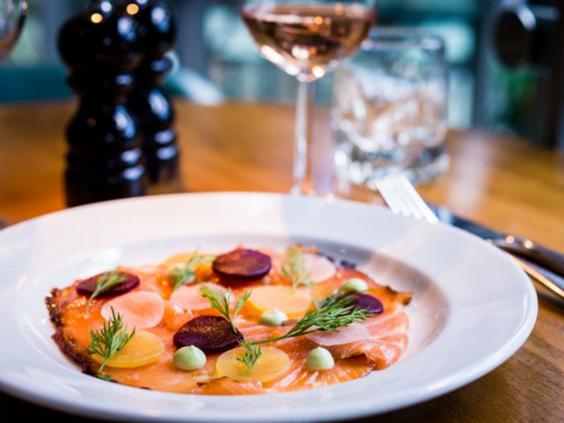 Food Made Good Small Group of the Year
Daylesford, Gloucestershire and London: It's as if the term field-to-fork was devised for Daylesford's restaurants, where the majority of ingredients are home-grown or reared, including plants like wild garlic and elderflower. And customers can find out more via the new film A Love for Food.
Hawksmoor, London and Manchester: With a coveted reputation built on superbly sourced beef, Hawksmoor has raised more than £500,000 for Action Against Hunger and is a constant presence on the Sunday Times 100 Best Companies to Work For.  2016 will see the group supporting local beekeepers. 
Lussmanns Fish & Grill, Hertfordshire: Organic lamb, beef and milk are just some of the new additions to Lussmanns' menu which also includes UK-only sparkling wine. Tables are decorated with locally hand-made paper flowers and it plays a central role in the Sustainable St Albans festival.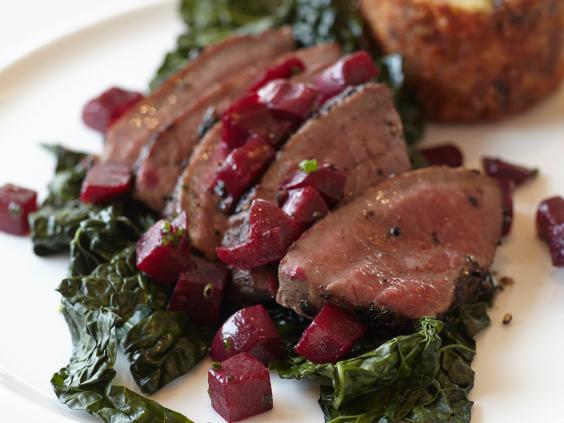 Food Made Good Large Group of the Year
Sponsored by Chapman Ventilation
Boston Tea Party: BTP's innovative and fun approach to sustainability is epitomised by its scheme that sees used coffee grounds delivered to Dartmoor prison where prisoners use them to grow oyster mushrooms which are served in the cafés – neat! 
Carlucccio's: In the last year the group has introduced 100% renewable energy and food waste recycling in all of its 100+ restaurants. Customers can now also enjoy more British, seasonal vegetables and fish, as well as free-range beef and lamb. 
Geronimo Inns: Fulfilling brief of being community hubs; Geronimo pubs use local allotments, organise 'meet the neighbour' events, give quiz money to charities and encourage staff to volunteer at their local city farms. Its Tasty Tuesdays also showcase local suppliers.
Wahaca: To meet the challenge of serving authentic Mexican food in the UK, Wahaca has been working with Riverford Organic to grow poblanos and tomatillos. Bad Boyz bakery in Brixton prison is supplying bread. The growing business is also the first Carbon Neutral restaurant group in the UK.
Food Made Good Award for Environment
Sponsored by SWR
The Bay Fish & Chips, Aberdeenshire: This Aberdeenshire chippy changes its menu to accommodate food that would otherwise be neglected and turns fish bones into fish feed. All takeaway disposables are made from sustainable materials and energy use is strictly monitored using state of the art smart metering.
Arbor Restaurant at The Green House Hotel, Bournemouth: This hotel really is a green house, sending waste cooking oil to be converted into biofuel, serving filtered water, providing chairs made out of recycled Playstations and using pencils made from recycled CD cases. What little food waste it produces is composted and sent to local farms.
Poco, Bristol: Deliveries by bicycle, a ban on bottled water and air-freight, 100% renewable energy, menu items using ingredients that would otherwise have gone to waste and reclaimed and recycled furniture and fittings are just some of the environmentally responsible measures in place at Poco.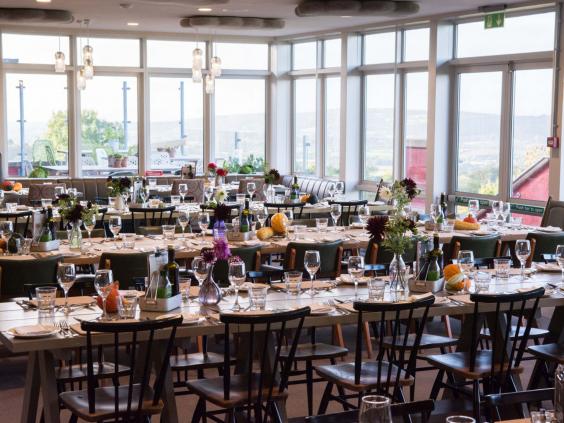 Food Made Good Award for Society
Sponsored by Nestlé Professional
Artizian Catering Services: Have raised thousands for charities including National Autistic Society and Barnardos; run cooking classes on what to do with leftover food; grown vegetables to donate to a local soup kitchen and collected milk bottle tops for LUSH to make into pots, and that's not to mention extensive staff training.
The Brookwood Partnership: With a host of initiatives aimed at encouraging healthy eating amongst its school children clientele, Brookwood also runs an annual environmental awareness day Planet Matters; sponsors bee colonies and has a host of forward-thinking employment practices. 
Gather & Gather: Staff are encouraged to participate in events to support the MITIE group's charitable foundation and the many good causes it provides for helping and inspiring young people into work. Employees benefit from a wide range of training and benefits and customers are given all information and options to eat healthily.
THE PIG Hotel, Brockenhurst, Hampshire: A map pinpointing all of the restaurant's local suppliers communicates clearly its ethical philosophy to customers. Chefs work with at least ten local schools and colleges promoting cooking skills and healthy eating. Water Aid, Hospitality Action and Action Against Hunger are just some of the charities supported by The Pig.
Food Made Good Award for Sourcing
Sponsored by Reynolds
cafe-ODE at Ness Cove and Gara Rock, Devon: These two seaside cafés both adhere to the highest standards of sourcing across the board: meat is local and free-range, seafood is sustainable and seasonal, nothing that is imported is air-freighted and everything that can be is Fairtrade.
Poco, Bristol: Chefs work with butchers, fishmongers and vegetable growers to take cuts of meat, species of fish, and abundance of produce that they are finding hard to sell and write it into the menu to support small local producers and optimise the seasonality of the menus. 
River Cottage HQ, Devon: Almost half of all the ingredients used in the restaurant are grown or reared on-site ensuring the ever-changing menus take full advantage of the seasons. All the meat is free-range and organic and the wine list is exclusively either English, organic, biodynamic or natural.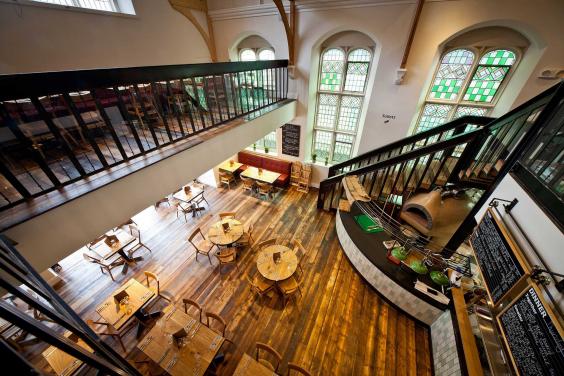 Sustainable Innovation Award
Sponsored by Belu
bio-bean: Until bio-bean came along with its smart clean technology, no one had looked at the brown sludge at the bottom of coffee machines around London and seen an opportunity to turn the capital's 200,000 tonnes of waste grounds into fuel for heating buildings and powering vehicles.
Foodspeed: This South East dairy supplier has introduced to the hospitality sector Free Range milk, a new layer of ethically produced milk between standard and organic which supports low impact farming, pays farmers a premium and ensures cows have access to pasture for at least six months a year. 
Virgin Atlantic Airways: Three years after launching its industry leading programme, Change is in the Air, to transform worldwide airline catering, as well as increase demand for more sustainable dining; 70% of the 12m meals Virgin serves this year will meet its new, far-reaching sustainability standards.
The following four award categories are all sponsored by Eureka Executive and the highest rated overall will be awarded Food Made Good Champion 2016.
Food and drink news
Food and drink news
1/31 Gluten-free diets 'not recommended' for people without coeliac disease

Avoiding wheat, barley and rye in the belief that a gluten-free diet brings health benefits may do more harm than good, according to a team of US nutrition and medicine experts

Getty Images/iStockphoto

2/31 Starbucks launches two new coffee-based drinks

Starbucks is launching two new coffee-based drinks in the UK, as it strives to tap into consumers' growing appetite for healthy beverages. The Cold Brew Vanilla sweet cream and the Cappuccino Freddo, will both be available in stores throughout the UK from the start of May

Twitter/@SbuxCountyHall

3/31 Cadbury's Dairy Milk Tiffin is making a permanent comeback after 80 years

The Cadbury Dairy Milk Tiffin, first produced in 1937, is making a permanent comeback to the UK. The raisin and biscuit-filled chocolate bar is being launched after a successful trial last summer saw 3 million chocolate treats – at the cost of £1.49 for each 95g bar- purchased by nostalgic customers

Cadburys

4/31 Pizza restaurant makes 'world's cheesiest'

'Scottie's Pizza Parlor' in Portland Oregon has created the world's cheesiest pizza using a total of 101 different cheese varieties.

Facebook/Scottie's Pizza Parlor

5/31 A pizza joint in Portland Oregon has created the world's cheesiest pizza using a total of 101 different cheese varieties. Why not eating before a workout could be better for your health

A study published in the American Journal of Physiology by researchers at the University of Bath found you might be likely to burn more fat if you have not eaten first

Getty Images/iStockphoto

6/31 New York restaurant named best in the world

A New York restaurant where an average meal for two will cost $700 has been named the best in the world. Eleven Madison Park won the accolade for the first time after debuting on the list at number 50 in 2010. The restaurant was praised for a fun sense of fine-dining, "blurring the line between the kitchen and the dining room"

Getty Images

7/31 Why you crave bad food when you're tired

Researchers at Feinberg School of Medicine, Northwestern University in Chicago recently presented their results of a study looking into the effects of sleep deprivation upon high-calorific food consumption. Researchers found that those who were sleep-deprived had "specifically enhanced" brain activity to the food smells compared to when they had a good night's sleep

Shutterstock

8/31 Drinking wine engages more of your brain than solving maths problems

Drinking wine is the ideal workout for your brain, engaging more parts of our grey matter than any other human behaviour, according to a leading neuroscientist. Dr Gordon Shepherd, from the Yale School of Medicine, said sniffing and analysing a wine before drinking it requires "exquisite control of one of the biggest muscles in the body"

Getty Images/iStockphoto

9/31 British dessert eating surges after people ditch healthy eating in February

: In heartening news for anyone feeling guilty about quitting their New Year diet, it seems lots of us have given in to our sweet tooths once again. New data from nationwide food-delivery service Deliveroo reveals there was a surge in Brits ordering desserts in February compared to the first month of 2017

Getty Images/iStockphoto

10/31 US congress debates definition of milk alternatives

A new bill has been created that seeks to ban dairy alternatives from using the term 'milk'. Titled the DAIRY PRIDE Act, the name is a tenuous acronym for 'defending against imitations and replacements of yogurt, milk, and cheese to promote regular intake of dairy every day'. It argues that the dairy industry is struggling as a result of all the dairy-free alternatives on the market and the public are being duped too

Getty Images

11/31 Cadbury's launches two new chocolate bars

UK confectionary giant Cadbury has launched two new chocolate bars, hoping to lure those with a sweet tooth and perhaps help combat some of the challenges it faces from rising commodity prices and a post-Brexit slump in the value of the pound.The company's new products will be peanut butter and mint flavoured. They will be available in most major super markets as 120g bars, priced at £1.49, according to the company

Cadburys

12/31 You can now get a job as a professional chocolate eater

The company responsible for some of your favourite chocolate brands – think Cadbury, Milks, Prince and Oreo – have officially announced an opening to join their team as a professional chocolate taster. The successful candidate will help them to test, perfect and launch new products all over the world.

Getty Images/iStockphoto

13/31 MSG additive used in Chinese food is actually good for you, scientist claims

For years, we've been told MSG (the sodium salt of glutamic acid) - often associated with cheap Chinese takeaways - is awful for our health and to be avoided at all costs. But one scientist argues it should be used as a "supersalt" and encourages adding it to food.

Getty Images/iStockphoto

14/31 Lettuce prices are rising

Not only are lettuces becoming an increasingly rare commodity in supermarkets, but prices for the leafy vegetables seem to be rising too. According to the weekly report from the Government's Department for Environment, Food and Rural Affairs, a pair of Little Gem lettuces had an average market price of £0.86 in the week that ended on Friday, up from an average of £0.56 in the previous week – that's an almost 54 per cent increase.

Getty Images

15/31 Food School

Kids celebrate Food School graduation with James Martin – a campaign launched by Asda to educate young people on where food comes from. New research has revealed that children across the UK just aren't stepping up to the plate when it comes to simple facts about the food they eat – with almost half of children under eight not knowing that eggs come from chickens

RichardCrease/BNPS

16/31 'Do-It-Yourself' restaurant

To encourage more people to cook and eat together, IKEA has launched The Dining Club in Shoreditch – a fully immersive 'Do-It-Yourself' restaurant . Members of the public can book to host a brunch, lunch or dinner party for up to 20 friends and family. Supported by their very own sous chef and maître de, the host and their guests will orchestrate an intimate dining experience where cooking together is celebrated and eating together is inspirational

Mikael Buck / IKEA

17/31 Ping Pong menu with a twist

Gatwick Airport has teamed up with London dim sum restaurant Ping Pong to create a limited edition menu with a distinctly British twist; including a Full English Bao and Beef Wellington Puff, to celebrate the launch of the airport's new route to Hong Kong

18/31 Zizzi unveil the Ma'amgharita

Unique pizza art has been created by Zizzi in celebration of the Queen's 90th birthday. The pizza features the queen in an iconic pose illustrated with fresh and tasty Italian ingredients on a backdrop of the Union Jack

19/31 Blue potatoes make a comeback

Blue potatoes, once a staple part of British potato crops, are back on the menu thanks to a Cambridge scientist turned-organic farmer and Farmdrop, an online marketplace that lets people buy direct from local farms. Cambridge PhD graduate-turned farmer, Adrian Izzard has used traditional growing techniques at Wild Country Organics to produce the colourful spuds, packed with healthy cell-protecting anthocyanin, which had previously disappeared from UK plates when post-war farmers were pushed towards higher-yielding varieties

20/31 France plans to usurp Scotland as the home of the world's best whisky

France is planning to usurp Scotland's reputation as the home of the world's best whisky, fired by a growing national obsession with the drink. According to a study by retail consultants Bonial, the French drink more whisky than any other country – an average of 2.15 litres a year, compared to 1.8 litres in second-placed Uruguay and the US in third on 1.4 litres

Bloomberg via Getty Images

21/31 The price of an avocado is set to rise

Britain's avocado lovers are facing a significant increase in the cost of their favourite salad food because the so-called superfood is becoming too popular. High demand from health-conscious consumers has led Peru to triple its avocado exports since 2010, with exports to the UK up 58% over the past year

22/31 Eating cereal may not be the healthiest way to start the day

The old saying goes that breakfast is the most important meal of the day, so many of us do as we are told and grab a bowl of cereal before we head out the door. But an expert has warned that while many cereals boxes claim their contents are the perfect start to the day, many are packed full of sugar and carbohydrates with little nutritional value. Even some seemingly-health muesli cereals have a lot of added sugar in the form of honey, malt, molasses, dried fruit or "even fruit juice"

Getty Images

23/31 Crisps made with real ingredients

Michelin starred chef, Simon Rogan in action cooking a menu inspired by the provenance ingredients in the new Chef's Signature range from Kettle Chips. Kettle Chips, the nation's favourite premium crisp brand, has launched the new range of crisps with exciting new seasonings, made with the highest quality food ingredients rather than chemicals or artificial flavours

24/31 Japanese whisky crisis

Suntory's chief blender Mr. Fukuyo San blends component whiskies to create Suntory Yamazaki Distiller's Reserve, a blend of young and old single malts. Japan's warm climate and varied seasons makes it perfect environment to age and blend whiskies, creating subtle, refined and complex expressions.The recent trend for Japanese whisky has put the spirit on the verge of a global shortage

25/31 Non-alcoholic cocktails are seriously chic

We are living through a new era of creative, non-alcoholic drinks that go way beyond a coke or sweet mocktail. The world is becoming more health conscious. There's the war on sugar, and teetotalism is on the rise, with more than one in five not drinking at all (especially young adults), according to The National Statistics for Adult Drinking Habits. This abstinence is even more pronounced in London, with almost one in three turning away from alcohol. An increasing number of mixologists are applying their talents to the creation of non-alcoholic drinks that taste as good as their boozy alternatives

26/31 'Heat map' shows which areas of Britain enjoy the spiciest curries

After Bradford was named the Curry Capital of Britain for the fifth year running, a map has been released showing which regions of Britain enjoy a spicy curry and which prefer the milder variants. According to the map developed by Hari Ghotra, Kent, Essex, West Yorkshire and Lancashire are the heat-handling kings of Britain, while Scotland, Northern Ireland and Wales all prefer milder curries. The data was collected by monitoring the location of social media posts that mentioned names of curries. These were then given a spice rating and were then collated to give each area a score out of 1000

27/31 Guinness to become vegan-friendly

Guinness is set to become vegan friendly for the first time in its 256-year history, as the company announced its plan to stop using fish bladders in its filters

28/31 Why the salmon on your plate might not actually be salmon

Salmon that ends up on the dinner table may not be salmon at all, a study has suggested. The problem of salmon mislabelling has become an increasing issue in the US in the winter months, according to American research published by Oceana. The findings show that 43 per cent of the salmon tested was mislabelled – the most common instance of this being when farmed Atlantic salmon was sold as wild salmon

29/31 How dangerous is a bacon sandwich

A recent WHO report warning that processed and red meats can cause cancer may have left you thinking a little harder about whether to pick up that bacon butty for breakfast or ditch a beef-filled Bolognese for dinner - but how worried should we be? The review of 800 studies for the International Agency for Research on Cancer (IARC) prompted global health experts to cast processed meats - including bacon, ham and sausages - into the ominous-sounding list of group 1 carcinogens, where they joined formaldehyde, gamma radiation and cigarettes. Eating just a 50g portion of processed meat – or two rashers of bacon - a day increases the risk of bowel cancer by 18 per cent, the experts concluded

30/31 New Zealanders are behind a lot of the interesting food and drink stuff happening in the UK

Dark beers are more suited to cold months, so the thinking goes, but in one part of the world they're always popular. "Lots of breweries in New Zealand have got stouts and porters among their best sellers," says Stu McKinlay, one half of the duo behind Wellington brewing company Yeastie Boys. McKinlay recently swapped Wellington for west Kent in order to launch Yeastie Boys in the UK, and he's joined forces with four other breweries (8 Wired, Renaissance, Three Boys, Tuatara) as part of the New Zealand Craft Beer Collective, to promote his country's finest over here

31/31 Additives in popular chicken nuggets

Ingredients, a new book co-created by photographer Dwight Eschliman and food writer Steve Ettlinger distils 25 products, including popcorn, Red Bull and chicken soup, focusing on 75 of the most common food additives and revealing what each one looks like, where it comes from and why it is used. McDonald's chicken nuggets were found to contain 40 different ingredients. These included dextrose, a sugar also used by shoe makers to make leather more pliable, and corn starch, used for thickening food as well as also being a substitute for petrol
English Food Made Good Champion 2016
cafe-ODE Ness Cove, Devon: At the forefront of sustainable dining since it opened, this seaside café sources whole local venison for burgers and meatballs, holds masterclasses for the WI and local schoolchildren and keeps customers warm using upcycled lambs' wool for insulation.
Daylesford, Gloucestershire and London: It's as if the term field-to-fork was devised for Daylesford's restaurants, where the majority of ingredients are home-grown or reared, including plants like wild garlic and elderflower customers can find out more via their new film, A Love for Food.
Poco, Broadway Market, London: Lemons are the only imported fresh ingredients on Poco's tapas menu infused with the philosophy of co-owner Tom Hunt: root to fruit eating. So leaves, shoots and roots share top billing with organic and fairly traded produce in the restaurant built from sustainable English wood.
Scottish Food Made Good Champion 2016
The Bay Fish & Chips, Aberdeenshire: Haddock certified by the MSC, homemade batter and Lincolnshire potatoes combine for The Bay's sustainable fish supper. The Bay also boasts recyclable takeaway boxes; a mission to communicate its responsible approach and a wholehearted approach to supporting the community.
Cafe St Honoré, Edinburgh: Chef Neil Forbes never stops looking for quality local producers, recently sourcing a new Scottish gin and organic smoked salmon. All wines are organic, biodynamic, natural or Fairtrade. He's equally tireless when it comes to promoting his sustainability message to customers and local schools. 
The Captain's Galley, Scrabster: Expect only the most sustainable seafood, landed in the harbour on the doorstep of Britain's most northerly mainland restaurant. Owner-chef Jim runs a local festival to promote sustainable seafood and runs his own car on used cooking oil.
Welsh Food Made Good Champion 2016
The Clink Restaurant at HMP Cardiff: Guests are cooked for and served by prisoners being trained for a career in hospitality. Featured on the menu ae chicken and Welsh Black Beef from the nearby HMP Prescoed as well as their own eggs. Often rated best restaurant in the Welsh capital on TripAdvisor.
The Gallery, Barry: Foraged ingredients supplement the menu already dominated by local food, including fish caught by day boats off the nearby coast. Barry Town FC is just one of the local organisations supported by The Gallery. The restaurant was designed with a light atrium to negate the need for electric light in the day. 
Irish Food Made Good Champion 2016
Ashford Castle, County Mayo: An example of a luxury hotel employing classic sustainability techniques in the kitchen, where orange peel is dried and made into powder for desserts, and apple peels and cores are also re-used. The restaurant is also a long-time supporter of a local community centre.
KSG at University College Cork: Students and staff can enjoy home-grown herbs and vegetables to complement produce supplied by a group of local producers and farmers. A nutritionist is on hand for advice on healthy eating and students can also buy fresh fruit and veg at regular 'market days'.
The Lodge at Ashford Castle, County Mayo: Head chef Jonathan Keane makes full use of the fruit and vegetables grown on-site as well as the fruits of daily foraging. He's also a regular at the local secondary school, running healthy eating cookery classes. 
Food Made Good Caterer of the Year
Sponsored by U-Select by PKL
Artizian Catering Services: A committed and comprehensive approach to healthy eating is at the heart of Artizian's offering. The company promotes this and all off its many other sustainability initiatives widely. A growing range of Fairtrade ingredients, free-range meat and eggs and biodynamic wines all feature on its menus.
Bartlett Mitchell: 2015 has seen this caterer continue its year-on-year improvement, adding more sustainable seafood and more free-range meat to its menus. The company has adopted over 40 beehives and has helped fund water pumps in Africa as well as using a range of smart ways to communicate its philosophy to customers.
The Brookwood Partnership: This school caterer's mission to feed pupils a healthy diet means it's removed salt from its kitchens and uses minimal quantities of sugar. Healthy options are standard and the students can learn daily about the story behind their meals with 'Where Does My Food Come From' information leaflets.
Best Food Waste Strategy
Sponsored by Unilever Food Solutions
Pizza Express: Engaged staff at all levels to transform the company approach to waste by training 8,000 staff to recycle food waste. Succeeded in increasing the proportion of restaurants sending food waste for anaerobic digestion from 4% to 93%, diverting 3,000 tonnes from landfill.
FoodInResidence, The University of Manchester: Having established students' appetite for action; the university implemented wholesale changes to its catering operation – removing trays, reducing portion sizes and requiring students to scrape off their leftovers. The results; a quarter less plate waste and almost seven tonnes less total food waste.
Vacherin: To tackle the serious issue of 'ugly' fruit and vegetables going to waste, the caterer introduced the I'mperfect Initiative; sourcing and serving perfectly tasty but wonky fruit and vegetables. To date, it has served more than three tonnes and plans to double this to 'save' more food.
Most Improved Sustainability
Sponsored by Paper Round
The Brookwood Partnership: The last 12 months have seen major changes to the ingredients delivered to the schools catered for by Brookwood, including more organic, British and Fairtrade produce – none of which is now air-freighted.  
Gather & Gather: Hiring apprentices, introducing new healthy options on their menus and promoting its ethical approach all significantly enhanced this caterer's overall sustainability, along with a crackdown on food waste and a switch to eco-cleaning products and more seasonal seafood.
The Roebuck, Borough, London: The South London pub has taken giant strides this year, led from the front by its owner who raised money by running a marathon.  Where previously about half of the fruit and veg was locally sourced, and the same proportion of meat free range – now customers can enjoy these standards 100% of the time.
International Food Made Good Champion 2016
Les Orangeries, France: All the meat that chef David Royer prepares is free-range but he's focussed on upping the proportion of vegetables on diners' plates mostly using produce from the restaurant's garden, now home to an organic orchard too. A children's choir is just one of the local organisations supported by the restaurant.
Relæ, Denmark: Christian Puglisi's Copenhagen restaurant is the only organic certified Michelin starred one in the world, which means more than 90% of ingredients are indeed organic, including the mussels. They help develop healthy menus for local schools and use energy efficient inductions hobs. 
The Lodge Verbier, Switzerland: Foraged fruit from the surrounding alpine larder and butter, yoghurt and cheese from the village dairy contribute to all-round high quality sourcing. Latent heat in the property is captured to heat the building and customer donations for tap water help fund water schemes in Africa.
Food Made Good University of the Year
Sponsored by TUCO
University College Cork (KSG): Students and staff can enjoy home-grown herbs and vegetables to complement produce supplied by a group of local producers and farmers. A nutritionist is on hand for advice on healthy eating and students can also buy fresh fruit and veg at regular 'market days'.
Durham University: Keen to work with more small-scale local producers, it brought them together via one large supplier. Its sustainable approach is illustrated by work with a local butcher and mushroom grower to create a reduced meat sausage which is healthier, supports local producers and reduces its carbon footprint. Bang for its banger!
Plymouth University: Seasonal fish, local free-range eggs and RSPCA Assured charcuterie exemplify the carefully sourced ingredients on its regularly changing menus with a strong nod to healthy eating. The university has a strong record of employing apprentices and educating local school children about food. 
Food Made Good Supplier of the Year
Delphis Eco: Recently selected by the Government to represent the Green Economy in its GREAT Britain Campaign, Delphis Eco offers the industry the largest range of plant-based cleaning products. Our judges said: "They are single minded in their approach to sustainability – it is their business model."
London Linen Group: The judges highlighted the company's low-energy steam laundry, and innovative schemes to transform recycled plastic bottles into chefs' jackets and waste into bags for life. Judges said they were taking care with every element of the business.
Trenchmore Farm: A small scale, low impact Sussex Farm producing high welfare, grass-fed beef, sold in half or whole carcasses direct to chefs. They also make cider with the orchard's traditional apples and a 4,000kg apple swap with local gardeners. The 'waste pomace' is fed to the cattle. 
Reuse content