Until a few years ago, the only encounter most of us had with coconut was munching the odd Bounty or sipping a pina colada on a foreign beach holiday. To recommend eating it regularly would have been tantamount to nutritional blasphemy: coconut fat, being the most saturated dietary fat, was guaranteed to send you to an artery-clogged early death. While the inhabitants of Asia continued tucking into their coconut curries as they had for millennia, in the West the evil coconut was shunned.
Then nutritionists did a U-turn and decided, British Rail-style, that coconut fat, although saturated, was the "right kind" of saturated fat. They found that, unlike some other fats, this one was high in medium-chain fatty acids, which, rather than being stored as fat, are quickly turned into energy and actually help the body burn fat and reduce hunger. Around half of those fatty acids are lauric acid (also found in human breast milk), which has powerful antibacterial properties. So, in sensible quantities, coconut fat was considered rather good for you. Coconut fever spread among celebrities, models and fitness freaks. And once the model Miranda Kerr started kicking off her day with a spoonful of coconut oil stirred into a cup of green tea, dietary devil had transformed into scrumptious superfood.
Now, many of us are cooking with translucent white coconut oil – and even smearing it on our bodies. But we've also discovered other parts of this fantastically versatile tropical fruit whose tree, the coconut palm, has been dubbed the most useful in the world. We've gone nuts about pretty much everything coconut, from coconut water and ice lollies to milk, yoghurt, ice cream, nectar, sugar, fresh chunks, flakes, even flour.
These delicious and varied treasures hidden within the coconut's humble hairy shell are a far cry from granny's sickly coconut slices and Nigella's deep-fried Bounty bars. They're certainly a lot healthier: miraculously, between them, new coconut treats contain all three macronutrients – carbs, fat and protein – as well as being rich in minerals, too.
After oil, one of the first coconut treasures we fell in love with was coconut water. Francis Pretty, one of Francis Drake's men, who tasted this for the first time in 1578, described it as a "clear liquor, which… you shall not only find… very delicate and sweet, but most comfortable and cordial."
"Comfortable" was an apt description, given that the water is high in essential electrolytes, which makes it great for rehydrating after exercise. When, a few years back, this natural sugar-free isotonic drink was discovered by Madonna and Rihanna, sales rocketed. For the freshest and best water, you'll need an amiable chap with a machete willing to shin up a coconut palm for you, but if that's tricky, go for raw, unpasteurized water harvested from young, green coconuts, such as the one by Unoco (just beware waters with sneakily added sugar). A sparkling coconut water has just hit the market, promoted as a healthy mixer for clubbers.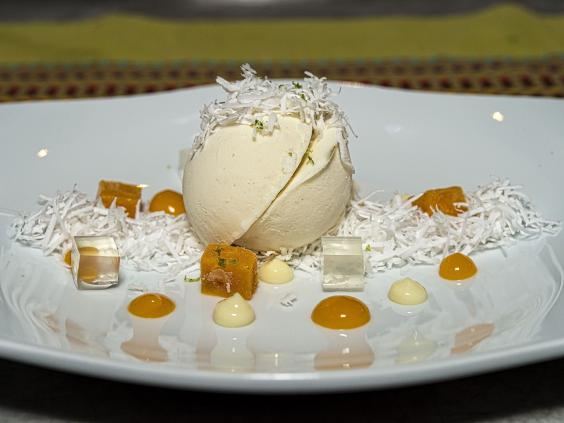 It's not just coconut water that's sending us wild. Coconut milk yoghurt, being dairy-free, is being lapped up by the growing army of people intolerant to dairy – one in five of us, according to Allergy UK. Naturally creamy, coconut milk is an obvious base for a yoghurt, which is why, two years ago, police officer-turned-nutritionist Bethany Eaton started making CO YO, a dairy-and sugar-free coconut milk yoghurt.
At nearly £2 for an individual 125g pot, it's not cheap, but that doesn't seem to be deterring consumers. Until recently, you could only find CO YO in wholesome outlets such as Whole Foods Market and Planet Organic, but it's just gone into Tesco stores nationwide. And earlier this year, another company, Coconut Collaborative, set up by exercise and lifestyle coach Steve Bessant, launched coconut milk yoghurt into Waitrose and is about to sell it in Sainsbury's and Ocado, too. Bethany sees all this as a sure sign of coconut's growing popularity. "When we launched coconut yoghurt in the UK, it was a niche product aimed at people who couldn't eat dairy – and didn't fancy soya substitutes either. But there's been such huge demand for it that we've been forced to go into the supermarkets. Coconut is no longer niche, it's massive."
CO YO and a couple of other companies are also making coconut ice cream, in different flavours. To sweeten it, CO YO uses yet another coconut wonder, coconut blossom nectar, which many are now using as a "natural" sweetener instead of sugar. Miraculously low on the glycemic index and lower in fructose than other syrups such as agave or maple, it's tapped from the stem of the coconut flower, so, like other coconut products, is wonderfully sustainable. Look out, too, for coconut palm sugar, nectar that's been evaporated into crystalised form, which lends butterscotchy depth to any dish.
The newest kids on the coconut block are flavoured coconut milks, including those by Rebel Kitchen, which are proving popular with children; and coconut butter made from ground coconut flesh, which you spread on bread like butter. Biona makes an organic version called Coconut Bliss and is about to launch a chocolate one combining cacao and coconut butter, sweetened with coconut nectar. Could this be the "healthy" chocolate spread that Britain's kids and parents have been waiting for? Nutella, watch out.
No wonder that, in Malay, the coconut palm is called "the tree of a thousand uses".
COCONUT CHEFS
Who's going nuts and how
David Everitt-Matthias (Le Champignon Sauvage) makes a coconut sorbet, which he serves alongside a Thai green curry sorbet, coconut chips and roasted pineapple as a dessert. He also makes a coconut froth, from coconut milk, chicken stock and lecithin, to top soups.
Phil Carmichael (Berners Tavern) makes a coconut crème brulée, made with dessicated coconut, coconut cream and coconut puree.
Paul Hood (Social Eating House) often uses coconut in a lamb main: slow-cooked salt marsh lamb rump, confit neck fillet, miso caramel, aubergine, and toasted coconut (from desiccated coconut).
Glynn Purnell (Purnell's) makes a coconut risotto (from coconut milk) that he serves with lobster pistachio kebabs – a recipe first devised by three-Michelin-starred Le Jardin des Sens in Montpellier.
Yotam Ottolenghi (Nopi) is famed for his black rice pudding cooked in coconut milk, with mango and banana, for breakfast.
Eric Lanlard (master patissier) uses coconut yoghurt in his lemon and passionfruit tart, and in place of ice cream and cream in sundaes and trifles. For those who can eat dairy, he enjoys making an unusual cake filling from coconut yoghurt mixed with whipped cream or custard.
Mango and coconut rice salad
By Yotam Ottolenghi
Ingredients to serve 4
100g jasmine rice (or basmati)
1 teaspoon unsalted butter
130ml water
20g Thai basil
150g Camargue red rice
1 red pepper, thinly sliced
10g mint leaves, roughly chopped
10g coriander leaves, roughly chopped
2 spring onions, thinly sliced
1 fresh red chilli, deseeded and finely chopped
Grated zest and juice of 1 lemon
1 large mango or 2 smaller ones, cut roughly into 2cm dice
60g roasted salted peanuts, roughly broken up
50g flaked coconut
2 tablespoons groundnut oil
25g crisp-fried shallots (home-made or bought)
A pinch of salt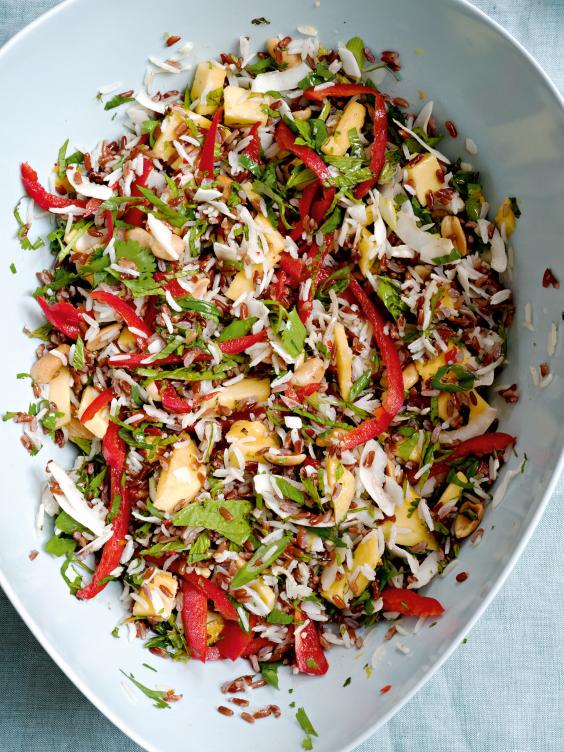 Start by cooking the rice. Put the jasmine rice and butter in ,a small saucepan and place on a medium heat.
Add a little salt, the water and half the Thai basil (keep the leaves attached to the stalk). Bring to the boil, then cover and cook on a slow simmer for 15–20 minutes.
Remove and discard the basil. Spread out the rice on a flat tray to cool down.
Cook the red rice in plenty of boiling water (as you would cook pasta but with no salt) for 20 minutes, or until it is cooked through. Drain and spread on a tray to cool down.
Pick off the leaves of the remaining basil and chop them up roughly. Place them in a large mixing bowl. Add the jasmine and red rice together with all the remaining ingredients, apart from the shallots, and stir just to mix; do not stir too much or the mango pieces will disintegrate. Taste and adjust the seasoning.
Transfer the salad into serving bowls and garnish with crisp-fried shallots, if you like.
Extracted from 'Plenty' by Yotam Ottolenghi (Ebury Press, £26)