One sniff and I'm hooked. The beguiling aroma is grassy, redolent of vines, mellow with a whisper of sweet, pepperiness and completely summery. No wonder the tomato is frequently called the love apple. Right now, the British tomato is in its element and we should make the most of the huge choice of varieties readily available.
My local farmers' market currently has a joyful display of all shapes and sizes as evocative as any market in the south of France – small and round, teardrop, some the bulbous shape and size of an ox heart and in all manner of hues from almost chocolate brown to red and green striped, orange and yellow to ripe and gorgeous red. When buying tomatoes, inhaling their scent first is de rigueur, as is seeking out those that feel heavy for their size and just yielding in texture.
I can happily eat tomatoes morning, noon and evening, and frequently do. For breakfast, I like to do as I have done on holidays in Spain's San Sebastian and start the day with pa amb tomàquet, which requires tomatoes of pristine freshness.
Simply rub good bread with a cut garlic clove before topping with roughly chopped tomatoes mixed with extra-virgin olive oil and a sprinkling of sea salt. For a more leisurely brunch, I've adapted the Turkish menemen or Middle Eastern shakshouka recipes that seem to be doing the rounds of my favourite café.
I add fresh, peeled tomatoes to sautéed shallots, garlic and fresh red chilli and tinned tomatoes with a generous teaspoon of The Arabica Food and Spice Company's Kabsa spice mix and a teaspoon of rose harissa. Cook for 15 minutes then put into an ovenproof dish, make hollows and crack in a couple of eggs. Bake for 10-15 minutes at 180c and finish with chopped, fresh coriander.
Lunch can be my own take on a heritage tomato salad, a stalwart of summer restaurant menus with a few hunks of feta, rocket and freshly podded peas. Dress only with the best balsamic vinegar you can muster to properly bring out the sweetness of the tomatoes and never use fridge-cold tomatoes. Warmth, more than sunshine, is what ripens them.
Supper is often a full homage to the fruit. I adore gazpacho, probably because I fondly remember my well-travelled grandma serving it when I was young and finding its flavour extraordinarily sophisticated. These days I like to experiment, and find combining the lushest tomatoes with deseeded watermelon makes a sublime, ultra refreshing and fruity gazpacho.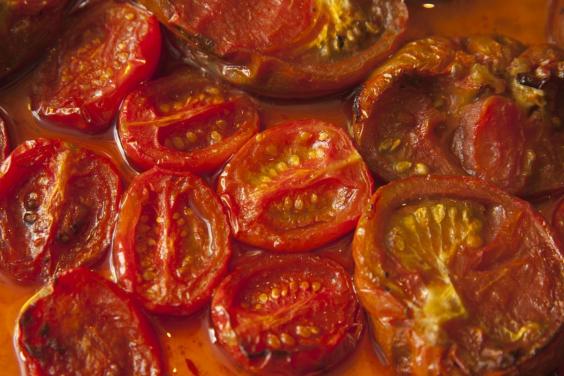 Slow roasting tomatoes is an excellent way of making their flavour even more intense. Inspired by Diana Henry's recipe in A Change of Appetite, I mix olive oil, rose harissa and saffron and pour it over tomatoes and then roast them for about 45 minutes until slightly shrunken and caramelised. With foresight, I've already made labneh by straining some low-fat Greek-style yoghurt mixed with garlic, parsley, salt and pepper through a clean J-cloth and leaving it to drain overnight. To the original recipe, I also add some griddled aubergine and courgette. I finish with a dressing of saffron warmed with lemon juice and a scattering of pistachio nuts. This makes an immensely satisfying vegetarian main dish, which I serve with my secret weapon – vacuum-packed (Merchant Gourmet) beluga lentils that can be heated in the pouch for a few minutes.
Ideally, I'd grow my own tomatoes and a small city garden shouldn't be a deterrent. It isn't for Garry Hollihead, executive chef of The Corinthia Hotel who grows heritage tomatoes with enticing names such as "Amish" and "Charlie Chaplin" on the roof (as mentioned in On the Menu last week. No wonder Hollihead currently has a tomato menu featuring dishes such as roast Cornish lemon sole with tomato jam and slow-roast heritage tomatoes.
Much of my tomato pleasure is derived from experimenting with different heritage varieties with their distinctive flavours and fragrances. It's a trend recognised by the Isle of Wight's The Tomato Stall, the largest organic tomato grower in the UK, which benefits from the especially warm micro-climate of the island. It commendably composts all tomato plant waste each year to use on the following year's crop.
"This year, we've noticed more than ever that customers are asking for the more unusual varieties by name," says project manager Joni Rhodes. It's about to introduce a tomato cordial in addition to its fresh tomato juice. Marks & Spencer also confirms that sales of its intensely flavoured "Sweet Rosso" tomato, grown by Andy Roe, its chief supplier for the past 25 years, have gone up a remarkable 120 per cent this past year.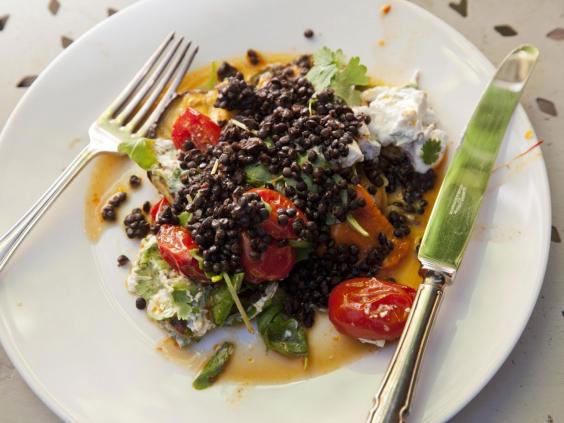 I have a real weakness for Isle of Wight's oak-smoked tomatoes, though I am tempted to try making my own, as does Tom Straker, formerly of Heston Blumenthal's Dinner, now heading up the young, hyper-creative team of New Tom's, Tom Conran's Westbourne Road cafe which is opening for Thursday to Saturday suppers from 28 August. He serves extra slow roasted tomatoes with smoked salt (cooked at a mere 90c for two to four hours) folded into borlotti beans and thyme to accompany rump of lamb.
Madalene Bonvini-Hamel, of The British Larder gastropub in Orford, Suffolk, prepapres sugar-cured tomatoes to make the most of the glut of tomatoes coming up shortly, and to remind her of summer in gloomier months (see recipe below).
The of course there's Bloody Mary cocktails, of which I am, of course, a die-hard devotee. Naturally I am convinced that the best require freshly squeezed tomato juice, a luxury, alas, that surprisingly few bars deliver.
Sugar-Cured Tomatoes, Broad Beans and Oregano Crème Fraiche
To serve 6 as a starter
For the sugar-cured tomatoes:
600g ripe cherry tomatoes, stalks removed
1 garlic clove, finely chopped
1 sprig oregano, leaves only, finely chopped
1 yellow bell pepper, seeded and quartered
25ml olive oil
1 teaspoon unrefined caster sugar
Sea salt and black pepper
For the broad beans and oregano crème fraiche:
500g broad beans, outer pod removed unprepared
1 tablespoon chopped oregano
200ml crème fraiche
Zest and juice of one lemon
1 garlic clove crushed
Sea salt and black pepper
¼ teaspoon sumac (optional)
Reuse content