Philippe Faure, France's newly appointed gastro-diplomat, has one word for the annual World's 50 Best Restaurants listing. It's connected with a substance produced by bulls. His low opinion is shared by many French restaurateurs, because, says Faure, of the lack of transparency in the selection process. And, no doubt, because only four French restaurants are included.
Ambassador Faure is no stranger to the world of catering awards. Between tenures at the embassies in Japan and Mexico, he worked in food publishing, taking over the Gault et Millau guide. His new role, as champion of French cuisine, is said to have been invented by Foreign Minister Laurent Fabius, a noted bon vivant.
Fabius has decided that food should play a more prominent role in French culture and influence across the globe. The use of the splendid Quai D'Orsay ministry to launch the new Michelin Guide last month was one of the first manifestations of this. And now comes the Gout de France operation, led by Ambassador Faure. Tomorrow night, French embassies across the world, plus more than 1,000 restaurants, will serve special dinners designed to show off the classic Repas Gastronomique des Francais, as enshrined by Unesco World Heritage at the behest of former President, Nicolas Sarkozy. This comprises not just the food and wine but the succession of courses, the china and linen, and, insists Faure, the conviviality without which the ritual would be hollow.
According to a report commissioned from Faure by the Minister, French cuisine, while still brilliant at high level, is threatened by other nations moving into the limelight, and by a decline of standards at a lower level. No one who has in recent years encountered that once-rare phenomenon, bad food incompetently served, can deny this. Alain Ducasse has already attempted to address it with his new "fait maison" label, awarded to restaurants that resist the temptation to buy in pre-prepared dishes.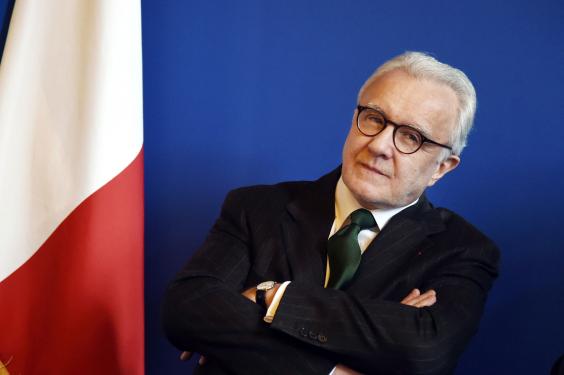 Less easily addressed is the blasé attitude to their traditions by some of the French themselves: I always remember the response of a Parisian journalist I once suggested meeting in the great old brasserie Bofinger: "Couldn't we go somewhere moins chiant (less of a pain)?"
Advising Faure and the Ministry is a committee of chefs, of which Ducasse is a prominent member. Since the great man is out of town, I am granted an audience with Guy Savoy at his discreetly elegant Rue Troyon premises. I attack some of the signature dishes that will feature on the special Goût de France €380 (£275) menu, while Savoy, the living link between the great Troisgros brothers who taught him and Gordon Ramsay, whose mentor he was, sits opposite, commentating.
He doesn't sound very worried about French cuisine. "We have fantastic artisans and absolutely superb ingredients in France," he says, as a waiter places an entrée of huîtres en nage glacée on the table, the dish exuding frozen vapour and a faint, intermittent gurgling. "I have a dozen different types of oyster, all delivered personally by the oyster farmers." A soupe d'artichaut à la truffe noire follows with a slice of brioche feuilletée layered with mushrooms and smeared, like a breakfast tartine, with truffle butter. "The brioche is so good with the soup you couldn't eat one without the other," comments its creator.
So upbeat is Savoy that he almost negates the necessity of Gout de France. "I see it as more of a celebration," he says. "We've still got loads of wonderful little bistros around the country. You know how to find them? Go into the local café-tabac and ask the proprietors where they go for a good night out. It never fails." Regardless of whether the Gout de France is a real rescue mission or more of a restaurateur's wet dream, it's a great excuse for a slap-up meal. Bon appétit!
For a list of UK restaurants participating, go to goodfrance.com
Reuse content