There once was a time when if we wanted to warm ourselves up with a hot tipple, then a glass of mulled wine it would be. Someone would get a bad bottle of red, warm it and laden it with a cloying blend of seasonal spices. Or, if they couldn't stretch to that, they'd make coffee, add a splash of whatever liquor they had to hand, and call it an Irish coffee. But now, thankfully, it seems we have become a little more discerning. This winter, all the best bar menus are awash with carefully crafted winter cocktails and inventive ot drinks.
"A few years ago, it could be tricky to get served a hot toddy without someone looking down their nose at you," says industry expert Shannon McCoy, from Barchick.com. "But now people are paying more attention to warm cocktails, and most decent bars will have at least one or two on their menus. It's part of the big cocktail surge that's going on at the moment. Everyone is focusing on all aspects of the cocktail, and hot winter drinks are part of that."
What's refreshing about this trend is that it's not just traditional drinks such as wine and cider that we are experimenting with. We are now seeing hot negronis, Absinth hot chocolate, and, during the past festive season, Christmas Pimms and, at the Talented Mr Fox bar in One Leicester St Hotel, Christmas Pudding Martini.
An establishment ideally placed to capitalise on this trend is the Shoreditch Grind, a coffee shop by day and cocktail bar by night – one of the first in London to double up thus – in Old Street. Its most popular offering this season is a Hot Flat White Russian made with Venezuelan Araku rum, coffee liqueur and warm milk. The staff have also been experimenting with teas to create festive concoctions such as Lavender Hot Tod Tea, combining lavender extract, honey and single-malt scotch.
"Hot drinks are our bread and butter, so it was only natural that they found their way onto our bar," says Ted Robinson, of Shoreditch Grind. "We weren't happy with just mulled wine or cider and Irish coffee, so we had to invent some of our own. Combining the skills of some extremely talented baristas with a handful of innovative bartenders has produced some exciting results. We've had our signature Hot Flat White Russian on the menu for over a year now, and it's exciting to see so many other bars experimenting, too."
Similar alcoholic alchemy is going on at the Babylon Winter Terrace at the Roof Gardens in Kensington. Until recently, it just had mulled wine or Irish coffee on the menu. Two years ago, the bar introduced Castro's Cola, a classic Cuba libra, served warm, and since then it has never looked back. "Every week, there is a step forward as it's such a strong trend at the moment," says Max Butterfield, assistant bar manager. "Each venue wants to get ahead of the next, so there is so much more imagination as well as awareness about ingredients and methods used."
This winter, the bar's mixologist, Sara Cook, has expanded the Roof Garden's repertoire further and new on the menu is Hot Ginger Chic, made from Tanqueray gin infused with chicory, ginger and spiced syrup, and another invention called Black Magic, made with calvados, cassis and black walnut bitters. "It's got a lovely earthy, chestnutty flavour – just like Christmas cake," says Butterfield.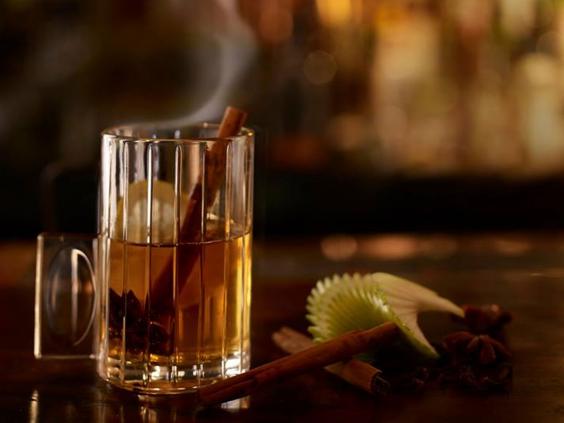 Warm winter cocktails are a trend that ties neatly into our ongoing love for rooftop and al-fresco dining. No longer are we scared by the elements – we are just finding ways to deal with them, and a lovely warm drink is perfect for this. For the second year running, Gordon Ramsay's pop-up Winter Cabin at the York & Albany in Camden drew crowds over Christmas with spiced bloody Marys or buttered rum hot chocolate, all served against a decadent backdrop of animal skins, tartan rugs and decorative taxidermy. Meanwhile, over in Hackney, the Skylodge on London Fields built a rooftop lumberjack-style chalet serving Hot Sucker Punch, a 19th century-style sherry-based toddy.
"It's another reason why hot cocktails are so popular," says McCoy. "Drinking them in these kinds of environments actually makes you feel like you're having an après-ski moment. Even though you might be in the middle of London, you are transported to a far-off winter wonderland or the powdery slopes of Austria."
But all this is nothing new. Hot winter tipples are actually as old as the hills. Charles Dickens is a great source for cocktails. His Smoking Bishop – a heady concoction of oranges, red wine, port and cloves warmed (not boiled) for three hours – features in A Christmas Carol. And Puri, comprising ale, gin and a good few dashes of bitters served in "a great pot", features in The Old Curiosity Shop.
Mrs Beeton had a winter warmer, too. Her 19th-century recipe for hot punch consisted of rum, brandy, lemon and nutmeg alongside heart attack-inducing quantities of sugar. Thankfully, things have moved on a bit since then.
Ali Dedianko, brand ambassador for Belvedere vodka, which is being served warmed with hibiscus tea, honey, ginger and cinnamon at Harvey Nichols Fifth Floor, says this season we are now seeing a much lighter touch. "While mulled wine, toddies and hot buttered beverages are delicious, they are also a bit old-fashioned and tend to be quite heavy," he says. "This year, we are swapping dark spirits such as whiskey and rum, for lighter ones such as vodka and gin, and ditching some of the excess sugar."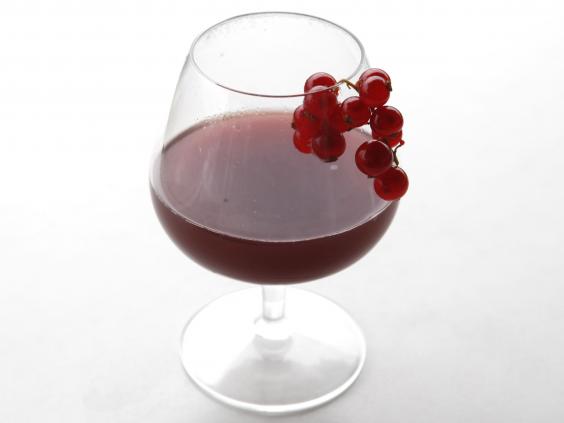 Traditional drinks using cider or wine go back even further than Dickens. Pete Brown, author of World's Best Cider, the first comprehensive world guide to cider, published last year, says recipes for warm cider can be traced back to at least the Middle Ages. "In the UK, cider drinks probably go back even further than mulled wine does," he says. "The Elizabethans referred to them as possets and had recipes for cider with a little shot of apple brandy and warming, seasonal spices."
Butterfield, meanwhile, looks back to just before the Prohibition era for his inspiration, particularly to the toddies and slings created by the legendary American bartender Jerry Thomas. In those days, they didn't have ice. It was a luxury, so drinks were naturally served warmer. "Also, alcohol was considered to be much more medicinal than we view it today," he says, "so it made a lot more sense to serve it hot."
He's right, of course. When the weather outside is frightful, a good warming cocktail can be just the tonic we need to keep us going. Plus it's all about getting warm and keeping warm. As McCoy concludes: "It does make me wonder why we've been having our drinks cold all these years. I think maybe, finally, this a sign that we have given in to the fact that we actually live in a cold climate."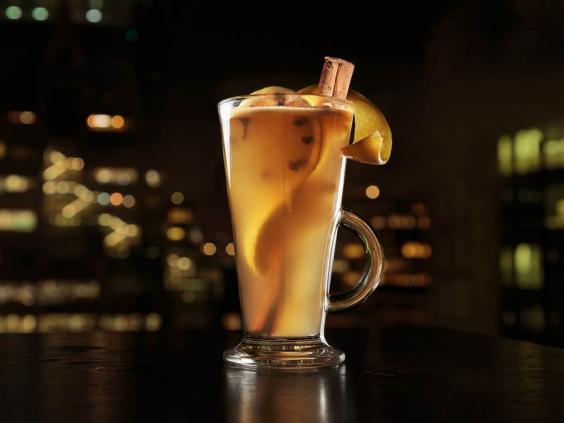 HOT STUFF: WINTER COCKTAILS
Hot apple toddy
From the Broadway Bar and Grill
50ml Drambuie
150ml pressed apple juice
20ml sugar syrup
25ml lemon juice
4 cloves
2 cinnamon sticks
In a saucepan, heat the apple juice, sugar, lemon juice, cloves and 1 cinnamon stick. Add the Drambuie to a handled latte glass, then strain in the warm apple juice mixture. Garnish with a lemon slice and a fresh cinnamon stick
Black Magic
From Kensington Roof Garden
35ml calvados
15ml crème de cassis
40ml cloudy apple juice
5ml lemon juice
5ml honey
Heat in a pan until it's about as hot as a morning cuppa. Garnish with red currants.
Coconut Chai Hot Toddy
From DoubleTree by Hilton Tower of London'
50ml Kracken Spiced Rum
60ml light coconut milk
2 tsp light brown sugar
Spiced chai tea
1 clove
Pour the rum and coconut milk into a mug, add the sugar and top with hot spiced chai tea. Garnish with a clove.
Reuse content