A light wind is blowing through the Doric columns on the roof of the Peninsula Hotel in Beverly Hills, ruffling the jasmine that twists around them. Clouds the colour of dreadnoughts begin to muscle in on the blue. The man who looks after the pool worries. "Rain's coming," he says from behind his reflective ¬sunglasses, as if announcing the imminent arrival of the Four Horsemen.
Still, for the moment, the surface of the pool is serene. And I am happy. Because in front of me I have one of the simplest, most pleasing dishes I have eaten all summer. It consists of sliced avocado crowned with raw tuna and ¬garnished with a diaphanous golden-yellow disc of freeze-dried pineapple and herbs from the hotel's garden. It is possibly the most LA dish you could imagine: avocado, check; raw protein, check; home-grown; high-level cooking technique casually used, check. But the thing is, if I was eating this same dish in Bournemouth, no one would think it was ¬particularly unusual. It would not draw comment in Birmingham or Bath.
Both raw fish and avocados are fairly ubiquitous. Avocados are so ubiquitous, in fact, that not only do they have Tumblrs dedicated to them, people now write articles about them with headlines like, Is There Such a Thing as Too Much Avocado? Why is this so? Why are these two climactically unsuitable dishes a feature of British cuisine? The answer is simple: Los Angeles. Not so long ago, if you wanted to find out what was going to be the Next Big Foodie Thing here, you got on a plane and you went to New York. M&S has always maintained an innovations team there; wannnabe London restaurateurs would chivy the latest trends from the eating- and watering-holes of Brooklyn and Tribeca (yes, that is where sharing plates came from). No longer, though.
50 best foods for healthy living
50 best foods for healthy living
1/50 Digestion

Live yoghurt - Many with digestive issues avoid dairy, but live yoghurt may be worth a shot, as it is full of gut-friendly bacteria. Because the lactose in live yoghurt is effectively broken down, it is gentler on the system than milk.

Rex

2/50 Digestion

Chia seeds - Just two tablespoons of chia seeds provide a third of your recommended daily intake of fibre.

notahipster, Flickr

3/50 Digestion

Sauerkraut - Fermented foods like sauerkraut (fermented cabbage) is packed with probiotics, aiding digestion.

Qwerty Binary

4/50 Digestion

Lentils - High in insoluble fibre, lentils are great for digestion, as well as being regarded as beneficial in alleviating irritable bowel syndrome and diverticulosis.

Rex Features

5/50 Digestion

Buckwheat - Despite the name, buckwheat is completely wheat and gluten free and a great, high fibre alternative to anyone with a wheat intolerance.

Getty Images

6/50 Immune system

Oranges - Citrus fruits such as oranges are high in Vitamin C, which helps to prevent colds and infection.

Getty Images

7/50 Immune system

Mushrooms - Shiitake mushrooms have been shown in studies to boost the production of white blood cells, thus improving the body's ability to fight infection.

powerplantop, Flickr

8/50 Immune system

Clams - Contain zinc and selenium, which helps to slow the body's immune response and control inflammation.

9/50 Immune system

Garlic - Packed with antioxidants, garlic was used to fight gangrene in World War I, but more practically can help to keep colds at bay. It is also quite anti-inflammatory and anti-fungal, and used to treat everything from psoriasis to athlete's foot.

10/50 Immune system

Broccoli - One cup of broccoli provides you with almost 100% of your RDA of vitamin C, which is thought to stave off colds and other illnesses. It is also rich in vitamin A, K, folate and potassium. Cruciferous vegetables such as broccoli contain a sulphurous compound that studies show can lower the risk of cancer.

Getty

11/50 Skin, hair and nails

Avocado - The good fats in avocado hydrate the skin, while omega 9 can help reduce redness. Avocado is also rich in vitamin E, which helps guard against sun damage and vitamin C, which helps produce elastin and collagen for skin firmness.

Getty

12/50 Skin, hair and nails

Sunflower seeds - a handful contains more than a third of your daily vitamin E needs.

F Ceragioli via Wikimedia Commons

13/50 Skin, hair and nails

Pumpkin - One of the richest sourcs of Vitamin A, which is essential for the formation of connective tissue, i.e. skin.

Getty Images

14/50 Skin, hair and nails

Olive oil - The monounsaturated fatty acids in olive oil plump the skin for a more youthful look, plus antioxidant polyphenols may curb ageing free-radicals.

SAIF DAHLAH/AFP/Getty Images

15/50 Skin, hair and nails

Green tea - Polyphenols in green tea could help to offset sun damage.

Getty Images

16/50 Weight loss

Cinnamon - This spice is a great additive for breakfasts and bakes if you are trying to cut sugar and sweeteners, and it is also thought to help balance blood sugar.

Getty Images

17/50 Weight loss

Apples - Apples are high in pectin, a soluble fibre that helps to keep you feeling fuller for longer.

Getty Images

18/50 Weight loss

Eggs - One of the best sources of protein, eggs help to keep you energised and prevent unhealthy snacking, while providing a host of vitamins and minerals for general good health.

Getty Images

19/50 Weight loss

Tuna- High in protein, low in saturated fat and rich in omega 3, tuna is a fantastic option for maintained weight loss. The omega 3 in oily fish improves the body's response to insulin, lowering metabolism and helping to prevent the dreaded sugar spikes.

Getty

20/50 Weight loss

Oats - High in fibre for slow-release energy, oats also are thought to lower cholesterol.

Getty Images

21/50 Heart health

Beetroot - This is a good source of iron and folic acid. It is also rich in nitrates, which help to reduce blood pressure.

Raimond Spekking

22/50 Heart health

Garlic - High in manganese, selenium and antioxidants, garlic is thought to help lower blood pressure and reduce cholesterol.

Getty Images

23/50 Heart health

Asparagus - Rich in the amino acid asparagine, which serves as a natural diuretic and helps rid the body of excess salts. This is beneficial for people have high blood pressure or other heart-related diseases.

Getty Images

24/50 Heart health

Salmon - Studies have found that eating oily fish such as salmon can lower blood pressure and reduce cholesterol. Rich in Omega-3 fatty acids,

Getty Images

25/50 Heart health

Pomegranate - Rich in vitamins A, C and E, and high in fibre, pomegranates are thought to help protect against heart disease. A 2004 study showed evidence that daily consumption helped to alleviate narrowed arteries and reduce cholesterol.

Getty Images

26/50 Brain health

Mackerel - Oily fish including mackerel is rich in Omega 3, which studies have suggested is linked to a reduced risk of dementia, schizophrenia and depression, as well as enhanced memory.

Getty Images

27/50 Brain health

Hazelnuts - HIgh in Vitamin E, which studies say can help to prevent cognitive decline in older people.

Getty Images

28/50 Brain health

Blueberries - low in calories and high in antioxidants, blueberries are regarded as a nutritional powerhouse. Some studies have found a link between blueberry consumption and improved spatial learning and memory.

Getty Images

29/50 Brain health

Cacao - Contains phenylethylamine, which acts as a mild mood enhancer, and a 2009 study shows signs that it can help to reduce stress. However, adding sugar and milk to cacao to make your favourite chocolatey treat offsets any health benefits - try to keep it as close to its natural state as possible.

Keith Welle via Wikimedia Commons

30/50 Brain health

Pumpkin seeds - Just a handful of pumpkin seeds a day provide your total RDA of zinc, which is important for enhancing your memory.

31/50 Energy

Sweet potatoes - Starchy veg like sweet potatoes are a great source of low-GI carbohydrates for slow-burn, long-lasting energy. Sweet potatoes are also rich in soluble fibre and vitamins A, C and B6.

Getty Images

32/50 Energy

Beef - Low energy levels are often a sign of iron deficiency or anaemia. Lean cuts of beef are a good source of iron, as well as being a protein powerhouse to aid muscle development and stamina.

Getty Images

33/50 Energy

Brown Rice - Complex carbohydrates like brown rice break down into energy-boosting sugars more slowly than white rice, meaning more energy for longer, and more balanced blood sugar levels - i.e. no nasty sugar crash within hours of eating.

Arria Belli, Flickr

34/50 Energy

Bananas - A great source of energy that keep sugar levels balanced, plus the sweet taste will help to satisfy cravings.

Getty Images

35/50 Energy

Quinoa - This supergrain contains more protein than rice or any other grain, ideal for building muscle, along with being a nutrient-rich source of carbohydrates.

AFP/ Getty Images

36/50 Bone health

Sardines - Sunshine is the best source of bone-building Vitamin D, but if a British summer doesn't allow for that, sardines are a surprising source, as well as being rich in calcium.

Getty Images

37/50 Bone health

Brussel sprouts - Just three-quarters of a cup of this divisive winter vegetable provides your RDA of vitamin K, which is essential in helping the absorption of calcium for healthy bones.

Getty Images

38/50 Bone health

Chickpeas - High in protein and fibre, chickpeas are also packed with iron, phosphate, calcium, magnesium, manganese, zinc and vitamin K, which contribute to building and maintaining strong bones.

Scott Teresi, Flickr

39/50 Bone health

Spinach - If dairy isn't your thing, spinach could be your saviour - a cup of cooked spinach contains a quarter of your calcium needs.

Getty Images

40/50 Bone health

Almonds - Rich in potassium, which prevents the excretion of calcium in urine, as well as being rich in protein and other nutrients for maintaining bone health.

M.Verkerk/J.J.G.Claessens/Creative Commons

41/50 Men's Health

Prawns - Rich in zinc, which is essential for sperm quality and fertility.

Getty Images

42/50 Men's Health

Tomatoes - high in lycopene, an antioxidant which, according to the World Cancer Research Fund, can help reduce the risk of prostate cancer. Strangely, cooked and tinned tomatoes are recommended, as the lycopene is more readily absorbed.

PIERRE ANDRIEU/AFP/Getty Images

43/50 Men's Health

Brazil nuts - High in selenium, which boosts the immune system and strengthens the thyroid gland.

Quadell

44/50 Men's Health

Cauliflower - Rich in vitamin C, potassium and boron, which is said to aid in increasing testosterone levels and muscle-building.

Getty Images

45/50 Men's Health

Turkey - With obesity an escalating problem for men, turkey is a great swap for your morning bacon. HIgh in lean protein, it is full of B vitamins, which can aid in lowering cholesterol.

Getty Images

46/50 Women's Health

Walnuts - These nuts contain antioxidants and phytosterols that may help reduce the risk of breast cancer.

Getty Images

47/50 Women's Health

Green beans - Low in fat, bean are a great source of protein and fibre and can also help to guard against breast cancer and heart disease. Isoflavones in beans, chickpeas and lentils help with the regulation of hormones, easing PMS and menopause symptoms.

Getty Images

48/50 Women's Health

Flax - One of the oldest sources of fibre in the world, flaxseed can ease digestion as well as providing omega 3 fatty acids. It is also thought to be of help with menopause, but some experts say it should be avoided if pregnant.

Sanjay Acharya via Wikimedia Commons

49/50 Women's Health

Cranberries - Rich in anthocyans, red berries such as cranberries help to play a role in cell repair and are thus thought to reduce cancer risk. Also high in vitamin C and folic acid, essential for women of childbearing age, and cranberry juice is a fantastic way to get rid of cystitis.

Getty Images

50/50 Women's Health

Tofu - A great source of phytoestrogens, which can help with the symptoms of menopause and polycystic ovarian syndrome (PCOS).

Getty Images
Consider for a minute the big things in food today, the things that are never off the TV and the radio and maybe your own plate: kale, quinoa, juicing, spiralising, California sushi rolls, food trucks (for those, you have to thank LA chef Roy Choi), they were all born and brought up in LA before being shipped off to Europe as fully fledged trends. You may hate them; you make think they are an affectation, but you cannot deny them. LA food is in the ascendant.
As Dawn Davies, grocery manager at Selfridges, points out, part of the attraction is the lifestyle. "Fresh and healthy as a trend is massive in the UK. And LA health is fun health; it's decadent. It is treat-yourself health; it's not like, 'eat nothing, go throw up and eat only apples,'" she says. In fact, an apple wouldn't do at all – you can't spiralise an apple.
It is not just about one flash of a trend aligning with the UK, either, it is about the place itself. The Californian city is the perfect breeding ground for a UK food culture that is forever eating itself. It is a young city – 150 years ago it was a village – a place of films and film stars and all the other accoutrements of ephemeral power and influence that go with those two things. It lives and dies on trends – for people, for things and, most of all, for food.
What are the biggest trends today, then? What might we expect to fetch up here soon? The first place we visit is Sweetfin Poke in Santa Monica. It is a "pole to bowl" cafe and takeout – ¬specialising in bowls of raw fish with avocado and rice. It tastes divine and also like something that might counterbalance all the beer I drank the night before. It is quick, it is simple, it is raw and it isn't expensive. As Sweetfin's owner Seth Cohen says, "It is the natural evolution of sushi. And in LA, there seems to be a sushi bar on every corner."
The focus on eating more protein is something we Brits are increasingly cottoning on to, say Dawn Davies. "People in the UK used to see protein as a negative thing. But today, it's all about getting good protein, not red meat," she says. Putting protein first is very much LA, as you also see at the 194-room, five star Peninsula hotel, which occupies the other end of the dining spectrum. This place is a big deal in LA, as the line of Bentleys and Ferraris outside, and the presence of Larry Flynt in the old-world bar inside attests. It regularly plays host to princes and if you want one of the rooms, let alone one of the bungalows, during awards season, well, you better be up for a gong yourself. The ethos of the place, which is low-rise by comparison to its surroundings, is that it is like a private home. Sure, you can have afternoon tea downstairs and dinner in the Frenchified main restaurant – but where the restaurant is really on trend is on the roof. Aside from the raw dishes, head chef David Codney offers rooftop barbecues – on the roof, protein is king: grilled snapper fish and full chickens roast on the grill.
After all that meat, healthy or otherwise, you need your veg. You could, of course, cook this veg. But in LA you are more likely to put your broccoli in a high-pressure processing unit that uses approximately seven tons of force to extract all the goodness from it. Sound a little extreme? Jonathan Moore, Executive Chef at Waitrose, has marked the beginnings of the trend here, too. "Since the juicing trend began, we sell more kale and avocados than ever. ¬Avocados particularly, as they give a nice creamy texture".
In LA, they are beyond simply juicing banana and blueberries – "too sugary, darling". Cold-pressed veg mixes are what it is really about. The idea is that by crushing the fruit and greens, rather than running them through a centrifugal blade, the nutrients are better preserved (though evidence for this is sketchy). Still, it tastes nice. And you can buy them over here in posh health food shops and the Press concession in Selfridges, which now has a turnover of £15,000 a week.
As Davies says, "10 years ago, you would never thought that would happen unless it was Coca Cola". You don't want it instead of your lunch, but as a mid-afternoon snack. It will give you more energy than those Maltesers.
Not so long ago, a scallop was something only hostesses in the Dame Barbara Cartland mould would serve. It was posh; it looked faintly foreign. In LA, you can barely look at a menu without seeing the quite delicious next step, the sea urchin. They are velvety in the mouth and have a briny flavour, but, admittedly, look rather like aliens. They are a good thing, though. Why not make full use of the sea's bounty? Our Italian cousins certainly know their worth and Peter Weeden, head chef at London's Newman Street Tavern, already has them on his menu when they are in season. Coming to a M&S near you soon, then (well, maybe).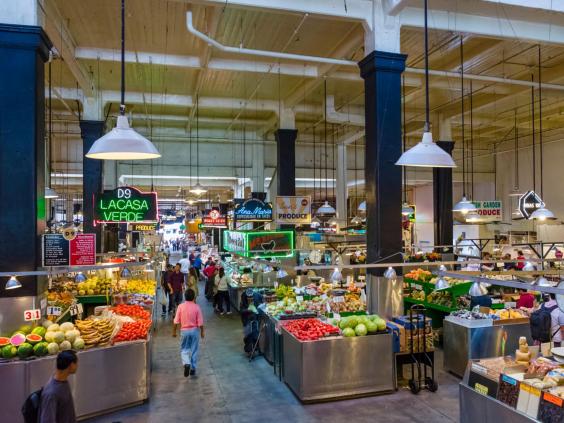 I received a tip-off from this newspaper's LA correspondent that I should probably head to Grand Central Market to try something else that is massive in LA: a slightly fermented tea drink called kombucha. Now, Grand Central may have been here since 1917, but it is no ¬geriatric. It contains, for example, the egg-based and fruitily named takeout joint, ¬EggSlut (inspiration for London-based eateries Bad Egg, Yolk London, The Good Eggs). It is at the bleeding, if a bit silly, edge of inexpensive culinary advancement.
Navigating the crowds and the neon signs that attempt to draw you in hither and thither, I see the chic, minimal bar I am after. A large, bold-type sign announces its name: Better Booch Kombucha Bar. They have six flavours of the drink. I plump for Golden Pear, which promises, with all the plausibility of myth, to "relax my mind and refresh my spirit". It tastes good. Similar in style to an iced tea, it would be nice on a hot day.
Of course, not all food trends are born equal. Gourmet vegan food is a big thing here – and why not make the most out of fruit and veg and all things healthy? Thing is, no matter how gourmet it is, I can't see anyone in Barnsley saying, "Let's go for a vegan" on a cold night in January. Nor does elevated, artisan toast – "Do you want rye, sour dough rye, or pumpernickel bread, sir?" – seem to have much prospect of success beyond the more chi-chi enclaves of East London. Same goes for Bulletproof Coffee, a branded coffee that is served with "grass-fed unsalted butter and Brain Octane oil".
I find at Shutters on the Beach, the queen of the beach-front hotels in Santa Monica, the beginnings of a much finer trend, however. It is beautiful old place, Shutters, perched right on the sands like some Grand Dame having a breather from Beverly Hills. In its large, airy, wood-panelled dining room, the tables are all set with bright-white plates and even brighter cutlery. Staff glide around purposefully serving the guests who have tottered down from their sea-view rooms above –the LA Times calls them 'divine nests' – or escaped the tractor-beam of the pool which itself has, yes, a sea view. In the middle of the table there is a small sign: "Please join us in our efforts to conserve California's water supply". And then, in bigger type above, "Conserve Water, Drink Wine". Whatever we think of the other trends hurtling our way, this is the sort of thing we can all get behind.
The writer travelled to LA with Air New Zealand (flights daily from London Heathrow to LAX. A return ticket costs from £474, Airnewzealand.co.uk).
Peninsula Beverly Hills, 9882 S Santa Monica Blvd, Beverly Hills, CA 90212, +1 310-551-2888, beverlyhills.peninsula.com, $550/night;
Shutters on the Beach, 1 Pico Blvd, Santa Monica, CA 90405, +1 310-458-0030, shuttersonthebeach.com, $550/night
Reuse content