Toffee and cherries? Leave it out
By Rebecca Armstrong
I popped into the shop nearest to the office after work this week to buy some cheese to supplement my planned dinner of cheese-on-beans-on-toast. As I queued up to pay for my cheddar, I spotted a packet of hot cross buns by the checkout and went to add them to the conveyor belt. I glanced at the packet, hand outstretched… and froze. They were Belgian chocolate and toffee fudge hot cross buns. Not cross buns, more like it. I withdrew my hand in disgust. The majority of the time I have no problem with either Belgian chocolate or toffee fudge as sweet flavourings. But I don't believe that these dairy interlopers have any place in a hot cross bun.
Sultanas, peel, a bit of cinnamon; these are the sort of cautiously flavourful ingredients that have made these traditional British bakes great. Tossing in gobbets of chocolate is vulgar, and I dread to think what it'll do to the insides of a toaster. I can understand why M&S has been mixing up its recipes – presumably no one under 30 would actually think of a hot cross bun as a treat unless it's larded with confectionery – but it doesn't mean that I agree. As for the unholy hot cross bacon combo that Sainsbury's has been advertising, I feel like manning the barricades. Ban that bun!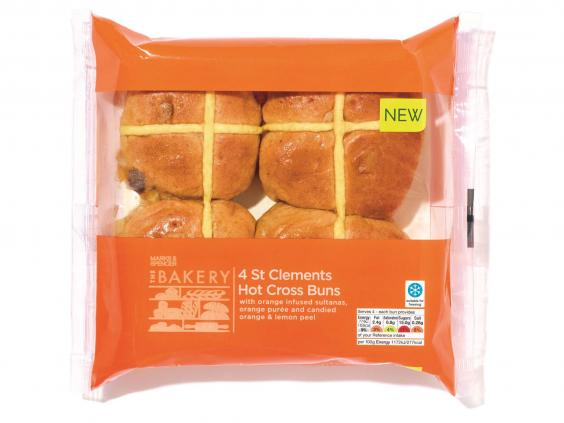 I'm not totally averse to a bit of Easter evolution – I think that apple is just about OK (goes with the cinnamon) and Marks' St Clements version counts as merely being heavy handed with the peel. But its cherries and berries buns sound torrid and horrid. In fact, despite getting hot and indeed cross about retailers messing with an almost perfect design, there is one thing I would change about the classic bun – why not make the cross out of icing? The weird white dough on top has always been a bit of a disappointment, edible representative of the True Cross notwithstanding. But otherwise I don't want none, unless you've got proper buns, hun.
Bacon hotties do it for me
By Chloe Hamilton
I've never really been one for tradition. Or for raisins. As a result, I don't hold the hot cross bun in particularly high regard. Hot cross buns are, of course, steeped in religious meaning. The anaemic crosses dribbled over the top represent the crucifixion of Christ and the aromatic flavourings signify the spices used to embalm Christ's body at his burial. Yum!
In reality, these plain little rolls swing from overly sticky to mouth-dryingly bland and every time I eat one I feel like I'm chowing down on dusty, old-fashioned Christianity. Not for me. So I welcome the news that Marks & Spencer has decided to liven up its buns this year with new flavours, including stem ginger and Mocha. Anything to resurrect Easter, which – as we all know – is Christmas's drearier, holier older sister.
Food trends in 2016
Food trends in 2016
1/11 Celeriac root

We had a kale obsession in 2015, but 2016's vegetable sine qua non is predicted to be the knobbly celeriac root. Celeriac milk (Tom Hunt at Poco in Bristol serves it with winter mussels and wild water celery), celeriac cooked in Galician beef fat (from Adam Rawson of Pachamama, hot new chef in the capital) and salt-baked celeriac (to be found in Matthew and Iain Pennington's kitchens at The Ethicurean in the West Country) are just a few examples.

Getty Images

2/11 Middle Eastern food

The Middle Eastern Vegetarian Cookbook (£24.95, Phaidon) by grand-dame Salma Hage, author of the bestseller The Lebanese Kitchen (whose halva is pictured here), is out in April

© Liz & Max Haarala Hamilton

3/11 Non-alcoholic cocktails

Grain Store mixologist Tony Conigliaro has created Roman Redhead, a riot of red grape juice, beetroot, pale ale and verjus, and Rose Iced Tea (black tea, rose petals, anise essence, pictured here)

4/11 Gin

The discerning will be slurping Hepple gin – from chef Valentine Warner and cocktail guru Nick Strangeway – which is punctuated with bog-myrtle nuances

5/11 Argyll and Bute

Restaurant followers are getting in a froth about Pam Brunton in Scotland, who opened the Inver restaurant in Argyll and Bute to acclaim last year

6/11 Andy Oliver's Som Saa

One of the most eagerly awaited restaurants of 2016 will be the permanent incarnation of Andy Oliver's remarkable pop-up Som Saa opening very soon in east London. Oliver, who worked at Thai god David Thompson's Nahm in Bangkok, raised a whopping £700,000 through crowdfunding, and is renowned for his piquant Thai flavours and obsessive attention to detail, including in his home ferments and DIY coconut cream

© Adam Weatherley

7/11 Venison

Another ruminant in vogue is venison, with Sainsbury's doubling its line for 2016. It provides a protein-packed punch, with B vitamins and iron, and it's low in fat. Its entry into the mainstream is in part thanks to the Scottish restaurant Mac and Wild, just opened in London, whose Celtic head chef Andy Waugh (who also runs the Wild Game Co) has been touting it as street food for years (his venison burger pictured here)

8/11 Goat

From Brett Graham's The Ledbury to Angela Hartnett's kitchens at Lime Wood Hotel in the New Forest, Cabrito is the go-to goat supplier among the chef cognoscenti (roasted loin of kid pictured here) – but this year, domestic cooks can get in on the action, as Sushila Moles and James Whetlor of Cabrito offer their meat through Ocado

Mike Lusmore / mikelusmore.com

9/11 Coffee

Coffee sage George Crawford is launching the much-anticipated Cupsmith with his partner, Emma. Crawford believes that 2016 is the year purist coffee will finally meet the masses; Cupsmith's mission will be to make craft coffee as popular as craft beer on the high street. The company roasts Arabica beans in small batches, improving its quality – but sells it online, at cupsmith.com, in an approachable way: expect cheerful packaging and names such as Afternoon Reviver Coffee (designed for drinking with milk – no matter how uncouth, most of us want milk) and Glorious Espresso

Julia Conway

10/11 120-day-old steak

Hanging meat for extremely long lengths of time has become an art. In Cumbria, Lake Road Kitchen's James Cross is plating up 120-day-old steak (pictured here). The beef is from influential "ager" Dan Austin of Lake District Farmers, who is currently investigating the individual bacterial cultures that go into this maturing process

11/11 Lotus root

Diners can expect root-to-stem dining - cue the full lotus deployed by the Michelin-starred Indian Benares in its kamal kakdi aur paneer korma

Getty Images
And M&S isn't the only one "raisin" the bun bar. BBC Good Food suggests swapping traditional sultanas for chocolate chips; perfect for those of us who gag every time we bite into what appears to be a chocolate chip muffin only to find it jam-packed with double-crossing little currants. Don't forget, too, that these saintly snacks slathered in butter are meant to signify the end of Lent, when Christians the world over are finally allowed to indulge in whatever gluttonous delights take their fancy. Why choose a tarted-up bread roll which symbolises death when you could be stuffing your face with other treats such as chocolate, cheese, or bacon?
Speaking of bacon, Sainsbury's has offered up a recipe for hot cross bacon butties, something I'm very much on board with. The combination of sweet and savoury is a popular choice in America, but we Brits have long regarded it with an almost patriotic suspicion.
For me, though, there's something deliciously disobedient about cramming sizzling bacon into one of these otherwise overrated buns. My mouth is watering just thinking about it. Bacon, after all, is the real food of the gods.