Bart van Olphen remembers his first time, speaking in a soft Dutch lilt and with more than a twinkle in his eye. It was in Brittany. "There was this beautiful lady called Marie," says the chef and food campaigner. "The idea was to make soup together, which we did, and then she gave me a beautiful tin of sardines. I was flying back to Amsterdam that night and promised to try them over the weekend."
"Mais non," protested Marie. He was to leave them to mature for at least two years, allowing the rich flavours of the Breton sardines to reach their peak of unctuous tastiness. It wasn't enough just to leave the can alone as the months went by, either. He was to cosset it through the seasons, turning it every few weeks to allow the fluids and aromas to circulate within the tin.
Van Olphen thought there had to be a story behind them. "Some 70 to 80 per cent of all tinned fish is rubbish," he admits. "But if you have good quality, you can make crazily nice things with it." It is easy to see the beauty in a large platter of fruits de mer or a whole sole in its transparent veil of beurre blanc. But a tin of tuna or pilchards? These foods are store-cupboard staples, emergency rations that became necessities during the Second World War and post-war years. They are not typically the type of ingredients to be lauded and end up the subject of a book, Cooking with Tinned Fish, Van Olphen's best-selling book yet.
"Bart is my fish hero – this book rocks!" enthuses Jamie Oliver from the book jacket. "I'm off to buy some tinned fish…" High praise from Jamie, who spotted the popularity of Bart's Fish Tales recipes and videos on Instagram and YouTube and invited him to join FoodTube, Jamie's network of foodie vloggers.
50 best foods for healthy living
50 best foods for healthy living
1/50 Digestion

Live yoghurt - Many with digestive issues avoid dairy, but live yoghurt may be worth a shot, as it is full of gut-friendly bacteria. Because the lactose in live yoghurt is effectively broken down, it is gentler on the system than milk.

Rex

2/50 Digestion

Chia seeds - Just two tablespoons of chia seeds provide a third of your recommended daily intake of fibre.

notahipster, Flickr

3/50 Digestion

Sauerkraut - Fermented foods like sauerkraut (fermented cabbage) is packed with probiotics, aiding digestion.

Qwerty Binary

4/50 Digestion

Lentils - High in insoluble fibre, lentils are great for digestion, as well as being regarded as beneficial in alleviating irritable bowel syndrome and diverticulosis.

Rex Features

5/50 Digestion

Buckwheat - Despite the name, buckwheat is completely wheat and gluten free and a great, high fibre alternative to anyone with a wheat intolerance.

Getty Images

6/50 Immune system

Oranges - Citrus fruits such as oranges are high in Vitamin C, which helps to prevent colds and infection.

Getty Images

7/50 Immune system

Mushrooms - Shiitake mushrooms have been shown in studies to boost the production of white blood cells, thus improving the body's ability to fight infection.

powerplantop, Flickr

8/50 Immune system

Clams - Contain zinc and selenium, which helps to slow the body's immune response and control inflammation.

9/50 Immune system

Garlic - Packed with antioxidants, garlic was used to fight gangrene in World War I, but more practically can help to keep colds at bay. It is also quite anti-inflammatory and anti-fungal, and used to treat everything from psoriasis to athlete's foot.

10/50 Immune system

Broccoli - One cup of broccoli provides you with almost 100% of your RDA of vitamin C, which is thought to stave off colds and other illnesses. It is also rich in vitamin A, K, folate and potassium. Cruciferous vegetables such as broccoli contain a sulphurous compound that studies show can lower the risk of cancer.

Getty

11/50 Skin, hair and nails

Avocado - The good fats in avocado hydrate the skin, while omega 9 can help reduce redness. Avocado is also rich in vitamin E, which helps guard against sun damage and vitamin C, which helps produce elastin and collagen for skin firmness.

Getty

12/50 Skin, hair and nails

Sunflower seeds - a handful contains more than a third of your daily vitamin E needs.

F Ceragioli via Wikimedia Commons

13/50 Skin, hair and nails

Pumpkin - One of the richest sourcs of Vitamin A, which is essential for the formation of connective tissue, i.e. skin.

Getty Images

14/50 Skin, hair and nails

Olive oil - The monounsaturated fatty acids in olive oil plump the skin for a more youthful look, plus antioxidant polyphenols may curb ageing free-radicals.

SAIF DAHLAH/AFP/Getty Images

15/50 Skin, hair and nails

Green tea - Polyphenols in green tea could help to offset sun damage.

Getty Images

16/50 Weight loss

Cinnamon - This spice is a great additive for breakfasts and bakes if you are trying to cut sugar and sweeteners, and it is also thought to help balance blood sugar.

Getty Images

17/50 Weight loss

Apples - Apples are high in pectin, a soluble fibre that helps to keep you feeling fuller for longer.

Getty Images

18/50 Weight loss

Eggs - One of the best sources of protein, eggs help to keep you energised and prevent unhealthy snacking, while providing a host of vitamins and minerals for general good health.

Getty Images

19/50 Weight loss

Tuna- High in protein, low in saturated fat and rich in omega 3, tuna is a fantastic option for maintained weight loss. The omega 3 in oily fish improves the body's response to insulin, lowering metabolism and helping to prevent the dreaded sugar spikes.

Getty

20/50 Weight loss

Oats - High in fibre for slow-release energy, oats also are thought to lower cholesterol.

Getty Images

21/50 Heart health

Beetroot - This is a good source of iron and folic acid. It is also rich in nitrates, which help to reduce blood pressure.

Raimond Spekking

22/50 Heart health

Garlic - High in manganese, selenium and antioxidants, garlic is thought to help lower blood pressure and reduce cholesterol.

Getty Images

23/50 Heart health

Asparagus - Rich in the amino acid asparagine, which serves as a natural diuretic and helps rid the body of excess salts. This is beneficial for people have high blood pressure or other heart-related diseases.

Getty Images

24/50 Heart health

Salmon - Studies have found that eating oily fish such as salmon can lower blood pressure and reduce cholesterol. Rich in Omega-3 fatty acids,

Getty Images

25/50 Heart health

Pomegranate - Rich in vitamins A, C and E, and high in fibre, pomegranates are thought to help protect against heart disease. A 2004 study showed evidence that daily consumption helped to alleviate narrowed arteries and reduce cholesterol.

Getty Images

26/50 Brain health

Mackerel - Oily fish including mackerel is rich in Omega 3, which studies have suggested is linked to a reduced risk of dementia, schizophrenia and depression, as well as enhanced memory.

Getty Images

27/50 Brain health

Hazelnuts - HIgh in Vitamin E, which studies say can help to prevent cognitive decline in older people.

Getty Images

28/50 Brain health

Blueberries - low in calories and high in antioxidants, blueberries are regarded as a nutritional powerhouse. Some studies have found a link between blueberry consumption and improved spatial learning and memory.

Getty Images

29/50 Brain health

Cacao - Contains phenylethylamine, which acts as a mild mood enhancer, and a 2009 study shows signs that it can help to reduce stress. However, adding sugar and milk to cacao to make your favourite chocolatey treat offsets any health benefits - try to keep it as close to its natural state as possible.

Keith Welle via Wikimedia Commons

30/50 Brain health

Pumpkin seeds - Just a handful of pumpkin seeds a day provide your total RDA of zinc, which is important for enhancing your memory.

31/50 Energy

Sweet potatoes - Starchy veg like sweet potatoes are a great source of low-GI carbohydrates for slow-burn, long-lasting energy. Sweet potatoes are also rich in soluble fibre and vitamins A, C and B6.

Getty Images

32/50 Energy

Beef - Low energy levels are often a sign of iron deficiency or anaemia. Lean cuts of beef are a good source of iron, as well as being a protein powerhouse to aid muscle development and stamina.

Getty Images

33/50 Energy

Brown Rice - Complex carbohydrates like brown rice break down into energy-boosting sugars more slowly than white rice, meaning more energy for longer, and more balanced blood sugar levels - i.e. no nasty sugar crash within hours of eating.

Arria Belli, Flickr

34/50 Energy

Bananas - A great source of energy that keep sugar levels balanced, plus the sweet taste will help to satisfy cravings.

Getty Images

35/50 Energy

Quinoa - This supergrain contains more protein than rice or any other grain, ideal for building muscle, along with being a nutrient-rich source of carbohydrates.

AFP/ Getty Images

36/50 Bone health

Sardines - Sunshine is the best source of bone-building Vitamin D, but if a British summer doesn't allow for that, sardines are a surprising source, as well as being rich in calcium.

Getty Images

37/50 Bone health

Brussel sprouts - Just three-quarters of a cup of this divisive winter vegetable provides your RDA of vitamin K, which is essential in helping the absorption of calcium for healthy bones.

Getty Images

38/50 Bone health

Chickpeas - High in protein and fibre, chickpeas are also packed with iron, phosphate, calcium, magnesium, manganese, zinc and vitamin K, which contribute to building and maintaining strong bones.

Scott Teresi, Flickr

39/50 Bone health

Spinach - If dairy isn't your thing, spinach could be your saviour - a cup of cooked spinach contains a quarter of your calcium needs.

Getty Images

40/50 Bone health

Almonds - Rich in potassium, which prevents the excretion of calcium in urine, as well as being rich in protein and other nutrients for maintaining bone health.

M.Verkerk/J.J.G.Claessens/Creative Commons

41/50 Men's Health

Prawns - Rich in zinc, which is essential for sperm quality and fertility.

Getty Images

42/50 Men's Health

Tomatoes - high in lycopene, an antioxidant which, according to the World Cancer Research Fund, can help reduce the risk of prostate cancer. Strangely, cooked and tinned tomatoes are recommended, as the lycopene is more readily absorbed.

PIERRE ANDRIEU/AFP/Getty Images

43/50 Men's Health

Brazil nuts - High in selenium, which boosts the immune system and strengthens the thyroid gland.

Quadell

44/50 Men's Health

Cauliflower - Rich in vitamin C, potassium and boron, which is said to aid in increasing testosterone levels and muscle-building.

Getty Images

45/50 Men's Health

Turkey - With obesity an escalating problem for men, turkey is a great swap for your morning bacon. HIgh in lean protein, it is full of B vitamins, which can aid in lowering cholesterol.

Getty Images

46/50 Women's Health

Walnuts - These nuts contain antioxidants and phytosterols that may help reduce the risk of breast cancer.

Getty Images

47/50 Women's Health

Green beans - Low in fat, bean are a great source of protein and fibre and can also help to guard against breast cancer and heart disease. Isoflavones in beans, chickpeas and lentils help with the regulation of hormones, easing PMS and menopause symptoms.

Getty Images

48/50 Women's Health

Flax - One of the oldest sources of fibre in the world, flaxseed can ease digestion as well as providing omega 3 fatty acids. It is also thought to be of help with menopause, but some experts say it should be avoided if pregnant.

Sanjay Acharya via Wikimedia Commons

49/50 Women's Health

Cranberries - Rich in anthocyans, red berries such as cranberries help to play a role in cell repair and are thus thought to reduce cancer risk. Also high in vitamin C and folic acid, essential for women of childbearing age, and cranberry juice is a fantastic way to get rid of cystitis.

Getty Images

50/50 Women's Health

Tofu - A great source of phytoestrogens, which can help with the symptoms of menopause and polycystic ovarian syndrome (PCOS).

Getty Images
The book covers tuna, anchovies, mussels, salmon, mackerel, sardines, crab, cockles and herring. Each type of fish comes with the story of the sustainable fisheries Van Olphen has discovered, and glorious but simple recipes: courgette and fennel soup with cockles, crab salad with orange and fennel, anchovies with gnocchi and sage, salmon tartare with soft-boiled eggs and spring onion, sardines with confit thyme tomatoes.
Next time you're in a supermarket, take a moment and pause by the tins of fish. If you usually buy only tuna (make sure it's pole and line caught, stick to skipjack or sustainable albacore), you'll be amazed by the variety on offer. As well as more than 10 types each of tuna and salmon, you'll find mackerel, sprats, herring, sardines, pilchards (really just slightly bigger sardines), mussels, cockles, clams, squid... much of it of dubious provenance.
To ensure his fish comes from sustainable sources, Van Olphen travels the world, spending time with fishermen on their boats. He's a sucker for the romantic tale of the weather-beaten fisherman standing up to rough seas to bring a catch home to feed his hungry family.
As with Marie in Brittany, elsewhere on his travels he started to notice something about tinned fish. In Spain and Portugal, for example, such is the reverence for the best examples that you may need a special key to access the supreme types in a supermarket.
The striking designs on older tins have also played their part in the renaissance of tinned fish, and inspired new designers to put their own spin on tins – Portugal's Cego Do Maio (pictured) are too good to hide in the cupboard, while in the UK, Penzance's The Pilchard Works, a favourite of Hugh Fearnley-Whittingstall and Tom Parker Bowles, has put harbour scenes from classic local paintings on to the tins of its three types of sustainable sardines.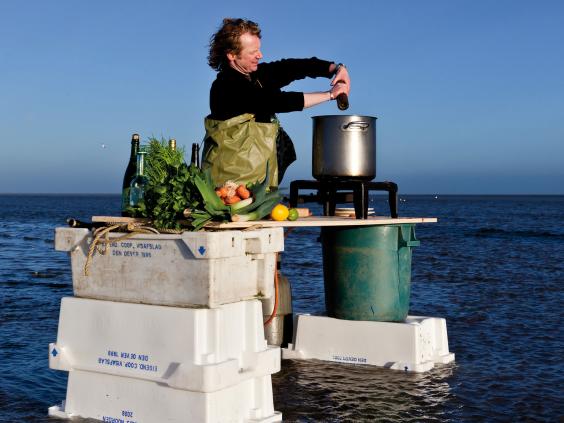 So in demand are different designs, and so varied and premium their fillings, that late last year a pop-up opened in London's Soho, Tincan, selling tinned fish alone. It sounds pretentious, but it opened consumers' eyes to wonderful canned delights that you won't find in your average British supermarket, including cod livers and urchin caviar. The food critics all loved it.
As it happens, Van Olphen peddles pilchards as well as stories. When he began to investigate sustainability, he realised that promoting sustainable tinned fish was one way of securing future stocks. His Fish Tales products – which come from Marine Stewardship Council-certified fisheries around the world, and are stocked in Waitrose – include Jack Webster's albacore, a high-quality white tuna from southern California, which was the world's first sustainable tuna fishery. But Van Olphen says there isn't really such a thing as a sustainable or an unsustainable fish; it's the methods of fishing that may, or may not, sustain stocks.
In the Maldives, Ali also fishes for tuna – skipjack – with a pole and line. Ali lives in one of the nation's most at threat from environmental change, but he still needs to fish. Dennis catches wild pink salmon off British Columbia. Poul is in Denmark and his mussels are smoked in oil. Mariano's anchovies come from Argentina and, while not quite tins, you can also buy bottles of Marie's fish soup.
"I try to get consumers interested in sustainability but not in a finger-pointing way," says Van Olphen. "Look at these fishermen and their lives. Look at how they catch their fish and what they do for it, and learn how you can cook delicious food with their products. You shouldn't have to ask the consumer if he knows which fish is sustainable. A brand or restaurant should do that work and be trustworthy."
The great thing about canning is that all the taste and the health benefits are preserved along with the fish, and no additives are necessary. It may come in spring water, brine, oil or a tomato-based sauce, and you should choose depending on what you're going to use it for. Tinned tuna loses some omega-3s in the canning process, so it is not considered an oily fish like fresh tuna, but other varieties retain all the nutrients. This does, however, depend on the method used at the cannery. The fish should be cooked first – canning fish in oil then blitzing it with heat is not the best idea.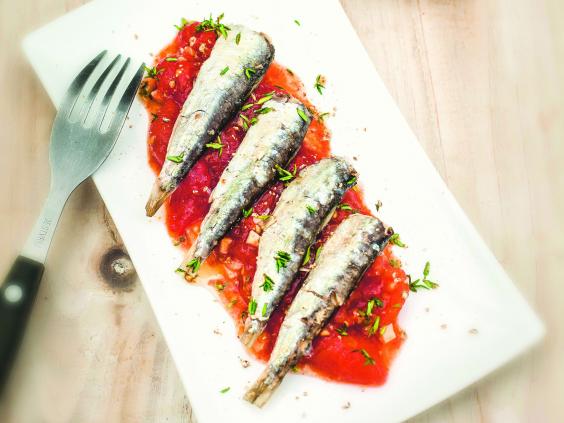 Still, tinned fish sounds decidedly un-cheffy. Van Olphen met resistance from his publisher initially but, with the book on its fifth print run, he's proved his point. Chefs might not serve much tinned fish in high-end restaurants, but they drool over its promise for providing great home-cooked meals on a budget.
Restaurateur and fishmonger Mitch Tonks has just published a cookbook of recipes from his Dartmouth restaurant, The Seahorse. He uses fresh, local fish mainly, and tinned anchovies, but he admits that, off duty, little beats a slice of grilled sourdough topped with sardines, raw onion and vinegar. "I love tinned fish because it has such unique qualities," he says. "There's a stigma about it being cheap fish, but the Spanish do amazing things with tuna caught in season." He recommends whipping up a sardine paste by blending tinned sardines with butter, chilli and a few spices in a food processor, and leaving to set in the fridge.
Van Olphen trained as a chef and did time working in Michelin-starred kitchens in Paris. Back in Holland, he realised how few varieties were being eaten, started a fishmonger and supplied sustainable fish to shops and restaurants. He thinks that chefs should use their celebrity to change the way we eat, and that the few who have very great influence, such as Jamie and Heston, could really change the way we consume fish, keeping our oceans stocked for decades to come.
Still not sure? Don't forget that tinned fish is the freshest fish available. Van Olphen's fisherman in Porto, Ze Manel, comes in at midday and by 2pm his catch is canned. However, one recipe from Holland hasn't made it across to the UK version: it was decided we wouldn't have a taste for cod and haddock liver in orange and pomegranate.
Anyone ready to prove him wrong?
Cooking with Tinned Fish by Bart van Olphen (Pavilion) is out now, £12.99
SARDINES WITH CONFIT THYME TOMATOES
Serves 4 as a starter
Most dried garlic has a sulphuric smell, which is not good for this dish. Fresh garlic, also known as wet garlic, is available from July onwards. This garlic is milder in smell and taste compared to dried garlic and will not easily overpower a dish. The wet garlic is available until mid-December, due to a preserving method in oxygen-depleted cooling cells.
200g cherry tomatoes
Olive oil
8 garlic cloves, peeled and roughly chopped
A few sprigs of thyme, finely chopped
1 teaspoon balsamic vinegar
2 tins of sardines or sardinella in olive oil (120g each), drained
Sea salt and freshly ground black pepper
Cut the cherry tomatoes in half and remove the seeds.
Heat the olive oil in a large frying pan and place the tomatoes, cut-side down, into the pan. Add the garlic and a little thyme. Turn down the heat and leave the tomatoes to slowly absorb the flavours.
Once the skins are shrivelled and the cut side has coloured slightly, remove the pan from the heat and leave the tomatoes to cool.
Gently remove the skins from the tomatoes. This should be easy if the tomatoes are completely cooked. Crush the tomatoes with the garlic and olive oil. Season with the vinegar, salt and pepper.
Spoon the tomatoes on to plates, top with sardines or sardinella and sprinkle with a little more thyme, if you like.
Reuse content