It's January, the month of good intentions, and the chances are that you might be thinking about eating more healthily, maybe even starting a – whisper it – diet.
And that's all very well when you're cooking at home, but what about when you eat out? Restaurants are finally starting to cater to a growing market of fussy eaters – the carb avoiders, the raw-food dieters. And now, the super-low calorie 5:2 "fast" dieters, people who spend two days a week consuming just 500 calories (and then eat normally for the other five days), are getting a look-in, too.
As a food lover, I hate the idea of restricting what I eat, or kerbing the social, interactive, fun activity that is dining out with friends. To me, dieting feels like the antithesis of what food should be, a pleasurable experience to be savoured and enjoyed, preferably around a table full of people with great conversation and flowing wine.
So it was with some trepidation that I ventured to Le Balcon, a very smart restaurant in London's St James's, to try its De-Light menu, which promises a full, and filling, three courses for 500 calories. Yes, that's right, you can finally eat out in a beautiful dining room in central London, even on one of your "fasting" days. The calorie content listed next to each dish on the menu was very persuasive and instantly I opted for the least calorific options. No doubt this is intentional on the part of the menu-planners. It certainly works.
In fact, the first long-term study into the impact of calorie labelling on body weight, published at the end of last year, showed that labelling calories can reduce weight gain by half. In the study by the University of Glasgow, young adults who were consistently exposed to prominent calorie labelling of main meals ordered meals with almost 20 per cent fewer calories than when the meals were not labelled. They reduced their likelihood of gaining any weight over a one-year period by 50 per cent. So don't be surprised if you start seeing calories appearing on a menu near you soon – the Government is very keen on increased labelling on food, even in restaurants and cafés. It's a public-health trend that looks set to mushroom.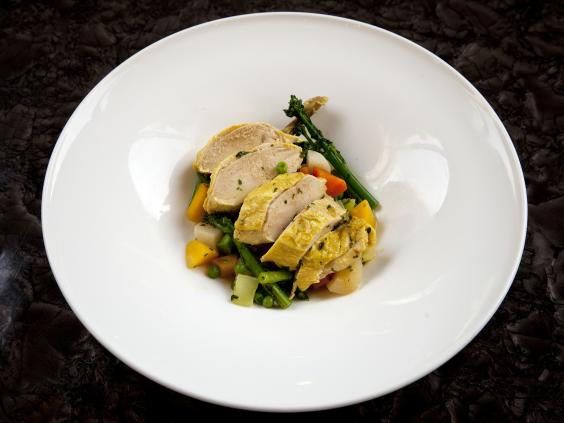 I started with a beetroot, pear and endive salad – beautifully presented, it was surprisingly large and even came with a chive vinaigrette dressing. It was also quite delicious. I checked the calorie count on the menu: 45! That made it doubly delicious and left me feeling rather smug. My other half's tuna-stuffed tomato with cucumber tartare looked incredible, but at 210 calories it was positively belt-busting by comparison, though still astonishingly low when considered alongside a regular restaurant starter.
You see, eating out isn't the same as eating in. What makes restaurant food so scrumptious is the ridiculous amounts of butter, cream, oil and salt compared with what you might use when cooking at home. It's what makes the dishes taste so rich, flavoursome and moreish. According to a study by the University of Toronto, the average restaurant dish contains more than 1,100 calories – that's more than half an adult's recommended daily intake on just one plate. It also contains 151 per cent of the recommended levels of sodium and 58g, or 89 per cent, of your recommended daily amount of fat. Trying to replicate the flavours, taste and look of restaurant-standard dishes without the fat, salt, sugar and calories is no mean feat. "It's not natural for a chef to think this way," admits Le Balcon's executive chef, Vincent Menager. "But once you get used to finding ways to make dishes without the carbohydrates, fat and sugar, it is actually quite a creative process ."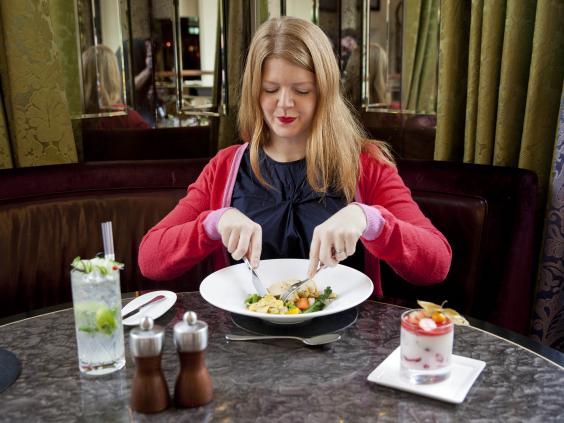 You won't find much bread, pasta or potato on the De-Light menu, but there are plenty of vegetables and meat. Stevia is used in place of sugar and fromage frais instead of cream.
Menager avoids frying food in oil or butter, opting for poaching, grilling or roasting instead. He uses herbs and spices to add excitement and flavour to vegetables or plain meat – chilli-roasted squash is satisfying and tempting to eat. A salad with mint, rocket, peppery watercress or aromatic basil leaves thrown in will be so much more intense than a bog-standard lettuce. Next, I ordered the poached cockerel with steamed vegetables and mustard sauce – 300 calories in total. My husband chose the glazed salmon with ratatouille, which looked stunning for just 320 calories. My choice was genuinely delicious, light and fragrant, as well as filling. And at the end of it I felt full without the bloated, heavy, slightly uncomfortable feeling that you often experience at the end of a restaurant meal.
The De-Light meal was a success – had I not known about the virtuous lack of calories I would not have felt deprived in any way. Well, not until I glanced at the table next to me, where the diners on the regular menu were tucking into huge, juicy burgers oozing with creamy cheese, served with salty, fried chips that they were frivolously dipping into sugar-and-calorie-laden tomato ketchup with hungry abandon. After that, dessert was – for someone like me, who looks at the pudding list before I even think about ordering my starter and main courses – a disappointment. There is simply no satisfactory way to get around the combination of sugar, cream, butter and sometimes chocolate that is needed to create a really great pud. The strawberry parfait looked pretty enough and was a gallant attempt at a decadent dessert. But the "parfait" was actually low-fat yoghurt and there was a saccharine hint of sweetener.
While some people would still love a pudding, I'd rather forgo the calories and have a decent milky coffee instead to round off a meal. But the tiny 120 calories were not to be sniffed at. My entire three-course meal came to just 465 calories – that's roughly equivalent to a Snickers "2 to go" at 440 calories.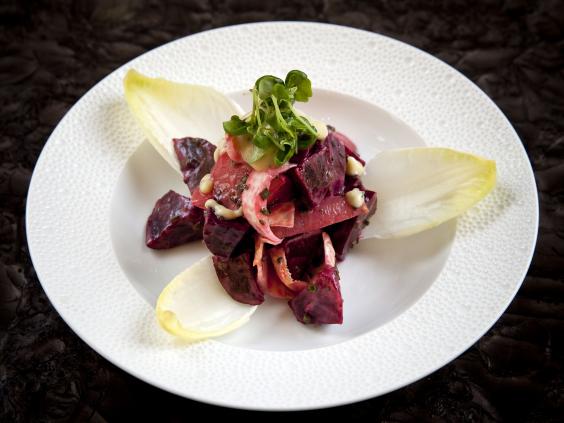 While Le Balcon is possibly the grandest place to eat out on a diet, it is among a growing band of eateries catering for slimmed-down appetites. Pizza Express introduced its low-calorie Leggera menu five years ago, but has recently gone further, creating pizzas with fewer than 400 calories. (The American Hot Leggera comes in at 396 calories.) Admittedly, there is a hole in the centre of your pizza that has been replaced with salad, but it's still pretty impressive that you can eat out at a high-street pizza chain even on a strict diet. Your fellow guests need never know that you are watching your weight if you order the new gambaretti picante – this prawn in passata sauce dish contains just 200 calories, while the superfood salad contains 295 calories. What's more, the lemon sorbet and an espresso come in at a mere 84 calories.
At Ping Pong, the London dim sum chain, you can also to chow down at minimal calorific expense – dumplings start at 84 calories, while beef and chilli parcels are just 123 calories and even king prawn and scallop sticky rice checks in at a lean 271 calories. Of course, the danger with dim sum, as with tapas, is that it's easy to over order and max out on calories. But if you want to eat out with friends while watching what you eat, it's a great choice.
Dining out on a diet isn't easy, but the latest options are a whole lot better than staying in all through January doing a juice cleanse.
Lighter ready meals
Kirsty's
Free gluten and dairy, and so low in calories that they have even been featured in the 5:2 diet book, Kirsty's ready meals start from 260 calories and all promise to be less than 500 calories. Try the new beef lasagne, the only one on the market that is gluten-free, and Thai chicken noodle.
Available at Sainsbury's, Asda, Waitrose, Ocado and Budgens. kirstys.co.uk
Soulful Foods
This range of six one-pot meals makes an ideal choice for anyone wanting a health-kick – all contain two of your five-a-day and are under 500 calories. The latest recipe, Mexican bean and sweet potato with quinoa, is 243 calories and gluten-free, while the dairy-free British pulled pork stew with chorizo, beans and spelt is just 290 calories.
Available at Ocado and Booths. soulfulfood.com
Cook OMG Pots
All of the Cook OMG pots contain less than 400 calories and 14 grams of fat. The Thai-style chicken patties in an aromatic broth have 147 calories and 1.6g of fat, while chicken pho is a measly 139 calories and 1.5g of fat.
Available at Cook stores and for nationwide delivery from cookfood.net
Reuse content