Enlightenment philosopher Voltaire once said "Ice cream is exquisite. What a pity it isn't illegal" and I definitely agree. We're so spoilt for choice these days, we could be eating a different flavour each day of the year.
As a child, I was fascinated by the science behind making ice cream. Fast forward to 2014 and I am at the Paul A Young Fine Chocolates' kitchen learning the basic principles. It turns out it is pretty simple. The core ingredients are cream, sugar and egg yolks. In theory, it's like making custard - but a frozen one.
First you must bring the cream to simmer, then add the sugar until it has dissolved. This is where the vanilla pod gets added if making vanilla ice cream. The whisked egg yolks (Paul uses pasteurised ones) are slowly whisked in the hot cream mixture and Madagascan chocolate is added before it is poured into a container to cool down, ready to get churned into a swish ice cream maker, the kind with built-in freezer. The final product was a beautiful chocolate ice cream that was smooth, creamy and moreish.
Paul is an advocate of making homemade ice cream. His tips are: invest in a good ice cream maker, so that you do get a lot of use from it; if you have the patience, churn your own ice cream; and never serve thawed out ice cream - chuck it away because you can get ill from it.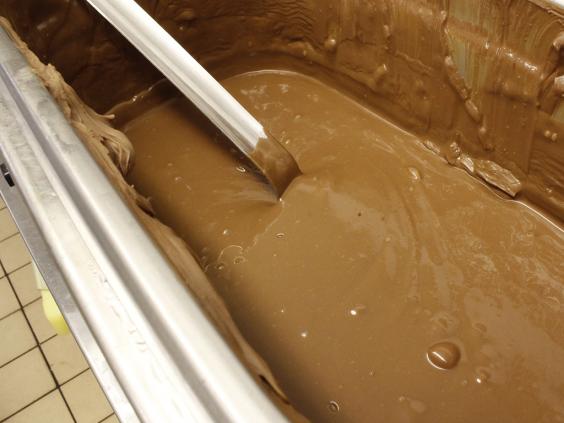 Ice cream can also be made using liquid nitrogen. Camden-based Chin Chin Labs, Europe's first liquid nitrogen ice cream parlour, have an atmospheric shop heaving with customers waiting for their freshly made ice cream. The mixture goes into a Kitchen Aid and the magic starts once the liquid nitrogen is poured in! Plus, husband and wife team Ahrash Akbari - Kalhur and Nyisha Weber make their toppings in-house that complements the various flavours they make. They'll recommend chilli topping if you're going for the passion fruit ice cream.
Eating ice cream is definitely up there in the list of 'feel good foods'. For me it's like having little scoops of happiness in a cone or a tub, so it's a pity that 1 in 5 people in Europe is lactose intolerant, which means ice cream is a no-no. Enter The Greedy Goat with its lactose-friendly ice cream made with British goat's milk.
Not only is The Greedy Goat about "healthier indulgence", it also sells interesting flavours like Lemon, Lime and Basil, Raspberry and Chilli, Strawberry and Balsamic, Apple Pie and Pistachio with Olive Oil. The Greedy Goat's stall in Borough Market took my palette to the next level. My favourite has got to be the Salted Caramel ice cream with a sprinkle of pink Murray River salt for extra saltiness.
Proprietor (aka Goat Herder and self-confessed foodie) Craig Allen said that these flavours were a result of "experimenting at home quite a bit" and taking a risk with the flavours they make - plus the bonus of having a chef that is good at balancing flavours.
I Scream, You Scream, We All Scream for Ice Cream
I Scream, You Scream, We All Scream for Ice Cream
1/10 Dirty Doughnut Martini, Licktators

Matthew Hemes

2/10 Choc & Roll Rehab, Licktators

3/10 A selection from Gelupo

Matthew Hemes

4/10 Lollies from Gelupo

5/10 Strawberry and basil at Udderlicious

6/10 Cactus and apple flavoured ice cream at El Camion

7/10 Liquid nitrogen ice cream at Chin Chin Labs

8/10 Salted caramel at Paul A Young Fine Chocolates

9/10 Ice cream tubs at Greedy Goat

10/10 Pimms ice cream at Greedy Goat
In my ice cream quest, I also learned that it is not just for summer, but all year around. Elena Barone, Gelupo's Head Chef, said that she is constantly using what is in season when deciding what flavours to make. 
Elena, who has a weakness for affogato with hazelnut ice cream, said: "Always try to use fresh fruit - this season, we will have lots of strawberries, peaches and apricots. Next season we will come up with flavours that involve figs and walnuts."
It has been made apparent in my mini London ice cream pilgrimage that we've all become adventurous when it comes to flavours. Another husband and wife team Raj and Raj Kotecha from Islington's Udderlicious have a strong community of loyal customers who take part in their "flavour of the month" competition. The prize is free ice cream and a place in the "flavour of the month" wall. So far, they have made apple crumble and custard, rhubarb and fig and banana caramel to name a few. Apparently, the quirkiest suggestion they have had was snail...
Ruby Violet in Tuffnell Park constantly develops new flavours. They have nearly 20 flavours a day but has an array of 150 flavours to alternate from. Proprietor Julie Fisher, who named the shop after her grandmother, is keen to work with other companies to develop other flavours and uses fresh fruits and duchy originals for her ingredients.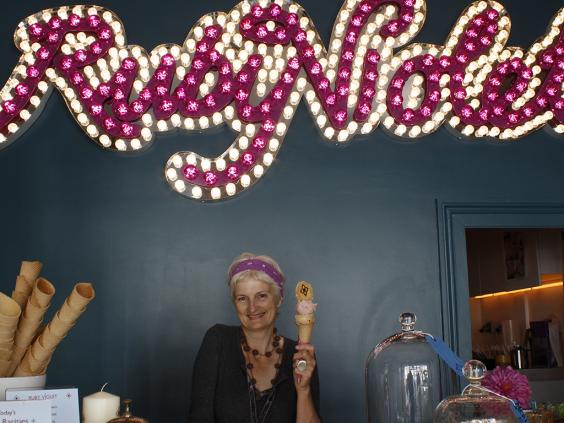 It is great to see ice cream producers use British ingredients just like the award-winning family business Jude's. Their Very Vanilla is made from a traditional cream anglaise base and their legendary Salted Caramel is made with Maldon seasalt.
Making ice cream should also be about having fun, especially with creating new flavours. Matt O'Connor, known for his irreverent shop The Icecreamist that sold Baby Gaga (made from breast milk), combines his passion for ice cream making and the politics of flavour. His new venture, Licktators, has a punk rock attitude with Monty Python humour and aims to deliver top end quality ice cream. The fun flavours include cinnamon doughnut Doughnut Disturb, lemon curd John Lemon and Marshmallow Law. O'Connor, who grew up in the Margate/Ramsgate area, combined the traditional British ice cream and Italian gelato style.
With so many to choose from it is hard to whittle down the top alternative flavours, but it seems like the most popular ones are: Salted caramel, followed by Rum and raisin, Masala Chai, Pimm's, Strawberry and basil and Pistachio. We've come a long way since Vanilla.
Images: Matthew Hemes