I was recently in Barbados and having not been there for quite a while, it was great to indulge in the island's cuisine again.
I also love the challenge of cooking on a small Caribbean island where there is a limited selection of local ingredients – like plantain and sweet potato.
In fact, I find it more inspiring than challenging, as you have to be inventive with the delicious dishes you can cook up. This is what local restaurants there should be cooking, giving tourists a real taste of the island rather than simply catering to what they're used to from home.
Caribbean crisps with avocado salsa
Serves 4-6
These are great to have with drinks or as a simple pre-dinner snack. You can serve them with different salsas or a classic guacamole.
1 plantain
1 large sweet potato, peeled
1 taro
Vegetable or corn oil for deep frying
1tsp salt mixed with ½tsp cayenne pepper or pimenton
For the avocado salsa
1 ripe avocado
1 small red chilli, seeded and finely chopped
2 spring onions, finely chopped
Juice of 1 lime
2-3 tbsp of olive oil
Salt
Slice the vegetables lengthways on a mandolin or with the slicer on the side of a grater. If the vegetables are large, you can cut them in half lengthways before slicing.
Preheat about 8cm of oil to 160-180C in a large, thick-bottomed saucepan or electric deep-fat fryer. Fry about 8-10 slices of the plantains at a time, turning them occasionally with a slotted spoon, for 3-4 minutes, until they're crisp but not coloured too much. Depending on the ripeness of the plantains, the time they take to cook can vary. Remove them from the fat with the slotted spoon and drain on kitchen paper. f
Repeat with the rest of the plantains and dust with the salt and cayenne mixture.
To make the avocado salsa, peel the avocados and remove the stone. Finely chop the flesh and mix it with the chilli, spring onion and lime. Add enough olive oil to bind it into a stiff, spooning-consistency mixture, then season with salt.
Serve the salsa in a dipping bowl with a spoon, surrounded by the plantain crisps.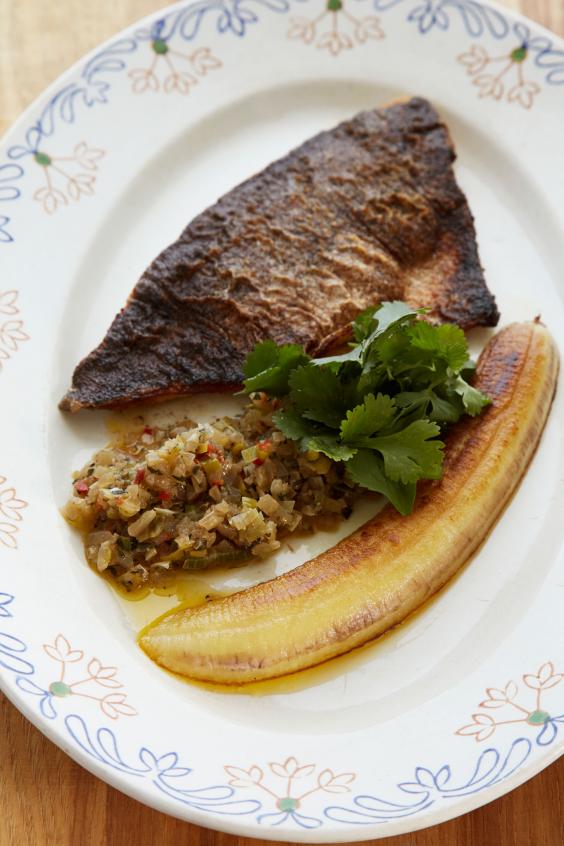 Blackened fish with fried banana
Serves 4
With the time difference, early mornings in Barbados I would often be wide awake, which at least was a good opportunity to get down to the beach and some early fishing. On the first day, I caught a small trevally which was a good eating size and perfect for breakfast. I scrabbled together what was in the fridge along with some sort of Bajan chutney and a pan-fried banana – it was a little improvised but lovely.
4 fillets of fish such as trevally, John Dory or sea bream
Vegetable or corn oil for frying
2 under-ripe bananas, peeled and halved lengthways
1 lime, quartered, to serve
For the Bajan relish
1tbsp olive oil
1 large onion, peeled, halved and finely chopped
140g green onion, coarsely chopped
8 cloves of garlic, peeled and crushed
1 Scotch bonnet or Habanero (fresh or dried), finely chopped
1tsp fresh marjoram
1tsp ground cloves
1tsp black pepper
A good pinch of sea salt
For the blackening spices
1tsp paprika
1tsp ground dried thyme
1tsp cayenne pepper
1tsp finely ground black pepper
1tsp finely ground white pepper
1tsp garlic powder
First make the relish: heat the olive oil in a heavy-based saucepan, add all of the ingredients, cover with a lid and cook gently on a low heat for 4-5 minutes, stirring every so often. Remove from the heat, transfer to a small bowl and leave to cool.
Mix all of the ingredients for the blackening spices and generously coat the fish fillets with them.
Get two preferably non-stick frying pans: with a couple of tablespoons of vegetable oil fry the bananas in one for 2-3 minutes on each side until golden; then keep warm. With the other pan, fry the fish for about the same amount of time, depending on the thickness of the fillets.
To serve, place the fish on warmed plates with half a banana next to it and a spoonful or two of the relish and the lime.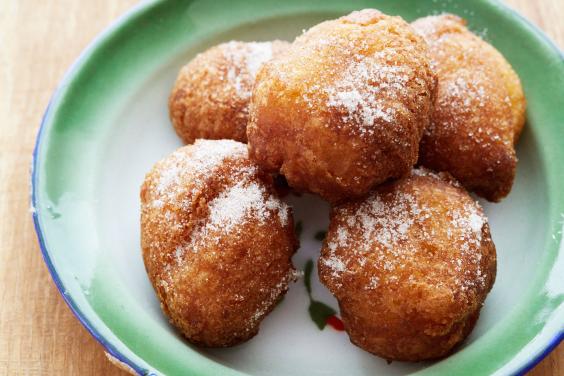 Pumpkin fritters
Serves 4-6
These are a great way to use an excess of pumpkin as a dessert with ice-cream.
500g peeled weight of sweet orange-fleshed pumpkin or butternut squash, cut into even-sized chunks
40g butter, softened
30g caster sugar
A good pinch of salt
¼tsp vanilla essence
¼tsp powdered cinnamon
1 large egg, beaten
70g self-raising flour, sifted
Vegetable or corn oil for deep frying
To coat
50g caster sugar
2tsp ground cinnamon
Cook the pumpkin in lightly salted water for about 15-20 minutes until tender, then drain and blend in a food processor, leaving to cool.
Put all of the ingredients except the flour and oil in a food processor and blend briefly until smooth. Add the flour and blend again briefly, then transfer to a bowl.
Preheat about 8cm of oil to 160-180C in a large, thick-bottomed saucepan or electric deep-fat fryer. Drop teaspoons and tablespoons of the mixture into the oil, a few pieces at a time, turning them as they cook with a slotted spoon and fry until crisp and golden brown.
Next, remove the fritters from the oil, drain on some kitchen paper briefly and transfer to a dish with the cinnamon-sugar mixture. Toss them around for a few moments until lightly coated. Serve hot.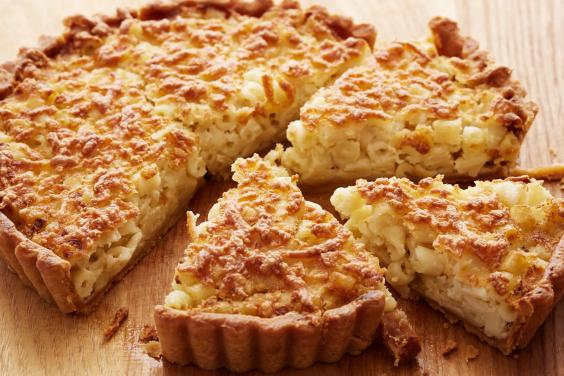 Macaroni pie
Serves 6-8
I had something like this in Barbados a couple of years ago. It was delicious and lingered long in the memory.
200-250g shortcrust pastry, rolled to one-third of a cm thick
150g macaroni, cooked
300g mascarpone cheese
150g grated Cheddar plus another 20g to scatter on top
150ml double cream
Salt and pepper
Preheat the oven to 180C/gas mark 5. Grease and line an approximately 25cm x 3cm-deep flan tin with a removable base with the shortcrust pastry and trim the edges.
Line with foil or greaseproof paper and fill with baking beans; bake for about 15 minutes, then remove the greaseproof paper and beans and return the pastry to the oven for another 6-7 minutes, then remove from the oven. Make sure to keep the oven turned on, at 220C/gas mark 7.
Meanwhile, melt the mascarpone in a thick-bottomed pan with the cheddar and bring it to the boil. Add the double cream, season with salt and pepper and simmer for a couple of minutes until it thickens. Whisk the sauce well and mix with the cooked pasta.
Put the macaroni mixture into the flan case and scatter the extra Cheddar on top. Bake for 20-25 minutes until browned.
Reuse content