Ben Tish - Chef/director of Salt Yard Group, offering Spanish/Italian tapas
Because of my Jewish heritage, I tasted some pretty exotic things, which my paternal grandmother, Ada, cooked for and with me when I was between the ages of five and 14. She ran a seaside café, died aged 103 and smoked and drank like a trooper to the end. She wasn't Orthodox, but there was a lot of Jewish cooking going on. She would cook from morning until night and absolutely loved it.
My mum wasn't a very good cook, so I guess my inspiration skipped a generation. Nan lived in a granny flat at the back of our house in Skegness and made an oxtail dish with mash and carrots once a week. It's a thrifty dish with a long cooking time. Other favourites were fried cod – no batter, just flour – served with chrain, a fiery relish of horseradish, beetroot, vinegar, salt and sugar, or lokshen (flat noodles) soup with meatballs. Everything she made would be absolutely exquisite, made with incredible attention to detail – even the grieven (chicken skin) she'd fry in fat from the bird. Nan was responsible for my becoming a chef, because I always knew if something wasn't made the way it should have been.
Ben Tish's Grandmother's Spiced Braised Oxtails with Chickpea Puree, Raisins and Pine nuts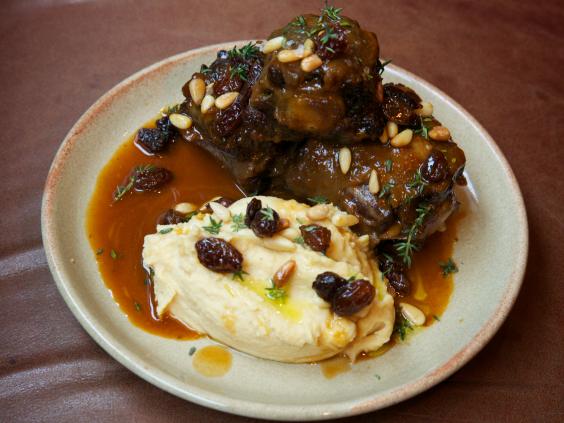 Serves 4
For the purée:
1 x 200g can of chickpeas, drained and washed
For the oxtails:
2 oxtails weighing about 1.5kg in total, cut into even pieces (ask your butcher to do this)
3 tablespoons of extra-virgin olive oil
2 onions, peeled and sliced
2 carrots, peeled and sliced
4 strips of lemon zest
3 cloves of garlic, sliced
1 cinnamon stick
2 star anises
2 bay leaves
2 sprigs of thyme
1 sprig of rosemary
400ml of full-bodied and gutsy red wine
1 litre of chicken stock
Sea salt and pepper
Flour for dusting
25g of soaked raisins and 25g of toasted pine nuts
Blend the chickpeas with a little hot water and season with salt and pepper. Reserve and keep warm.
Season and dust the oxtails in the flour. Heat the oil and evenly brown the oxtails. Remove the oxtails from the pan, reduce the heat and add the rest of the dry ingredients. Fry gently until the onions and carrots are soft.
Put the oxtails back in the pan and cover with the wine and stock and add the aromatics. Bring to the boil, skim off any scum and reduce to a simmer. Cook for approximately 2 hours or until the meat is falling from the bone and the sauce has sufficiently thickened.
Skim the surface well of fat, adjust the seasoning, serve with the chickpea purée and sprinkle with the pine nuts and raisins.
Martin Morales - Founder of London Peruvian restaurants Ceviche and Andina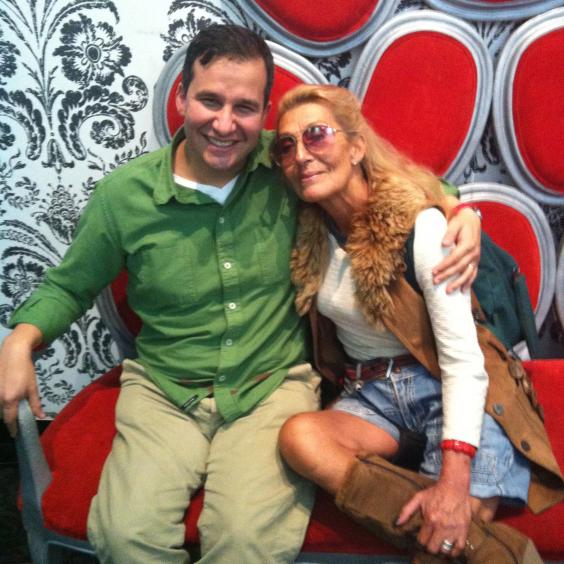 My mum, Elsa, used to make aji de gallina, a spicy chicken dish, a lot. But when I was growing up in Lima, I spent every weekend with my great-aunts, Carmela and Otilia, who never married and were my second family. I'd arrive on a Saturday and we'd go straight to the neighbourhood market downtown to select the right chicken for this dish. If it was alive, we'd do the rest of our shopping and when we returned, the butcher would have killed, plucked and dressed it ready for the pot. We'd buy the ripest onions, the juiciest olives and perfectly roasted pecans. From the age of five, I'd help them in the kitchen by sifting through the rice to check for any little stones, and podding peas and broad beans. I'll never forget the wonderful smells, and I prepare the dish now as a homage to my ancestors and to "talk" to my family and friends. If it's made with love, you'll see happy people with happy tummies.
Martin Morales' Great-Aunts'  Aji de Gallina
Serves 4
400g of skinless chicken breast
Vegetable oil (for frying)
1 large onion
4 cloves of garlic
250ml of aji amarillo chilli paste
250ml of evaporated milk
50ml of chicken stock
8 cream crackers
100g of Parmesan cheese
320g of rice
6 black olives
2 eggs
20g of chopped pecans
2 small potatoes
Fine salt and freshly ground black pepper
Poach the chicken in salted water until it is no longer pink in the middle (about 20 minutes). Once cooked, place the chicken on a plate and shred into small pieces. In another pot, heat 50ml of vegetable oil, then add the chopped onion and garlic cloves and let them cook until they are soft, then add the aji amarillo chilli paste, the evaporated milk and the broken cream crackers and cook for 8 to 10 minutes on a medium heat. Transfer the mixture to a food processor together with half of the chicken stock and blend finely to obtain a smooth sauce. Transfer the sauce back to the original pot and add the shredded chicken, the Parmesan cheese and the other half of the chicken stock and cook on a low heat for about 5 minutes. Season with salt and pepper. Cook the rice and potatoes separately in salted water and boil the eggs until hard. On each plate, place a quarter of the boiled rice alongside a quarter of the chicken sauce. Garnish with the olives chopped in half, chopped pecans, half a potato and half a boiled egg.
Michel Roux Jnr - Chef de cuisine of Le Gavroche
When I was born, my father, Albert, was a chef so even as a baby I would sit in my playpen under the table in the kitchen, which, looking back, must have influenced me a lot. A particular favourite that my mother, Monique, used to cook for my sister, Danielle, and me in London when I was about nine was veal sweetbreads with saffron. Back then, this piece of offal was considered exotically French and not readily available on this side of the Channel. It was all about the smells. Some of my first and most endearing childhood memories are of smells, rather than tastes. They were the first thing you had to know in the kitchen – the aromas of chocolate or caramel. Even if my mother made cheese on toast, it would be delicious. Other favourites were hachis Parmentier (shepherd's pie) or stinky ripe Camembert. There was, of course, a lot of garlic and I would get teased at school if we'd had garlic sausage the night before. We loved omelettes, but I didn't like mushrooms and my sister disliked herbs, so mum had to make us individual ones.
Michel Roux Jnr's Mother's Riz de Veau Braise au Safran/Braised Sweetbreads with Saffron
1 veal sweetbread (from the heart)
1 pinch of saffron
2 shallots
1 glass of sweet white wine
100ml of double cream
100ml of chicken stock
2 carrots
Flour for dusting
Butter, oil
Salt, pepper
For the pasta:
250g of flour
2 eggs
3 yolks
Salt, olive oil
For the pasta, mix all the ingredients either by hand or in a mixer to make a dough. Leave to rest, then roll and cut to desired size. Cook and toss in a little butter.
Put the veal bread in cold water; add salt and the juice of half a lemon. Simmer for 6-7 minutes, then leave to cool. Drain and trim off all the sinew but keep as a whole nugget. Dust in a little flour and then pan-roast in plenty of oil and butter, until golden. Then drain the excess fat, remove the sweetbread, add to the same pan a knob of fresh butter, chopped shallots and diced carrots. Sweat for a few moments, then deglaze the pan with the wine, reduce, then add a little stock, saffron and cream, return the sweetbread to the pan and simmer gently until fully cooked, basting and turning frequently. Check the seasoning, adding a squeeze of lemon if necessary.
Serve in a deep bowl with the pasta and plenty of sauce.
Cyrus Todiwala - Founder of Cafe Spice Namaste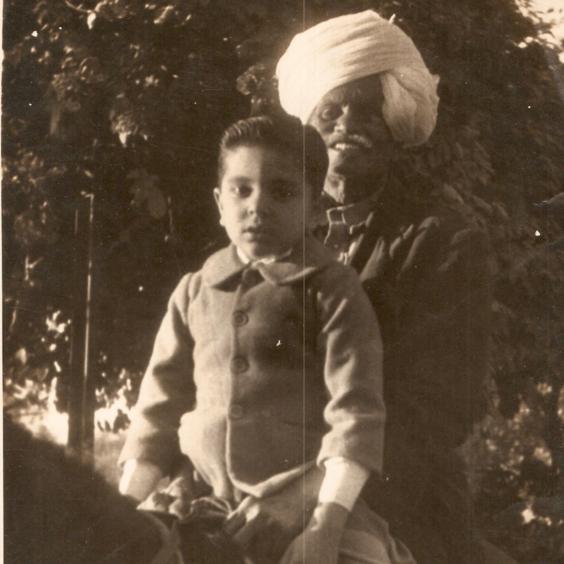 At home in India, my mother, Marie, had a circular kitchen and she'd make her masala mix in a huge stone grinder, which was housed in a cubicle with a glass door to stop it splashing around. I can still summon up the smell that wafted all around. We processed our own coconut oil for cooking, which also had a very special smell. And the curry leaves – heavenly! Many people from my background gave up on classic recipes because they thought they were complicated and a bit daunting, since the instructions do seem to go on and on. Sometimes, there were more than 20 ingredients, which all had to be fried separately, so it could take nine hours before you even started cooking the dish as a whole.
Cyrus Todiwala's Mother's Beef Curry Marie Kiteria
500g of beef rump cubes
500g of medium onions
200g of thick yoghurt
2 tablespoons of rapeseed oil
12-15 fresh curry leaves (soaked in water, if dried)
1 heaped teaspoon of ground cumin
2 heaped teaspoons of ground coriander
3 heaped teaspoons of red chilli powder
1 level teaspoon of ground turmeric
3 tablespoons of tomato paste
2 x 2in pieces of ginger, finely chopped
4-6 cloves of garlic, finely chopped
4-5 butternut berries (or dried sour plums)
1 level teaspoon of garam masala (optional)
2-3 green chillies (finger type), each split  into four
450ml of tinned coconut milk
Salt to taste
Rinse and drain the beef thoroughly. Purée the onions to a fine paste with the oil until smooth. Mix all of the following in a large basin: the onion purée, thick yoghurt, rapeseed oil, fresh curry leaves, ground cumin, ground coriander, red chilli powder, ground turmeric, tomato paste, ginger and garlic. Add the beef and the butternut berries or dried sour plums to the mixture.
Cover and place on a medium heat until the oil separates and the beef is cooked through. Keep stirring regularly as it sticks very fast, scraping from the bottom with a spatula. Add salt and season to taste. When cooked, beat the garam masala with the coconut milk to avoid any lumps. Stir this in, add the green chillies and simmer for a few minutes.
Remove from the hob, check seasoning and serve.
Mark Hix - Chef Restaurateur and food writer
From the age of eight, I used to go fishing for mackerel in Bridport, Dorset, and bring home a carrier-bag-full, which my grandmother Ellen would use to make soused mackerel. It's always been stuck in my mind and I still often use it on our menus. Once a week in winter, she'd cook stuffed lambs' hearts, or slow-cook pork belly with boiled onions and parsley. Another favourite was pressed tongue served with tomatoes, salt, Sarson's vinegar and a hunk of white bread.
Mark Hix's Grandmother's Soused mackerel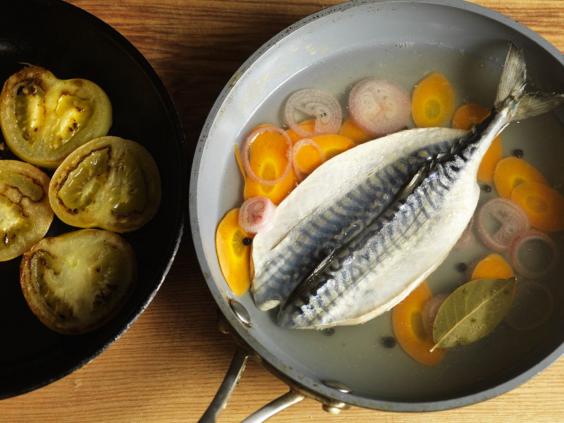 Serves 4
4 mackerels weighing about 250g, butterflied, trimmed and boned
1 small onion, peeled and cut into thin rings
1 medium carrot, peeled and thinly sliced on the angle
1 bay leaf
4 black peppercorns
2 teaspoons of sea salt
1 teaspoon of fennel seeds
100ml of cider vinegar
Water to cover
Preheat the oven to 175C/gas mark 4. Roll up the mackerel fillets, skin-side out, and secure each with a cocktail stick. Put them into an ovenproof dish, not too close together. Bring the rest of the ingredients to the boil and pour over the mackerel fillets, then add enough water just to cover the fillets. Cover the dish with a lid or foil and cook in the oven for 2-3 minutes. Leave to cool in the dish. Serve with brown bread and butter.
The above chefs will be demonstrating their skills at The Taste of London Winter festival , which runs 20-23 November at London's Tobacco Dock. For more information, visit http://london.tastefestivals.com/
Reuse content